Compare prices After 12 months Recommendations Upload speeds TV pricing
Spectrum has three base internet plans, with consistent pricing throughout the US starting at $49.99/month and going up to $79.99 after the introductory period.
As of 2023, Spectrum has upgraded most of their regions to 300 Mbps base plans, including major markets like California and Los Angeles. However, some areas outside major metros are still limited to 100–200 Mbps download for base plans.
Spectrum Plans Summary: Standard vs Ultra vs GIG
Spectrum offers three internet-only plans: standard internet, Ultra, and "GIG."
| Plan Name | Download | Upload | New customer price (promotional rate) | Existing customer price (standard rate) |
| --- | --- | --- | --- | --- |
| Spectrum Internet | 300 Mbps | 10 Mbps | $49.99/mo | $79.99 |
| Spectrum Internet Ultra | 500 Mbps | 20 Mbps | $69.99/mo | $99.99 |
| Spectrum Internet GIG | 1000 Mbps | 35 Mbps | $89.99/mo | $119.99 |
The standard Spectrum internet plan is best for most homes, currently offering 300 Mbps download for $49.99 per month + a $5 monthly WiFi router fee. The Spectrum Ultra plan boosts the download speed to 500 Mbps for $69.99 per month. The Gig plan has the fastest download rate, 1000 Mbps for $89.99, and includes the router for free.
However, each plan has some caveats that affect the price — ranging from the WiFi router leasing fee to the impact of promotional rates on long-term customers. In this post, I'll break down the performance and pricing differences in plain English.
There are two important things to note overall:
Spectrum upload speeds are much slower than the download speeds (and are notably not mentioned in most of their marketing materials online). With Spectrum, the fastest upload speed you can get over a cable connection is 35 Mbps.
Spectrum pricing changes dramatically after the 12-month promo period (noted when you buy, but in tiny fine print). Spectrum deals for existing customers are difficult to access, meaning that lowering your bill is usually a time-consumer process as a long-time customer.
Spectrum internet-only plans do not require contracts. I've written up a full guide on how to cancel Spectrum without receiving extra fees.
Quick Recommendations

Spectrum Standard: This is the best plan for most customers, since 100–300 Mbps is sufficient for a family of four streaming video and using social media on daily basis. The WiFi router costs extra.
Spectrum Ultra: This plan is only $20/month more than standard, and offers twice the download. It's worth it if you have multiple household members streaming HD and 4K video from Netflix, Hulu, etc. It also doubles your upload speed, which can make a big difference on video calls.
Spectrum GIG: This plan is substantially more expensive, and while you get gigabit downloads, the upload is still capped at 35 Mbps. Therefore, this plan really only makes sense for "power users" who can actually do something with all that bandwidth. 95% of users will never notice the difference.
Set Up Service
Call to order: (833) 438-1041
Spectrum Ultra vs GIG upload speeds
Spectrum's internet-only plans offer a maximum upload speed of 35 Mbps, via the $89.99 per month GIG plan. The standard Spectrum internet plan only offers 10 Mbps upload, while the Ultra plan offers 20 Mbps upload.
I'm writing this post over Spectrum internet, on a standard plan in Los Angeles, and I usually see 5–9 Mbps upload over WiFi. Plugged into the router via ethernet, I generally get more than they advertise, around 12–15 Mbps… but this is still low when you're running a home office, doing video calls, uploading large files for YouTube, etc.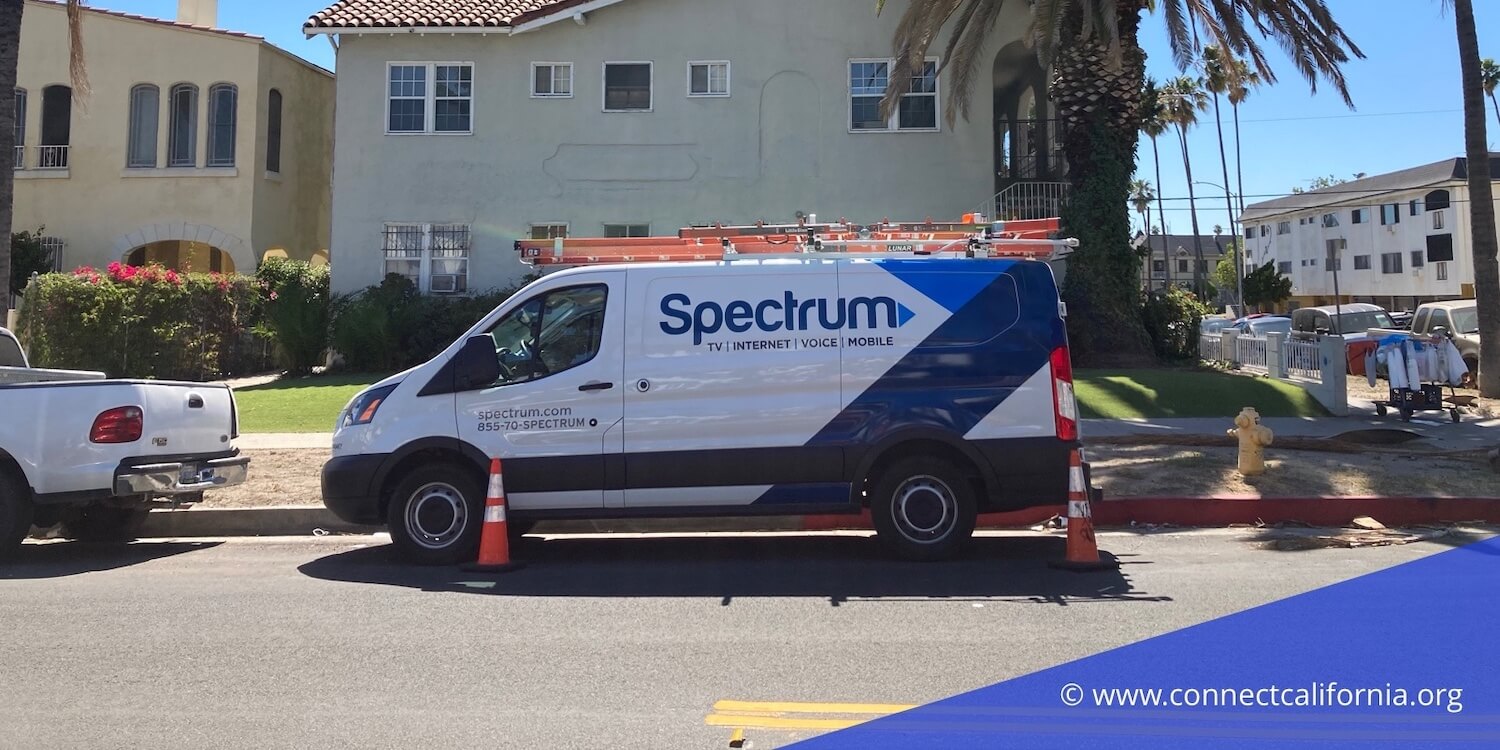 The reason for low upload speed on Spectrum internet is that for most customers, the primary use case of internet is for streaming video from Netflix, Youtube, and other Over-The-Top services, and scrolling high-definition images on social media. These services required high download speed to render visual content quickly.
The only regular activities that require high upload bandwidth are video chat and file uploads — and for most customers, the occasional glitch while running a video chat is preferable to buffering on Netflix.
If you need faster than 35 Mbps upload speed, it's worth checking for a fiber internet provider in your area. If no fiber provider is available, you can sometimes get faster upload speed by purchasing business internet from wireless providers — but this is usually quite expensive, even relative to the priciest Spectrum GIG plan.
Standard vs Ultra vs GIG promotional pricing comparison
Let's look at the pricing for standard internet vs the upgrade options with Spectrum.
All Spectrum plans come with "promotional pricing" for the first year of service. After the first year, the price rises to a "standard rate" that's as much as 40% higher than the promotional price.
This table shows the difference between the prices when you average the promotional and standard rates over two years of service:
| Plan Name | Down/Up | Promo/Standard Price | Avg price over 2 years | Price increase |
| --- | --- | --- | --- | --- |
| Spectrum Internet | 300/10 Mbps | $49.99/$79.99 | $65/mo. | +60% |
| Spectrum Internet Ultra | 500/20 Mbps | $69.99/$99.99 | $85/mo. | +43% |
| Spectrum Internet GIG | 1000/35 Mbps | $89.99/$119.99 | $105/mo. | +33% |
These prices assume you're buying your own router rather than leasing. For the Standard plan, your cost goes up to $70/month over two years when you factor in the WiFi cost.
As you can see, the cheaper Spectrum plans come with larger cost increases. If you're going to be a customer for more than 2 years, the price difference between Spectrum Standard + the WiFi router and Spectrum Ultra (which includes a free router) is only $12/month. So the question is: is it worth $12 per month extra to double your internet speed?
Customers can switch between plan tiers, but this voids any current discounts or promotions on the bill. If falling behind on billing, it's better to take advantage of one of the Spectrum bill extension systems than to risk losing a current discount.
Standard vs Ultra/GIG Modem and Wifi router Fees
Spectrum makes their modem/router pricing very confusing compared to most internet providers.
On the Standard 200 Mbps and Ultra 400 Mbps plans, you can either buy your own router or lease it from Spectrum for a $5 per month fee. They advertise these plans as having a "free modem," but the modem does *not* provide WiFi unless you also get a router. You need both (or a good combo device) to get WiFi in your apartment.
The GIG plan includes the modem and router for free, but the monthly cost jump is considerable and only worth it if you have a very complex smart home or absolutely need the upload bandwidth increase for home office use.
Spectrum WiFi router options by plan
Spectrum standard plans offer a basic leased router, with the model varying based on what's available locally. Ultra and GIG plans come with a higher-quality dual-band router (usually Arris) with a wider range in the home and less overheating issues. The Ultra and GIG plans also come with a free modem, which is capable of handling bandwidth up to 1,000 Mbps.
The router and modem provisioned by Spectrum depends on the stock locally, so you may wind up with a more advanced router than your plan in some cases. They will never give you a lower-rated router than your plan, since this would result in inability to deliver the speed being paid for.
Regardless of the router provided, Spectrum installation is normally done with self-install kits unless you request a technician during sign-up. I've written up a guide to Spectrum's router light codes here.
Spectrum TV and Internet Base Prices and Speeds
When you sign up for Spectrum internet in California, the phone agent or website is likely to promote their double-play TV and internet plans heavily. Like the internet-only plans, these come in 4 packages:
| Plan Name | Speed | Promo Price | Channels | NFL Network |
| --- | --- | --- | --- | --- |
| TV Select + Internet | 300 Mbps | $109.98/mo | 125+ | Not Included |
| TV Ultra + Internet Ultra | 500 Mbps | $129.98/mo | 125+ | Included |
| Mi Plan latino + Internet | 300 Mbps | $89.98/mo | 140+ | Included |
| Mi Plan latino + Internet Ultra | 500 Mbps | $109.98/mo | 140+ | Included |
While TV plans from Spectrum are currently contract-free, they are still more expensive than cutting the cord and streaming online.
The exception to this rule is large family homes and sports viewers, who can sometimes get a better bundle rate with Spectrum compared with buying content directly from streaming providers. TV Select + Internet comes with 125+ TV channels, ranging up to 140+ channels on the largest package.
The Spectrum sports package is an add-on on top of the base TV plan.
Note that in most areas, TV bundles have a maximum internet speed of 500 Mbps. This means that if you want download speeds for your internet higher than 200 Mbps, you'll have to go with an internet-only plan like Ultra or GIG and combine that with streamed TV from a third-party like Netflix, Hulu, etc.
Spectrum Subsidized Plans for Low-Income Households
Low-income internet is offered via Spectrum's subsidized plans, which offer reduced speeds and basic service for a lower $17.99 monthly price and a $5 per month WiFi fee.
Spectrum does not offer special discount plans for seniors or military and veterans.
| Plan Name | Speed Down/Up | Monthly Price | WiFi Fee |
| --- | --- | --- | --- |
| Spectrum Internet Assist | 30/4 Mbps | $17.99/mo | $5/mo |
Spectrum coverage area
Spectrum is the second-largest cable internet provider in the US, with a coverage area comprising all but 10 states and more than 100 Million consumers in-footprint.
California is their largest service area. As of 2023, 53% of California households have Charter Spectrum internet serviceability.
Outside neighborhoods with AT&T or Sonic fiber, Spectrum is usually the only internet provider with broadband upload speeds, and the only option for 100+ Mbps downloads, making them a de facto monopoly on broadband in much of their coverage area.
Outages normally impact a large service area, not single homes. If you're impacted by an outage, the company has been known to give out bill credits. See our full guide to Spectrum outages here.
---
Spectrum deals by market
Spectrum deals in Long Beach Spectrum deals in Bakersfield
Frequently Asked Questions
Does Spectrum Ultra have data caps?
Spectrum Ultra does not have data caps. In fact, Spectrum does not use data caps on any plans at this time. This was required as part of their merger with Time Warner Cable. They currently have some requests in at the FCC to get data caps approved again, so this may change after 2023.
Is Spectrum Ultra worth it?
For most customers, Spectrum Ultra is not worth the additional cost. While the price difference is small each month ($20 or so), it adds up to $200+ annually, which is not enough to justify the difference of downloading a large file in 30 seconds rather than 1–2 minutes. Ultra also charges extra for the WiFi router, just like the Standard Spectrum 100–200 Mbps plans.
Is Spectrum GIG worth it?
The issue with Spectrum GIG is that the upload speed is still quite low at 35 Mbps. If it was raised to at least 50 Mbps, this would be a really compelling plan. But as-is, there aren't many users who can really benefit from a firehose of download bandwidth paired with a trickle of upload. It seems likely that this plan is more about boosting the 'fastest speed' shown in brand marketing materials than actually bringing an offer that competes with fiber options like AT&T Fiber or Sonic.