As of 2023, canceling Spectrum internet requires you to either call-in or visit a store in person.
The lack of online cancellation options can be frustrating, particularly if you're simply moving or switching to another provider to reduce cost.
To make matters worse, the cancellation process can easily take an entire day, since cable companies tend to dislike losing customers.
This post will walk you through how to get service canceled fast and cheap. As a Spectrum customer myself, I go through this cancellation process every year in order to take advantage of their new customer discount system.
Be sure to read through the section on returning equipment below, since doing this improperly can cost you $200 or more in fees (or even hurt your credit score).
Quick Tips
Online cancellation: Spectrum does not allow you to cancel your account online. You have to either call-in or visit a Spectrum store in-person. Alternately, there are a variety of personal finance services like Truebill or Trim that can cancel Spectrum for you.
No early termination fees: All Spectrum plans are contract-free, so you don't have to worry about early termination fees when cancelling.
Prorated bills: as of 2019, Spectrum no longer prorates bills or issues credits for partial months. Be sure to cancel before your next billing cycle to avoid paying for an extra month of service. Do not cancel the day your monthly payment is due or scheduled.
Equipment returns: Spectrum can charge $200+ if you fail to return the WiFi equipment, including if it's lost in the mail. I strongly recommend you return equipment in-person at a Spectrum store and obtain a receipt.
Return assistance: Spectrum can only do equipment pick-ups for canceled accounts if you have a documented disability. Otherwise, you must mail or physically return the equipment yourself.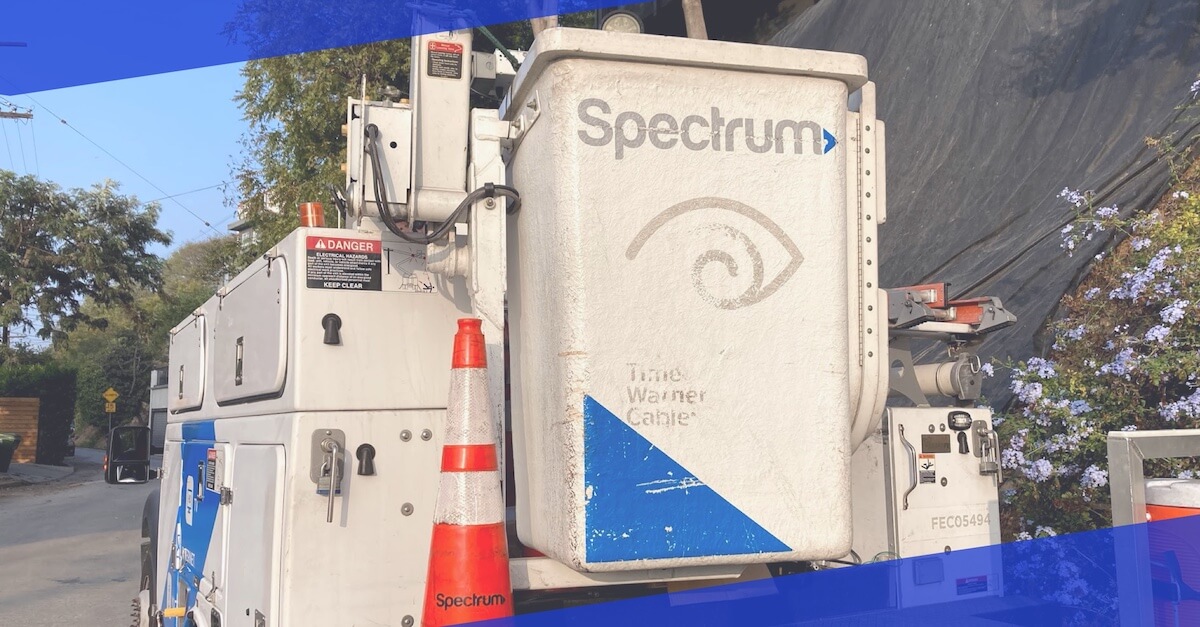 How to Cancel Spectrum Internet Service
The process for cancelling Spectrum internet service is:
1. Check for unpaid balances on your current statement
Before you start the cancellation process, log into your account or check you last statement to make sure you don't have any past-due charges.
Going in with a fully-paid account will make the process faster, particularly if you've been paying by mail and you're moving.
The balance should be displayed directly when you log in. If you see an unexpected dollar amount, you can find and review line items on your bill here: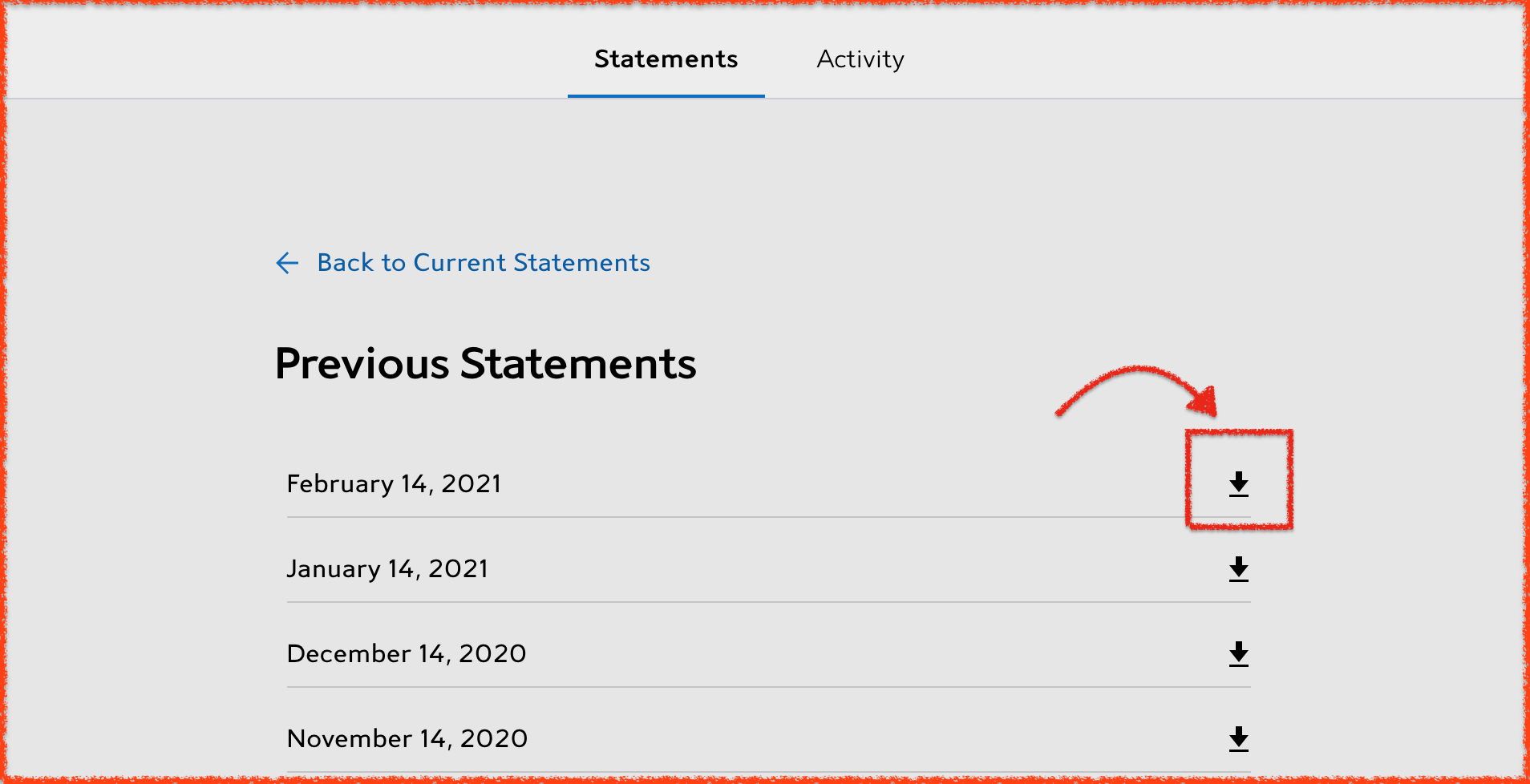 2. Choose a cancellation date before next payment is due
Unfortunately, Spectrum stopped prorating bills back in 2019.1
This means that whenever you cancel, you are on the hook to pay for the full month — even if you're moving just a couple days after the next payment period.
If your move date is on or near your next month's payment due date, make sure to cancel service a few days beforehand. Do not try to do it the day your payment is due. If you do, they will charge you for the full next month.
Give them a specific day to shut off service when you call, and make sure it's within your current month, which you pay for at the beginning of each service period.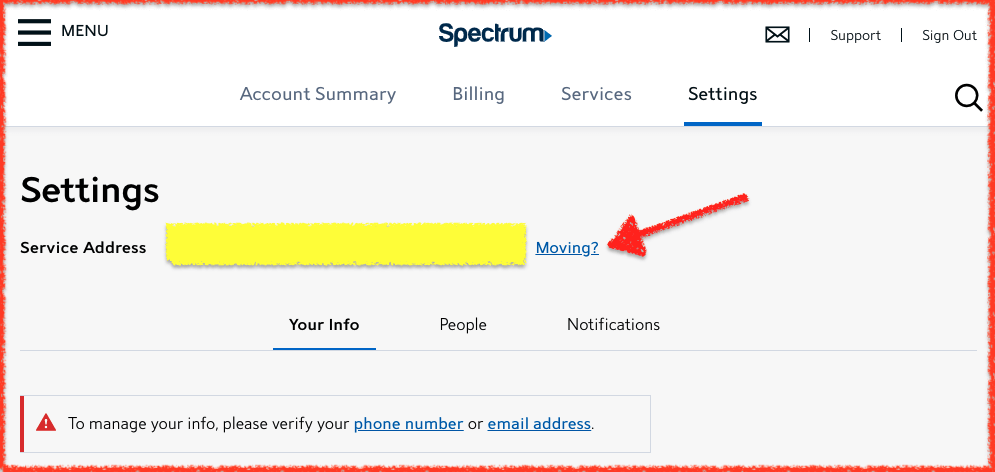 3. Notify Spectrum of your cancellation (by phone or in-person)
Spectrum doesn't allow you to cancel service online through your account or their mobile app.
You can either cancel over the phone, or in person. I strongly recommend canceling in person, because it makes it much easier to avoid issues with equipment returns and disagreements about cutoff dates and billing.
Unlike most cable companies, Spectrum plans are contract-free, which means you won't be on the hook for early termination fees. However, you may still see fees related to equipment and other services.

| Plan type | Contract requirement | Termination fee |
| --- | --- | --- |
| Internet-only | No contract | Free |
| TV bundles | No contract | Free |
| Phone bundles | No contract | Free |

Cancelling Spectrum by phone
The phone tree when you call Spectrum makes it difficult to cancel, because they hope to retain customers who are moving to another Spectrum service area or looking for bill reduction.
Spectrum employees are required to run through retention scripts before they let you actually cancel.
Follow these steps to skip the scripts and complete the call in 10 minutes instead of 40+ minutes:
Call the Spectrum cancellation number at (833) 267–6094.
They'll pull up your account automatically from your phone number.
When they ask what you're calling about, say "service changes."
They'll run through several options like "upgrade" or "add TV" before finally offering the "remove service" option. Select "remove service."
This will take you to the retention department, where an agent will try to convince you that you should upgrade to TV instead of cancelling. Simply say: "I need to cancel because I'm moving out of Spectrum's service area."
At this point, they will have no script left and will skip ahead to the actual cancellation.
If the agent continues to press you about where you're moving and adding TV, I suggest saying that you're moving out of the United States. This is the only way to completely skip their required script about service transfers.
Cancelling Spectrum in person
Google "Spectrum store near me." If there is one within reasonable driving distance, I suggest you go there in person to process your cancellation.
Spectrum employees still have to follow a retention script in-store, but it's much easier to work around by simply saying that you're moving out of their service area.
The biggest advantage of cancelling in-store is that you can return your equipment with no chance for it to be "lost" in the mail, which results in you getting charged for it.
With that in mind, bring your modem, router, DVR, and anything else you are currently leasing from Spectrum, and get a receipt for the return when you hand it to the Spectrum employee.
Seriously, equipment returns are the number one cause of issues with Spectrum cancellation… just do it in person if you can and save yourself a $200 surprise bill.
4. Return any equipment leased from Spectrum (modem, router, DVR)
You have four options for returning your Spectrum equipment:
| Equipment return option | Description | Price |
| --- | --- | --- |
| In-store | Best to ensure issue-free return | Free |
| UPS | Simplest mail-in option | Free |
| FedEx | Backup if no UPS store nearby | Free |
| Home pickup | Only available for disabled customers | Variable fee |
In-store dropoff is the first choice, since it removes any possibility of items being lost or mis-labeled. It's hard for Spectrum to argue if you have a receipt from an in-store dropoff.
UPS is also surprisingly simple. You just show up at UPS with your equipment, and they have a system in place for identifying the items with your Spectrum account and packaging for return. It's free and simple, but not as foolproof as delivering yourself.
Mailing directly to Spectrum yourself via USPS is not an option. If you attempt to do this, get ready to pay an equipment replacement fee.
Keep in mind that if your equipment is not returned, you are on the hook to pay for it. This includes issues with the mail, UPS box went missing, Spectrum employee dropped it somewhere, etc.
These equipment replacement fee estimates are based on reader write-ins and the Western region rate sheet for Spectrum. Actual fees vary by hardware type and location.

| Equipment type | Example replacement fee |
| --- | --- |
| WiFi modem/router | $200+ |
| Receiver | $103 |
| CableCARD | $20 |
| Tuning Adapter | $130 |
Unless you return it in person and get a receipt, there is always a chance that it will come back to haunt you as a missing equipment charge.
The unreturned equipment fee varies based on the specific hardware not returned. The table above provides a breakdown of some standard fees, based on reader write-ins and the Spectrum rate card for the Western US region.
Note: Spectrum only does equipment pickups for customers with disabilities. Don't abuse this policy if you're not disabled, it makes life harder for people with actual disabilities and makes it likely they'll add a higher fee in the future.
5. File equipment return receipts and email confirmations
This is the most important step: whether you have a receipt for drop-off at a Spectrum store, or a receipt from dropping off with UPS/FedEx, make sure you keep the receipt.
You'll need these to object to any additional fees or accidental charges you incur after cancelling service. If possible, also print and hold onto a copy of the cancellation email with the date your service is shut off.
6. Confirm no charges after end of service date
Finally, log into your Spectrum account or call them directly the day after your regular billing date, to triple check that there are no new fees on your account.
If they decide to add fees after the fact, and you've moved and blocked their emails, you won't hear about it until collections start. Obviously, this can hurt your credit score.
Therefore, be sure to manually check that your account balance is a nice round "zero" the month after you cancel.

Alternative to DIY: Spectrum Cancellation Services
If you're stressed about cancelling Spectrum or already tried and didn't make it through the call center, you can consider services like Truebill or Trim who will do it for you.
Just keep in mind that these services make money by charging fees; they primarily offer bill cancellation because it encourages you to use their bill monitoring services.
It's worth trying if you struggle to keep up with constant bill changes, but it's not 100% free.
How to Cancel or Change Individual Spectrum Services
If you're looking to cancel TV or simply change your internet plan, Spectrum makes it a little bit easier, but with a catch:
Upgrades are easy and can be done completely online through your Spectrum account. Just log in and select "service upgrades" in the sidebar to add TV or increase your internet tier.
Downgrades are not so easy, since obviously they'd prefer you kept the more expensive services. You have to call in to perform most downgrades, particularly service removal that involves equipment such as "cutting the cord" from TV.
You can access your Spectrum account at Spectrum.net, or in-store if you're having issues. The Spectrum customer service line is (855) 707-7328.
---
Frequently Asked Questions
Does Spectrum Internet have a satisfaction guarantee?
Spectrum Internet residential plans have a satisfaction guarantee which permits free cancellation in the first 30 days of service. However, the return is in form of credit if you retain any other spectrum services.
Does Spectrum prorate final bills?
Spectrum previously prorated final bills for customers, but starting in 2019 they no longer offer prorating when customers cancel. Additionally, you can be charged for an additional month of service it you attempt to cancel on your bill's scheduled payment date. Therefore, customers who are cancelling Spectrum service should do so prior to the next month's scheduled payment.
Does Spectrum charge early termination fees?
Spectrum does not require customers to have contracts, so there is no early termination fee associated with canceling. If you've been a customer for fewer than 30 days, you can get the entire cost of service refunded. If a customer for longer than 30 days, you will be charge for the final month in full with no prorating.
Can you cancel Spectrum internet service online?
Spectrum does not allow customers to cancel or even downgrade plans online. While upgrades can be performed online, all other service adjustments and cancellations must be done either via phone or in person at a Spectrum store location.
Can you transfer Spectrum internet service to a new address?
If you are moving to a location that has Spectrum service, and you are a current Spectrum customer, they will ask you to transfer your service rather than cancel and re-sign up. If you have more than 30 days between your move-out and move-in dates, you can re-qualify as a new customer by cancelling service prior to the move and starting a new account at your new location. However, in most moves, it is more convenient to simply transfer your service, which allows you to keep all your current services and pricing.