Spectrum offers several payment options for customers struggling to pay on time, including payment arrangements and bill extensions.
I'll explain exactly how both options work below, and also share some more unique solutions like their payment deferral plan.
On a low income? Check out the end where I explain how to reduce your bill permanently using their subsidized plan programs: the Affordable Connectivity Program and Lifeline.
Spectrum late payment options
This article covers five options for handling late Spectrum payments:
1. Sign up for a late payment arrangement
Late payment arrangements are only available after you miss a payment due date. Don't worry; Spectrum services are not typically canceled the day after a missed payment.
To opt for the Spectrum Payment Arrangement (once you've missed a payment), log into your online Spectrum account. There should be an option to pay your bill in installments.
When you have signed up for this arrangement, you will start receiving statements with the amount to pay. Keep paying the installments until you no longer owe a past-due balance.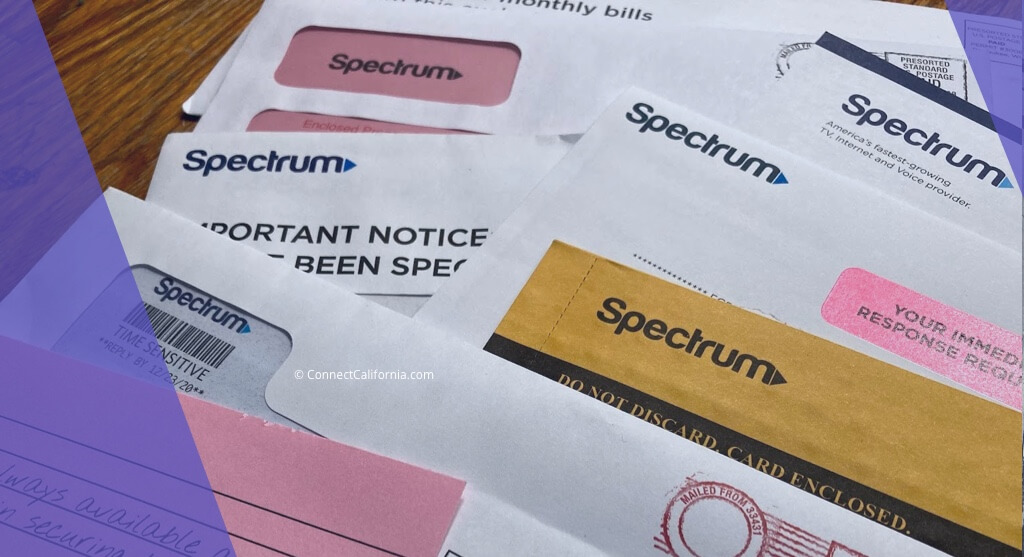 If you do not see the option to sign up, call a customer service representative and explain your situation to opt for the arrangement. You may reach an agent by calling the following number: (833) 267-6094
Does Spectrum have a grace period for late payments?
It has been reported that Spectrum customers have a short grace period each month. This grace period would last until your bill is due at the beginning of the next month.
For example, let's say you were billed on June 1, 2023, and your due date is the 15th. Your grace period would be from June 16, 2023, through July 1, 2023. After July 1st, your bill will be considered late and outstanding. You would have to pay the past due amount to avoid an interruption in service.
This is not something you need to request, as Spectrum does not seem to care what your story is as long as your bill is paid before the grace period ends.
What should I do if Spectrum refuses to give me a grace period on my bill?
As someone who's spent dozens of hours conversing with Spectrum representatives to prepare the content on this site, I can tell you one thing: Spectrum policies are not consistent.
It's tedious, but getting what you want from Spectrum will almost always take multiple phone calls or even an in-store visit. This is especially true when you're asking for a break on billing.
As an example, during research for this article, one chat agent I spoke with said that "Spectrum does not grant extensions or payment arrangements…" and "It is not currently the policy to provide extensions or arrangements as the customer has any point in the 30-day cycle to pay their account."
However, just because it is not "currently the policy" does not mean it's entirely off the table. Once I spoke with a manager, they were happy to share that Spectrum can make exceptions based on your account history.
2. Elect for a one-time bill extension
Spectrum representatives are known to extend your bill's due date if it's the first time you're asking them to do so. Spectrum Mobile's billing support page states that service interruptions will begin after 32 days of your missed due date.
Call (833) 267-6094 to speak to a representative and request an extension on your bill.
Now that we have discussed a couple of options, here is a summary to help you understand the steps you should take if you need an extension on your Spectrum bill or a payment arrangement.
For an extension:
Log in to your online account or check your paper bill to confirm that the due date of your next payment has not passed.
Call (833) 267-6094 to speak to a representative and request an extension on your bill. As previously mentioned, you have 32 days before service is interrupted regardless, so being proactive and requesting an extension before your bill's due date will increase the likelihood of your extension.
For a payment arrangement (assuming you have missed a bill or two already):
Log in to your online account. Confirm that you have missed a bill (or two).
Go to your bill/payment options. Since your account status has an outstanding balance, there should now be an option to pay your bill in installments.
Select that option and follow the prompts to set up your payment plan. You will start receiving new statements about your payment arrangement with details on what to expect to pay.
3. Request a deferral plan from a Spectrum manager
Disclaimer
This option is not guaranteed to work. It is reported by our readers as a solution, but we were unable to confirm it as a policy with Spectrum reps we interviewed.
The payment deferral plan is a plan which allows Spectrum customers 24 months to pay off their debt. This is established by opting for fixed monthly payments based on the amount owed and what is expected to accumulate during the 24-month pay-pff period. The customer will pay the agreed amounts each month for 24 months until the full debt is paid.
You can choose this plan by opting for it in the setting section of your online Spectrum account or call (833) 267-6094 to speak to a representative and request it. Again, this option is not guaranteed and may only be available if you've missed several bills and wish to be proactive about maintaining your service.
It has been reported that the only bill extension is a "promise to pay." This is not something that a typical Spectrum representative is allowed to issue. Supervisors are typically the only reps able to give this extension out, and the customer must match certain criteria to be allowed the benefit.
This criterion includes but is not limited to the following:
The customer requesting the "promise to pay" extension cannot have two or more past-due bills in the last year.
The customer is only eligible if they were not previously on the "promise to pay" plan in the last year.
Other criteria, such as never having your account past due for more than a few days, have also been reported as a criterion for obtaining a "promise to pay" extension.
---
Now that you know your options, the question is: will you be in this situation more than once or twice a year?
If so, you should seriously consider seeking out one of the income-based billing options detailed below:
4. Switch to the Spectrum ACP plan
If you just lost your job or suddenly have no income, you can still receive services at a discounted rate thanks to the Affordable Connectivity Program (ACP).
With the ACP discount applied, the cheapest Spectrum internet plan drops from $49.99 to $19.99 per month. This is lower than their low-income program, when accounting for Wi-Fi equipment rental.
The ACP is a government program administered by the Federal Communications Commission (FCC). There are many ways to qualify; you can qualify for a monthly internet discount under the program based on income guidelines or if you participate in certain government assistance programs.
If approved by the FCC, it could take up to $30 off the internet portion of your bill. Check out Spectrum's page on the Affordable Connectivity Program to see if you qualify.
If you were part of the "emergency broadband benefit" used during covid to subsidize internet for those impacted by layoffs, be aware that the ACF replaces that benefit.
5. Apply for a Lifeline benefit to apply to Spectrum bills
Low-income customers can also explore Lifeline discount benefits, which in some cases can be applied to internet service instead of phone service.
How long can you not pay before service is cut off?
Spectrum customers are automatically granted a short grace period. If you need longer than the grace period allows, you'll have until about three weeks after the 1st of the following month that your bill was due.
To better explain, here's an example:
So, you were billed on June 1, 2023, and your due date is the 15th. As we discussed, your grace period would be from June 16, 2023, through July 1, 2023. After July 1st, your bill will be considered late. You then have until July 15th to pay your bill before you're in jeopardy of having your services disconnected.
As with the grace period, this is not something you need to request.
Spectrum will assume you will pay within their allotted grace/outstanding periods.
According to Spectrum's mobile service support page, mobile service suspensions occur after 62 days. When this happens, you will not be able to use your phone (calls, texts, and data).
And lastly, if you allow 90 days to pass without making a payment, your service will be disconnected.
| | Bill Due Date | Grace Period | Outstanding | Service Termination |
| --- | --- | --- | --- | --- |
| Delinquency timeline | Regular due date following the billing cycle. | The following two weeks after your bill's due date. | The dates from the time your grace period ends until 90 days without any payment. | After 90 days without making payment. |
| What happens to my service? | Nothing. You still have service. | Nothing. You still have service. | Service is suspended unless a payment arrangement has been put in place or you've paid the past due amount. | Spectrum service will be shut off unless you've established a payment arrangement. |
Does it hurt my credit if I don't pay my Spectrum bill?
Like all consumer services, Spectrum is within their rights to send your account to collections if you fail to pay the balance. This typically happens after a wait period of around 60 days, but they are not required to wait this long; in practice, you could be sent to collections the day after your due date, or a year later, depending on how their policies are applied in your area. This ultimately impacts your credit score, especially if not handled quickly.1
As a final note, Spectrum's collections process applies to billing for equipment rentals as well, not just internet service. Failure to return a router or other piece of equipment like a TV box after canceling Spectrum service is subject to the same process.
---
Frequently Asked Questions
Will Spectrum take you as a customer if you previously failed to pay?
Spectrum will accept customers that previously failed to pay their accounts. However, outstanding payments must be settled before signing up again. This policy does not apply to family members. For example, if you have a delinquent Spectrum account on your record personally, your family member or roommate can generally sign up as a new customer, so long as you are not the person agreeing to responsibility for the payments.