Spectrum is the most widely available internet provider in the Los Angeles area, with 98% of the city already wired for their internet plans and cable packages.
Los Angeles is an "upgrade" service area for Spectrum, meaning that their base plan speed has been upgraded to 200 Mbps as of 2021.
Spectrum's plans go all the way up to gigabit download speed in LA. However, the majority of customers are best served by the base tier plan, which is more than good enough to support streaming video, gaming, and up to five or so users.
We currently recommend the base Spectrum 200 Mbps internet-only plan for most households in the Los Angeles area.
The 200 Mbps download speed is more than enough for a household of 2–4 people to use at the same time, and can support HD and 4K video to widescreens for streaming. The main caveat of this plan is the 10 Mbps upload speed; if you have multiple people running video calls at the same time throughout the day, you should consider upgrading to the Spectrum Ultra plan which brings the upload speed to 20 Mbps.
The 200 Mbps internet-only plans is currently available for phone orders at a discounted rate of $49.99 for the first year. After the first year, the promotion ends and the price increases to $69.99 per month. However, you can often get the discounted price extended by calling in to request it.
They charge a $5/month fee for WiFi, which can be removed if you use your own router. Other than the WiFi fee, there are no additional fees for internet-only service; taxes and fees are all included in the $49.99/month price.
You can order the plan by phone by asking for 200 Megabit Per Second internet-only service here:
(855) 458-0928
Spectrum Internet-Only Plans
Current Spectrum internet-only plans in Los Angeles come in 3 tiers:
| Plan Name | Speed Down/Up | Promo Price | Final Price |
| --- | --- | --- | --- |
| Spectrum Internet | 200/10 Mbps | $49.99/mo | $69.99 |
| Spectrum Internet Ultra | 400/20 Mbps | $69.99/mo | $94.99 |
| Spectrum Internet GIG | 940/35 Mbps | $109.99/mo | $129.99 |
For most users, the base 200 Mbps plan is more than sufficient. $49.99/month is a strong value, but keep in mind that this is a "promotional price" that times out after 12 months. After the first year, the price jumps 40% to $69.99.
Spectrum's Ultra and GIG upgrades are best for "power users" with home offices, multiple 4K screens and more than four hours per day of TV viewing time, and serious gamers.
Spectrum Ultra and Gigabit plan upgrades
Spectrum Ultra is worth considering for LA households that need extra downstream bandwidth for streaming 4K to multiple screens in the home.
Overall, it's a good fit for larger family homes for this reason, particularly if paired with an upgraded mesh router system to reduce the coverage issues many users report from Spectrum's hardware defaults. The 20 Mbps upload speed is still a bit challenging for home office use (video calls, etc), but is twice as much as the paltry 10 Mbps offered by their base plan.
Spectrum GIG is the only plan that offers broadband-grade upload bandwidth, which makes a big difference if you work from home. For those of us in Los Angeles who work in the content industry and regularly work with large video files, the difference between 10 Mbps upload and 35 Mbps upload is huge.
Spectrum Bundled TV Plans
Spectrum TV is very standard as cable packages go: the price is low and reasonable compared with the main competitors in Los Angeles, which are "AT&T TV" or DirecTV.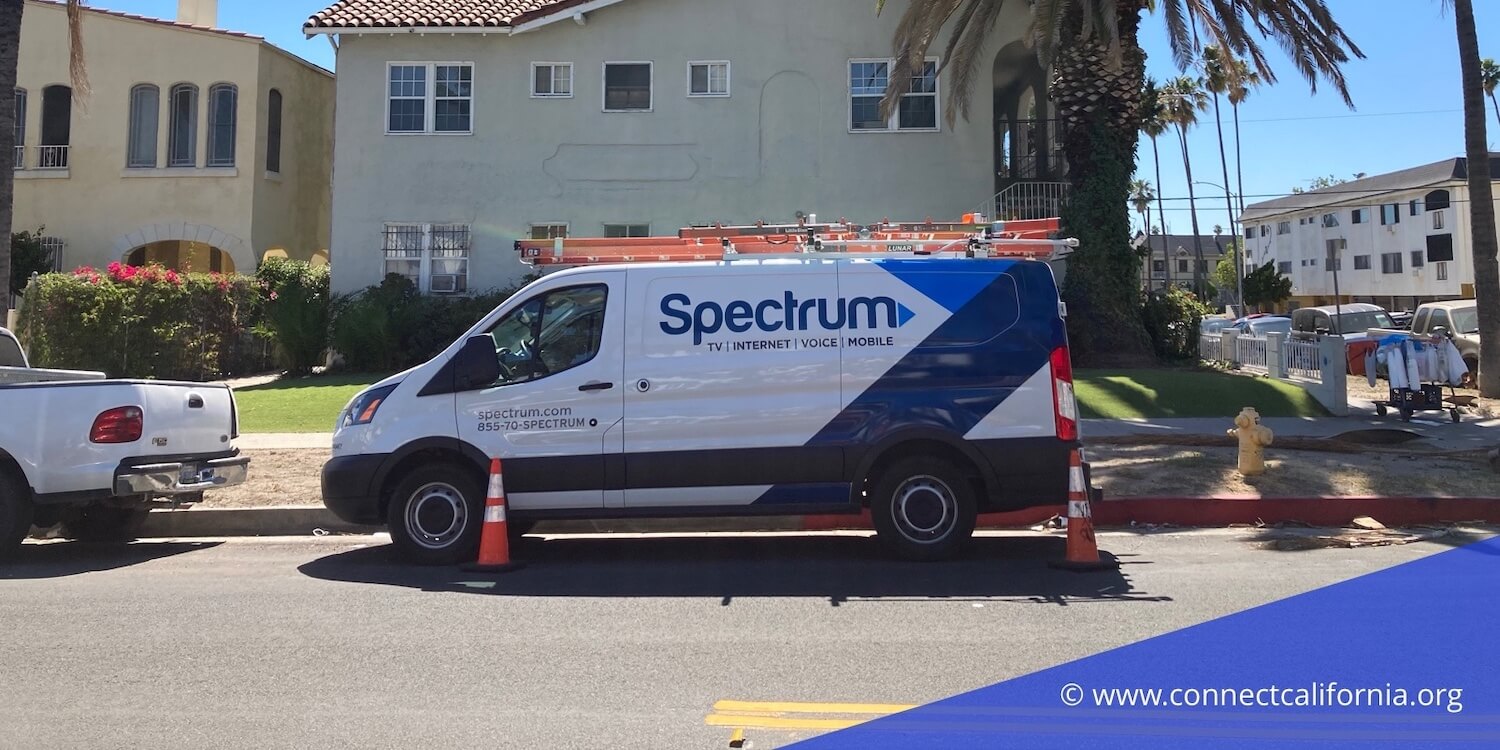 Spectrum TV can be purchased alone, but it doesn't really make sense to do so — so the pricing below is for their internet + TV cable bundles, which come in 3 tiers:
| Plan Name | Speed | Promo Price | Channels | NFL Network |
| --- | --- | --- | --- | --- |
| Double Play Select | 200 Mbps | $89.98/mo | 125+ | Not Included |
| Double Play Silver | 200 Mbps | $114.98/mo | 175+ | Included |
| Double Play Gold | 200 Mbps | $134.98/mo | 200+ | Included |
Spectrum's TV offerings in Los Angeles are contract free, which is another benefit that makes it a strong competition for AT&T. (surprisingly, AT&T still requires a contract for TV service.)
As with any cable plan, they come with a variety of fees though — ranging from DVR leasing fees to regional sports fees to a line item for every receiver in the home. This can bring the cost up, but still not nearly as high as competing offers from AT&T.
Spectrum Subsidized Plans for Low-Income Households
For low-income households, Spectrum offers internet access at a reduced rate. However, the speeds are much lower than their consumer-facing plan tiers, and you will need to go through a lengthy application process in order to demonstrate qualification for the subsidized pricing.
Keep in mind that even their subsidy plan requires an additional fee for the WiFi router — the fee is $5/month as of 2021.
| Plan Name | Speed Down/Up | Monthly Price | WiFi Fee |
| --- | --- | --- | --- |
| Spectrum Internet Assist | 30/4 Mbps | $17.99/mo | $5/mo |