Spectrum Internet Assist Spectrum 300 Mbps Internet TV Select + Internet + Voice Spectrum Internet Ultra Emergency Broadband Benefit
While preparing this article, I've spent more than ten hours analyzing the fine print on Spectrum plans and running test orders at addresses across the US.
While Spectrum's lack of standardized senior discounts is frusttrating, I was able to confirm at least one discount with qualifications aimed at seniors:
Low-income plans (about 70% off standard price)
New customer service discounts (about 35% off standard price)
Bundled service discounts (about $10 off normal price)
Unfortunately, thanks to Spectrum's complex pricing and discounting system, seniors often miss out on these discounts; or, worse, get overcharged for services they don't need.
Issues with overpaying are particularly common for Seniors using Spectrum's legacy TV and landline phone products, because of the additional broadcast fees and semi-annual price increases.
In this article, I'll break down exactly which plan is best in each category — and how to get it for the lowest possible price.
All discount options discussed below have been verified by calling both local Spectrum stores and national support centers.
Breaking down the best Spectrum plans for seniors
Here's a summary of my recommendations for seniors:
Best for low or fixed-income seniors: Spectrum Internet Assist
Best for most seniors: Spectrum 300 Mbps Internet-only
Best for TV (premium sports) and landline service: TV Select + Interent + Voice bundle
Best for homes with children and grandkids: Spectrum Ultra 400 Mbps Internet-only plan
Best for Covid-impacted customers: Emergency Broadband Benefit $50 discount program
Aside from price, the most important thing to remember when choosing a plan is how many people will use it.
For anyone with large families and lots of devices, for example, a plan that doesn't offer high speeds may experience a bit of a slowdown when everyone hops on their phones at the end of the day.
1. Spectrum Internet Assist
Like most cable companies, Spectrum offers low-income internet plans with reduced speeds for a reduced price. This program is called Spectrum Internet Assist.
While difficult to qualify for, Spectrum Internet Assist is the cheapest way for seniors on a low or fixed-incomes to get Spectrum internet service. The plan offers 30 Mbps download speeds, which is fast enough for basic use by 1–2 people.
On top of the strict application process, the plan is not available as a "plan change" option for current Spectrum customers. You can only get this plan if you have not had Spectrum internet service in the last 30–60 days.
Spectrum Internet Assist requirements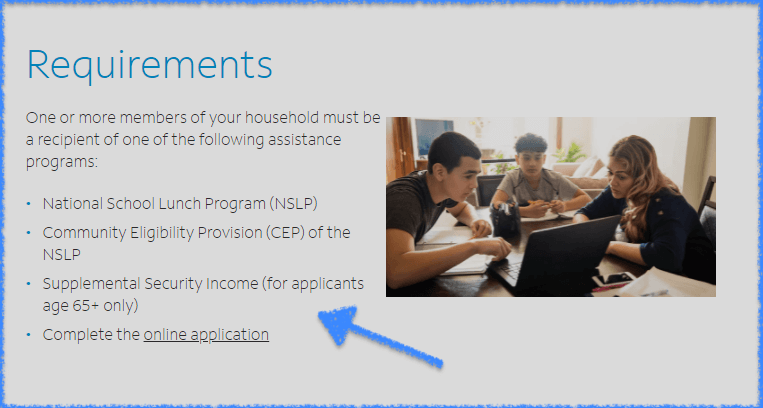 If you are on SSI (Supplemental Security Income), you'll qualify automatically — if not, they also allow families participating in school lunch programs to sign up.
The full qualification list for Spectrum Internet Assist is:
SSI (Supplemental Security Income)
NSLP (National School Lunch Program)
CEP (Another voucher-based school lunch program)
For seniors, this means: unless you have Supplemental Security Income or a child on school lunch assistance, you cannot take advantage of the Assist plan discount.
Note that Spectrum only offers this plan for those receiving SSI payments. The program is not open to regular social security, or any other social security programs, including survivors benefits.
With this in mind, here are a few tips:
If you have an existing plan with Spectrum, you will need to cancel first and wait at least a month. You can work around this by having a qualifying relative sign up instead.
Not all Social Security programs are covered. Make sure that you are on a Social Security Supplemental Income plan (not regular Social Security Payments) before asking for their special rates.
Check with everyone in your house to see if anyone meets any of these requirements before giving up.
Spectrum Internet Assist features
Now that you know whether you're qualified or not, we can talk about what the program offers. For most seniors, this plan will meet your basic needs and make sure you can stay connected from any devices you use in your home.
The first thing they offer is a free modem (a device used to connect to the internet). This is usually installed by a professional and doesn't require anything on your end. They also offer:
No data caps (you won't hit a data limit from too much Netflix).
No contracts (you won't get charged a termination fee when you leave).
In-home Wifi service (this costs an extra $5/mo).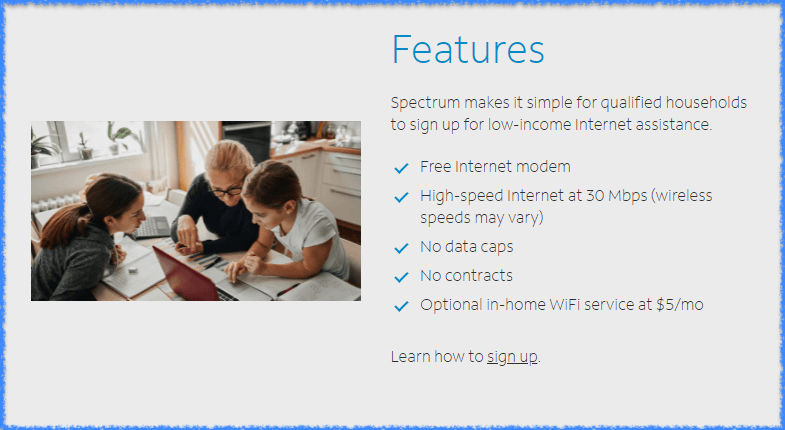 We recommend you take the Wi-Fi option since having to plug in with an ethernet cable is inconvenient and means you can't use Wi-Fi for your mobile phone.
2. Spectrum 300 Mbps Internet
Like all things, there needs to be a ground-level before you can build up and away. For Spectrum and their internet options, the "Spectrum Internet" package is their ground floor. It's simple, fairly inexpensive, and gets the job done.
The standard package comes with 300 Mbps, a free modem, and no data caps for $49.99/mo. For most households with 1-3 people, this is plenty of speed, and your network won't get bogged down even with everyone using it at once. For a senior with 1-2 people in the house, this is probably the ideal place to start.
Like all internet packages, however, this one does have some hidden traps. The "introductory rate" is $49.99/mo, but that price will go up after a year of using the service to $79.99/mo. It's sneaky, but their goal is to get people to sign up since it's usually harder to get out of a contract than it is to sign it in the first place.
Additionally, they charge an extra $5 per month for the Wi-Fi router. (No, the "free modem" doesn't give you Wi-Fi on its own.) You can drop the $5 fee by using your own Wi-Fi router instead. We have a full guide to Spectrum Wi-Fi fees and router suggestions here.
3. Spectrum TV Select + Internet + Voice
Spectrum's "double play" TV Select + Internet package offers three core services for one monthly bill:
Home phone (unlimited national calls)
TV with NFL access (125+ channels, $5 extra for premium sports)
Internet service (300 Mbps, enough for homes up to five people)
While expensive ($129.97 per month before $14+ in TV fees) Spectrum bundle plans are often cheaper than buying all three services separately, especially if you live in a rural area where the only other option is satellite service.
TV channels on Spectrum Silver include HBO Max™, SHOWTIME®, and the NFL Network. For an extra $5 they also include a full regional and national sports lineup including NFL Redzone, ESPN College Extra and more.
4. Spectrum Internet Ultra
The Spectrum Internet Ultra plan is a higher-speed version of their base package with a little more cost to it. This package offers 500 Mbps of internet, a free modem, and no data caps. It starts at $69.99/mo and goes up to $99.99/mo when the introductory pricing is through, usually after a year.
This is the highest speed that Spectrum offers that's widely available (their Gig plan is faster but has limited coverage, according to tests I ran while preparing this article).
If you look after grandkids who like to use their phones, have multiple devices in the house, or want to have higher speeds for any other reason, this plan is only $20 extra a month and doubles your download and upload speed.
5. Emergency Broadband Benefit
While not exclusively available to Spectrum users, the Federal Communications Commission's (FCC) Emergency Broadband Benefit is a great option for seniors looking to get connected to broadband internet.
According to the FCC's website, the benefit provides a $50 monthly credit (or $75/month if you live on tribal lands) toward broadband internet service for households that meet the qualifications listed below.
Qualifications for monthly credit under the FCC's Emergency Broadband Benefit
Has an income that is at or below 135% of the Federal Poverty Guidelines or participates in certain assistance programs, such as SNAP, Medicaid, or Lifeline
Meets the eligibility criteria for a participating provider's existing low-income or COVID-19 program
Received a Federal Pell Grant during the current award year
Experienced a substantial loss of income due to job loss or furlough since February 29, 2020, and the household had a total income in 2020 at or below $99,000 for single filers and $198,000 for joint filers
Approved to receive benefits under the free and reduced-price school lunch program or the school breakfast program, including through the USDA Community Eligibility Provision in the 2019-2020 or 2020-2021 school year
All information in the table above is quoted directly from the FCC's Emergency Broadband Benefit page.
Because the Emergency Broadband Benefit is designed to bring internet service to those who would otherwise have a difficult time affording it during the COVID-19 pandemic, the benefit is temporary. However, the program does not have an official end date and will continue until the funds designated to the program run out or the pandemic is deemed over.
Despite its temporal nature, the benefit's flexibility currently makes it one of the best options to bring internet connectivity into your home. This means that you can find the number of megabits per second (a measure of internet speed) that works best for your household and use that information to decide on the best plan for you. What's more, Spectrum will notify you of the program's end 30 days in advance, so that you have plenty of time to start searching for other options if you aren't able to pay full price.
You can apply for the Emergency Broadband Benefit through Spectrum here.
How to secure extra discounts for your Spectrum Internet package
Now that you know some of your options, we can talk about getting your pricing down. Try a few of these tips and see which ones work for your situation.
1. Check for local deals first
The most important element to reduced pricing is where you live.
When signing up for any of the internet packages above, you will be required to input your street address and zip code. This allows Spectrum to locate you and place you within their localized offering and pricing layouts (this can be a good thing or a bad thing, depending on where you live).
Once you get into their localized offerings, the package prices you see may vary if you're in an area where their network is particularly strong or weak.
Take a second to enter your address to see what rates are available in your area and you may be surprised. For example, while entering test orders to gather data for this article, I found offers for internet plans as low as $29/mo in some areas (mostly suburbs). These lower-cost deals seem to be only available in certain areas, and I saw them more in locations with lower maximum speeds on the Spectrum network.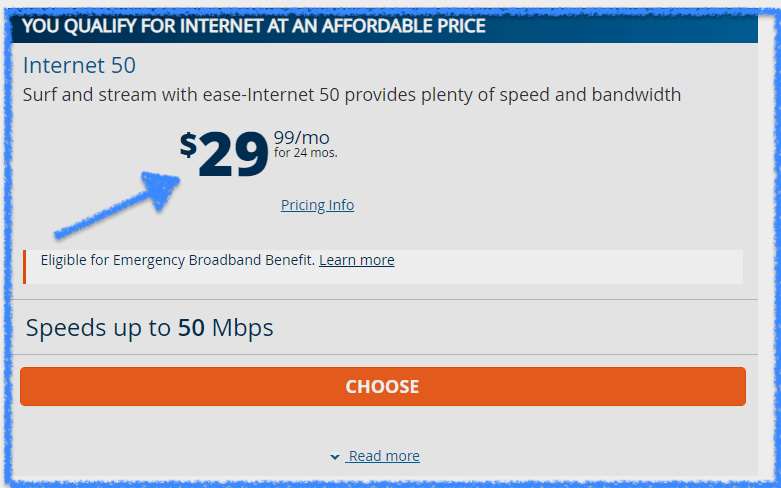 2. Call a rep to check for discounts
If you already have Spectrum internet, you can do a few things to lower your Spectrum bill to something more livable — especially as a senior.
The first thing you should do is call them. Calling their sales or retention department (depending on if you already have their service) may give you access to special "retention rates" if they know you are going to leave due to their pricing. This may not always be available, but a phone call can't really hurt if it's just to check and it may end up paying off.
If you want to be super sneaky, you can cancel your service and set up a new package under someone else's name in the house (a spouse, for example). This will give you access to their introductory pricing — just be aware it's against their terms of service.
Explain your situation. Request help lowering your monthly payments. If you can prove that your income has been reduced due to covid, many internet providers have the ability to offer retention discounts for your account.
Summary: few options for average-income seniors
While internet service providers typically provide few benefits exclusively geared toward senior customers, the good news is that there is a bounty of options for low-income individuals seeking to get connected. In this regard, Spectrum is no different.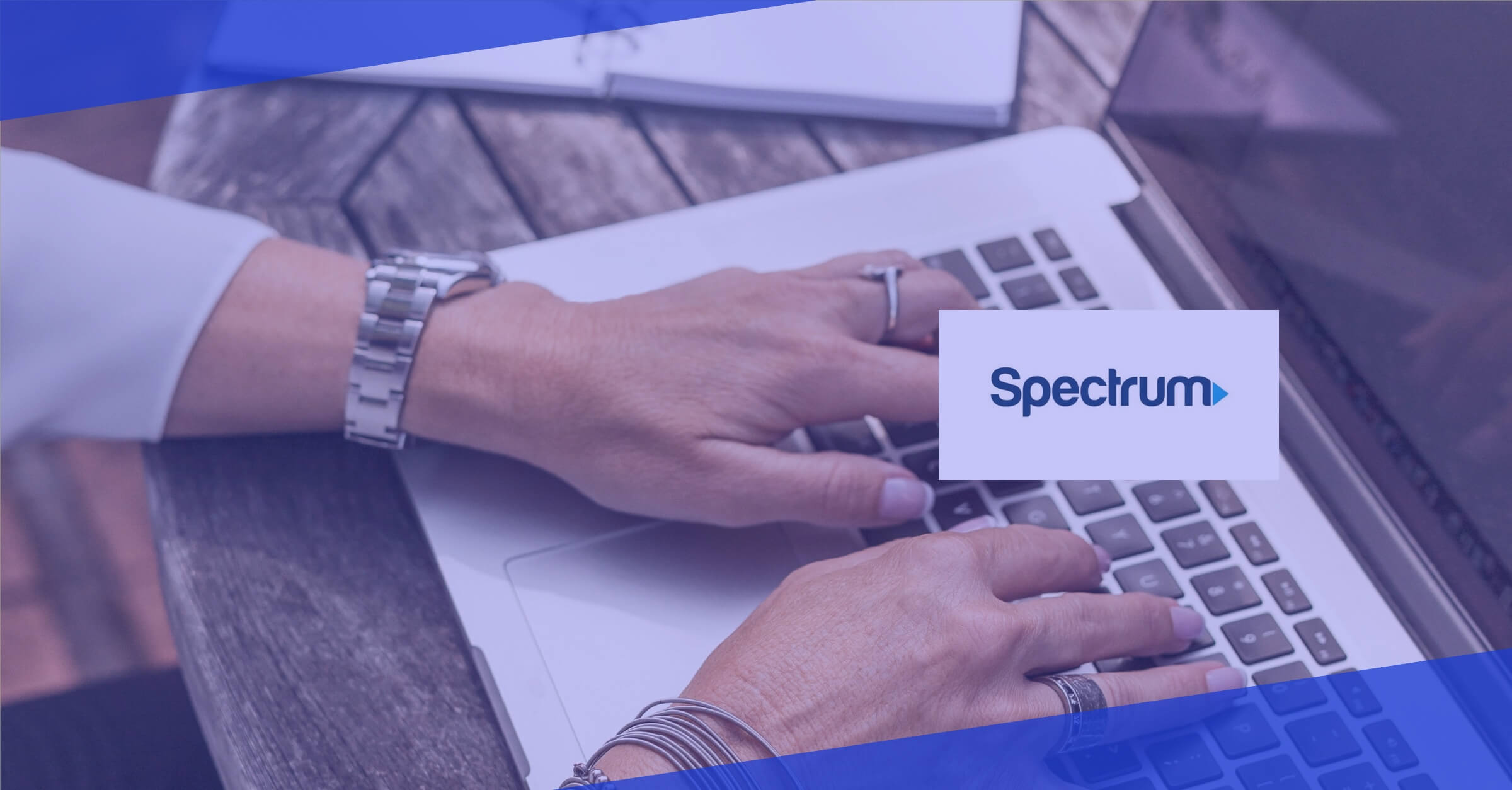 If you receive benefits like Supplemental Security Income or a younger person in your household receives food under the federal school lunch program, there's a good chance that you will qualify for the Spectrum Internet Assist program, which is designed to get low-income households connected to the internet.
Similarly, the temporary Affordable Connectivity Program is also a great option if you're looking to bring low-cost internet into your home. By qualifying for many of the same programs required for the Spectrum Internet Assist Program, you can get a $30 discount on your monthly internet costs — ensuring that you'll never have to leave your home to get connected.
---
Frequently Asked Questions
Does Spectrum have senior discounts?
Spectrum offers a $17.99 discount plan to seniors age 65+ on Supplemental Security Income via their low-income program, Spectrum Internet Assist. Additionally, seniors on fixed incomes can typically qualify for Spectrum's $30 Affordable Connectivity Program discount. Spectrum does not offer a purely age-based discount in 2023.
Does Spectrum have an AARP discount?
There are no Spectrum discounts through AARP as of 2022, and we found no evidence of past plans while collecting all discount program data for Spectrum internet. The discount offered by Spectrum relevant to seniors is their low-income plan, Spectrum Internet Assist.
Do seniors qualify for the Spectrum Internet Assist Program?
To qualify for the Spectrum Internet Assist plan as a senior, you must receive Supplemental Security Income and be aged 65+. You can also qualify if children living in your household receive school lunch assistance. Both programs are used to pre-qualify homes for the reduced-price plan.