Spectrum 300 Mbps Internet Spectrum Internet Assist TV Select + Internet
Best for most military and veteran households: Spectrum 300 Mbps Internet
| Plan Name | Applies for veterans and military? | Low-cost? | High speed? | Permanent? |
| --- | --- | --- | --- | --- |
| Spectrum Internet 300 | Not specifically. This plan is discounted by $30 per month for all customers in the first year. | Yes. The first-year discount price is equivalent or cheaper than what other cable companies charge for the same speed. | Yes. 300 Mbps is faster than average for an entry-tier plan. It's enough bandwidth for a family of four, provided no more than 2-3 people are using video chat at the same time. | This discount expires after 1 year. |
Spectrum's base internet plan offers 300 Mbps for $49.99 per month, which is a $30 per month discount off the standard rate in most areas. They charge a $5 fee monthly for Wi-Fi, so the actual price paid by most homes is about $55 per month in the first year.
300 Mbps is sufficient for a family of 3–4, although it may struggle if more than two people try to run video calls at the same time over Wi-Fi.
While the $30 discount is not exclusive to military families or veterans, active military can take advantage of a federal law that prohibits internet providers from charging cancellation fees to servicemembers.
This law, the Servicemembers Civil Relief Act, means that you can switch to Spectrum from another provider without paying the other provider a termination fee. Spectrum does not charge cancellation fees at this time, but that may change in 2022 and looking forward. This benefit can also help in the event that you are charged equipment replacement fees after closing an account.
This plan can be discounted an additional $5 per month if you opt to purchase your own Wi-Fi router rather than using the one they lease by default.
Best for low-income veterans: Spectrum Internet Assist
| Plan Name | Applies for veterans and military? | Low-cost? | High speed? | Permanent? |
| --- | --- | --- | --- | --- |
| Spectrum Internet Assist | Not exactly. While Spectrum does not have a dedicated veteran internet discount, veterans eligible for the Supplemental Security Income program can use it to get a discount. | Yes. The Spectrum Internet Assistance program costs between $17.99 and $23.99 per month. | Sort of. While the program's internet speeds of 30 Mbps are considered high speed, they might have a difficult time handling more than a few internet users. | No. This plan discount expires after one year. |
While the program is geared toward low-income individuals and not exclusively for veterans, the Internet Assist program is the cheapest Spectrum service available. The program allows users to access high-speed internet of 30 megabits per second (Mbps). Like all Spectrum plans, it is free of data caps and contracts, meaning you won't have to pay a termination fee when moving.

In order to qualify for Spectrum Internet Assist, veterans or members of their households must be eligible to receive benefits under the National School Lunch Program (NSLP), the Community Eligibility Provision (CEP) of the NSLP, or Supplemental Security Income (SSI) program.
In other words, you must have a child who gets school lunch assistance or be near the poverty line to access this plan.
Most low-income veterans age 65 and older will be able to use the Supplemental Security Income program to qualify as you can often file for the SSI program in conjunction with or as a replacement for VA benefits.
This is the most notable downside of Spectrum's internet options for veterans: eligibility for low-income assistance is limited to a few qualifying programs, and won't let you participate by simply showing a low bank statement. Some other providers, such as AT&T and Xfinity, have much cheaper and accommodating programs.
If you are above age 65 and eligible for the program, you will likely find it to be low-priced and efficient. Priced between $17.99 and $23.99, subscribers receive a free internet modem and Spectrum's Security Suite software, which helps make your internet activity even safer.
For an additional $5 per month, you can receive in-home Wi-Fi service, which we recommend — ethernet cables can be cumbersome, and wireless internet is easy to connect to.
Note: In order to access Spectrum Internet Assist benefits, you cannot be a current customer. If you are, you will have to cancel your internet service through Spectrum for thirty days and purchase the plan then.
Is Spectrum Internet Assist fast enough for a military family?
As with any internet offering, it's worth considering whether the internet speeds in this program are right for you.
For example, in a household containing three to five people, you would generally need about 100 Mbps to sufficiently handle the bandwidth needs of multiple devices simultaneously gaming, streaming, and video chatting.
Similarly, if a household contains four or more people, internet speeds of 200-500+ Mbps would be helpful to support the internet traffic happening within the house.
Despite this, if you have a relatively small household of about one or two people, this plan is ideal for moderate traffic. Veterans living by themselves or with a partner will experience high-speed internet able to handle all of their online activities. I would not recommend the plan if you have kids, unless there is no other option.
Best TV deal for military families: Spectrum TV Select + Internet
| Plan Name | Applies for veterans and military? | Low-cost? | High speed? | Permanent? |
| --- | --- | --- | --- | --- |
| Spectrum TV Select + Internet | No. The discounts offered under the Spectrum TV Select-internet bundle are available to everyone. | No. While the bundle is discounted, the total cost comes out to over $100 per month before tax. | Yes. The internet included in the bundle is as fast as 300 Mbps or higher, depending on preference — more than enough for a large family. | This discount expires after one year. |
For veterans who do not qualify for the above plans but are interested in bundling television and internet service, Spectrum provides a $5 per month discount on internet service.
Under this plan, subscribers receive internet speeds of 300 Mbps — sufficient for a family of four or five people — as well as a free modem, antivirus software, and zero data caps.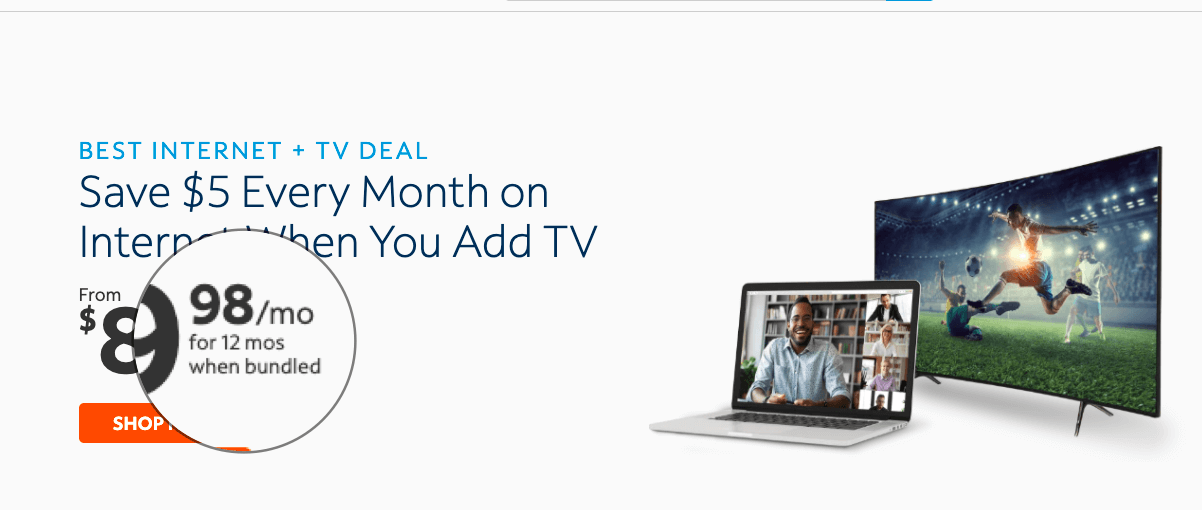 On the television side of things, subscribers to Spectrum TV Select gain access to over 125 channels, over thousands of On-Demand titles, and live television on all your devices.
What's more, if you are currently stuck in a contract, Spectrum will pay your way out of it up to $500. If your contract requires a higher fee to escape, military servicemembers can also take advantage of regulation that prohibits ISPs from charing cancellation fees when you're being moved for work.

Together, the television and internet bundle comes out to about $90 per month for the first 12 months before taxes.
Limited-time Discount Program: Emergency Broadband Benefit
| Discount Name | Applies for veterans and military? | Low-cost? | High speed? | Permanent? |
| --- | --- | --- | --- | --- |
| Emergency Broadband Benefit | Yes. The Emergency Broadband Benefit (EBB) provides discounts for veterans who receive benefits through SNAP, Medicaid, Supplemental Security Income, Federal Public Housing Assistance, or receive Veterans and Survivors Pension Benefits. | Potentially. The EBB provides veterans and low-income individuals a $50 monthly credit for internet service ($75 if you live on tribal lands). | Potentially. The total price of your internet plan depends on the plan and provider that you choose. | No. The EBB is intended to get more people connected during the coronavirus crisis. The program will last until the money allotted runs out or the pandemic is deemed over. |
Low-income veterans will likely find the Federal Communications Commission's (FCC) Emergency Broadband Benefit (EBB) one of the best ways to access high-quality, low-cost internet.
The EBB was created in the early days of the coronavirus in order to get low-income individuals connected to the internet so that they could continue working from home or studying. In taking on this monumental task, the FCC created one of the most significant programs in the agency's history — one through which you can access great benefits.
Qualifying for the EBB means that you are entitled to $50 per month toward internet service, or $75 per month if you reside on tribal lands. Further, the FCC provides a one-time, up to $100 discount on the purchase of a laptop, desktop computer, or tablet from participating providers if you contribute more than $10 and less than $50 toward the total price.
So how do you qualify for these benefits? The FCC lays out the following qualifying factors:
Have an income that is at or below 135% of the federal poverty guidelines or participate in SNAP, Medicaid, or Lifeline
Participate in the free and reduced-price school lunch or breakfast program
Have received a federal Pell Grant during the current year
Have experienced a substantial loss of income due to job loss or furlough since Feb. 29, 2020, with a total 2020 income at or below $99,000 for single filers or $198,000 for joint filers
Meet the eligibility criteria for a participating provider's existing low-income or COVID-19 program.
If you meet just one of these qualifiers, you are eligible for benefits under the EBB.
Additionally, if you already participate in the FCC's Lifeline internet and phone service discount program you will be able to receive benefits under the EBB without submitting additional proof of qualification. This is particularly beneficial for veterans because a precondition of participation in Lifeline is receiving Veterans and Survivors Pension Benefits — meaning that if you participate in the Lifeline program, you qualify for the EBB.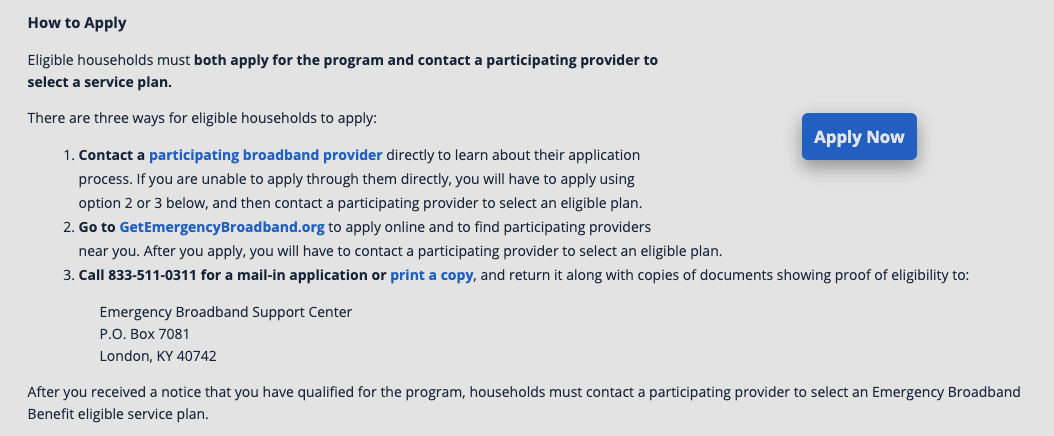 You can apply for the Emergency Broadband Benefit one of four ways: by contacting Spectrum directly via their support line (855-243-8892), going to the FCC's EBB website, by calling the FCC at 833-511-0311 to request a mail-in application, or by printing that mail-in application here.
One notable downside of the EBB is its impermanent status. The FCC has determined that the program will continue until either the funds designated for it are exhausted or the coronavirus pandemic is determined to be over. Whenever the program is close to coming to an end, Spectrum will notify you of the impending change in price.
Veterans guide to getting the cheapest price from Spectrum
If your monthly income is above 135% of the national poverty line — $37,462.50 for a family of four in 2023 — the long and the short of it is that Spectrum is short on deals for veterans.
However, one way to lower your price is to work to keep your introductory rate past the first year. Everyone knows that ISPs like to entice customers with an attractive monthly rate for the first 12 months, but after that, you're could see price hikes of as much as 60%. In this post, I'll walk you through the best way to keep your introductory rate (though I can't promise anything.)
If you're short on time, here's the gist:
when you call Spectrum, politely let the sales representative you're talking to know that you plan to cancel Spectrum if you're unable to get a better rate.
They'll likely try to sell you on bigger packages — that's okay. Politely decline, letting them know that you are considering an introductory rate with another ISP; they'll either tell you there's nothing more that they can do, or give you the introductory rate to keep you on board.
If they decline to give you an offer, ask to speak with their manager and repeat your concerns. It's possible that, at this point, the manager will offer you a deal. If they do not, however, ask to cancel your services. By doing this, Spectrum's "retention department" might offer you a discount.
If they don't, hang up and try again in a few days to a week. In the discount game, it all comes down to luck. Some days, representatives will be eager to hand out discounts to keep you on board. Other days, you might have to employ some patience.
Another way to potentially reduce the price you pay for Spectrum's services is to use a bill negotiation service like Billshark, Trim, or TrueBill. Billshark calls ISPs and other subscription-based companies on your behalf to negotiate your price down. They claim to have a 90% success rate.
Keep in mind this service is not free, and the price eats up most of your savings. They keep a (large) up-front percentage of the savings if they are successful.
Therefore, I only suggest them for customers who have tried and failed to secure a bill reduction on their own, or for those who simply don't have time to do it themselves.
Is Spectrum a good option for veterans?
Spectrum provides consistently high-quality internet services according to the FCC, but I found its options for veterans lacking. However, while Spectrum does not have a dedicated discount program for veterans, there are a few programs that you might be able to utilize to lower your costs.
By far the best among these is the Emergency Broadband Benefit, which can help qualifying veterans reduce their internet bill by as much as $75 per month. Other programs, while pricier, provide great benefits like a free modem and security software.
On the customer service side of things, I have found Spectrum to be easy to work with. The company provides a free chat function on its website, where representatives will put you in touch with those able to help you with technical issues. However, if you're counting on Spectrum installing your internet equipment for you, beware: the company doesn't openly advertise it, but installation will cost you about $50 (you can self-install using instructions on the company's website.)
Want to cancel your service? You can receive a refund for your internet service if you cancel within 30 days, though you'll forfeit your installation fee. If you receive a permanent change of station order or are deployed outside of the United States for longer than 90 days, U.S. law ensures that you can cancel your service free of penalty.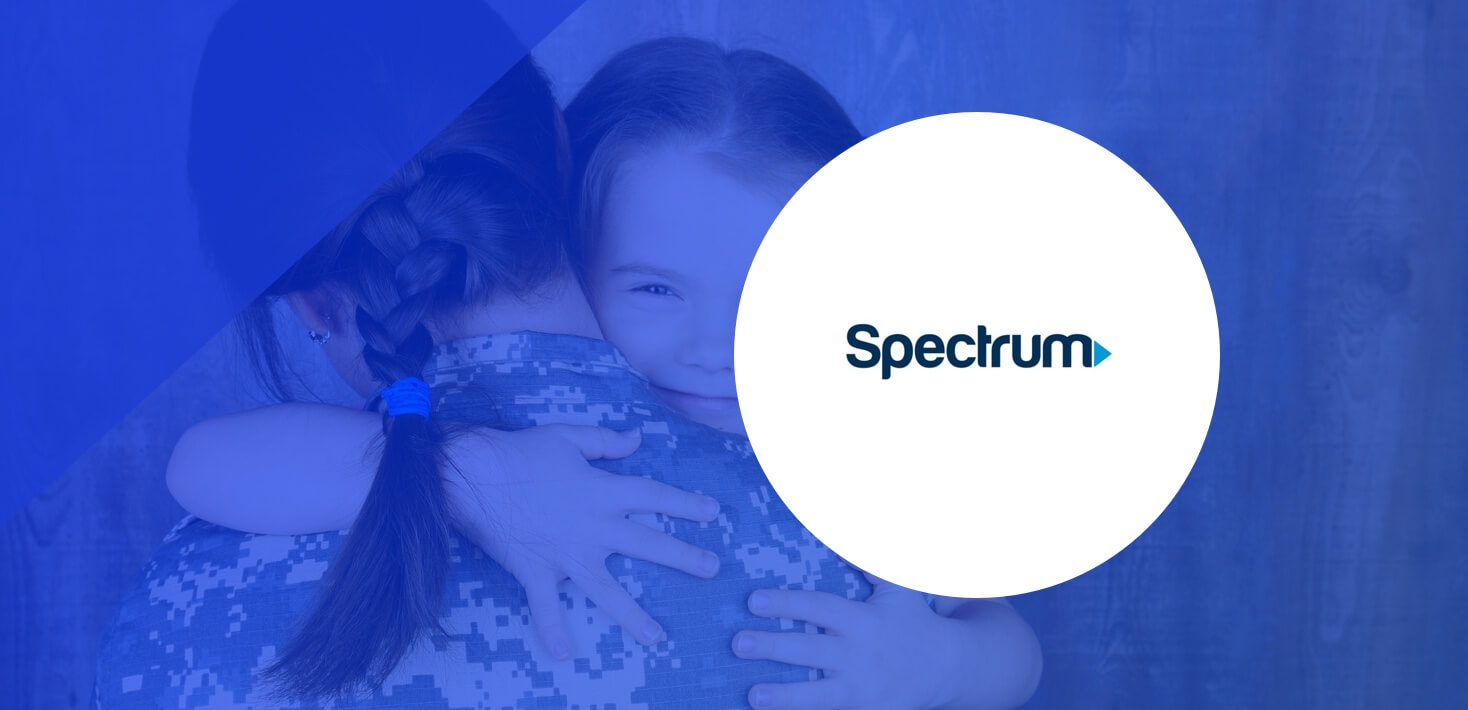 Summary: is Spectrum a good choice for military and veterans?
All in all, the level of Spectrum's usefulness to veterans comes down to your income.
If you are a low-income veteran receiving a Veterans and Survivors Pension or other benefits for you or your family, Spectrum's low-income option will likely be a good one for a small family.
If you have an income above 135% of the poverty line, the $30 monthly discount for their generic 300 Mbps plan will be best for you.
Sports fans can save an extra $5 per month on internet if they purchase a Spectrum TV package with sports. However, the total cost savings here depends on your need for local sports and NFL access. Spectrum is a good value for local games, but less so for national in my opinion.
---
Frequently Asked Questions
Does Spectrum have a designated veteran discount plan?
Like many other internet service providers (ISPs), Spectrum does not have a designated veteran discount. however, veterans can automatically qualify for their low-income plan, Spectrum Internet Assist, if they have Lifeline via their VA Pension.
Does Spectrum have permanent change of station (PCS) deals?
Spectrum does not have any provider-unique PCS deals. However, amendments to the Servicemembers Civil Relief Act ensure that members of the armed services can cancel their service without penalty if they receive a PCS order or deploy to another location for 90 or more days where Spectrum does not offer its services.