Spectrum 300 Mbps Internet Spectrum Internet Assist Spectrum TV Select Spectrum Double Play Select
In doing research for this article, I spent five hours searching through Spectrum's website, scouring the fine print, and speaking with representatives of the company to find the best deals.
During that process, the four cheapest plans I was able to find and verify were:
Cheapest internet-only plan: Spectrum 300 Mbps Internet
Cheapest plan for low-income homes: Spectrum Internet Assist
Cheapest TV Plan: Spectrum TV Select
Cheapest TV and internet bundle: Spectrum Double Play Select
While the sticker price is low for all four, there are a lot of caveats and fine print that can inflate your final price through fees and extra charges. Spectrum pricing is complex, and most customers pay at least $5 per month above the sticker price.
I'll break down each plan below, including deals and discounts that you can take advantage of to achieve the lowest possible monthly bill.
Cheapest internet-only plan: Spectrum 300 Mbps Internet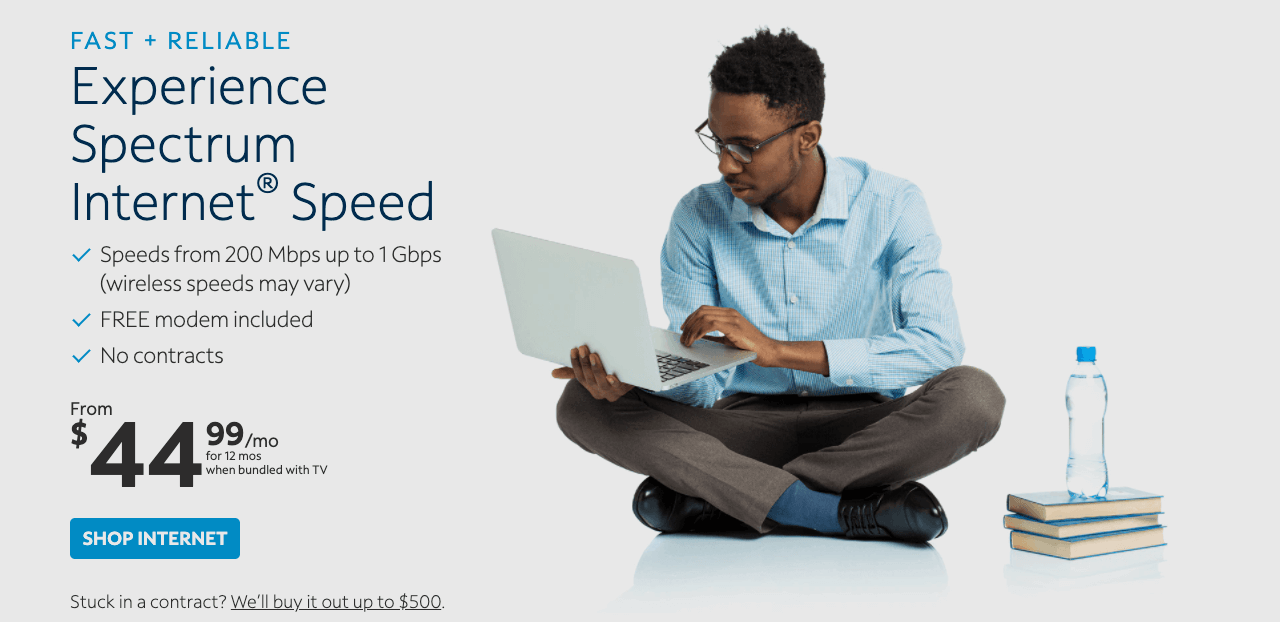 Just as you would imagine from the title, Spectrum's cheapest internet plan brings speeds of 300 Mbps (Mbps stands for Megabits per second, the most common unit of internet measurement). On upload speeds, this plan is less impressive: the plan has only up to 10 Mbps of upload speeds.
When I ran multiple test addresses on the west coast, the plan was most commonly priced at about $49.99 per month. At several test addresses across the east coast, I found the price to be more or less the same — although I did find some areas where the price was reduced due to lower speed maximums, including suburbs around Riverside.
With this plan, you will get a free internet modem — that will be enough to get connected, but you are going to have to pay more to get connected to Wi-Fi if you do not want to connect to an ethernet cable every time you have to get online.
However, that is not the case outside of the home. Spectrum has thousands of Wi-Fi hotspots across that country that you can connect to if you are on the go and do not want to waste your mobile data.
Speaking of data, this plan does not have any data caps. This separates Spectrum from a lot of other internet providers, especially at this price point.
…And while Spectrum advertises that this plan does not have any extra fees, that is not entirely true. In order to get the service up and running, you will have to shell out $50 for professional installation. Even if you don't want professional installation and can do it yourself, you will have to pay a $10 self-installation fee.
That said, 300 Mbps is a good speed for even a larger family of six or seven. 300 Mbps can support a flatscreen streaming 4K video as well as everyone's phones and a few computers browsing the internet.
You probably will not have to worry about your service slowing down as long as you are downloading, but it is with upload speeds where you might run into trouble. If you are into streaming on Twitch and want to do some other upload-heavy activities like Zoom at the same time, you might see your speed decline.
Something to remember: As with any internet provider, your rates are going to go up after the first year. In this case, you can expect a $30 per month increase after the first year, bringing your monthly cost up to $85.
Cheapest plan for low-income homes: Spectrum Internet Assist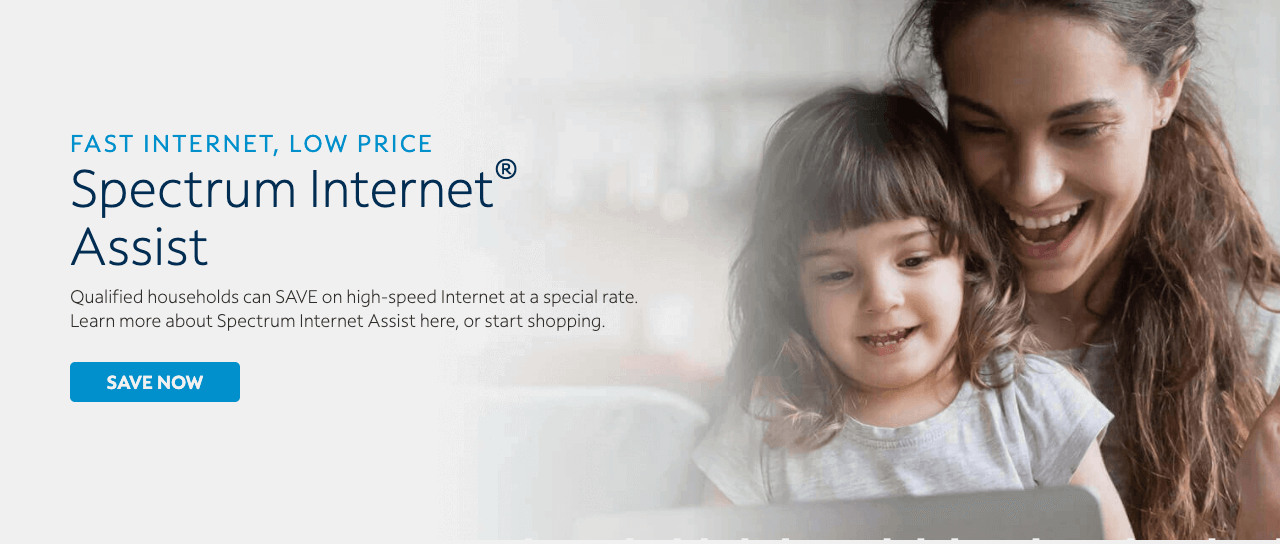 Spectrum Internet Assist is Spectrum's low-income program, and it has some considerable benefits. For just $23 per month, you will get access to up to 30 Mbps download speeds and 10 Mbps upload, which includes a $5 per month Wi-Fi router lease.
Those speeds are decent for a low-income plan and should be able to handle mild internet traffic such as a few connected phones and computers, and a television streaming HD video.
The price can be further reduced if you use your own router. Overall, I find it surprising that Spectrum still charges a Wi-Fi fee on a low-income plan, particularly since the price is already 50% or more above the low-income plans offered by AT&T, Xfinity, and most of the other major ISPs.
Despite that added cost, Spectrum Internet Assist takes away the hassle of data caps, contracts, and security breaches. When you subscribe, you will get your service without any of those burdens, and you will also get access to Spectrum's Security Suite, the company's proprietary internet safety software.
Note that, as with the above plan, you are going to have to pay $50 if you do not want to install your service yourself, and $10 if you do.
So, how do you get connected? First, check these requirements as listed on Spectrum's website:
"To qualify for this program, one or more members of your household must currently receive assistance under one of the following programs:
National School Lunch Program (NSLP)
Community Eligibility Provision (CEP) of the NSLP
Supplemental Security Income (For Applicants 65+ Years of Age)"
These qualifications are pretty stringent, which is a big downside to this plan. However, there is a government program that could further lower the price of your monthly service, which I will talk more about later.
If you want to pursue service through Spectrum Internet Assist, head over to the Spectrum online application form to get connected.
Cheapest TV Plan: Spectrum TV Select

Perhaps you are looking just to add television to your lineup of in-home services. In that case, cost-cutters should consider Spectrum TV Select, the company's cheapest television option.
At just $59.99 per month, this plan offers more than 125 high-definition channels on both your television and the Spectrum mobile app. According to Spectrum's website, these channels include local and national news stations, cable sports networks like ESPN, Fox Sports 1 (FS1), NBC Sports network, and in-market games as well. However, keep in mind that your exact channels will vary by location and that football lovers who want to access out-of-market games will have to upgrade to Spectrum TV Silver.
When you subscribe, you'll get access to all of the channels included in your plan via a menu interface on your television (as opposed to a Roku or other streaming box) as well as the option to watch on your phone or laptop through the Spectrum app.
However, there are also big considerations with this plan that you will have to remember. After you have had this plan for 12 months, you will see your rate go up by $35 monthly. And even before that, you will have to pay the taxes and fees that Spectrum imposes, including the so-called "broadcast surcharge" of $18, the $50 installation fee, and the $10 self-installation fee if you choose to go that route.
On top of that all, you're also going to have to pay $9 a month for an HD box to stream in high definition.
In short, $59.99 per month is not bad if you need television services, and there are a good amount of channels on this plan. But you should keep an eye on your bill because your charges are going to go up — sometimes more than you would expect.
Cheapest TV and internet bundle: Spectrum Double Play Select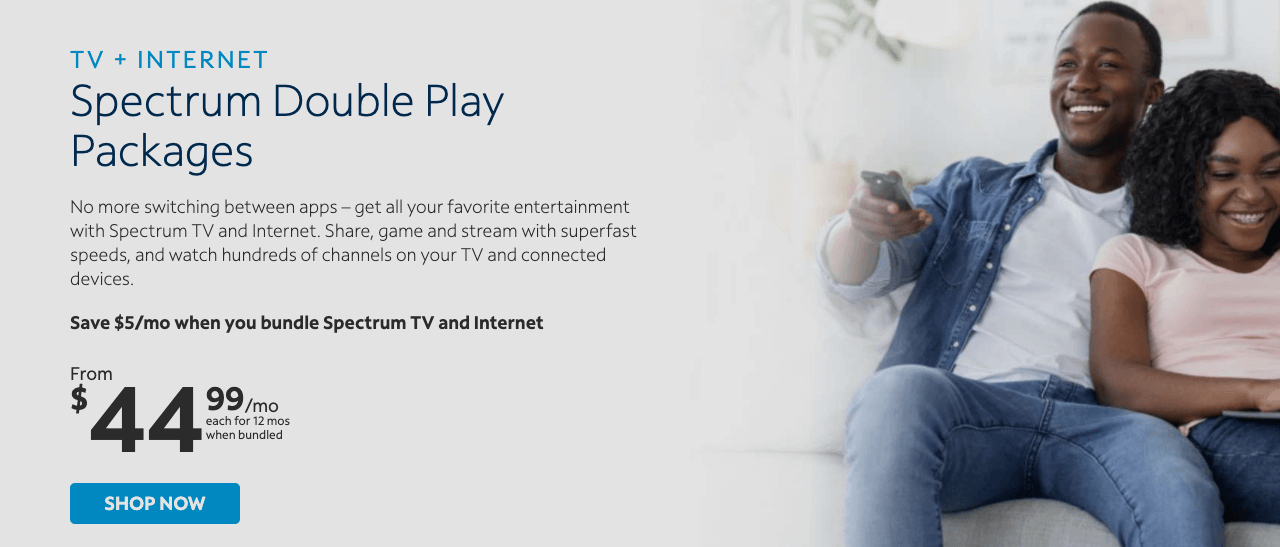 Double Play Select is the cheapest bundle of television and internet Spectrum offers.
Think of Double Play Select as a combination of Spectrum 200 Mbps Internet and Spectrum TV Select — because, at its core, that is all it is. there is really nothing special about this plan; you will get 300 Mbps down and 10 Mbps up, more than 125 free high-definition television channels, a free internet modem with no data caps, access to thousands of nationwide Wi-Fi hotspots, and thousands of On Demand titles on television and the Spectrum TV app.
The main difference here, despite the fact that you are getting both services at the same time, is a $5 monthly discount when you bundle. When you factor in a $10 activation fee and an $18 broadcast surcharge, you are looking at a monthly rate of about $138 per month.
However, you should not expect these rates to last: Your monthly rate is going to increase after 12 months, all the way up to nearly $159.98 per month before fees.
That is a big increase… and it's on top of all the regular fees we have already mentioned, like the $50 installation fee, the $10 self-installation fee, and the $18 broadcast surcharge.
It is important to note that because service availability is different from location to location, you should call to make sure that the channels you want are included in this package. Generally, though, you should expect to see all the local stations and big stations like NBC and ABC, as well as a bunch of cable stations, like FX, Food Network, and others.
Is Spectrum cheaper without Wi-Fi?
Spectrum offers Wi-Fi for an extra $5 per month on top of your bill. Basically, they are charging you for the Wi-Fi router that connects your devices.
Although Spectrum representatives will likely try to push you to pay for a monthly equipment rental from the company, it's not at all necessary. In fact, not doing so can save you a lot of money.
The terminology around modems and routers can often be confusing, but it's really pretty simple. You'll need both a router and a modem to get connected. You can buy them individually from companies like Linksys or Netgear, but you can also buy a combination of the two, which are commonly called gateways.
Either way, the setup for these devices is usually pretty simple: I was able to connect my personal gateway in less than an hour.
Whether you like to go to a physical retail store like Best Buy or shop online, you can find Spectrum-compatible routers and modems for not-too-bad prices. It may be a higher up-front cost, but the router and modem will usually pay for themselves over the first year.
I've put together a full guide on this topic here.
What discounts does Spectrum offer?
Spectrum does not currently offer any discounts on its internet service for veterans, teachers, students, or otherwise.
The only discount everyone can access is the standard "new customer" discount, which applies $30 off for internet-only plans.
However, even while Spectrum is pretty scant on discounts, there is a federal program that can help you decrease your monthly cost. It is called Lifeline, and if you qualify for it, you will receive a monthly subsidy of $9.25 to put toward your bill.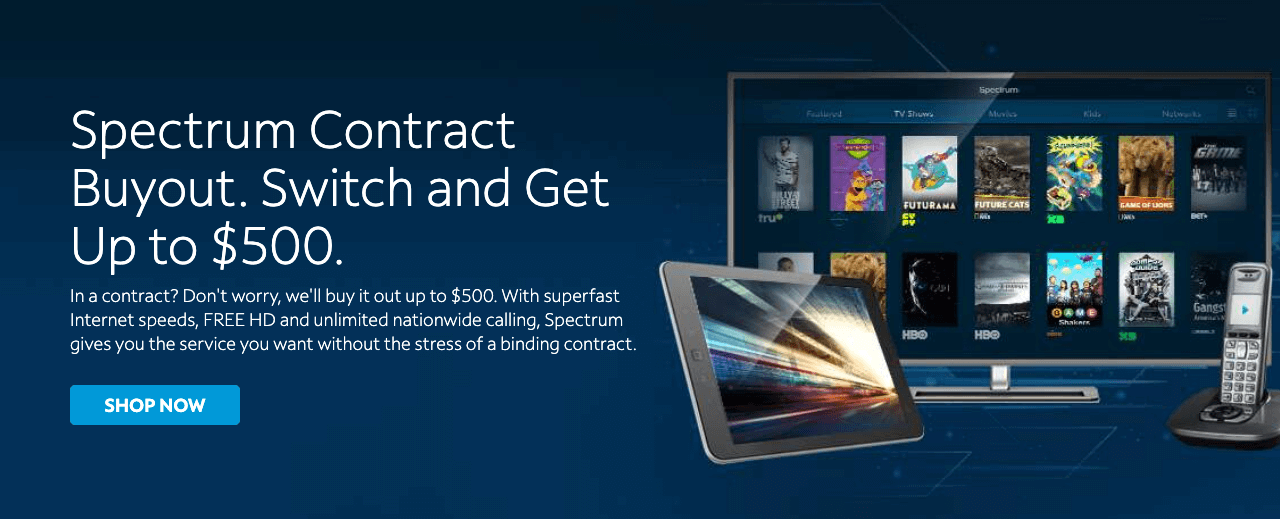 So how do you qualify? For starters, the Federal Communications Commission, which created Lifeline, outlines the qualifications in this way — either:
"You can get Lifeline if your income is 135% or less than the Federal Poverty Guidelines (see the table below). The guideline is based on your household size and state."
Or…
"You can get Lifeline if you (or someone in your household) participate in one of these programs:
Supplemental Nutrition Assistance Program (SNAP), formerly known as Food Stamps
Medicaid
Supplemental Security Income (SSI)
Federal Public Housing Assistance (FPHA)
Veterans Pension and Survivors Benefit"
A Spectrum representative told me that addresses that are flagged for the program can participate, even if they are on Spectrum Internet Assist — meaning that low-income customers could effectively see their monthly rate reduced to less than $15.
To learn more about the program and apply, head over to the FCC's dedicated Lifeline website.
What is the most affordable Spectrum internet plan per Mbps?
Like most providers, the entry-level internet plan from Spectrum is a poor value if your goal is to get the best possible speed. You're essentially paying a quarter for each 1 Mbps of bandwidth.
When you upgrade to their gigabit plan, the value in terms of download bandwidth goes to ten cents — so it's a better deal, if you can actually use the extra speed.
Here are Spectrum's internet plans, and their cheapest corresponding prices:
Prices vary, but these are the most common prices pulled from test addresses in the Western US.

| Plan | Price | Price per Mbps |
| --- | --- | --- |
| Up to 300 Mbps Internet | $50 per month | $0.25 per Mbps |
| Up to 500 Mbps Internet Ultra | $70 per month (as cheap as $45 per month in California) | $0.175 per Mbps ($0.11 per Mbps in California) |
| Internet Gig | $90 per month | $0.09 per Mbps |
Spectrum's internet tiers are more limited than other internet providers, but the tiers they do have are fast.
Keep in mind not only that these speeds are up to whichever speed you choose, but that your rate is going to increase after the first year and that the sticker price does not include additional service charges and fees (many of which are substantial.)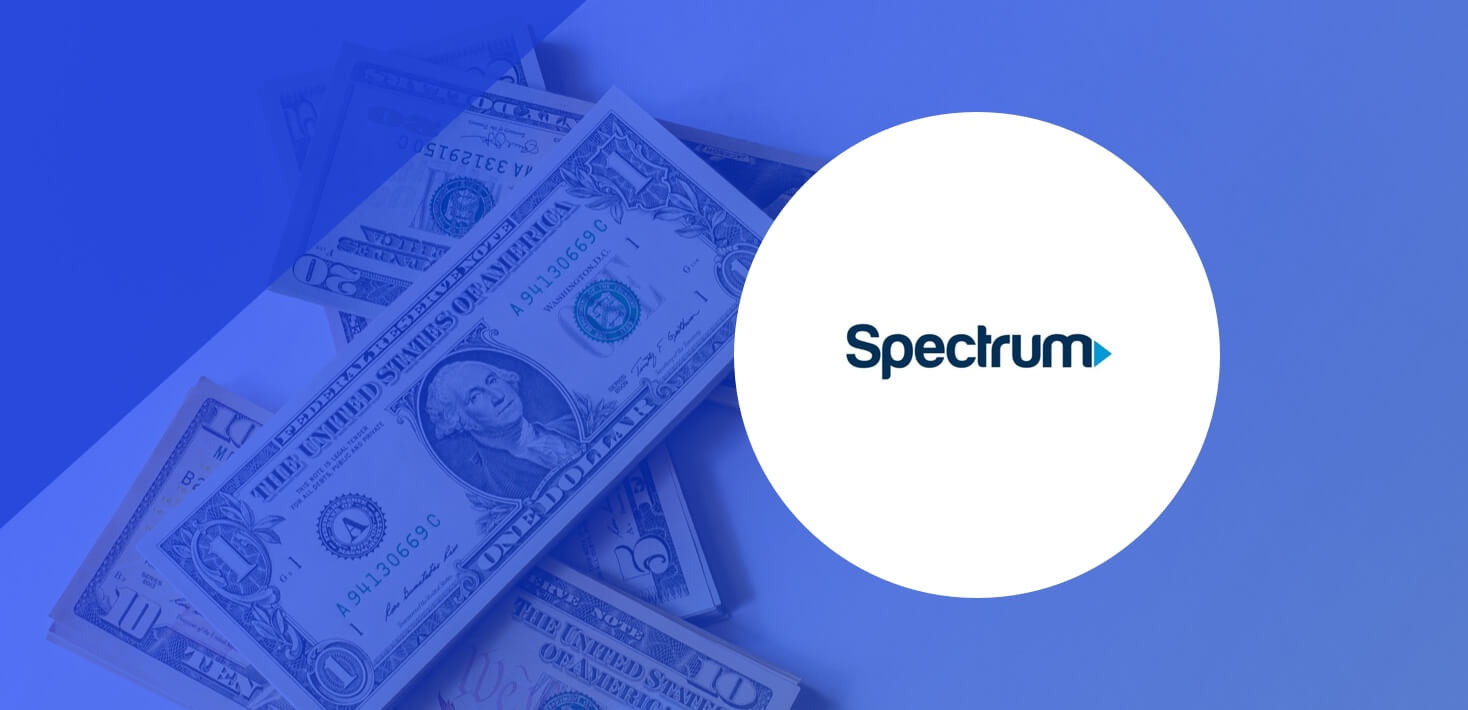 How to maintain the cheapest possible Spectrum price
So, is Spectrum right for you? Ultimately, it is going to come down to how much you are willing to pay. Because while Spectrum's prices are not that bad, particularly for the internet speeds the company offers, the price increases contained within these plans could push them out of your price range. Here are a few tips to remember if you're trying to cut costs:
Watch your bill: Particularly when it comes to Spectrum Double Play Select, Spectrum's price increases are substantial and come along with big fees. You can learn more about how to keep your monthly bill as low as possible here.
Purchase your own router: I recommend that you purchase your own router, install your own internet, and cut back on extra and unnecessary offerings from Spectrum like more DVR space. Representatives from the company may try to persuade you to purchase one from them (they are salesmen, after all), but you do not have to. Setting up your own internet is 100% doable with your own router and modem, and it can save you a bundle of money. See my full guide on the Wi-Fi fee topic here.
If you can, sign up for Spectrum Internet Assist: Spectrum's low-income service is good, and I've heard from some readers that certain addresses can pre-qualify. This means some people get access even though they have mid-high income, without having to qualify through the normal channels. In either case, you get internet speeds that are faster than most comparable low-income plans for cheaper than those other plans. On top of that, if you apply for Lifeline from the FCC, that price could be no more than a higher-tier Netflix subscription.
So, if you're someone who qualifies for Spectrum Internet Assist, the company's low-income plan, it's likely that the service will be a good fit for you. If you don't qualify for Internet Assist, the next tier of service is going to be a big price increase.
Read the fine print: Spectrum gives good benefits on virtually all of its plans. On many, you will not have any data caps, unlimited access to thousands of Wi-Fi hotspots across the country, and a free modem to boot. Plus, you will never have to worry about contracts with Spectrum — you will never have to sign one to get service with the internet provider, and they will even buy you out of your current contract up to $500.
---
Frequently Asked Questions
What is the cheapest Spectrum internet plan?
The cheapest Spectrum internet plan is the 300 Mbps Spectrum Internet plan, priced at $19.99 monthly for customers who qualify for ACP discounts. The cheapest price for non-qualifying customers is $49.99, a $30 discount from the standard $79.99 rate.
How do you qualify for ACP discounts with Spectrum?
ACP discounts are income-based; we maintain a discount & subsidy search tool for finding the cheapest possible plans. To avoid long wait times, new customers can sign up by phone at (833) 438-1041 instead of the primary customer service line.
What is the cheapest Spectrum package?
The cheapest Spectrum package is Spectrum TV Select, starting at $59.99 per month for TV or $109.98 to bundle 300 Mbps internet service. Spectrum TV Select offers 125+ channels including news (FOX, CNN) and sports networks (ESPN, ESPN2).