WiFi fee removal Compatable modems/routers Included WiFi models Why charge?
It's common for cable companies to offer a WiFi modem and router lease as part of your internet service, and Spectrum is no exception.
Spectrum makes it a bit complicated by offering the modem "free," but adding on a $5 WiFi line item at the end of the checkout process. This allows them to advertise $49.99 internet, but ultimately charge $84.99 once the WiFi fee is added and new-customer promotions time out.
Thankfully, Spectrum does allow customers to use their own router and modem if they prefer. Aside from getting rid of the $5 WiFi fee on your bill, using your own equipment can provide better performance for your home internet, provided you select a good replacement and configure it properly.
A quick note for non-techies:
Modem: the device that hooks into your cable jack and connects you to the internet. Spectrum provides this free with all plans.
Router: the device that plugs into your modem and broadcasts WiFi for your home. Spectrum charges $5/month for this on most plans.
It's common for the modem and router to be sold as one piece of hardware, but Spectrum keeps them separate.
How to remove the Spectrum in-home Wi-Fi fee
Keep in mind that if you are planning to move in the next year, it might make sense to lease the Spectrum router rather than buy. It only adds up to $60/year in fees. This is high if you're a long-time customer, but pretty reasonable if you're renting an apartment short-term and just need a quick and easy internet hookup.
Also keep in mind that Spectrum may decline to provide free service calls if you use your own modem or router. It's common for them to blame your equipment if you call in with issues, so it's not recomended to use your own equipment if you aren't able to troubleshoot basic WiFi issues on your own.
Purchasing your own router and/or modem is going to cost anywhere from $50–200, depending on what hardware you get.
I'll run through some suggestions below, but for now, here's a quick rundown on how the WiFi fee adds up so you can understand how long it'll take for the equipment investment to pay off:
| Plan Name | Price with WiFi fee | Price with WiFi fee removed | Wifi Fee | WiFi fee annualized |
| --- | --- | --- | --- | --- |
| Spectrum Internet (300 Mbps) | $84.99 ($54.99 first 12 months) | $79.99 ($49.99 first 12 months) | $5/mo. | $60/yr. |
| Spectrum Internet Ultra (500 Mbps) | $104.99 ($74.99 first 12 months) | $99.99 ($69.99 first 12 months) | $5/mo. | $60/yr. |
The only Spectrum plan that does not have a WiFi fee is the GIG 1,000 Mbps plan. The GIG plan includes the modem and router for free, because they want you to use a specific make/model in order to get the best performance out of the gigabit download connection.
They previously provided Internet Ultra equipment for free as well, but started to charge for it again last year.
Regardless of plan tier, you can confirm that you are, in fact, paying a WiFi fee by checking the second page of your billing here: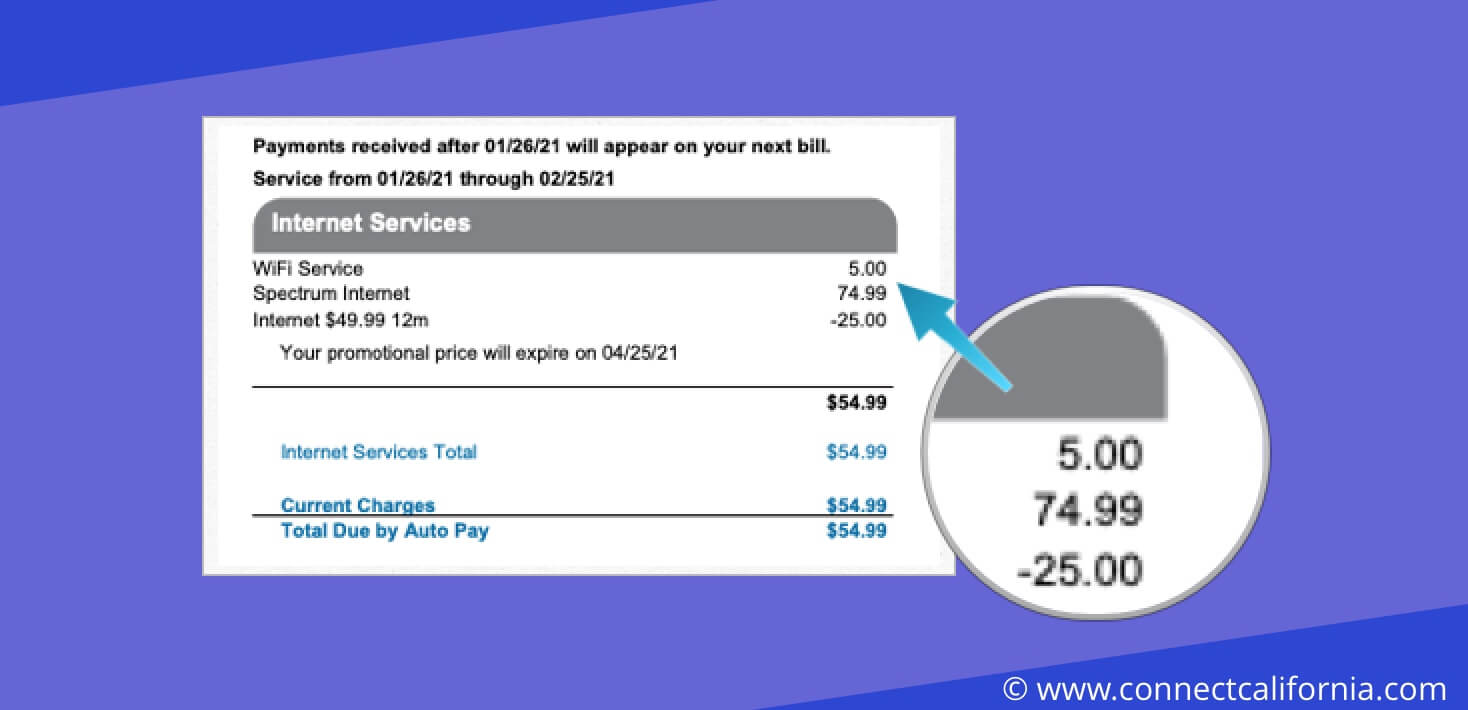 While the WiFi fee is annoying, it's actually much lower than the industry norm.
Most cable and telecom companies charge $10–25 per month and require you to lease the modem as well as the router. In some cases, such as with common Spectrum competitor AT&T, they even decline to remove the fee from your bill, even if you're using your own hardware.
Here's how Spectrum's fees compare with the other major internet providers:
| Internet Provider | Monthly Base WiFi Fee | Annual cost of WiFi equipment lease | Service type |
| --- | --- | --- | --- |
| Spectrum | $5 | $60 | Cable |
| AT&T | $0 | $0 | DSL, Fiber |
| Xfinity | $15 | $180 | Cable, Fiber |
| Cox | $10.99 | $131.88 | Cable |
| Frontier | $10 | $120 | DSL, Fiber |
Modems and routers compatible with Spectrum
You have two basic options for replacing your Spectrum WiFi equipment:
Purchase a standalone router, and continue using the free standard-issue Spectrum modem.
Purchase both a modem and router, to give yourself complete control of the network hardware.
As a Spectrum customer here in Los Angeles, I personally use my own modem and router. Owning both pieces lets me swap out as needed when they get outdated, and saves me the hassle of visiting a Spectrum store or being on the hook for equipment returns when I eventually move and cancel service.
I've had no major issues for several years using this cheap setup. Meanwhile, my neighbors regularly complain about blinking red light errors, speed issues, and range issues.
If we lived in a larger home, I would probably opt for a mesh WiFi system like Eero or Google Nest, to distribute WiFi evenly around obstacles and larger areas. For a 2–3 bedroom apartement, a single basic router is plenty.
However, using their modem and purchasing the router is the absolute cheapest option. You can get a decent router for just $40–80, which you'll pay back within the first year of saved WiFi fees.
This is the router I personally use. I previously had a fancier Nighthawk router, and oddly I found the range on this mid-range model to outperform, especially on the 5G network. I've used this one with both Xfinity and Spectrum cable internet, both plans in the 300–500 Mbps download range, with no issues.
It has dual-band, gigabit ports, and everything else you need to run a basic smarthome and home office. In my opinion, 99% of internet users don't benefit from all the bells and whistles of more expensive models, and are best served by a reliable basic router like this one.
View on Amazon
If ease of use is your priority, the Arris Surfboard is a strong choice that is extremely easy to use: it combines the modem and WiFi router in one device, so you can just plug it in and get online with little configuration.
This has the same basic features as the TP-Link router above, but since it includes the modem you can start using it immediately rather than waiting for Spectrum to send you their modem.
View on Amazon
If you have a large home or an unusual floorplan that leads to WiFi dead spots, mesh setups like the Eero are worth a look. These products work by spreading multiple devices around your home, which communicate wirelessly to relay coverage evenly from room to room.
Mesh networks also can react to the location and needs of your devices, effectively increasing signal in areas where it's more needed. They also have easy-to-use apps that make it simple to manage your network, keep tabs on kids' internet use, prioritize specific devices, and monitor your data usage.
They run from $150–300, so it's an investement compared to a basic router. However if you work from home or have a large floorplan, it's well worth it and will last you 5–10 years. Unlike most routers and modems, these are easily compatible with all the major providers, including Spectrum.
View on Amazon
What modem and router does Spectrum internet come with?
Aside from the monthly leasing cost, another issue with using Spectrum's standard-issue equipment is that you don't have much control over what make and models they give you.
I've personally had the experience of being given a model not meant for my plan tier, simply because they didn't have the right one in stock at the store when I happened to sign up.
As of 2023, Spectrum most commonly use Hitron hardware with Spectrum branding, which is known for having issues because of a faulty chip (Intel Puma). So, if you're having issues with your Spectrum WiFi, check that the make and model doesn't include the Puma chip. Arris brand equipment is also commonly provided with Spectrum plans, particularly the Ultra plan.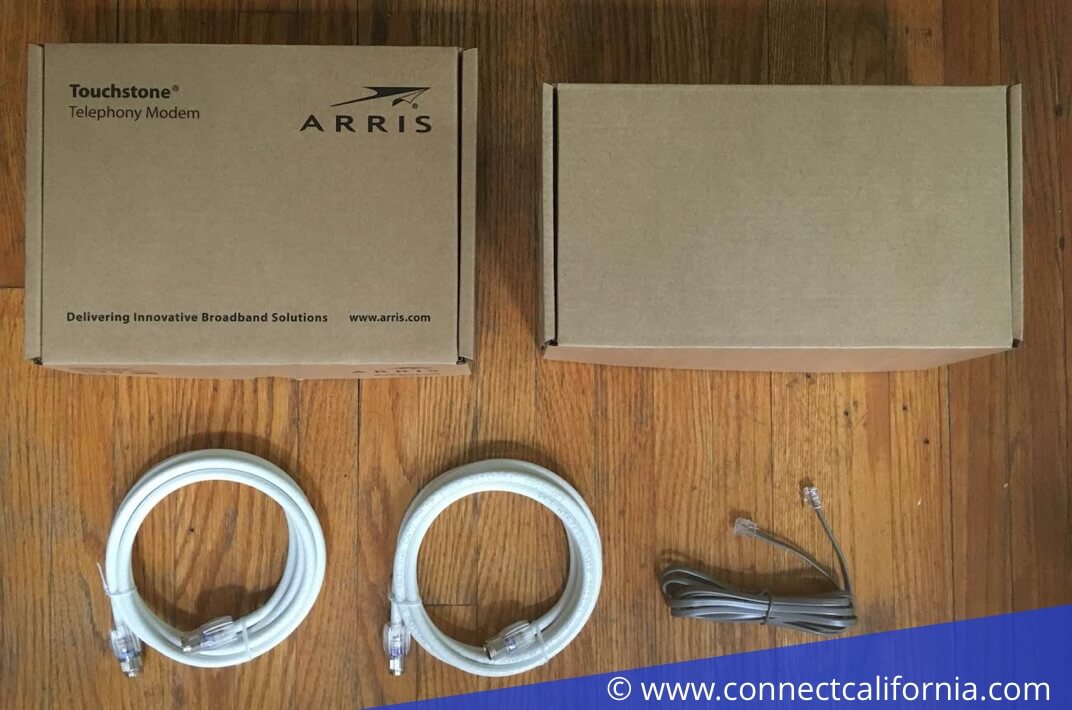 Why does Spectrum charge for WiFi?
Spectrum charges leasing fees for WiFi because, at the end of the day, they have to purchase and maintain the hardware producing WiFi service. When WiFi first came onto the consumer market, internet was already being sold as a modem-only wired service. So, it made sense to tack on WiFi as a separate line item.
Since WiFi has become a standard expectation for home internet service at this point, most providers have gone one of two routes:
Roll the WiFi fee into the cost of internet.
Include extra features to make the fee more palatable, such as mesh routers or network monitoring.
It's likely that Spectrum will go one of these routes in the near future, since the current scheme produces less incrimental revenue compared with equipment fees from other cable providers, and gives no upgrade options for customers who might want a more premium home WiFi experience. Xfinity's $25 per month mesh unlimited plan is a good example of a premium offering built on top of a basic monthly WiFi router lease.
Summary: budget $5/month for Spectrum WiFi, or buy your own router
In summary, most customers can save $60 per year by purchasing their own router, particularly if they plan to use Spectrum service for multiple years.
Spectrum charges the $5 per month WiFi fee on all plans except the highest-cost GIG plan. As of 2023, they even charge $5 per month for WiFi on their low-income plans for struggling households, making the total cost of their low-income plans around twice what other ISPs offer.
Spectrum WiFi fees summary
Spectrum Internet (300 Mbps plan): $5/mo.
Spectrum Internet Ultra (500 Mbps plan): $5/mo.
Spectrum Internet GIG (1000 Mbps plan): $5/mo.
TV bundle WiFi fees
TV Select + Internet (300 Mbps plan): $5/mo.
TV Ultra + Internet Ultra (500 Mbps plan): $5/mo.
Mi Plan latino + Internet (300 Mbps plan): $5/mo.
Mi Plan latino + Internet Ultra (500 Mbps plan): $5/mo.
This page is based on a database of Spectrum plan pricing maintained by ConnectCalifornia. This page updates automatically as we update the database on a monthly basis. The last modification was made in January 2023.
---
Frequently Asked Questions
Why does Spectrum charge a WiFi fee?
Spectrum charges a $5 per month fee if you want to lease a router for your home WiFi, to cover the cost of the router and equipment maintenance. Customers can buy their own router if they would prefer not to pay the fee.
How much does Spectrum charge for WiFi and internet?
Spectrum charges $5 per month to lease a WiFi router, and the internet service itself starts at $49.99 and goes up to around $100 per month depending on the plan speed.
What is the Spectrum WiFi fee?
Spectrum charges $5 per month for leasing a WiFi router for their basic 100–300 Mbps internet plan, as well as their mid-tier Internet Ultra plan. The router is included for free with the more expensive 1,000 Mbps GIG plan.
Does Spectrum charge a WiFi fee on their low-income plans?
Spectrum offers a low-cost $17.99 per month internet-only plan for low-income households. This plan has an incrimental $5 per month WiFi fee, bringing the total cost to $22.99 per month for 30 Mbps internet with no data cap.
What is the replacement fee for a Spectrum router?
Spectrum charges about $200 for customers who do not return the modem and router when they cancel Spectrum internet service. However, the fee varies based on the specific model provided with the plan. The cost is higher for gigabit plans, since they require a higher-end gateway device for WiFi.