After 12 months Xfinity upload speeds Plan fees Is Gigabit worth it? Xfinity Senior Discounts
As of 2022, Xfinity markets six internet-only deals throughout their coverage area. Pricing for the cheapest plans starts at $19.99/month, then goes up to $50 after the first 12 months.
Xfinity Fast is the best internet-only plan for most homes, but not because of the 300 Mbps download speed.
We suggest Fast because it's the best price for a 10+ Mbps upload speed. This is double the base speed and easily worth it if you have more than two people at home using the connection for work, school, and entertainment.
Homes with more than two people usually need at least 10–15 Mbps upload speed to account for shared video chat use, particularly if anyone is working from home or remote learning.
Reduced price: the Fast plan is discounted an additional $10 in most regions, bringing the price down from $49.99 to $40. Check your address here to see if you qualify:
View Fast discount
Xfinity Plan Uploads
One aspect of Xfinity pricing that can be frustrating is that the upload speeds aren't always clearly listed. In fact, when compiling this page, I had to go through multiple Xfinity sales and chat agents to get a verified list.
The short version is: they're much lower than the download speeds. This is standard for cable systems, since they are designed for home users who mostly download content and need relatively little upload in comparison. Still, it can come as a surprise when the download speeds have improved so much relative to upload over the past few years.
Xfinity cable plans go all the way up to 1,000 Mbps for download speed. However, because they are a hybrid fiber-coaxial connection rather than pure Fiber-to-the-Home, the maximum upload is just 35 Mbps.
For reference, that's just enough to support 1–2 4K video streams, before you factor in multiple users, WiFi fade, etc.
| Plan Name | Download | Upload | Promo Price | Final Price |
| --- | --- | --- | --- | --- |
| Connect | 50 Mbps | 5 Mbps | $19.99/mo | $50 |
| Connect More | 100 Mbps | 5 Mbps | $39.99/mo | $60 |
| Fast | 300 Mbps | 10 Mbps | $49.99/mo | $70 |
| Superfast | 600 Mbps | 15 Mbps | $59.99/mo | $80 |
| Ultrafast | 900 Mbps | 20 Mbps | $69.99/mo | $90 |
| Gigabit | 1200 Mbps | 35 Mbps | $79.99/mo | $100 |
Cable speeds are designed this way because most users will make heavy use of download for video content. It wasn't until 2020 that working from home and remote culture really went mainstream and made the need for more upload speed clear.
Unfortunately, most Xfinity plans are in the 5–15 Mbps range for uploads, which is enough to support video calls but can be challenging for heavier use, such as multiple users relying on upstream bandwidth or moving video files to the cloud.
If you want 35 Mbps uploads, your only choice is their most expensive "Gigabit" plan, which has 1,000 Mbps downloads and 35 Mbps uploads.
The only way to get faster than 35 Mbps upload with Xfinity is to try and get their custom-install fiber plan, Gigabit Pro. However, this costs $300+ per month and a $1,000 one-time install fee, not to mention several site survey and install visits.
If you're curious to learn about the plan, there's a great writeup about the application process for network engineers here, or you can read my Xfinity Gigabit vs Gigabit Pro comparison.
Xfinity plan fees and fine print
Data Caps no longer expanding in the Northeast region
While many providers lifted caps during Covid-19, Xfinity continued to enforce data caps on plans outside of the Northeast region.
The company initially planned to expand caps nationwide in early 2021, but faced harsh criticism from lawmakers for doing so while Covid-19 was still an unsolved problem. They delayed the move, and as of 2022 the delay seems to be permanent.
This is a win for local customers, who would have been charged for using more data above 1 TB or so.
For customers outside the Northeast, caps remain in place. Pricing for additional data is $10/50 GB, up to $100. This means that if you max out your data caps and use an additional 500 GB or more of data on top of the 1.2TB cap, you'll be charged an extra $100 that month.
Xfinity WiFi router options
Xfinity comes with three router options in 2022:
xFi Gateway
xFi Gateway Complete
Bring your own
| WiFi option | Monthly fee | Hardware | Features |
| --- | --- | --- | --- |
| xFi Gateway | $14 | xFi Gateway (modem/router combo device) | WiFi |
| xFi Gateway Complete | $25 | xFi Gateway, xFi Pod, unlimited data | WiFi |
| Own Router option | No charge | Bring your own modem and router | Voids tech support |
The xFi Gateway is basically a modem/router unit that broadcasts WiFi in your home. The upsell for "complete" throws in an xFi Pod (basically a WiFi extender, or mesh WiFi device) that extends the WiFi for larger or oddly-shaped homes. xFi complete also includes unlimited data.
The xFi Pods are made in collaboration with a company called Plume, which is a good thing because they've been doing some of the more interesting work improving home networking hardware/software in the past couple years. Xfinity is their largest partner, but they also work with a variety of smaller ISPs.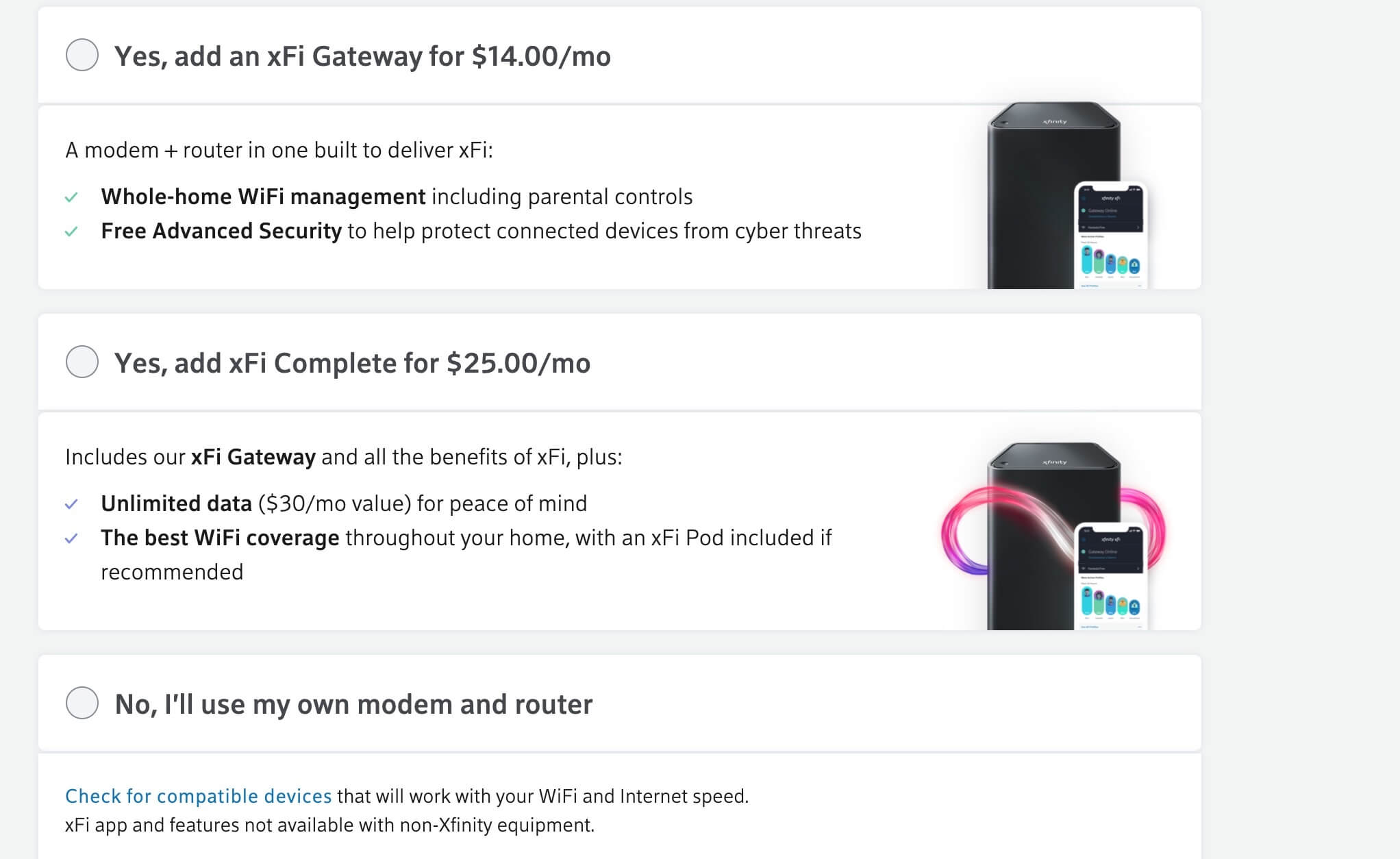 $14 per month is pretty steep for WiFi service, although Xfinity makes a case for it with decent hardware and well-designed mesh networking options. However, if you're in a two-bedroom home or apartment, you're likely better off just buying your own to save the $168 per year it adds up to.
Xfinity is compatable with most major modem and router combinations, and they maintain a full list of compatable devices on their site.
Xfinity Plans for Low-Income Households
Low-income households can access Xfinity's reduced-cost basic service plans. These plans provide reduced speeds for a lower $9.95 monthly price, with no WiFi router fees.
| Plan Name | Speed Down/Up | Monthly Price | WiFi Fee |
| --- | --- | --- | --- |
| Xfinity Internet Essentials | 25/3 Mbps | $9.95/mo | $0/mo |
---
Xfinity deals by market
Xfinity deals in San Francisco Bay Area Xfinity deals in Sacramento
---
Frequently Asked Questions
How much is Xfinity internet only service?
The introductory price of Xfinity internet only service ranges from $19.99 per month for base plans up to $79.99 for gigabit service. Wi-Fi router leases typically increase the price $14–25 per month. After the first year, new customer discounts no longer apply, causing an additional $20 per month bill increase.
What is the Xfinity upload speed?
Xfinity cable plans have a maximum upload speed of 35 Mbps. Base plans have lower uploads, ranging from 5 Mbps on the entry plan up to 15 Mbps for their mid-tier plans.