Summary Recommendations Specs Pricing Comparison
Xfinity Gigabit Extra is a residential internet plan that offers fast 1,200 Mbps downloads and 35 Mbps uploads for $103/month plus various equipment and data fees. The plan has a 1.2TB data cap, unless you pay an extra 25/month for the expanded home WiFi package, which includes mesh WiFi hardware and unlimited data.
Xfinity Gigabit Pro is an unusual plan designed for extreme power users: 2,000 Mbps fiber service and an additional 1,000 Mbps ethernet handoff, for the sticker-shocking price of $300 per month, plus a $1,000 one-time install fee.
Gigabit Pro is marketed for residential use, but the majority of users are hard-core networking enthusiasts installing it for home offices.
Recommended Plan
For 99.9% of customers, Gigabit Pro is not worth considering for several reasons:
It's only available for very specific locations. You have to be within a certain radius of a fiber node in your area.
It's almost $300 per month, or $3,600 per year. The regular Gigabit plan costs one third this amount.
The Gigabit Pro plan is intended for networking engineers and enthusiasts. If your goal is to lower your Xfinity bill, this is not the plan for you. If you aren't running servers or some type of bandwidth-heavy business out of your garage, it's unlikely that you'd be able to utilize even a fraction the badnwidth offered by the Pro plan.
While Comcast hasn't made a clear statement on their reason for offering the plan, my assumption is that it's a marketing ploy. (By offering 2 Gbps, even if only for a few customers, they can claim "fastest residential ISP," "fastest uploads," and other superlatives in their general marketing materials. Not to mention, it tricks all the third-party listing sites into putting them first when users sort their search results by speed.)
If you're actually shopping between Xfinity plans and want something faster than their base 100 Mbps plan, here are the top three Xfinity plans currently available:
View all Xfinity plans.

| Plan Name | Download | Upload | Promo Price* | Final Price |
| --- | --- | --- | --- | --- |
| Xfinity Gigabit Extra | 1200 Mbps | 35 Mbps | $80 per month | $103 per month |
| Xfinity Gigabit | 1000 Mbps | 20 Mbps | $75 per month | $93 per month |
| Xfinity Superfast | 800 Mbps | 15 Mbps | $65 per month | $83 per month |
I've written up a full guide to Xfinity's regular "Gigabit" plan here.
Gigabit Extra vs Pro Technical Specs
The Gigabit Pro plan doesn't provide some features you'd expect in a dedicated enterprise ethernet connection, such as BGP peering. However, in most respects, it's an enterprise product with an enterprise install process. In fact, you can't even sign up through the regular residential phone reps — you have to go through a special team.
My opinion, again, is that this is mostly to make sure they get quoted as being the fastest ISP on various lists, and to generate good PR for a brand that has struggled when it comes to consumer goodwill.
Pricing and plan details vary by region.

| Feature | Xfinity Gigabit Extra | Xfinity Gigabit Pro |
| --- | --- | --- |
| Router | $25 per month, or bring your own | Netgear Nighthawk or similar provided, not required |
| Install | Routine self-install | Site survey and multiple technician visits to run line from pole |
| Dedicated IP | Not available | Provides dedicated IP address |
| Upload bandwidth | 35 Mbps | 2,000 Mbps, + an additional 1,000 Mbps ethernet line |
| Data Cap | 1.2 TB in most states | Unlimited |
Because it's marketed and listed as a residential product, you might run into issues trying to write it off you your taxes like you would a business connection — which is really too bad, since most people who want a connection this serious are likely running a tech business of some sort, or at the very least freelancing from home a bit.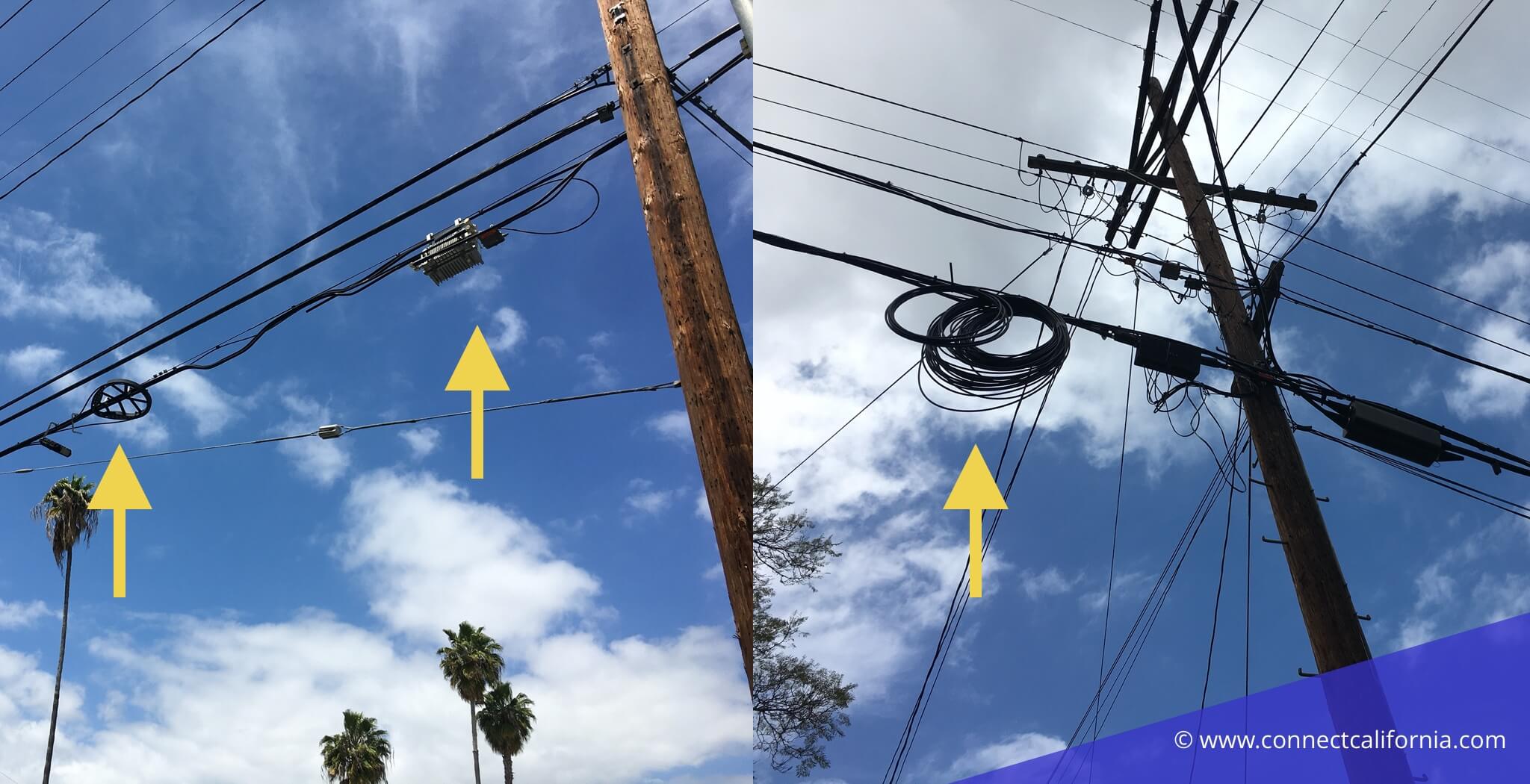 You'll have to call Comcast to get an answer about availability. They'll be checking if you're close to a fiber node, which requires that you have fiber near your home.
You can look on lines for snowshoe-shaped loops or loose loops of fiber like this those pictured above to get an idea for if you're in a good fiber area. (These are AT&T fiber loops from pictures I took around Los Angeles, but it's very similar to what you'll see in a Comcast service area.)
For a delightfully nerdy and in-depth overview of the install process, check out this customer review.
Pricing Comparison
While $300 per month seems expensive, it's actually not an incredible moneymaker for Xfinity.
For the type of person who wants a near-enterprise grade ethernet connection, it's much cheaper than an actual enterprise plan.
Even with the $300 per month price tag, Xfinity can take years to pay back the install cost of running the line to a residence. Reps have quoted a maximum install cost of $15,000, of which they charge the customer a $1,000 one-time up-front fee to ensure they're committed.
---
Frequently Asked Questions
Does Xfinity Gigabit Pro have a data cap?
Xfinity Gigabit Pro is the only Xfinity plan that does not have a data cap by default. If you're willing to pay the nearly $300 per month the plan costs after the $1,000 initial installation fee, there is no limit on your data usage beyond the 2 Gbps throttle on the main fiber line.
Does Xfinity really offer a 2 Gbps plan?
Xfinity offers the 2 Gbps Gigabit Pro plan only to customers who live within a certain radius of a fiber node. However, the requirements in terms of access to fiber vary from customer to customer. In some cases, they have to dig to your house from the pole. In others, they can access above ground.
Does Xfinity Gigabit Pro offer a static IP for customers?
the Gigabit Pro plan from Xfinity includes a static IP, as well as unlimited data and two lines: a 2 Gbps fiber connection and a seperate 1 Gbps ethernet line.