Xfinity Connect Xfinity Internet Essentials Xfinity Instant TV Choice TV Select Double Play
In my role as a broadband market analyst, I've spent over 26 hours researching Comcast Xfinity's plans and discounts over the past couple years.
When you read the fine print and run test orders, it quickly becomes clear that the price on the box is not the price you actually pay. This is especially true with the cheapest Xfinity internet-only plans, thanks to the complex xFi fee update in 2023.
The main downside of Xfinity's cheapest plans are above-average fees and particularly high bill increases after the first 1–2 years of service. I've confirmed bill increases as high as 155%.
The lowest cost plans (Connect and Connect More) also feature data caps, something their main competitors have all gotten rid of at this point.
To be fair, some features have improved over the years. For starters, they have the most useable low-income plan in the industry. Service setup is simple and equipment is well-designed.
With all that in mind, let's walk through each of the cheapest plans in detail:
Cheapest for most homes: Xfinity Connect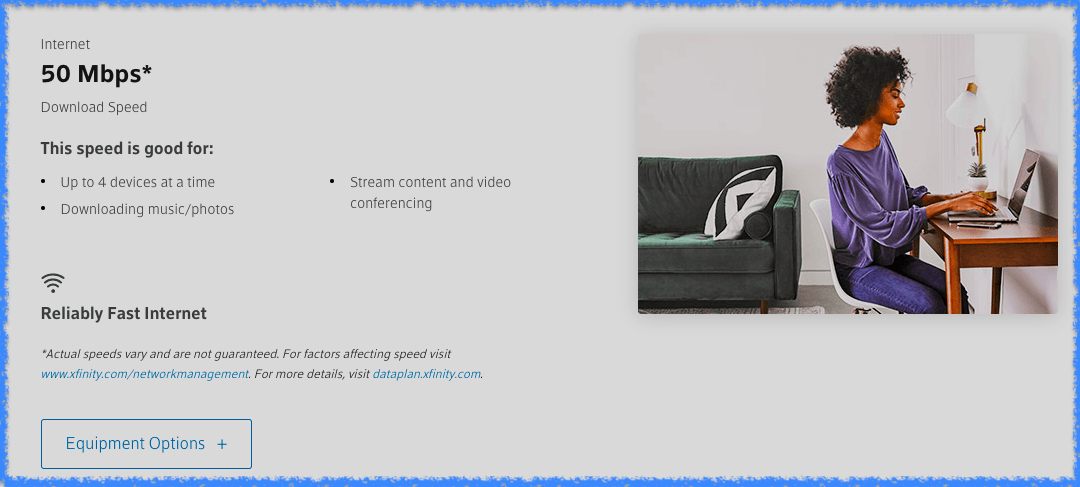 At $19.99 per month plus taxes and fees, the Connect plan is a good deal compared with Xfinity's DSL competitors. This is also a plan that I've tested personally, in an apartment with three people.
Xfinity Connect gives you download speeds of 75 Mbps, which is enough for a small family or group of roommates to stream in HD on a modest flatscreen and have about four phones and a couple of computers connected.
However, if you rely on high upload speeds to make calls on Zoom or similar, you're probably going to feel underwhelmed by Xfinity's 5 Mbps upload speeds. Two devices at once is the maximum I'd suggest for making video calls over Wi-Fi. More than that, and you'll start to have connection issues due to crowded bandwidth when uploading real-time video. (I usually use an ethernet cable for important calls to avoid Wi-Fi issues.)
Additionally, if you live on the more expensive east coast, the plan could cost you about $65 per month. I presume this is due to a relative lack of competition for internet services in that region.
That said, there are a few notable benefits to Connect. The most obvious is the $50+ Visa prepaid card commonly offered for ordering online. For the truly cost-conscious, a Comcast representative told me that this Visa card can be put toward your bill. This makes the first month effectively free, even if you opt to pay for their $15 per month xFi Wi-Fi router.
On this plan, you also have the option to add Xfinity's 4K streaming "Flex" box with NBC's Peacock Premium streaming service free of charge.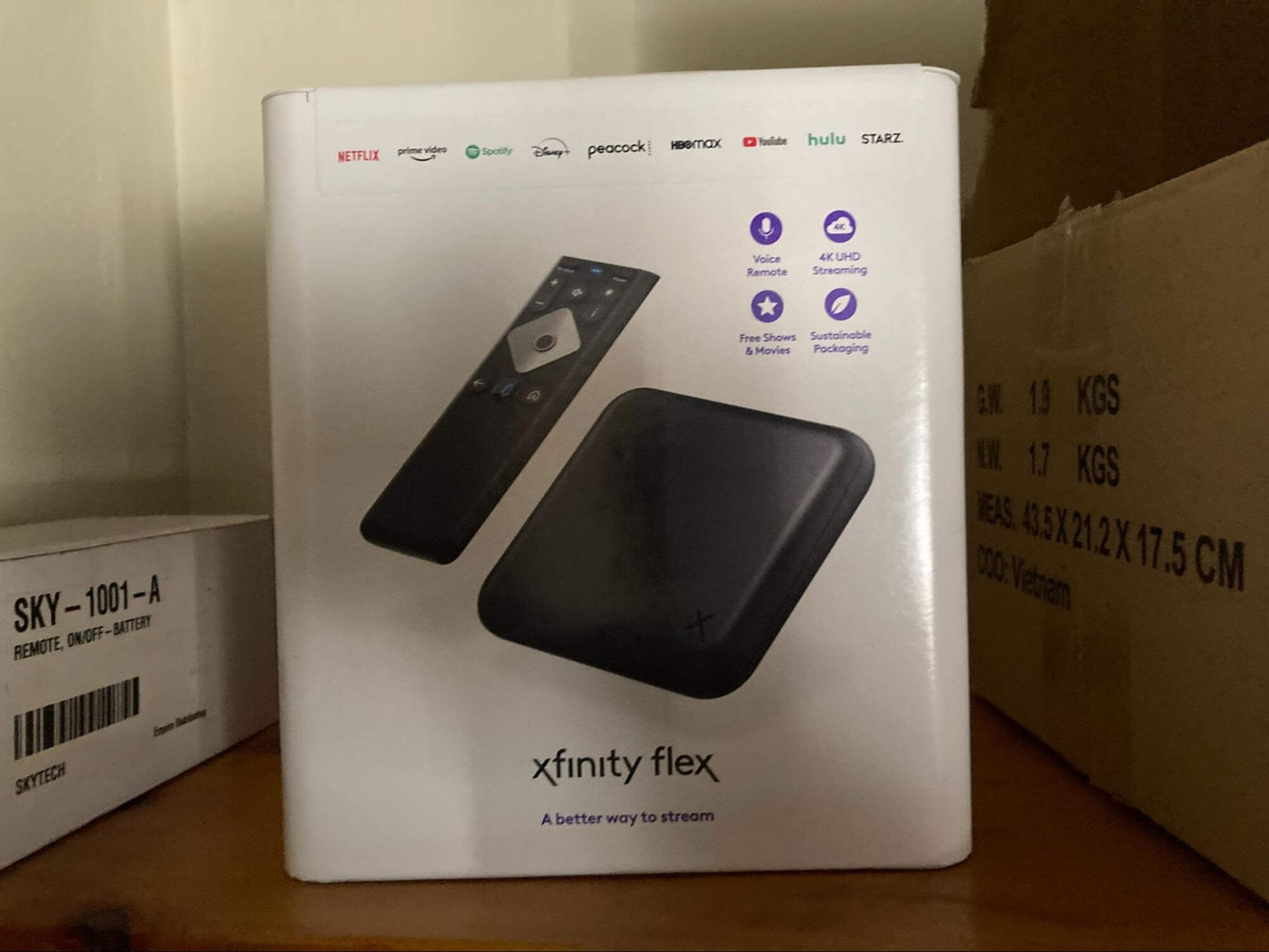 Now, a bit on the charges you'll experience with Connect:
First, if you prefer to pay bills by mail or in-person, be prepared for a $10 monthly charge. Fortunately, avoiding that charge is as simple as setting up auto-pay or paperless billing on Xfinity's website.
Second, in order to get in-home Wi-Fi, you need to either purchase your own router and modem or pay $15 a month for xFi, Xfinity's own modem/router combo.
On top of that, if you don't want to install the modem and router yourself, it'll cost you $100 to have an Xfinity professional do it.
However, you probably don't need to spend this money. In my case, self-install was simple and I only took 15 minutes. I used a third-party router and modem and avoided the activation cost entirely. If you rent their router and get a "self-install kit," there is usually a small "activation fee."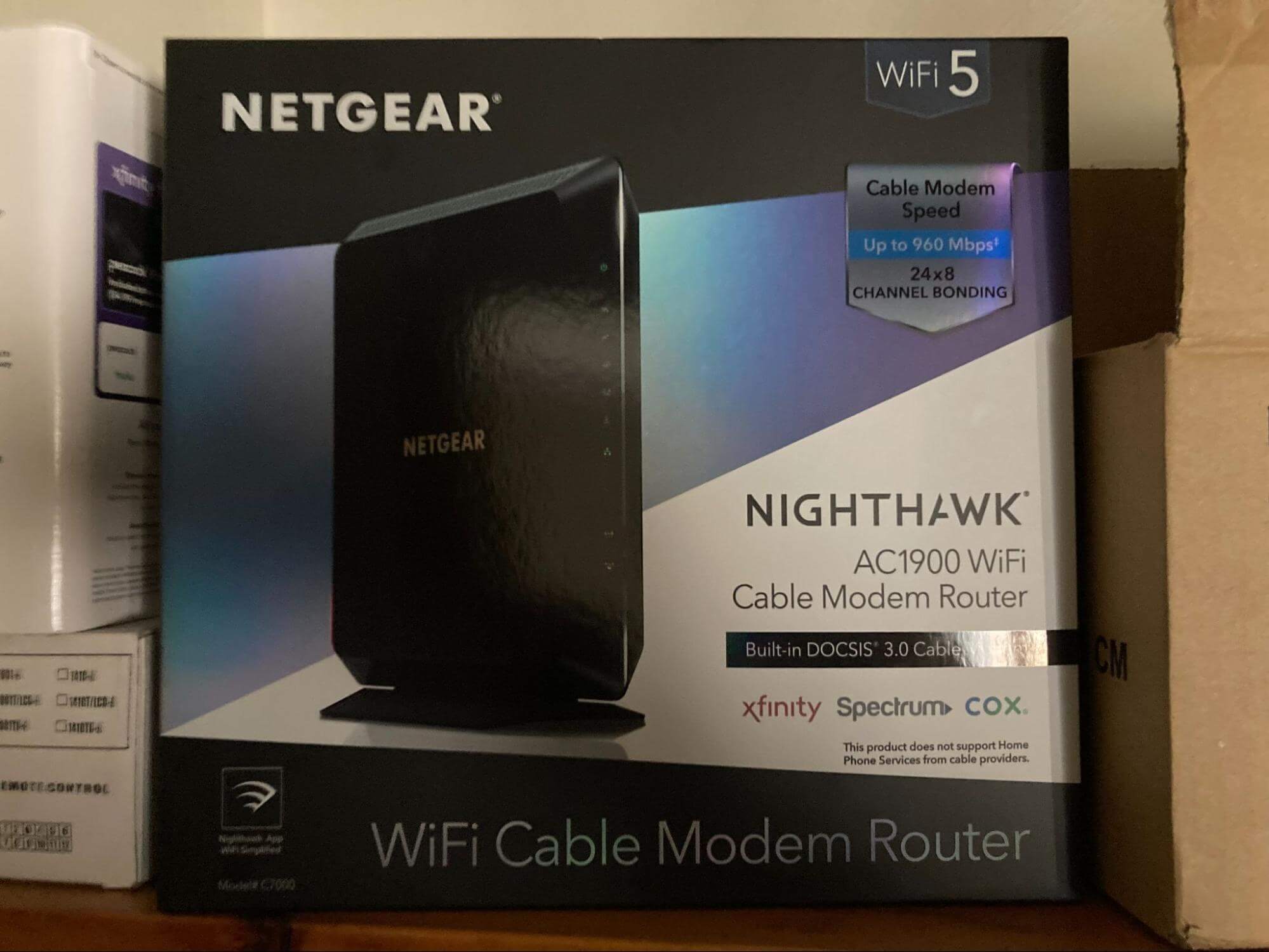 Lastly, don't expect the relatively cheap price of this plan to stay. After the first year, you'll see a jump in price to $51 before fees, a 155% increase on the initial rate.
Cheapest for low-income households: Xfinity Internet Essentials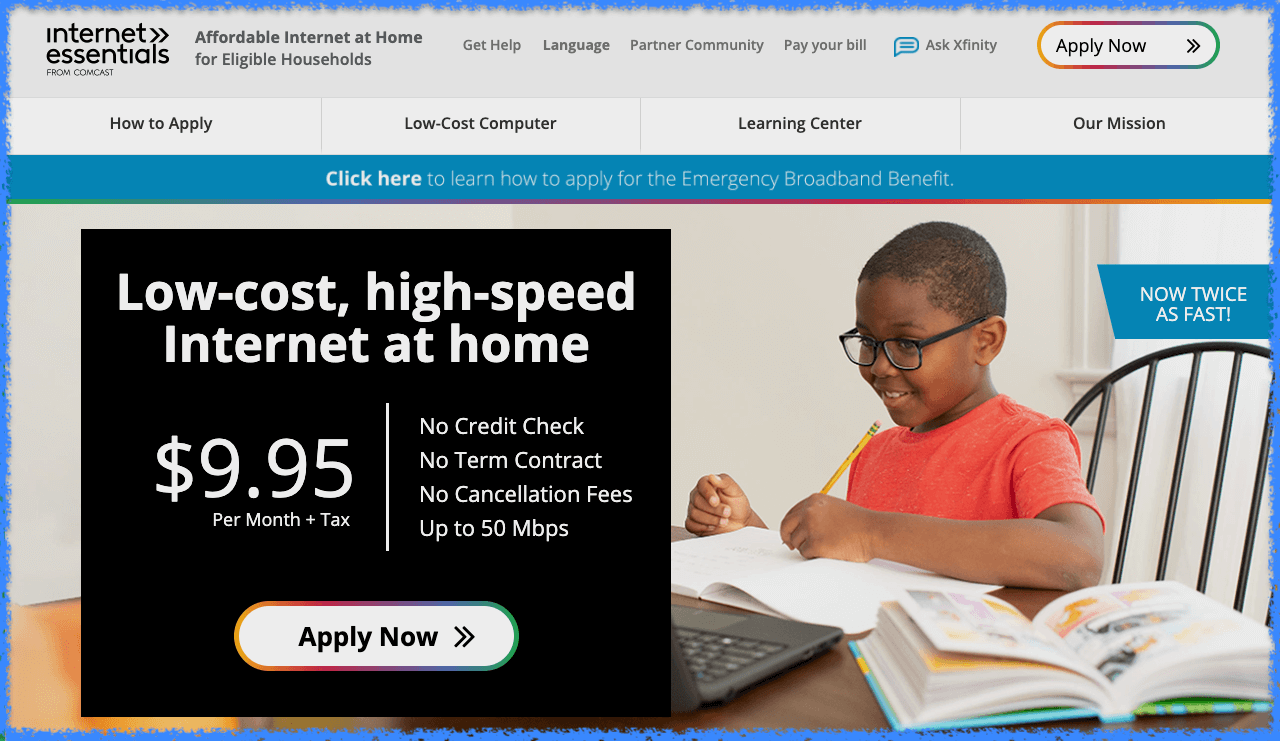 Perhaps a better deal but only available to low-income individuals, Xfinity Internet Essentials gives you essentially all of the benefits of Performance Starter+ at half of the introductory price.
On this plan, you'll get 50 Mbps down, 5 Mbps up for $10 per month plus taxes, with the option to purchase your own computer from Xfinity at only $150.
On top of those benefits, you'll also avoid activation fees and equipment rentals, meaning that you'll get access to an Xfinity wireless gateway at no additional cost. Lastly, you can use this plan to connect to thousands of Wi-Fi hotspots across the country.
So, how do you qualify? Xfinity lays out its criteria for the Internet Essentials program on its website:
You may qualify for Internet Essentials if you:

Are eligible for public assistance programs such as the National School Lunch Program, Housing Assistance, Medicaid, SNAP, SSI and others.
Live in an area where Comcast Internet service is available.
Are not an existing Xfinity Internet customer and have not subscribed to Comcast Internet within the last 90 days.
Have no outstanding debt to Comcast that is less than one year old. Families with outstanding debt that's more than one year old may still be eligible.
If you aren't sure whether or not you qualify, the best course of action is to give it a shot; You can apply on Xfinity's website to know for sure.
Cheapest TV-only plan: Xfinity Instant TV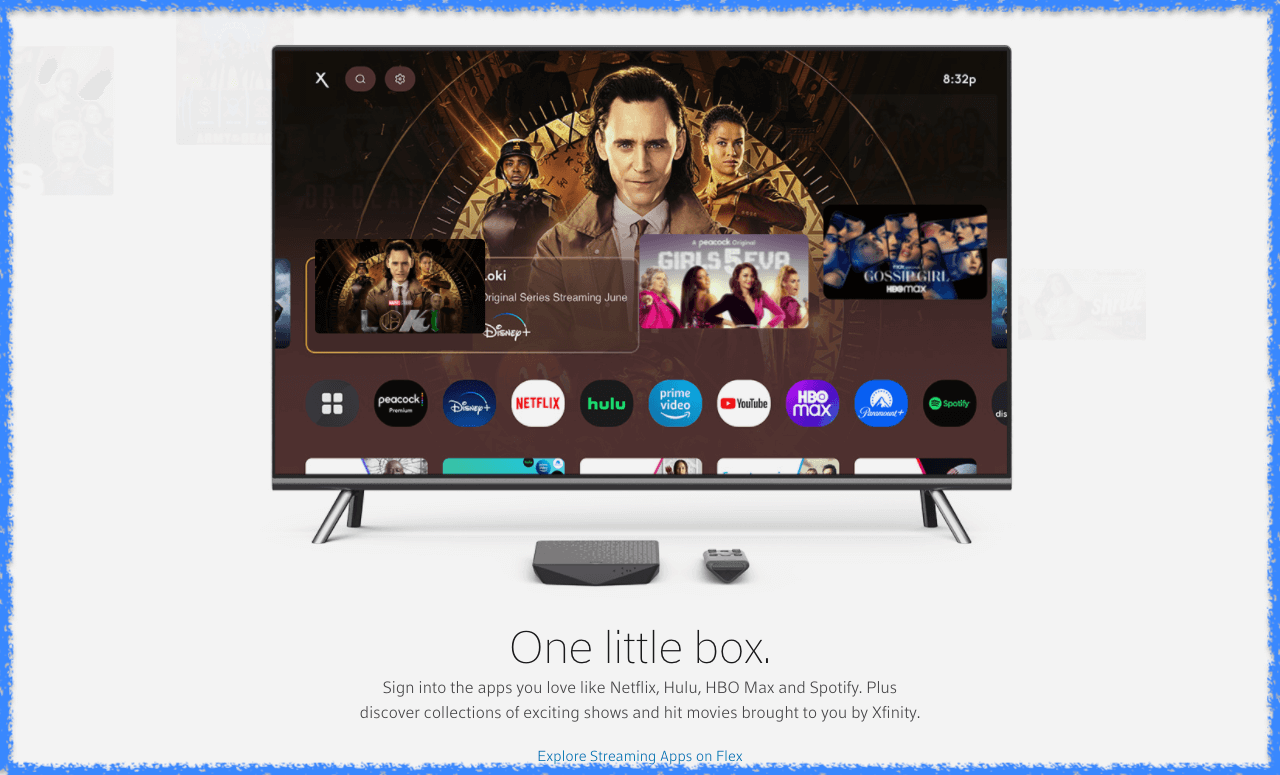 If you're looking to add cheap television service to your home, you're in luck. Xfinity currently offers Xfinity Instant TV, a service that allows you to access a decent amount of your favorite channels through your compatible smart TV, computer, tablet, smartphone, Roku, or Flex box. You won't need extra hardware if you have one or more of these devices.
The service is only $20 after a free trial month, but it is limited and isn't cable television in the traditional sense.
Rather, this plan is more like Hulu or Amazon Prime, where you can watch live television on a handful of popular channels like ABC and CBS, but will get a lot of on-demand video content as well.
The key difference here is the medium through which you access the content: on a more traditional cable service, it probably wouldn't matter what kind of television you had or whether you owned a Roku.
On Xfinity Instant TV, however, those technologies serve as gateways to cheaper service. Sure, there's a bit of an initial cost if you don't already own a Roku or smart TV, but the plan itself is pretty low-cost.
If that sounds good to you, Xfinity Instant TV might be a good fit. You can check out the plan and purchase it on Xfinity's website.
Before you do, though, here are a few things to keep in mind:
Comcast has hiked the price of Xfinity Instant TV (and, really, all of its plans) several times in the past, so keep an eye on your bill.
You're not going to get a lot of channels beyond the essentials (CBS, NBC, ABC, etc.) on this plan, and the channel list varies by location. Make sure to speak (or online chat through their website) with an Xfinity rep before you sign up to confirm the channel list.
Cheapest TV bundle: Choice TV Select Double Play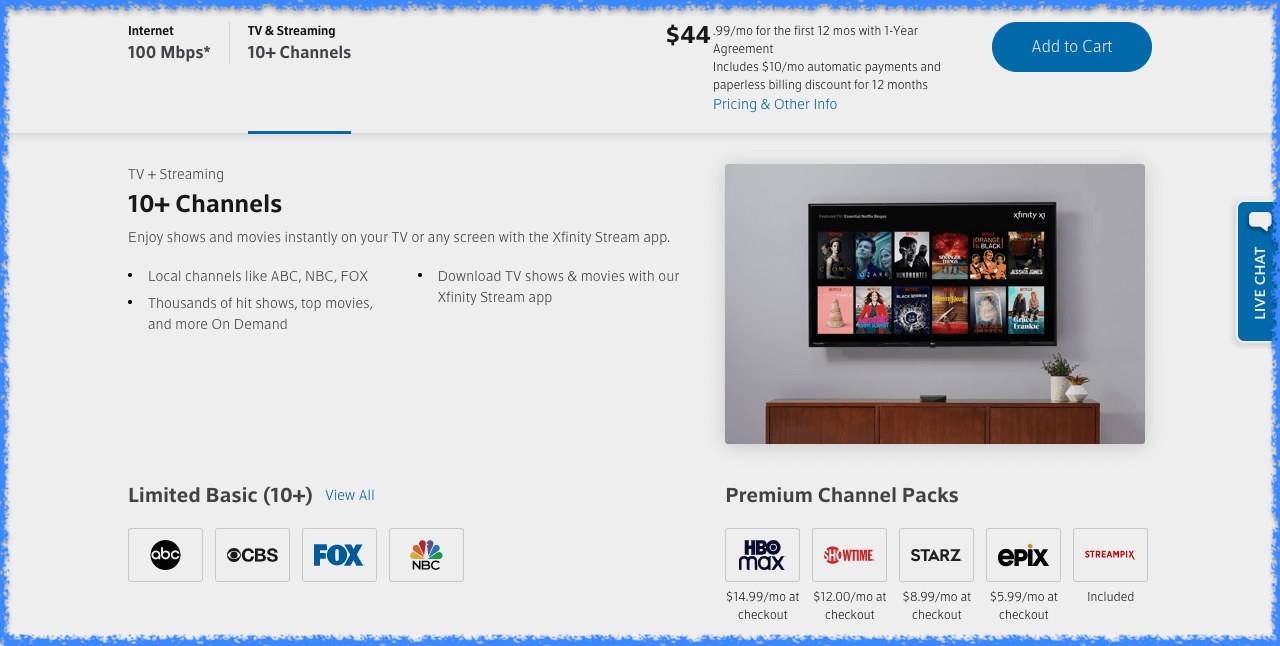 After testing dozens of addresses in Xfinity's address-testing function, I found that the cheapest television bundle that Xfinity currently offers is Choice Double Play, a combination of television and internet.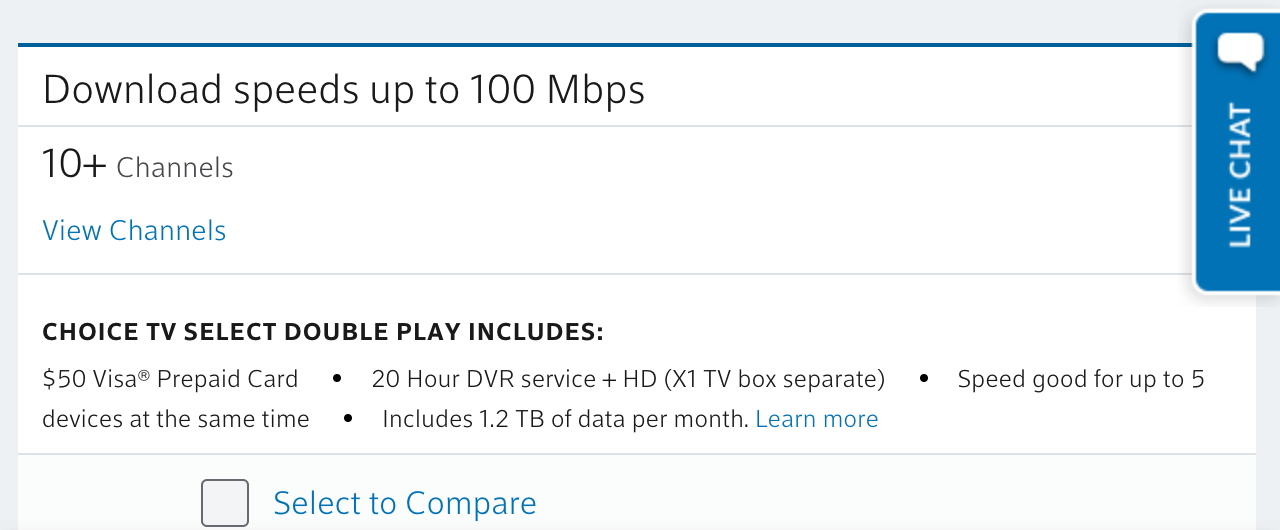 Now a bit about television: Like the last plan I mentioned, the television portion of this bundle is pretty limited. You're only going to get about 10 or so of the most popular channels, with Xfinity's catalog of on-demand titles attached — but you can attach specific channels onto your plan for not-so-cheap prices if you care to.
Also like the last plan, the television portion of Choice Double Play also runs through the Xfinity Stream app on your smart TV, phone, laptop, or Roku. This makes streaming simple and efficient.
Before you decide to pull the trigger on Choice Double Play, though, here are a couple of things you should remember:
Your price is going to go way up after the first year, and up again after the second year. At $54 per month, this TV-internet bundle is as expensive as some internet-only plans out there, but when both your introductory rate and paperless billing discount expire, the plan will cost you nearly $90 per month.
This plan comes with a one-year agreement. The exact amount varies, but expect to pay up to $100 to get out if you need to cancel.
What discounts does Xfinity offer?
Xfinity offers pretty good prices for its cable, phone, and internet packages, and is one of the more generous internet service providers (ISPs) out there when it comes to discounts. Here are some of the groups that stand to receive discounts from Xfinity:
On top of all those benefits, Xfinity also takes part in federal internet assistance programs for low-income individuals, like the Federal Communications Commission's Lifeline — which we'll discuss later in this article.
How to avoid bill increases on Xfinity's cheapest plans
Almost all ISPs have some sort of rate increase after an attractive introductory period. This increase can often be quite costly; fortunately, though, there is a possibility that patience and polite persistence can earn you a discount on that service.
Here's the gist of what you need to know: It hurts Xfinity's performance statistics to grant a rate decrease, so you're fighting an uphill battle. That said, it's not impossible.
Keeping in mind that call center employees deal with angry customers all day, every day, it's best to call and start with a script that emphasizes your satisfaction with Xfinity and your desire to keep your current service but also lets the employee know that it is getting costly.
This script, from our article How to Negotiate a Lower Xfinity Bill (as Existing Customer), is a good place to start:
Hi, I recently lost the promo price on my bill and I'd like to get back to a more affordable price. If possible, I don't want to change my service level or change services. Are there any options for long-time customers in my situation currently?
If you are rejected, don't give up. Thank the representative for their time and call back. Repeat that script to another representative at least three times.
If none of the representatives give you a discount you are satisfied with, it's time to talk with Xfinity about canceling your service.
Beginning the process of canceling your service will probably get you transferred to Xfinity's retention department, where it's possible you'll get a deal. If it doesn't, hang up and try again later. When you speak with retention, reiterate your problem:
Hi, I've been calling in because my promo expired and I'm trying to get my bill back to a manageable rate. The last person I spoke with couldn't seem to get it adjusted. What are my options?
At this point, they might try to offer you a television or phone bundle. Stay on message, respectfully declining the offer:
I really can't change any of my services right now. My frustration is that I know people in my neighborhood are paying less than me. I really don't want to switch but I guess I'll have to if the bill is really stuck at this amount. What about extending my new customer promo? Is that an option?
If that doesn't work, ask if you can speak to a supervisor before canceling. You can repeat the same script here, but if it doesn't work, here's what to say:
​​Well, I'm sorry we couldn't come to a deal here. I'm going to think about it a few days before I go through with canceling. Do you know if there's a promotion coming up in the next week or two that I can call back to take advantage of?
Sometimes, the supervisors will know of seasonal or other discounts that you can use. If not, it's best to hang up and try again another day.
Discount prices for faster Xfinity plans
No one wants to pay more than they need to for internet service, but sometimes we have a minimum level of service that we need for work or entertainment. Here are Xfinity's internet plans by speed:
All sample prices from Western US service regions. Prices in Eastern US are higher.

| Plan Name | Download | Upload | Promo Price | Final Price |
| --- | --- | --- | --- | --- |
| Connect | 75 Mbps | 5 Mbps | $19.99/mo | $51 |
| Connect More | 200 Mbps | 10 Mbps | $39.99/mo | $63 |
| Fast | 400 Mbps | 10 Mbps | $55/mo | $73 |
| Superfast | 800 Mbps | 15 Mbps | $65/mo | $83 |
| Gigabit | 1000 Mbps | 20 Mbps | $75/mo | $93 |
| Gigabit Extra | 1200 Mbps | 35 Mbps | $80/mo | $103 |
Conclusion: Is Xfinity the cheapest internet option?
Xfinity is usually the cheapest internet option within their service area. They leverage their large size to compete heavily on price, particularly when compared with local or faster fiber operators like Sonic or AT&T.
Unfortunately, they also know where they do and don't need to compete on price. Customers in the Northeast US will find higher prices across the board, and fewer alternatives in areas like Boston. Meanwhile on the West Coast, their pricing is extremely low — unsurprisingly, these are areas where they compete with fiber internet networks from AT&T, Sonic, and even CenturyLink. In terms of price per Mbps of speed, fiber operators are almost always cheaper.
In terms of value, if what you want is fast download speeds and don't need much speed on upload, Xfinity might be the right choice for you. It's particularly well-suited for homes that mostly just watch Netflix and don't care about upload speed for home office use.
Likewise, if you are a low-income individual who needs a lot of speed but can't afford the more expensive internet plans, Xfinity has a pretty generous program that could get you there.
Despite those positive factors, it ultimately comes down to your personal situation and the needs only you can really know. Here are a few things I ran into that are good to keep in mind as you pursue service from Xfinity:
Watch out for price increases. Almost every ISP jacks up your rate after the first or second year, but Xfinity's rate increases are often substantial.
Xfinity offers good prices for its services (at least for the first year), but the company will try to upsell you on unnecessary devices, speeds, and more. For example, when I ran a test purchase on one of the company's internet plans, I found it difficult to opt out of paying for Xfinity's branded modem.
Don't expect Xfinity to be completely transparent. During my test checkout, I found that the upload speed of my internet plan was hidden until the "review" page when I had already given the company my credit card information. To be fair though, they have announced an increase to their upload speeds rolling out over the next few years.
---
Frequently Asked Questions
What is the cheapest Xfinity internet-only plan?
The cheapest Xfinity internet-only plan is Connect, a $19.99 per month promotional package offering 75 Mbps download and 5 Mbps upload. Affordable Connectivity Program (ACP) customers receive an additional $30 discount, making the plan free for one year.
Does Xfinity have low-income assistance plans?
Xfinity Internet Essentials is Xfinity's program specifically designed to bring internet connectivity to low-income individuals. This plan offers up to 50 Mbps internet-only service for only $10 per month, making it one of the most generous low-income programs currently active in the US. For comparison, Spectrum and AT&T charge up to twice as much for a quarter of the download speed.
Does Xfinity offer discounts?
Xfinity offers discounts to teachers, students, and veterans. However, these discounts are not very high and usually do not repeat monthly. Instead, one-time discounts or free add-ons are more common.