Internet Essentials Discount Connect More Discount Superfast Discount Select+ TV and Phone
Xfinity only offers discounted plans for low-income seniors. As of 2023, they do not have a senior-specific discount program based on age alone.
However, they do have several discounted plans that are particularly well-suited to senior users. In this post, I'll run you through each current senior-friendly Xfinity plan in plain English.
To summarize my findings, there are basically three ways seniors can save money when purchasing Comcast Xfinity internet:
Qualify for their low-income plan through SSI or VA Benefits ($40 discount).
Get discounted first-year discounts by signing a 1-year contract (up to 50% off certain plans).
Bundle TV and home phone or mobile service to get further discounts ($10 discount).
Note that the pricing information may vary slightly based on your location. I spent five hours running test orders to gather data for this page, and saw slightly higher pricing in the Northeast US. Other regions like the midwest and California also had pricing variations.
Internet companies don't always have user-friendly options, and many of them have more "fine print" than actual helpful text. As a result, many people (especially seniors) are upcharged or just miss out on deals that can save them hundreds of dollars a year.
Understanding Xfinity packages and their best plans for seniors
Xfinity has a variety of internet speeds, but even the lowest 50 Mbps plan is fast enough for most seniors. When advising seniors, we suggest shopping based on price and current discounts alone, because virtually every plan is going to be fast enough for watching YouTube, video chatting on your iPad, etc.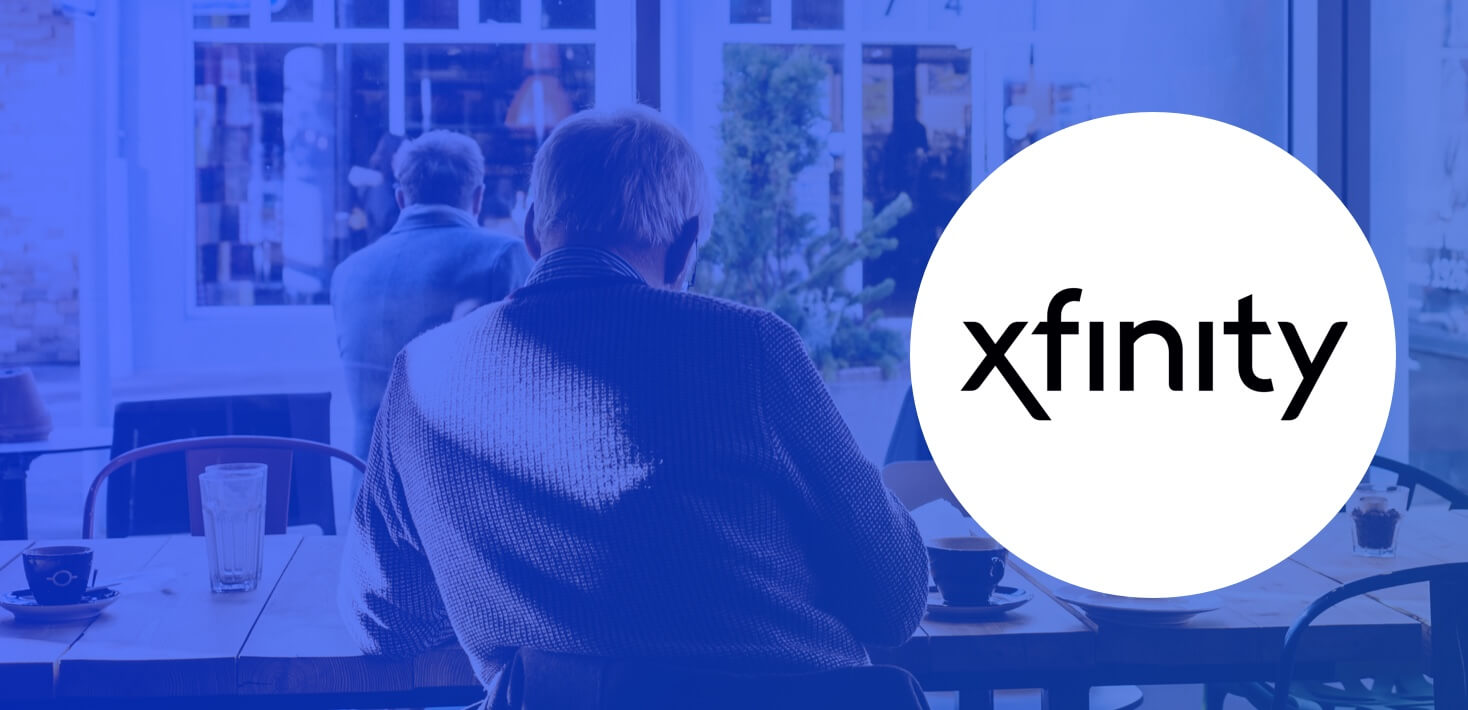 Here's a quick summary of common scenarios:
Best for lower or fixed-income seniors: 50 Mbps Internet Essentials
Best for most seniors: 100 Mbps Connect More Internet
Best for larger households: 300 Mbps Fast Internet
Best for bundling cable TV and phone service: Xfinity Select+ TV & Phone Bundle
For a limited time, families impacted by Covid–19 can also take advantage of the Broadband Emergency Benefit Discount Program.
1. Xfinity Internet Essentials (the best plan for seniors on a fixed or low income)
Just like every other large cable company, Xfinity doesn't offer a senior-specific discount based purely on age.
What they do offer, however, is Xfinity Internet Essentials: a no-contract, low-cost internet plan specifically designed for low-income households. The catch with this plan is that you can only access this deal if you take SSI, VA Benefits, or participate in other low-income programs like school lunch subsidies for kids or Medicaid.
How to qualify for Xfinity Internet Essentials low-income plan
After looking through all of the major internet providers' low-income plans, we can safely say that Xfinity is one of the easiest to qualify for. The parent company, Comast, has had this system in place for years, and as a result, it's fairly established.
To qualify, you must meet one of the requirements listed on their dedicated website. You also have to be a new customer — this plan is not available for existing Xfinity customers as a plan change.
To see if you qualify, you need to send in an application through their online portal. When applying, they will require at least one of these documents in order to qualify and get access to the discounted rate:
For seniors:
Supplemental Security Income (SSI) letter
Proof of VA Pension
Medicaid card or eligibility letter
For other applicants:
Public housing assistance documentation (a lease or HAP contract will do)
SNAP (Supplemental Nutrition Assistance Program) letter
TANF (Temporary Assistance for Needy Families) letter
NSLP letter
LIHEAP (Low Income Home Energy Assistance Program) letter
WIC letter
Tribal Assistance letter
With so many ways to qualify, many seniors will find that either they or someone in their household will meet the qualifications to receive the special access program.
A few tips when trying to qualify:
Anyone can qualify if they live in your house and meet any of the qualifications (kids, spouse, even non-family housemates). You don't have to personally qualify.
You can also apply via phone by calling their toll-free line for support: 1-855-846-8376.
Xfinity Internet Essentials Features
At this point, you should know whether or not you qualify for the program. The process is incredibly straightforward, and if you are eligible, these are the things you can expect.
The Internet Essentials program offers high-speed internet at a lower cost. The speed they offer, 50 Mbps, is considered high-speed and is perfect for surfing the web, streaming movies and tv, or using your phone. Although it's "considered" high-speed, having more than 3-4 people on the network could reduce performance drastically.
Apart from the actual internet service itself, you are eligible for a few additional things simply by qualifying for their program. Their website offers step-by-step videos (and in-person classes) on how to use the internet, how to navigate web pages, what websites are safe, and a lot more. For seniors who don't consider themselves tech-savvy, this is an ideal place to start. Additionally, Comcast offers a low-cost computer and an internet "Welcome Kit" to anyone who has qualified for this plan.
2. Connect More Internet plan (best for most seniors)
If you are one of the many seniors that don't qualify for the Internet Essentials plan, the next best option for you will likely be the Connect More Internet plan.
While certain regions will have "lower" packages than this, this package is still the universal option for most seniors looking for a good "basic" package.
This plan offers 100 Mbps, a free "Getting Started Kit," access to Peacock Premium (a streaming service), and free shipping for your Wi-Fi equipment.
At 100 Mbps, this plan is ideal for nearly all internet needs and can support a family and all their devices (Xfinity claims up to 3–4 at a time). It starts at $34.95/mo and is good for 12 months of service. After that initial year, the promotional price ends, and you go to $55/mo.
Be sure to enroll in paperless billing and automatic payments to get the lowest possible starting price. In an effort to reduce paper mail, they're currently reducing bills $10 per month for customers that do automatic payments and email-based statements.
3. Fast Internet plan (best for seniors with large households)
The Fast Internet plan is nearly the same in features as the Performance Select plan, only with faster speeds to support a larger home. Xfinity claims eleven devices can work at once on this plan, which matches well to my own bandwidth calculations. It's a good option if you have lots of smart devices in the house, particularly those with video such as baby monitors, home security cameras, etc.
With that increase in speed, however, comes an increase in price. Additionally, the plan requires a 1-year contract to secure the discount price. After the contract is up, the price jumps to $70/mo. Like all their packages, you can take $10/mo off the bill by enrolling in automatic payments and going paperless.
Fast is currently offering several limited-time sign-up benefits. If you sign up under a promotion you can get a Visa gift card, free Peacock Premium, and a free 4K streaming box. These sorts of deals come and go, so if they aren't advertised when you read this, check out the "Tips for securing discounts" section below.
4. Xfinity Select+ Triple Play (best for discounted TV service)
Xfinity is willing to drop the prices on most services if you'll "bundle" and buy TV and phone service as well. The Select+ bundle includes tv, internet, and phone services, guaranteeing overall lower prices than just getting any singular service. For any seniors who want all three services and don't mind using the same provider, bundling them into one plan is a sure way to get a lower price.
Their standard bundle offers 200 Mbps internet speeds, 130+ channels, and unlimited calling with its accompanying features. They offer the bundle at $99.99/mo for two years and then the price goes up to $130.99/mo.
For all of the included features, we think this deal is the best way to go for any seniors who know they want more than just internet. Like the other services, you can reduce your bill by an additional $10/mo through automatic payments and paperless billing.
Tips on getting Xfinity discounts
Finding discounts is often a game of luck and perseverance, but there are some proven ways to potentially reduce your monthly bills or get some unique benefits when you sign up. Check out our favorites below.
1. Enroll in paperless billing for $10/month discount
Enrolling in paperless billing and automatic payments knocks $10/mo off of any service you choose. It may not seem like a lot, but over a 2-year contract, it's a $240 savings.
2. Enroll in a contract plan
The most common way to reduce your monthly bill costs is to enter into a contract. With a contract, many internet providers can discount their standard pricing by as much as 50% for two years.
The caveat here, of course, is that a 1-year contract leaves you with a fee if you need to cancel early. So this option is a poor choice if you're moving into short-term housing.
3. Add-on TV and phone
"Bundling" means using multiple services from the same provider (things like internet, tv, and phone services). When a company can guarantee multiple streams of income from a customer, they are usually more willing to reduce the overall costs of things.
Bundling has a bad reputation since cable companies have a history of price increases over time, which hits bundle customers harder. However, for seniors, the convenience of bundling is usually worth the cost tradeoff compared with attempting to "cut the cord" and set up your own internet-based streaming setup at home.
4. Call every year and request discount extensions
Xfinity discounts can almost always be extended, provided you are willing to spend a couple hours on the phone with their call centers to make it happen.
While many discounts are offered temporarily, a quick call is usually enough to secure some type of promotional deal, especially if you know of deals they have offered in the past.
I've written a full guide to Xfinity deals for existing customers that includes some new tactics that work particularly well in 2023.
---
Frequently Asked Questions
Does Xfinity Internet offer any senior discounts?
Xfinity does not have a purely age-based senior discount program. However, they do have low-income plans that many seniors can qualify for on the basis of participation in programs like Supplemental Security Income (SSI) or the VA Pension program.
How do seniors qualify for the Xfinity Internet Essentials plan?
Seniors can qualify for Xfinity's Internet Essentials Plan if they are on SSI (Supplemental Security Income), receive or are eligible for a VA pension, or participate in other low-income government programs including Medicaid and meal assistance.