Best Internet-Only Plan Compare Internet Plans
Sacramento Xfinity plans start at $19.99 per month. Speeds start out at 75 Mbps and go up to 1,200 Mbps. Most customers locally select plans in the bottom three speed tiers, all of which offer discount pricing under $50 per month.
Xfinity pricing was consistent throughout Sacramento city and county in our tests. We ran test addresses in every Sacramento neighborhood including Downtown, East Sacramento, Land Park, Oak Park, and South Sacramento. The $19.99 price had no restrictions based on location, including locations in the broader Sacramento County area.
Recommended internet-only deal: Xfinity Fast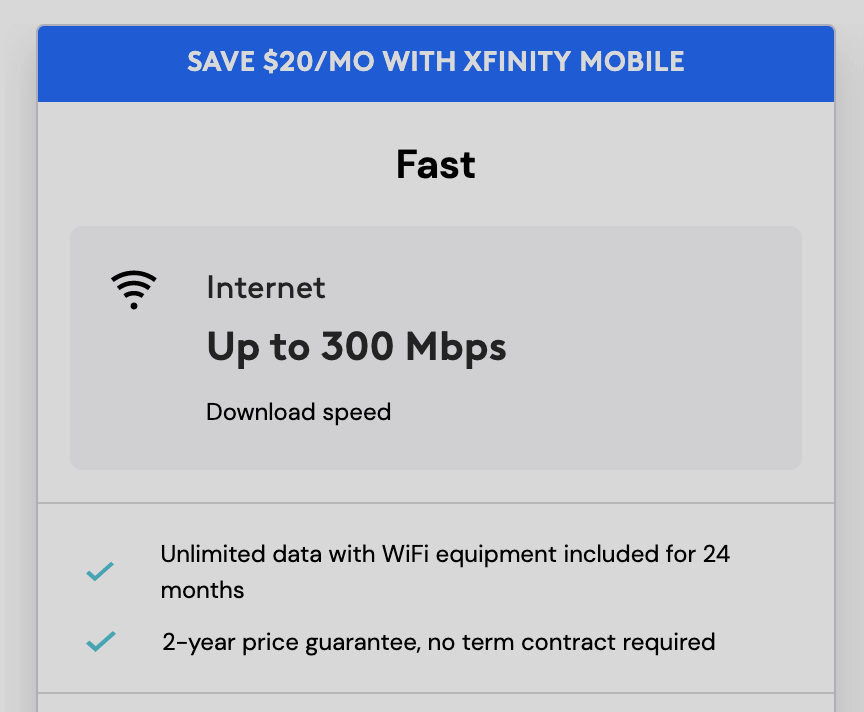 The best value Xfinity plan in Sacramento is Fast. This plan offers enough speed to support a home with 3–4 users, and can support high-bandwidth appliances such as 4K largescreens and cloud-connected video systems.
The main caveat with this plan is the 10 Mbps upload speed, which is double the base plan but still slow compared to what AT&T Fiber offers in Sacramento. This speed can cause issues for homes with large smarthome systems, or for homes where more than one person works from home daily.
The promotional rate of $55 per month is good for one year, and currently includes the Wi-Fi router bundled in for free on a two-year agreement. However, the base price does increase by $18 after the first year to $73 per month.
Promotional deal: $55/month
Standard rate: $73/month
Installation: free self-install included.
Fees: $0/month Wi-Fi router fee.
Xfinity internet-only plans in Sacramento
Xfinity plans offer a wide range of download speeds in Sacramento, from just 75 Mbps all the way to to 1,200+ Mbps. Upload speeds are more limited as you can see below, in the 5–15 Mbps range for all the budget and mid-tier plans. Upload speeds go higher to 35 Mbps, but all those plans cost close to $100 per month even with discounts in place.
Speed in Sacramento: 75 Mbps download, 5 Upload
Price in Sacramento: $19.99/month (discounted from $51)
The base Xfinity Connect plan is the absolute lowest discount offer active in the Sacramento area in 2023.
Order Plan
Speed in Sacramento: 200 Mbps download, 10 Upload
Price in Sacramento: $39.99/month (discounted from $63)
The Connect More plan offers double the upload speed, making it a worthwhile upgrade for those with home offices or 3+ people in the home. The price difference is high for one-year contract discounts, but similar to the base plan for month-to-month customers.
Order Plan
Speed in Sacramento: 400 Mbps download, 10 Upload
Price in Sacramento: $55/month (discounted from $73)
The Fast is suggested for most homes because of the combination of low price, 4K-friendly download speed, and work-from-home-friendly upload speed.
Order Plan
Speed in Sacramento: 800 Mbps download, 15 Upload
Price in Sacramento: $65/month (discounted from $83)
Homes with large entertainment needs including 4K or 8K flatscreens can consider upgrading to this plan for the increased downstream bandwidth.
Order Plan
Speed in Sacramento: 1000 Mbps download, 20 Upload
Price in Sacramento: $75/month (discounted from $93)
20 Mbps upload speeds aren't the fastest offered by Xfinity, but they're more than four times the base plan offering.
Gigabit Review
Order Plan
Speed in Sacramento: 1200 Mbps download, 35 Upload
Price in Sacramento: $80/month (discounted from $103)
The Gig Extra plan is offered at a price point that only makes sense for power users with no fiber-to-the-home alternatives in their location. For those who can afford it, paying extra to remove the 1.2TB data cap is imperative to enjoy the benefits offered by the plan.
Order Plan
Xfinity packages relative to competition in Sacramento
Xfinity's main competition in Sacramento is AT&T, which has built out their fiber network to about half of the city.
Outside city limits, options are more sparse in Sacramento county. Xfinity competes against AT&T's older DSL network in these areas. While the DSL network has been updated to a part-fiber "IPBB" system, it's still limited to 25–100 Mbps download maximum. For context, that's about a tenth of what Xfinity offers in the same area.
AT&T has recently switched to a flat-rate pricing scheme with no new-customer discounts. This puts Xfinity deals at an advantage for new customers, since the first year of service is dramatically discounted.
However, that discount wears off over 1–2 years, when the price resets and Wi-Fi fees get added back in. See the chart below for how the price over time compares between the base plan for Xfinity vs AT&T Fiber:
How to achieve the lowest possible price for Xfinity in Sacramento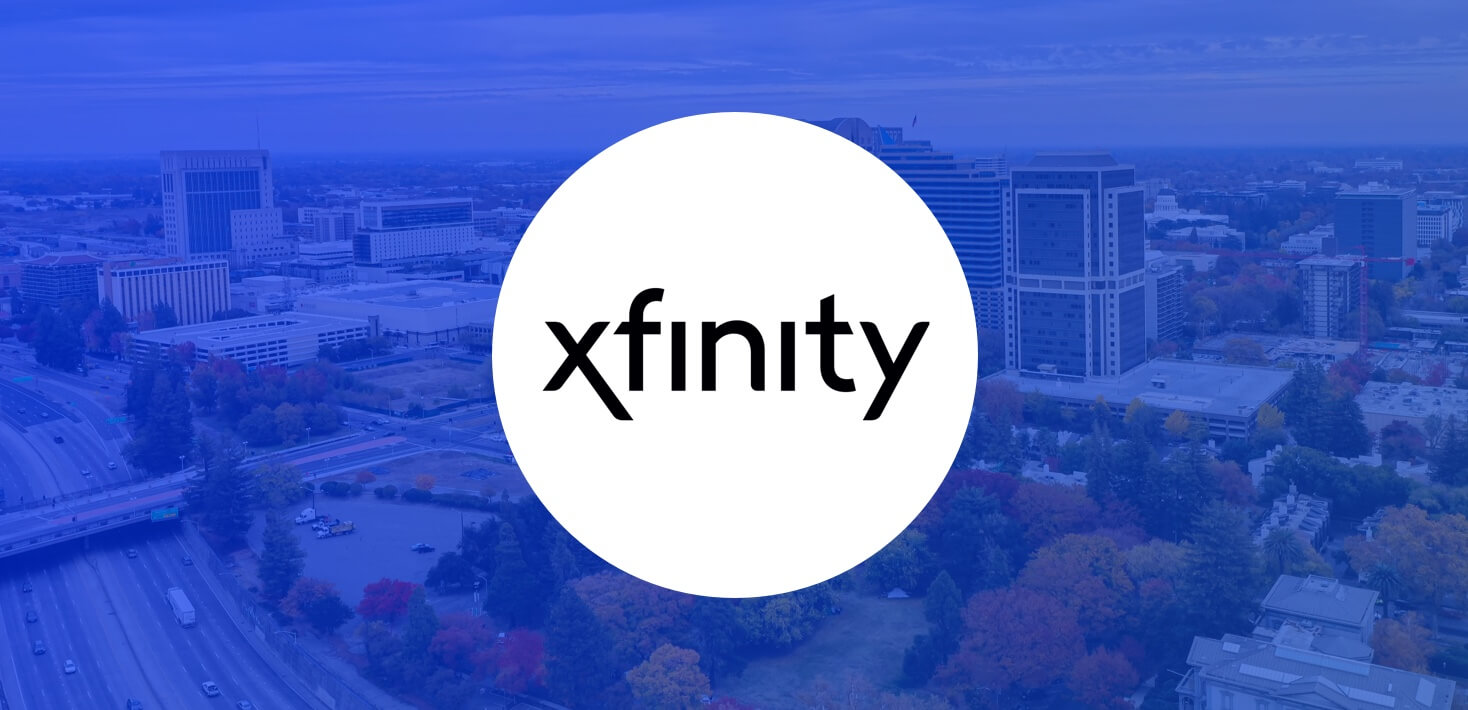 As of 2023, the base Xfinity plan goes up a staggering 155% after the first year of service.
While the price increase is less dramatic for the mid-tier plans, they still have Wi-Fi fees, which can inflate the price by $14–25 per month depending on which package is selected.
Here are the steps you need to take to avoid the most common extra fees paid by customers in Sacramento:
1. Use online-only billing.
Online billing is called "paperless billing" during the checkout process. You'll see it as a default option for most packages, like this:

What this means is that you agree to manage your bill via autopay online. They won't send you paper bills in the mail; instead, you'll just have your bill auto-charged to the card on file.
The main drawback to paperless billing is that it makes it easy to overlook billing changes. Small increases such as the $14 per month Wi-Fi fee can pile up over time, and you may not notice them for months if you don't audit your credit card statement monthly.
Our suggestion is that customers agree to paperless billing, because it reduces your bill by $10 per month. That's a savings of $120 per year.
Set a monthly reminder to review the bill when it comes in; and be prepared to make a call to Xfinity if you see the billing change in a way you didn't anticipate. In some cases, they'll even extend discounts to existing customers who call regularly to request it.
2. Get a 1–year contract with price lock.
Xfinity is one of the few major providers on the market who still requires one-year contracts for new customers to access discount rates.
Their primary competitors like AT&T, Spectrum, and even Frontier have largely dropped this during price changes in the past couple years.
The reason behind the requirement is, presumeably, the degree of discount offered. Xfinity discounts their base plan by about $30, while most of their competitors run flat $10–20 per month discounts for new customers. In the case of AT&T, discounts may not be offered at all.
Contracts aren't a drawback if you know what you're getting into. You're really just agreeing to pay $10/month left in the contract if you break early. In almost all cases, the cost of breaking the contract is still less than the benefit granted through the discount.
This is especially true for the base plan, which has the biggest discount in terms of dollars per month ($30+).
3. Purchase your own Wi-Fi router.
While discount rates are high, the price Xfinity charges for their standard Wi-Fi router and extender system is well above-market.
See this table for an example of how they differ from the market:
| Provider | Monthly Wi-Fi Fee |
| --- | --- |
| Xfinity | $15 |
| AT&T | $0 |
| Spectrum | $5 |
| Cox | $10.99 |
| Frontier | $10 |
Most customers stand to save $180+ per year by purchasing their own router instead. While it voids some customer support features, the cost adds up over multiple years.
Using your own router is not suggested for customers who would consider themselves "tech averse," since you will have to configure your own router and troubleshoot basic issues as they come up.
Setting up your own equipment is also a poor fit for customers who only intend to subscribe to Xfinity for 1–2 years. On the mid-tier plans like Superfast, they now include the Wi-Fi router for free on a 1–2 year agreement. This means that you can use their high-end equipment for free, then return it when you cancel service.
Xfinity low-income offers in Sacramento

Xfinity has a strong low-income deal available throughout Sacramento, and anywhere on their cable network in the county.
This plan offers Mbps download speeds for $ per month, which is twice the speed offered by AT&T and 50% of the price required by Spectrum's equivalent offer.
The plan is easy to qualify for compared to other subsidy programs on the market, assuming that you are within range of the poverty line in your region:
| Offer Name | Speed Down/Up | Monthly Price | Wi-Fi Fee |
| --- | --- | --- | --- |
| Xfinity Internet Essentials | 50/10 Mbps | $9.95/mo | $0/mo |
| Xfinity Internet Essentials Plus | 100/20 Mbps | $29.95/mo | $0/mo |
---
Frequently Asked Questions
What is the cheapest Xfinity package in Sacramento?
The lowest priced Xfinity plan in Sacramento county is $19.99 per month for 75 Mbps download and 5 Mbps upload. The plan is branded as Connect. Low-income assistance plans are also available locally, through both Xfinity Essentials and in partnership with the FCC's Affordable Connectivity Program. Low-income plans bill at lower rates than the general consumer plans, starting as low as $9.95 per month for 50–100 Mbps service.
Does Xfinity offer internet-only in Sacramento?
Xfinity does not require TV services to be bundled with internet plans. As of 2023, the cable company offers six internet-only plans within Sacramento city and the surrounding county.
What is Xfinity's upload speed in Sacramento?
Xfinity offers upload speeds range between 5–35 Mbps in Sacramento. Some homes are wired for their multi-gigabit download and upload service, Gigabit Pro. However, this service is very uncommon due to the high cost.