Best Internet-Only Plan Compare Internet Plans
In 2023, the cheapest Xfinity deal in the San Francisco Bay Area is their base plan Connect, offered for a new customer discount of $19.99/month.
This plan has a speed of 75 Mbps download and 75 upload, which is sufficient for most households with 1–3 users.
Pricing is $20 per month lower than corresponding deals in other Xfinity service areas, particularly when compared to the East Coast. Competition from other providers in the Bay Area like Sonic and AT&T Fiber keep prices low.
While not always the fastest internet option, Xfinity is virtually always the cheapest in Bay Area communities including San Francisco, San Jose, Santa Clara and San Mateo.
Recommended premium internet-only deal: Xfinity Fast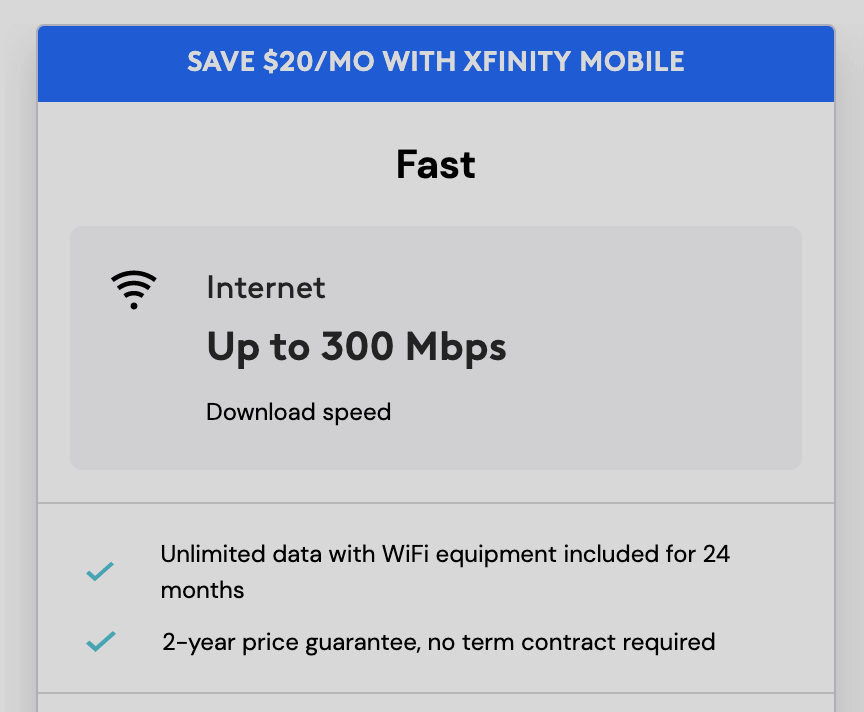 The Xfinity Fast plan has the best combination of price, download speed, and upload speed among internet-only plans offered in the California Bay Area.
400 Mbps can support 3+ users easily, even with multiple widescreen TVs streaming in the home. The plan also has a 10 Mbps upload speed; this is slower than the download, but sufficient for Zoom calls, moving large files, and other normal daily use.
The main caveat with this plan is the price, which starts at $55 but increases by $18 after the first 12 months to a non-discounted rate of $73 per month. That's a substantial 33% increase in just 1–2 years.
While not required, most customers also choose to lease their Wi-Fi router from Xfinity rather than buy their own. This adds $0+ to the final billing each month.
This plan does not require a contract.
As of 2023, this plan offers free Wi-Fi equipment for the first two years of service to addresses we tested in the San Francisco Bay Area. Be sure to validate this offer when signing up, as changes in equipment fees are common.
Promotional deal: $55/month
Standard rate: $73/month
Installation: free self-install included.
Fees: $0/month Wi-Fi router fee.
How do Xfinity deals compare to other providers in the Bay Area?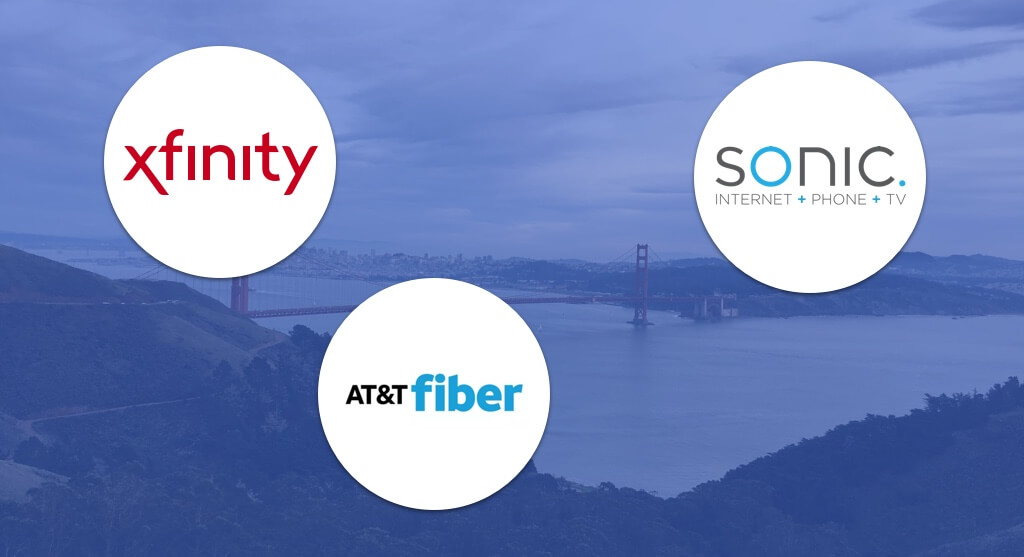 Xfinity is most commonly compared with two providers in the San Francisco Bay Area: AT&T Fiber and Sonic Fiber.
Both AT&T Fiber and Sonic Fiber offer faster speeds than Xfinity, particularly for upload. While Xfinity coaxial cables max out around 35 Mbps locally, fiber to the home network competitors can achieve speeds upwards of 1,000 Mbps.
However, most homes do not actually use more than 5–10 Mbps upload bandwidth at any given time. This allows Xfinity to maintain a large subscribership through their advantages in:
Lowest price: Xfinity has by far the lowest first-year discount offered in the Bay Area.
TV and mobile bundles: Xfinity competes heavily on bundle pricing for customers who also want TV and mobile service. AT&T and Sonic both struggle in this department.
Xfinity deals vs AT&T in the San Francisco Bay Area
Xfinity largely outperforms AT&T on price, while AT&T easily wins out the battle for fastest speeds.
Here's a look at how monthly pricing compares between Xfinity's base plan and AT&T's base fiber plan. This pricing is consistent for San Francisco, Oakland, San Jose, and all other Bay Area cities:
The key difference between Xfinity and AT&T in the Bay Area strongly depends on if you can access the AT&T fiber network or not.
Most of their service area is still on copper phone lines, which offers speeds in the 5–100 Mbps range. This value proposition just doesn't make sense compared with Xfinity cable.
In fiber areas, the competition comes down to whether or not you're willing to pay extra for faster speed. AT&T has largely phased out new-customer discounts across California. As a result, Xfinity has much lower pricing for customers who intend to subscribe for only 1–2 years.
Customers who stick around longer see the value of the entry price diminish, averaged out by the higher price charged to existing customers. (It's a 150% difference between discount and final pricing on the Xfinity base plan; a huge jump to consider.)
Related price comparison pages
For more information on how Xfinity deals measure up to the competition in the San Francisco Bay Area, see my full comparisons here:
Xfinity deals vs Sonic Fiber in the San Francisco Bay Area
Xfinity and Sonic don't really compete in the Bay Area; if you can access Sonic, it's virtually always the better deal.
The company has been rolling out 10 Gbps internet (about ten times the fastest speed offered by Xfinity locally). As such, it's one of the fastest providers currently available for residential use in the US. The low price point for their fiber plans is also unusual — Xfinity charges over $100 for similar fiber speed tiers on their Gigabit Pro plan.
The chart below provides an overview of how the entry pricing compares. Given the speed difference, this comparison is only useful if price if your only factor for choosing an internet provider:
Xfinity internet-only prices in the San Francisco Bay Area
Xfinity plans in the Bay Area range in price from as low as $19.99 for limited-time promotions up to the low hundreds of dollars per month for their premium plans like Gigabit and Gigabit Pro.
We've excluded the Gigabit Pro plan from our tables and rankings on this page, since the plan has extremely low availability in San Francisco and surrounding counties compared to their standard coaxial cable network plans.
Speed in Bay Area: 75 Mbps download, 5 Upload
Price in Bay Area: $19.99/month (discounted from $51)
Xfinity's base plan is the cheapest internet option in Bay Area cities like San Francisco, Oakland, and San Jose.
Order Plan
Speed in Bay Area: 200 Mbps download, 10 Upload
Price in Bay Area: $39.99/month (discounted from $63)
The Connect More plan is a popular upgrade option, particularly for those who work from home but don't have budget for a higher-tier plan with improved upload speed.
Order Plan
Speed in Bay Area: 400 Mbps download, 10 Upload
Price in Bay Area: $55/month (discounted from $73)
The Fast is the best value plan for families and home offices, mainly because of the increased upload capacity. This matters for uses like video conferencing and working with large files.
Order Plan
Speed in Bay Area: 800 Mbps download, 15 Upload
Price in Bay Area: $65/month (discounted from $83)
This plan primarily targets power users who need to maximize download capacity for use cases like a home theater. It's also worth considering for anyone who works with video files.
Order Plan
Speed in Bay Area: 1000 Mbps download, 20 Upload
Price in Bay Area: $75/month (discounted from $93)
20 Mbps upload speeds aren't the fastest offered by Xfinity, but they're more than four times the base plan offering.
Gigabit Review
Order Plan
Speed in Bay Area: 1200 Mbps download, 35 Upload
Price in Bay Area: $80/month (discounted from $103)
The Xfinity Gig plan is offered at a price point that only makes sense for power users with no fiber-to-the-home alternatives in their location. For those who can afford it, paying extra to remove the 1.2TB data cap is imperative to enjoy the benefits offered by the plan.
Order Plan
How to get the lowest Xfinity deal in the San Francisco Bay Area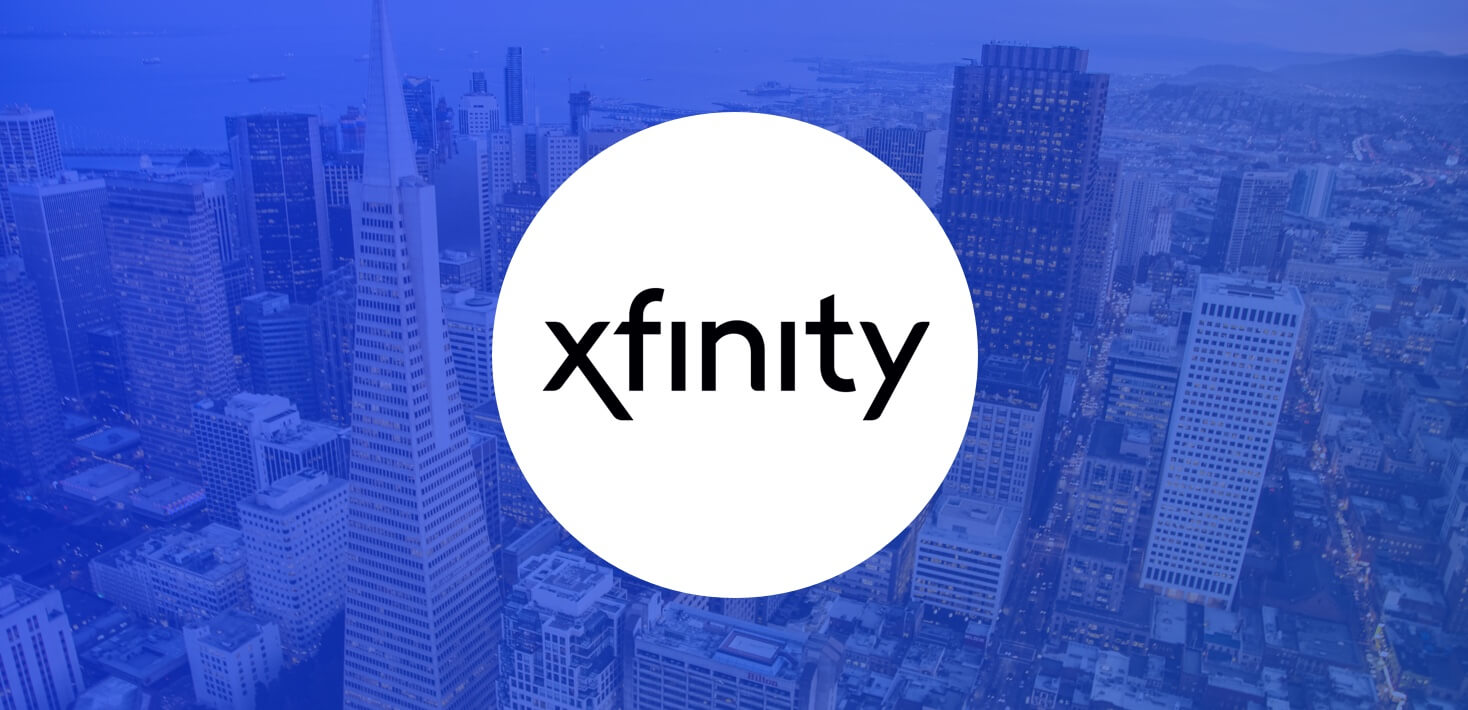 There are three steps needed to realize the $19.99 lowest Xfinity price advertised for California customers:
Opt-in to paperless billing.
Opt-out of using the leased router.
Agree to a 1-year contract minimum.
Let's run through the pros and cons of each item:
Opt-in to paperless billing
Xfinity defaults new customers to opt-in to paperless billing on all plans. This is part of their general push over the last few years to remove paper operations and reduce their maintenance costs for customers.

When customers manage their billing online, they're far less likely to have bad charges or forget to pay. They're also more likely to overlook bill increases and extra fees.
With that in mind, we strongly suggest that customers enroll in autobilling, but check the amount each month and call Comcast to lower the bill if you see extra line items.
Opt-out of using the leased router
Another default option when customers sign up for Xfinity is the router lease.
At $15–25 per month, Xfinity has one of the most expensive Wi-Fi router leases on the market:
| Internet Provider | Monthly Base WiFi Fee | Annual cost of WiFi equipment lease | Service type |
| --- | --- | --- | --- |
| Xfinity | $15 | $180 | Cable, Fiber |
| AT&T | $0 | $0 | DSL, Fiber |
| Spectrum | $5 | $60 | Cable |
| Cox | $10.99 | $131.88 | Cable |
| Frontier | $10 | $120 | DSL, Fiber |
You can remove this fee and save considerable money each year by purchasing and using your own router instead. However, this can have drawbacks for non-technical customers who are intimidated by managing their own equipment.
Going this route also removes some of Xfinity's options around security, parental controls, and even your smart home options. I've written a full guide to Xfinity's Wi-Fi equipment alternatives here.

Agree to a 1-year minimum contract
Finally, Xfinity only offers discounted pricing if you agree to a one-year contract on the entry-level plans.
Break the contract early, and you could be on the hook for $10+ for each month remaining in the contract.
Whether or not this is a good deal depends heavily on what plan you select and how long you intend to use it. For the entry plan, the termination fee for 6–11 months of service is actually less than what you save by avoiding the full rate during that time period.
This isn't the case for the more expensive plans; but it's a reasonable tradeoff overall for the low-mid tier plans.
Xfinity low-income deals in the Bay Area

Xfinity surprisingly has one of the best low-income deals on the market. Unlike competing subsidy offers from AT&T, qualifying for the plan is straightforward and based on income, not other qualifiers like school-aged dependents or residence in low-income housing.
| Offer Name | Speed Down/Up | Monthly Price | Wi-Fi Fee |
| --- | --- | --- | --- |
| Xfinity Internet Essentials | 50/10 Mbps | $9.95/mo | $0/mo |
| Xfinity Internet Essentials Plus | 100/20 Mbps | $29.95/mo | $0/mo |
Xfinity's low-income deal in San Francisco and surrounding counties costs only $9.95 per month, with no extra fees or equipment add-ons required. The plan comes with free Wi-Fi, and offers speeds up to 50 Mbps — this is double the competition locally. The $10 price point matches what AT&T offers in the Bay Area.
---
Frequently Asked Questions
What is the cheapest Xfinity package in California?
The cheapest Xfinity package offered in California is Connect, their entry 75 Mbps plan. New customer pricing starts at $19.99 per month, making it the cheapest internet option in most of Xfinity's servie area. They also offer a subsidized plan for low-income households at $9.95 per month, matching the $10 rate offered by other major low-income options in the state like AT&T.
Does Xfinity offer deals for existing customers?
Xfinity does not offer discounts for existing customers. However, customers can sometimes access lower pricing by switching providers, or by adjusting their plan tier and waiting for upgrade offers. The ConnectCalifornia guide to lower your Xfinity bill covers nine strategies tested with current Xfinity customers.
What is the cheapest internet in San Francisco?
The cheapest internet plan offered for new customers in San Francisco is Xfinity's $19.99 new customer discount. However, this plan increases in price after the first year to almost $50. Over 1–2 years, Xfinity has the cheapest internet at most San Francisco locations. Sonic has cheaper pricing for fiber internet over 2+ years.
Can I get Xfinity internet-only?
Xfinity no longer requires TV or phone bundles in order to access the best prices. They offer six internet-only plans with new customer discounts rates, and no requirement to bundle other services.
What is Xfinity's upload speed in San Francisco?
Xfinity offers upload speeds up to 35 Mbps in San Francisco and the California region. The upload speed on their cheapest plan is 5 Mbps. They are expected to increase the maximum speed to 100 Mbps in-line with other regions within 2023–2024.