Xfinity regular rates What is the actual cost? FAQ
Xfinity internet price changes after 12–24 months
After the first 1–2 years of service, Xfinity customers will typically see a 24–155% rise in prices.
See the chart below for an overview of Xfinity pricing changes between the promotional rates for new customers and the final regular rates in 2023.
The most common bill shock comes from their lowest-tier plan, Connect, which is offered at an ultra-low rate of $19.99 per month in Western markets. The price more than doubes to a final "regular" rate of $51 (before equipment costs).
For comparison, Xfinity's Connect More plan is priced at $39.99 per month for new customers. After the first year, it rises 58% to a $63 final price.
The fastest widely available Xfinity internet-only plan, Gigabit Extra, increases in price by 29% to $103 per month. This plan offers the fastest speeds, and is offered at a new-customer rate of $55 per month.
Final bill driven up by Wi-Fi gateway fees
For most customers, ordering internet means ordering a Wi-Fi gateway device. Xfinity allows you to use your own, but strongly incentivizes leasing their prefered devices at $15 per month.
As with most cable companies, you're able to use your own if you care to drop the fee. However, they void some customer support offerings if you opt to do so, making this a no-go for non-technical customers.
While US law was amended in 2020 to prohibit requiring Wi-Fi router leases, companies like Comcast continue to work around the rule in 2023 by bundling services such as security and smart-home functionality that only work with their leased equipment.1 This effectively discourages customers from using their own equipment.
Summary of Xfinity regular rates
To summarize, the regular rate after new-customer discounts for each Xfinity internet-only plan, including the WiFi router fee, is:
Connect (75 Mbps plan) regular rate: $66/mo.
Connect More (200 Mbps plan) regular rate: $78/mo.
Fast (400 Mbps plan) regular rate: $98/mo.
Superfast (800 Mbps plan) regular rate: $108/mo.
Gigabit (1000 Mbps plan) regular rate: $118/mo.
Gigabit Extra (1200 Mbps plan) regular rate: $128/mo.
Where are Xfinity price changes disclosed?
Per FTC requirements, Xfinity discloses the pricing scheme behind their offerings in the checkout process online. However, the pricing change is usually expressed via an asterix or fine-print link under the offer amount, which opens a modal containing plan details. Here's an example of what that looks like: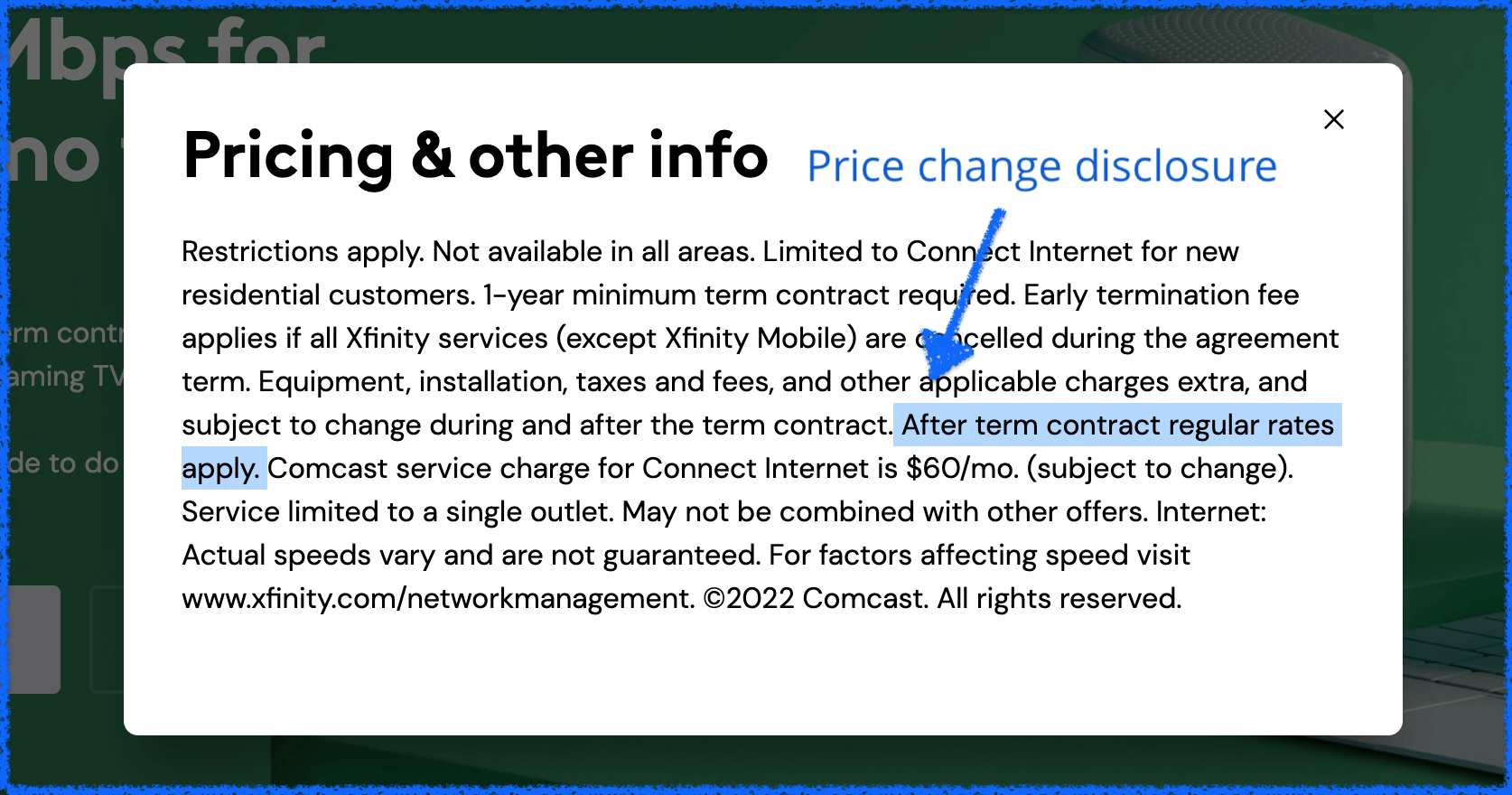 Keep in mind that rates are localized. This example is from a Western pricing region.
How can I find out the actual billed cost of Xfinity service?
Xfinity customers regularly write-in to us complaining that they can't find out the actual cost of service before clicking "buy" in checkout.
Here's a brief explanation of how to find the actual price:
Engage customer support chat for plan details
First, keep in mind that you'll have to engage Xfinity's customer support chat for answers not included in plan listings. Upload speed, non-discounted rate, and other details may not be included on their site.
They're able to get away with this because the non-discount rate is prone to change. Therefore, if you ask an agent for the actual price, they're likely to say "the regular rate when your discount expires."
Instead, ask for the current regular rate for your plan. While not a guarantee of the final price you'll pay after the discount, plan prices usually stay the same for at least a year or two between increases.
Prices change regardless of discounts
In addition to discount-driving billing changes, the actual price of Xfinity service also regularly changes.
As of our last check in 2023, the cost of Xfinity basic service had increased from $42.95 in 2011 to $56 — an increase of $1.31 annually.2
$20 per month price increases are normal in the cable industry
Xfinity isn't the only company that increases prices after the first year. In 2023, AT&T is the only major internet provider we track who doesn't use the strategy.
Xfinity's $20 per month discount is similar to Spectrum, who also places a default $20 discount for new customers. Their scheme is more complex however, with the discount lasting two years and being removed in two parts.
Xfinity has tested similar multi-year discount schemes, but currently is sticking with flat 1–2 year discounts that expire all at once.
Providers like Cox, Sonic, and Xfinity all use the "new customer rate" strategy becuase it allows them to advertise very low prices — in some cases, lower than they can feasibly afford to maintain long-term.
Once a customer is signed up, they may be annoyed about the price change, but they'll rarely bother to switch. Even if they have an alternative to Comcast available in their building, a percentage of customers will simply accept the new pricing and not even bother to call in and negotiate a lower bill.
However, the practice does have a negative impact in terms of PR — as news coverage of cable price changes attests.
The cable industry also has among the lowest ACSI ratings among consumer products, rivaled only by airlines.
Summary: Average Price Comparisons for Xfinity Plans
When shopping for Xfinity service, we suggest considering the average price over two years — or whatever term of service you intend to keep.
When you account for the price hike, it's still a decent deal compared to non-discounted plans:
Average price of Xfinity plans over two years
Connect (75 Mbps plan): $35/mo.
Connect More (200 Mbps plan): $51/mo.
Fast (400 Mbps plan): $64/mo.
Superfast (800 Mbps plan): $74/mo.
Gigabit (1000 Mbps plan): $84/mo.
Gigabit Extra (1200 Mbps plan): $92/mo.
---
Frequently Asked Questions
What is the regular rate for Xfinity internet after 12 or 24 months?
The regular rate for Xfinity internet-only plans ranges from $51–103 per month, before fees and equipment costs. Including equipment and fees, bills range between $66 for basic service to $128 for premium gigabit service.
How much will my bill be for Xfinity internet?
The actual cost of Xfinity internet is typically higher than the price advertised, due to Wi-Fi equipment fees. After 12 months, the price rises again when the new customer discount expires. This increases the actual cost by an average of 78%.