Fees and fine print Compare plans
Sonic internet is the preferred choice for power users thanks to the upload speeds, but if you're in a DSL service area Xfinity is usually the more affordable choice for speeds of 100 Mbps or higher.
Sonic is a California-based internet provider known for local customer service and a growing fiber-to-the-home service area. Comcast Xfinity needs no introduction, as the brand is practically synonymous with the word "cable" for most Californians.
Xfinity is the second-largest cable provider in California, with most of its coverage in Northern California. Because of this, they overlap widely with Sonic, which has a coverage area comprising around one-third of the Bay Area.
Sonic vs Xfinity Internet Basic Features
| Feature | Sonic Internet | Comcast Xfinity |
| --- | --- | --- |
| Starting price | $39.99/mo. sign-up price | $19.99/mo. sign-up price |
| Download speed range | 10,000 Mbps | 75–1,200 Mbps |
| Upload speed range | 10,000 Mbps | 5–35 Mbps |
| Network type | Fiber | Cable, Fiber |
| Contract terms | Contract-free | Contract required for cheapest price |
| Current Deals | View Deals | View Deals |
Sonic vs Xfinity Data Usage Policies
Many internet providers in California use data caps to manage their network, meaning that if you use more than a certain amount of data, you will be charged extra on top of your monthly bill.
Sonic does not have data caps in California. Xfinity uses data caps on some plans. 1.2TB is a common data limit for Xfinity plans.
Sonic Internet Data Caps

Sonic offers internet plans with unlimited data
Comcast Xfinity Data Caps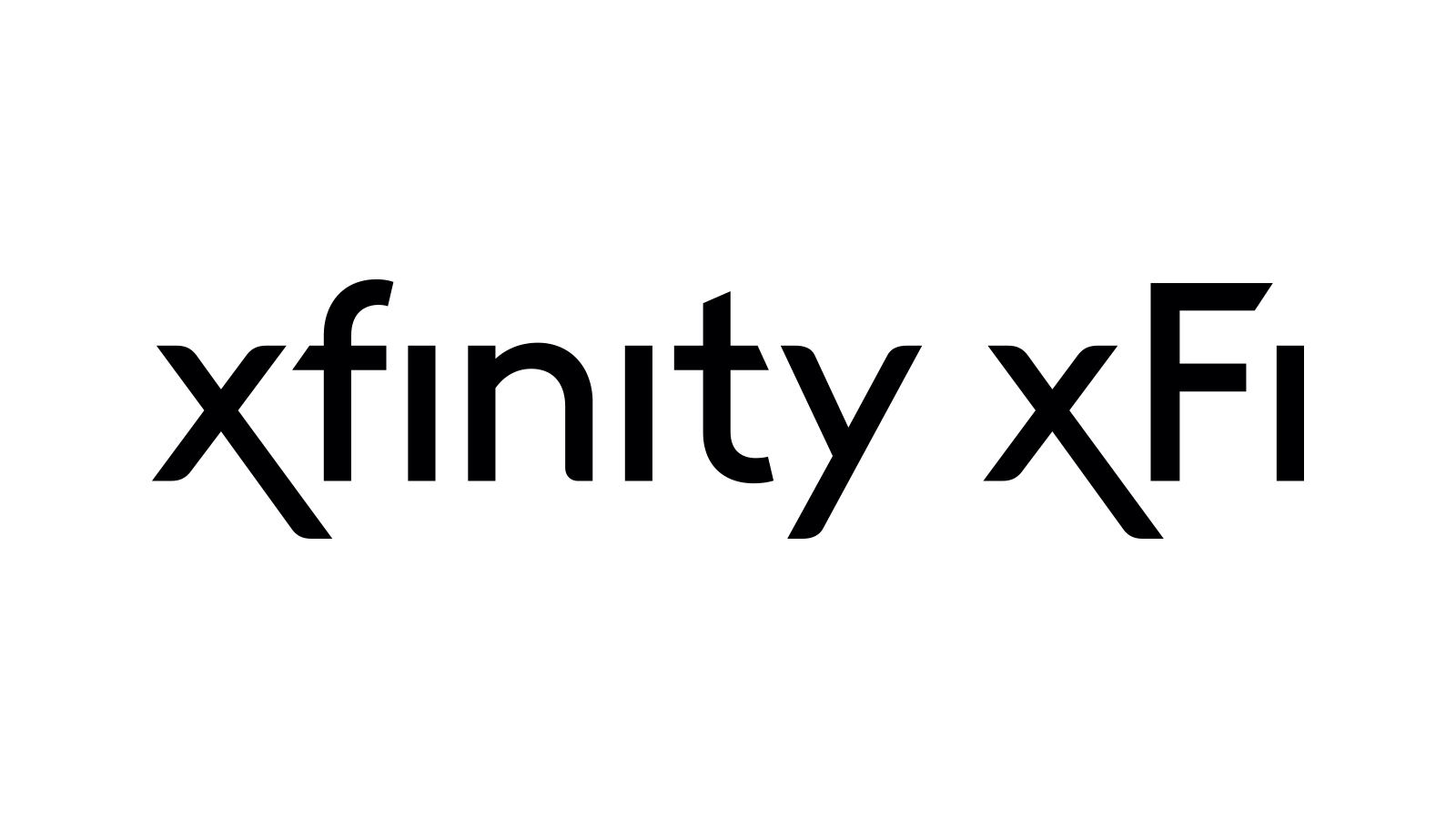 Xfinity places data caps on some plans.
Unlike Sonic, Xfinity Internet places a Terabyte (1TB) cap on your monthly data usage. (They've recently upped the allowance to 1.2TB in some markets.)
While 1TB is more than most households will use, it can be problematic for home offices and cord-cutter customers, who may need high bandwidth for streaming 4K and moving large files regularly. Xfinity claims that the average user only uses 308GB per month, however critics view the policy as a way to encourage customers to purchase TV plans directly rather than streaming from Netflix. 1
With that in mind, unlimited data usage is one of sonic's best selling points.
For customers who go over the limit on Xfinity plans, they offer additional data packets for $10 per 50GB.
Sonic vs Xfinity Net Neutrality Policies
Sonic Internet Net Neutrality Stance
Sonic is one of the loudest pro-Net-Neutrality voices among US internet providers. The company has actively taken steps to protect user privacy and preserve Net Neutrality.
Sonic Net Neutrality statement
Comcast Xfinity Net Neutrality Stance
Comcast has a public statement of support for Net Neutrality on their corporate website, but have removed some promises on the page related to paid prioritization of traffic in recent years.
Xfinity Net Neutrality statement
Sonic vs Xfinity Pricing and Fees
Here is a breakdown of how common add-on fees compare for Sonic and Xfinity plans. These types of fees are common with internet providers, and can result in larger bill each month.
| Fee | Sonic | Xfinity |
| --- | --- | --- |
| WiFi equipment fee | ~$10.00/mo. | ~$15/mo. |
| Price increases | Bill increases after promo period | Bill increases after promo period |
| Early Termination Fee | Free cancellation | Free cancellation |
Note that fee amounts described above may vary by plan. See the plan comparison tables for Sonic and Xfinity below for more information.
See the chart above for a breakdown of how the average price paid over time compares, accounting for promotional pricing used by both Xfinity and Sonic.
Overall, Xfinity offers some of the cheapest Internet plans in California, with services starting at $29.99 per month. Also, these plans offer more-than-decent speeds for the price. However, these prices aren't standard, and they could vary based on location. Thankfully, for Californians, Xfinity prices on the West Coast are usually lower than on the East Coast.
As far as fees go, you will be charged $89.99 if you opt for professional installation. You can opt to install things yourself using Xfinity's self-installation kit, which is usually $15. In some cases, you may find a deal on it or get it for free. Some other fees you could be charged include activation fees and early termination fees.
Sonic vs Xfinity Equipment and Installation
Xfinity installation
To install Xfinity Internet, you may have to buy or lease Xfinity equipment. If your house isn't prewired, Xfinity will install a cable line for you. Xfinity provides you (for a fee) a cable modem if you do not already own one.
Xfinity also offers the xFi Gateway router and modem combo device, which comes with parental controls and a simple Wi-Fi management setup. The monthly rental fee for the router is $14.
Otherwise, you could use your own router and other equipment compatible with Xfinity services. However, if you choose to use your own equipment, you may lose access to Xfinity tech support or specific Xfinity Wi-Fi features.
Sonic installation
Sonic installation is very different depending on if you are buying their Fiber or IPBB/DSL service.
If you're getting the IPBB service, this means they're using AT&T lines. In most cases, it'll be an AT&T tech who shows up to do the installation, which can be confusing.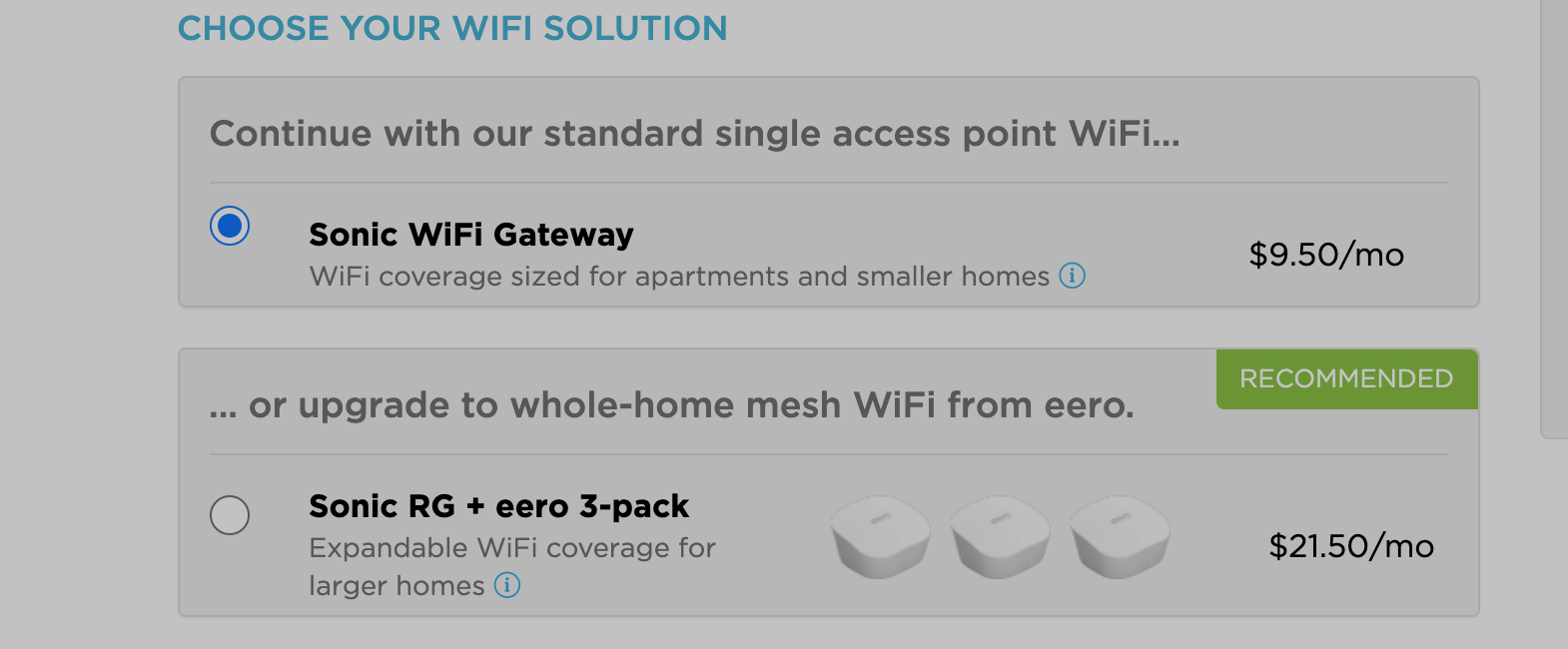 The best experience with Sonic installation is for fiber customers. Fiber installs are done with 100% Sonic equipment and staff, and has a better reputation for showing up on time and respecting the needs of the property in regards to drilling holes for wires and placing the equipment.
Xfinity vs Sonic Contract Terms
Xfinity contract requirements
Almost all Xfinity plans require a 1–2 year contract.
This means that if you decide to cancel service, you'll have to pay a fee of $5–10 per month for each month left in the contract.
However, Xfinity allows customers to choose contract-free service on any plan — with the caveat that they charge an extra $10+ per month for contract-free service.
So, ultimately, this only makes sense if you know for a fact you'll be cancelling after three months or so, e.g. for a short-term sublet or summer residence.
Sonic contract requirements
Sonic requires a one-year contract for all plans, including their fiber plans. While the fee is structured so that you'll never pay more than $149 for cancelling the contract, this is still an annoyance that most small internet providers have dropped by 2023.
The exception here is that they will let you try fiber service for 30 days with no contract. This only applies for fiber-to-the-home service, though.
They also offer to buy out existing contracts in their fiber footprint.
Our view is that given the ultra low-cost service offered by Sonic relative to the speed, the contract is a reasonable protection for them — but some other providers in the Sonic footprint such as AT&T have dropped them, and we hope that Sonic will do the same in the future.
Sonic vs Xfinity Coverage Areas
Xfinity has virtually 100% coverage in San Francisco, while providers like Sonic are viewed as alternative ISPs with more niche offerings and smaller coverage areas.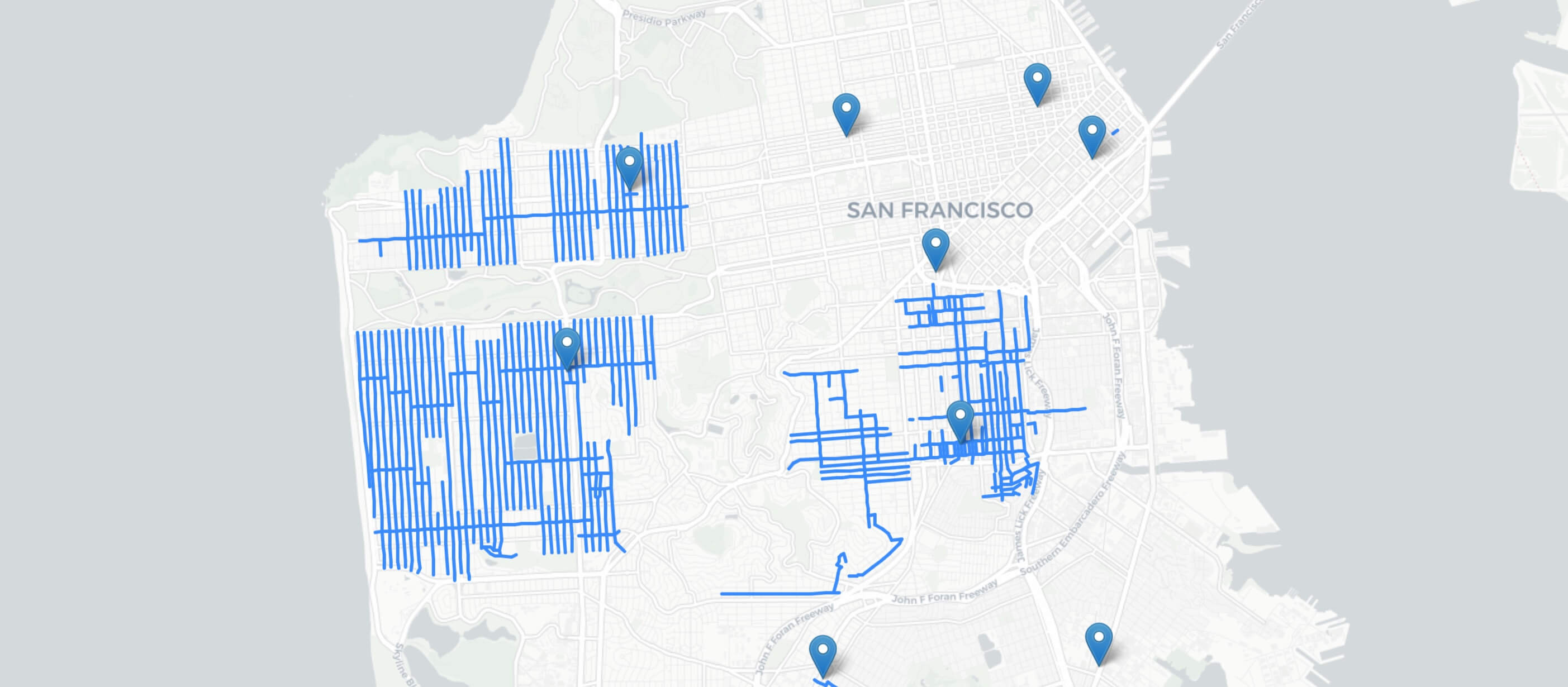 Sonic has been expanding rapidly in the Bay Area with their fiber services, so this map doesn't represent the full picture. But it's an interesting display of how issues facing the provider such as permits and microtrenching regulation in San Francisco have made it difficult for them to invest in fiber to the home services that consumers clearly want.
Sonic vs Xfinity Internet-Only Plan Comparison
| | Most Common Plan | Internet speed | Sign-up price | Final price | Avg price over 2 yrs | Details |
| --- | --- | --- | --- | --- | --- | --- |
| | Standard Fiber (Sonic) | 10000 Mbps | $39.99/mo. | $49.99/mo. | $44.99/mo. | Order Online |
| | Fast (Xfinity) | 400 Mbps | $55/mo. | $73/mo. | $64/mo. | Order Online |
The price of the Sonic Standard Fiber internet plan is $39.99/month for the first Contract-Free. However, the price then rises 25% to a final price of $49.99.
So, that means the price you actually pay for internet, averaged over two years, is $44.99/month.
Remember that Standard Fiber includes the following fees when you compare pricing:
$10/month fee for WiFi equipment
Let's compare that to Xfinity:
The price of the Xfinity Fast internet plan is $55/month for the first Contract-Free. However, the price jumps up 33% to $73 after that initial period.
So, the price of Xfinity internet is actually $64/month, when averaged over two years.
Fast comes with some fees as well:
$0/month fee for WiFi equipment
Fees for using more than 1.2 TB
Xfinity's plan options are relatively consistent within California. Sonic, however, varies wildly when it comes to speed and network type.
When comparing plans, you should first check to see if you're in a Sonic fiber service area. If you can' get Sonic's 1000 Mbps fiber service, stop reading and sign up. It's one of the best prices for fiber in the country at this time, and the upload speeds are many multiples of what Xfinity offers. (The only Xfinity plan with 1,000 Mbps upload speeds costs almost $300/month. Yes, you read that right — and even their Gigabit plan only goes up to 35 Mbps upload.)
If you are only able to get Sonic's DSL service, it can still be a good option — but Xfinity is generally cheaper and will be faster to install in a lot of buildings due to cable wiring being the norm for apartments and rentals in the area.
Sonic Internet Plans
Sonic has three different types of network, which will depend on your location in California:
Fusion (DSL/LAN): Delivered over ADSL2+ or VDSL, based on how close your location is to Sonic's Central Office.
FTTN (Fiber-To-The-Node): Delivered using AT&T's IPBB network.
Fiber (Fiber-To-The-Home): Sonic uses its own fiber-optic infrastructure to deliver Gigabit Fiber.
The plans are as follows, with the 1,000 Mbps plan being their fiber network:
| Plan Name | Download Speed | Promo Price | Final Price |
| --- | --- | --- | --- |
| Standard Fiber | 10000 Mbps | $39.99/mo | $49.99 |
| Fusion Fiber | 10000 Mbps | $49.99/mo | $59.99 |
Like Xfinity, Sonic doesn't require a contract for plans — but you are required to sign a contract if you want the cheapest price. Expect to pay $10+ extra per month in order to avoid a contract.
Xfinity's pricing is low in the Sonic service area, when compared with areas where they are the only option, such as the Boston area. This is common when they compete with faster fiber providers like Sonic, AT&T, or Ziply Fiber.
Xfinity Internet Plans
| Plan Name | Download Speed | Final Price |
| --- | --- | --- |
| Connect | 75 Mbps | $51 |
| Connect More | 200 Mbps | $63 |
| Fast | 400 Mbps | $73 |
| Superfast | 800 Mbps | $83 |
| Gigabit | 1000 Mbps | $93 |
| Gigabit Extra | 1200 Mbps | $103 |
View all Xfinity Plans here.
Note the prices mentioned above come tagged with a 12 or 24-month contract. Most plans will allow you to remove the contract for an additional $10–20/month.
Availability and offers vary by location. Your region may even have more plans to choose from. Also, if you get on board with Xfinity contract-free, your monthly prices will increase. Equipment fees and other applicable charges may get added to your monthly bill too.
If you would like to go no-contract because you have a move coming ahead and do not want to foot premature termination fees, the following are your no-contract plan options:
Sonic in California: Background
Originally called Sonoma Interconnect, Sonic is a Santa Rosa-based Internet and telecommunication company with a strong presence in California, which includes San Francisco, the Bay Area, Los Angeles, and Sacramento. It's independent, local, and pro-privacy. Several Bay Area Sonic customers are served courtesy of AT&T cables. Therefore, if you're in the region and use Sonic Internet, you could have a wireless router with fancy AT&T branding on it.
Sonic has been DSL reliant ever since its inception. In 2008, it started rolling out ADSL2+, the faster variant of DSL, thereby offering speeds comparable to cable Internet. Thanks to its phone service license that it procured from California's PUC (Public Utilities Commission) in 2006, Sonic added voice calling to its services as an option.
Sonic then made the jump to FTTH (fiber-to-the-home) and contacted its DSL subscribers thereafter with a hard-to-resist offer: promising speeds five times their existing speed for identical prices. Despite being a small firm, Sonic has been able to roll out fiber connections in California at affordable prices by leveraging its DSL and phone customer base.
Xfinity in California: Background
Besides basic internet service, Xfinity also throws in a few added benefits such as Norton Security Suite for protection against online viruses, identity theft, etc. If you're on the go in California, Xfinity's reliable Wi-Fi hotspots across cities in the state can come in quite handy. These hotspots comprise a mix of hotspots set up in public areas and businesses.
Xfinity uses new customer discounts to entice new customers, just like Sonic. This means that you'll have to call in and ask for an Xfinity existing customer deal each year to keep the pricing low.
Xfinity vs Sonic Customer Service
Customer service is where Sonic makes the case for your business — and given Comcast's reputation on this topic, it's an important part of the service.
Sonic consistently receives strong reviews, particularly among techies who appreciate the access to company tech support, and even the CEO Dane Jasper who is active on Twitter.
Call wait times are low compared to Xfinity, and you're more likely to reach a rep who knows your neighborhood and can provide relevant assistance.
One of the major reasons most people might opt for a Sonic plan over Xfinity's services is the latter's lackluster or almost non-existent customer service. Xfinity is not known for its after-sales support. Xfinity's telephone support is particularly notorious for being time-consuming and unpleasant, and generally not based in the US at all.
If you have an Xfinity store in your locality, visiting the store in person to address your concerns is a better option. This is one area where Xfinity has the advantage, as Sonic is a smaller company without the budget for hundreds of brick-and-mortar customer care centers.
Sonic vs Xfinity Bundled Services
Another area where Xfinity has the edge is cable TV service. As a DSL/Fiber operator, and a small company, Sonic does not have TV bundle options at this time.
Xfinity is a media company as much as an internet provider, and offers a wide range of TV services along with internet. If you are intimidated by "cord cutting" and need sports and premium TV channels for your household, Xfinity is the only option for bundled plans.
Xfinity bundle plans often offer perks like free installation and a discount on the internet or WiFi feee.
However, most people can save money by simply "cutting the cord" and getting their TV through over-the-top services such as Netflix, Roku, Hulu, etc.
---
Frequently Asked Questions
Is Sonic cheaper than Xfinity?
Xfinity has the absolute cheapest plans with entry-level cable pricing around $20 for basic broadband. Sonic has the best price-per-Mbps, when you consider their gigabit fiber plans compared to Xfinity's gigabit cable, which costs around $100 per month. This is twice the cost of Sonic's fiber service.
Xfinity vs Sonic for home offices
Xfinity and Sonic are both useable for home offices, although Sonic has more requirements for provisioning business-class plans. If you need a dedicated IP, SLA, and other business-class features, Xfinity will be easier to set up. Sonic customer service is local and techie-friendly, but it's worth mentioning that Comcast Business service is separate from Xfinity residential service and has much higher response times.
Is Sonic or Xfinity better for TV?
Xfinity lets you easily bundle cable TV and high-speed Internet. The Preferred XF Double Play package, for instance, offers you more than 220 channels and 150Mbps Internet. Sonic has no TV bundle plans, but the internet connection is not capped in terms of data usage. Therefore, it is recommended for cord cutters.