Recommendations Compare top plans Fees and fine print Compare all plans
Ziply Fiber is a new player in the Pacific Northwest internet service market. They took over Frontier's fiber and DSL network in 2020, and are investing about $500 Million in network improvements. 1
Xfinity cable needs no introduction, as the brand is practicly synonymous with "cable" and all the baggage associated. However, there are some situations where Xfinity is still a better choice, depending on your TV needs and the Ziply speed capabilities in your area.
Ziply Fiber vs Xfinity Basic Stats
| Feature | Ziply Fiber | Comcast Xfinity |
| --- | --- | --- |
| Starting price | $20/mo. sign-up price | $19.99/mo. sign-up price |
| Download speed range | 25–1,000 Mbps | 75–1,200 Mbps |
| Upload speed range | 1–1,000 Mbps | 5–35 Mbps |
| Network type | Fiber | Cable, Fiber |
| Contract terms | Contract-free | Contract required for cheapest price |
Quick recommendation for internet-only service
1st choice: Ziply Fiber (best value for cord cutters, look for 100–1,000 Mbps plans)
2nd choice: Xfinity cable (best value if you can't get Ziply gigabit plans, or want to bundle TV)
3rd choice: Ziply DSL (a decent backup, but maximum download is 1–25 Mbps)
The choice between Ziply and Xfinity for internet-only service comes down to whether you are in a Ziply Fiber area or not. Ziply has two networks: a high-speed Fiber-to-the-Home network (max download speed 1,000 Mbps) and a lower-speed DSL network (max download speed 25 Mbps).
Xfinity, meanwhile, has consistent network and speeds throughout the PNW. However, their plans are cable, which has lower performance than fiber from Ziply — especially for uploads.
View Ziply Plans →
View Xfinity Plans →
Ziply Fiber vs Ziply DSL vs Xfinity cable
Ziply Fiber is almost always the better choice, provided you are able to access their 100–1,000 Mbps fiber-to-the-home plans. The pricing is equivalent to Xfinity, with improved customer service and upload speeds several times what Comcast can offer, thanks to the 100% fiber connection. (Xfinity caps out around 35 Mbps for uploads, while Ziply goes up to the gigabit range.)
Ziply Fiber's early reviews after they launched in 2020 were mixed, largely due to legacy issues with the network they took over from Frontier; this makes sense, given that Frontier had neglected basic network upgrades in the PNW for years. Customer sentiment towards Ziply Fiber seems to be getting more positive over time as they work to improve the network and billing.
The reviews have improved notably by 2023, as customers are moved off the legacy Frontier systems and upgraded to faster speeds at lower costs.
Comcast is the better choice when compared with Ziply's DSL network areas, and is also a better choice if you want to bundle TV. Xfinity's X1 platform has made strides to compete directly with streaming services and platforms like Roku, offering a similar one-stop for multiple streaming services.
If your household watches a lot of TV including sports and regional channels, Xfinity still makes a strong value compared to the cost of purchasing TV channel-by-channel through services like FuboTV or YouTube TV.
Ziply Fiber vs Xfinity Internet-Only Plan Comparison
Comparing Xfinity and Ziply plans back-to-back is a bit tricky, since they both have very different speed metrics.
Comcast's 200/10 Mbps plan is the best value internet-only, and is the best fit for most homes under five people.
Ziply's 100/100 has a close price point and makes up for the 1/2 download speed with around 10–20X the upload speed.
| | Comparable Plans | Download speed | Upload speed | Sign-up price | Final price | Details |
| --- | --- | --- | --- | --- | --- | --- |
| | Fiber Internet 100/100 (Ziply Fiber) | 100 Mbps | 100 Mbps | $40/mo. | $60/mo. | View Plan |
| | Fast (Xfinity) | 400 Mbps | 10 Mbps | $55/mo. | $73/mo. | View Plan |
The price comparisons are hard to understand because of the "promo price" you pay for the first year. Here's a quick breakdown to show you how it adds up over two years or more:
First, consider the Ziply Fiber Fiber Internet 100/100 internet-only plan, which is $40/month when you sign up.
After Contract-Free, the price jumps up by 50% to $60.
So, over two years, you're paying an average of $50/month, and $60 for all months going forward.
Remember that this is before you account for the $10 WiFi fee, or the higher mesh WiFi fee.
Let's compare that to Xfinity:
Looking at Xfinity, their Fast internet plan is $55/month for the first Contract-Free. The price increases to $73 after that, an increase of 33%.
Over two years, that's about $64/month, and you're stuck with the $73 monthly price for the rest of your time as a customer.
Fast comes with some fees as well:
$0/month fee for WiFi equipment
Fees for using more than 1.2 TB
Ziply Fiber vs Xfinity Data Usage Policies
Ziply Fiber has no data caps, meaning you get untimited data use with no fees. Xfinity does not offer unlimited data. After 1.2TB or so of use in any month, you'll be charged extra or have to buy more data a la carte.
Ziply Fiber differentiates by being much friendlier to cord cutters and power users, who really care about being able to binge as much video as they want each month without getting a surprise bill or it.
Providing unlimited data is simpler for Ziply Fiber than for Xfinity, because when service is delivered via fiber lines to the home, network management and congestion is less of an issue. However, critics maintain that Xfinity's data caps are more about pushing people to their TV products than managing traffic. 2
Ziply Fiber Data Caps

Ziply Fiber offers internet plans with unlimited data
Comcast Xfinity Data Caps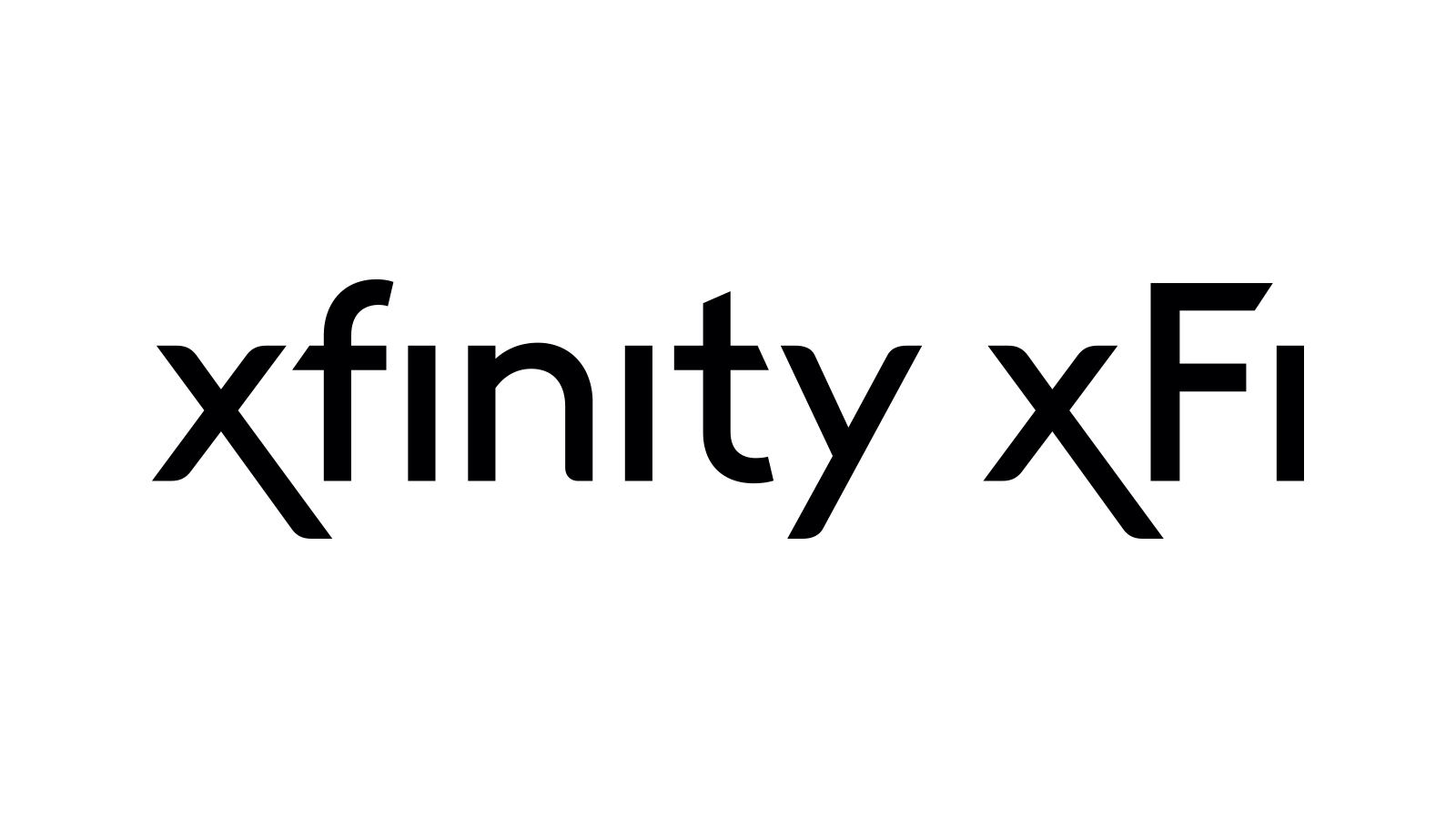 Xfinity places data caps on some plans.
Ziply Fiber vs Xfinity Fees
Ziply Fiber and Xfinity both have a variety of add-ons and fees that can dramatically inflate your plan cost by the time you check out. Here's a summary:
| Fee | Ziply Fiber | Xfinity |
| --- | --- | --- |
| WiFi equipment fee | ~$10/mo. | ~$15/mo. |
| Price increases | Bill increases after promo period | Bill increases after promo period |
| Early Termination Fee | Free cancellation | Free cancellation |
Fee amounts vary by plan with both providers, and you can sometimes reduce them by using your own equipment or calling to request their removal. Both Ziply and Xfinity are known to cancel installation fees in some cases, if you call and ask.
Ziply router fees explained
Ziply currently offers two router options: basic and mesh.
The basic router has a lower monthly cost, and should be enough for most small homes and apartments. The mesh router costs twice as much, but includes multiple access point devices which you can spread around your house to improve signal.
Mesh routers are increasingly popular, with Google, Eero, and a variety of other manufacturers offering their own versions.
We recomend mesh WiFi packages if you have a large home, but you'll save money if you buy your own up front. Leasing directly from Ziply (or Xfinity for that matter) is only worth considering if you are a "techno-phobe" and are scared to set up your own network.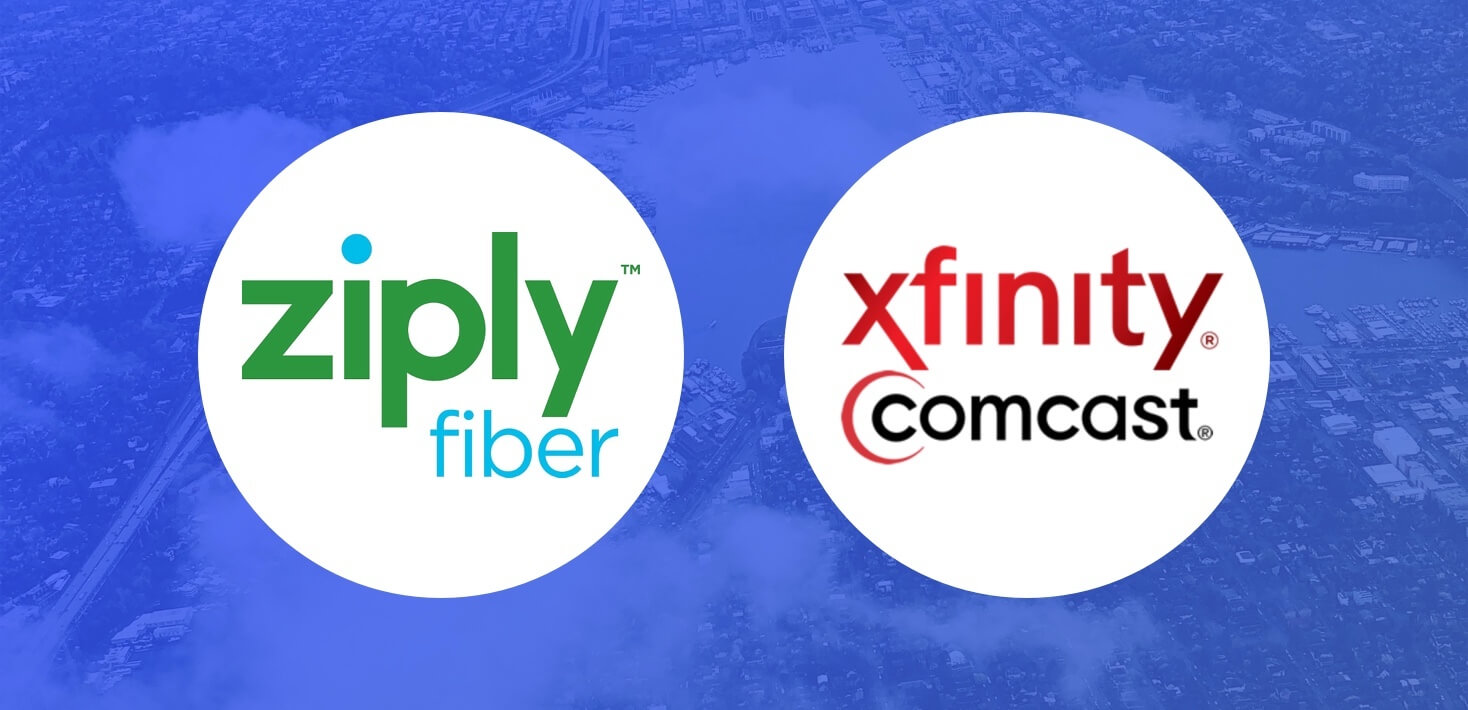 Overall, fees aren't that bad on internet-only plans for either provider. TV plans are a different story — Xfinity is constantly getting bad press about their endless fees and leasing costs for TV service, and that includes the newer "X1" bundle plans.
Full Plan Breakdown for Ziply and Xfinity
Ziply Fiber FTTH Internet Plans
As described above, Ziply has two coverage areas: a high-speed Fiber network and a lower-speed DSL network.
Their speeds and pricing are different depending on which network has coverage for your home or business. Here's a breakdown of their more popular (and expanding) fiber plans:
Shop Ziply Fiber Plans

| Plan Name | Download Speed | Upload Speed | Promo Price | Final Price |
| --- | --- | --- | --- | --- |
| Fiber Internet 30/30 | 30 Mbps | 30 Mbps | $20/mo | $40 |
| Fiber Internet 100/100 | 100 Mbps | 100 Mbps | $40/mo | $60 |
| Fiber Internet Gig | 1000 Mbps | 1000 Mbps | $60/mo | $80 |
The Ziply gigabit plan is worth considering if you have more than three people in your home or have a home office, but for most of us, 100/100 is actually an incredible deal considering the upload boost over what Xfinity offers.
Ziply Fiber DSL Internet Plans
Ziply's DSL network caps out at 25 Mbps, and at some locations speeds are under 1 Mbps. These plans only make sense if you can't get cable or fiber, and are comparing Ziply with a satellite internet alternative like HughesNet or Viasat:
| Plan Name | Download Speed | Upload Speed | Promo Price | Final Price |
| --- | --- | --- | --- | --- |
| Ziply DSL | 25 Mbps | 0.5 Mbps | $35/mo | $40 |
Xfinity Internet Plans
Xfinity has a wide variety of plans, before you even consider all the TV bundling options:
Shop Xfinity Internet Plans

| Plan Name | Download Speed | Upload Speed | Promo Price | Final Price |
| --- | --- | --- | --- | --- |
| Connect | 75 Mbps | 5 Mbps | $19.99/mo | $51 |
| Connect More | 200 Mbps | 10 Mbps | $39.99/mo | $63 |
| Fast | 400 Mbps | 10 Mbps | $55/mo | $73 |
| Superfast | 800 Mbps | 15 Mbps | $65/mo | $83 |
| Gigabit | 1000 Mbps | 20 Mbps | $75/mo | $93 |
| Gigabit Extra | 1200 Mbps | 35 Mbps | $80/mo | $103 |
The biggest caveat with Xfinity's plans is the upload speeds. They downplay this on their website and advertising, but as you can see in the tables above, Ziply vastly outperforms them on this metric.
Upload speed doesn't matter much for streaming Netflix and Hulu, but it does matter for two-way apps like video calls, gaming, or uploading video files to e.g. YouTube.
Ziply Fiber vs Xfinity Net Neutrality Policies
Ziply Fiber Net Neutrality Stance
Ziply Fiber does not maintain a public stance on Net Neutrality at this time. However, given that the company is run by previous AT&T executives, our expectation is that they hold similar views of Net Neutrality as a regulatory burden.
No public Net Neutrality Statement
Comcast Xfinity Net Neutrality Stance
Comcast has a public statement of support for Net Neutrality on their corporate website, but have removed some promises on the page related to paid prioritization of traffic in recent years.
Xfinity Net Neutrality statement