Best Internet-Only Plan Best TV Bundle Compare Internet Plans
Riverside county Spectrum deals range from 80 Mbps all the way up to 1,000 Mbps in speed.
Spectrum pricing is consistent throughout the area, including cities like Riverside, Hemet, Corona, and Palm Springs. While the base speed varies as of 2023, $49.99 is the promotional discount for internet-only service in all Riverside zip codes.
Recommended internet-only deal

The Spectrum Ultra 500 Mbps internet-only plan is the best option for most homes and apartments in Riverside.
In most areas, 500 Mbps costs an extra $20 per month. In Riverside, it is currently offered for their lower entry-level price.
The Gigabit plan costs an extra $20 per month as of 2021. Assuming you have five or fewer people using the internet in your home, the Ultra plan should be sufficient for standard use like 4K streaming, streaming games or Twitch, and home office activities.
The Ultra plan has a 20 Mbps upload speed, which can easily support 3–4 Zoom calls happening at once on top of standard download use. The upload speed is double what's offered in most of SoCal, making it a good choice for home offices and families in particular.
Promotional deal: $69.99/month ($49.99/month in Riverside and Hemet)
Installation: free self-install included.
Fees: $5/month Wi-Fi router fee.
View Plans and Prices
Call to Order: (833) 438-1041
Recommended Spectrum TV and Internet Bundle

Spectrum Select is the best TV plan on offer in Riverside. This plan offers NFL (everything but Sunday Ticket) as an add-on, and the $5 per month Sports Pack add-on brings in a full lineup of regional games.
Spectrum Select bundles are expensive compared to streaming services, but the cost per channel is actually about one-third to one-half what you get with a "skinny bundle" like Sling TV.
View Plans and Prices
Call to Order: (833) 438-1041
Spectrum internet-only plans in Riverside
Spectrum Internet

Speed in Riverside: 300 Mbps download, 10 Upload
Price in Riverside: $49.99/month (discounted from $79.99)
The Spectrum Standard 300 Mbps deal is a strong download speed for the money compared to AT&T in Riverside County. It's best for homes with 1–4 users.
Spectrum Internet Review
Order Plan
Spectrum Internet Ultra

Speed in Riverside: 500 Mbps download, 20 Upload
Price in Riverside: $69.99/month (discounted from $99.99)
This plan is our top pick in Riverside County, especially in Riverside City and Hemet, where it's currently offered at a $20 per month discount on the pricing listed below. Ultra is the best value for home offices.
Spectrum Internet Ultra Review
Order Plan
Spectrum Internet GIG

Speed in Riverside: 1000 Mbps download, 35 Upload
Price in Riverside: $89.99/month (discounted from $119.99)
The Spectrum Gig plan is intended for power users, and is best suited to large households of 5+ people or home offices. Most customers in Riverside are better served by the lower-tier value plans.
Spectrum Internet GIG Review
Order Plan
Spectrum speeds and pricing throughout Riverside County
Spectrum pricing is the same throughout Riverside county, but the base plan speed is different depending on the area.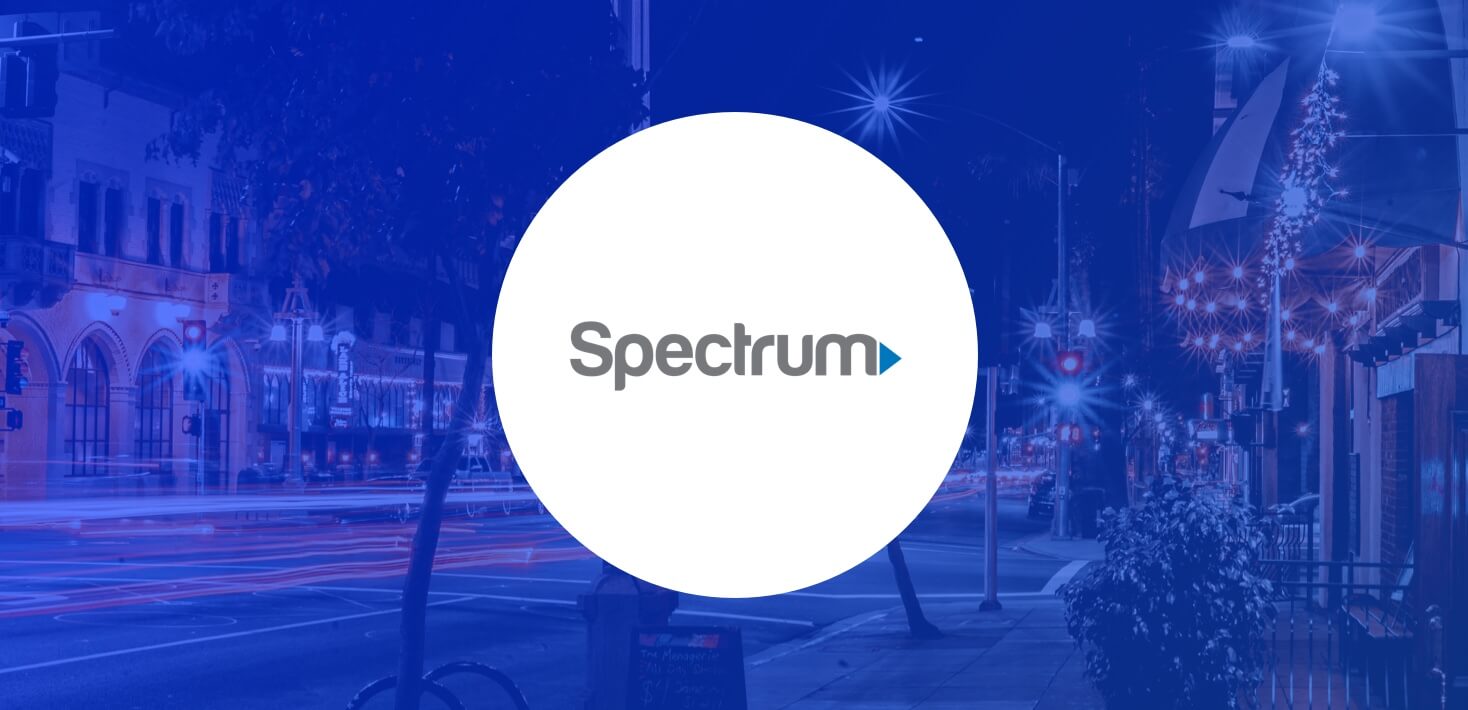 Urban centers around Riverside and Moreno Valley have the fastest base speeds, with 500 Mbps plans as the base tier. The further out you go, the lower the base speed — although the $49.99 base price is the same regardless of speed.
Spectrum network in Riverside
Riverside city has 100% coverage by Spectrum cable. The minimum speed offered is currently 500 Mbps download and 20 Mbps upload, which makes it a strong area compared with elsewhere in California. They also offer a gigabit plan upgrade called "Gig" throughout the city — however, the price after promotions time out is more than $100 for internet-only service. Therefore so we recommend the more affordable 500 Mbps tier for households of fewer than 4–5 people.
Spectrum network in Palm Springs
Palm Springs is a standard upgrade area for Spectrum internet, meaning that they offer 300 Mbps for the base plan. This is half the speed offered across the mountains in Riverside and hemet, but actually double the base speed in the Bakersfield Spectrum footprint.
Spectrum network in Corona
Spectrum's base deal in Corona is 300 Mbps for $49.99 per month, which is their standard in most of California including the Los Angeles Spectrum footprint. Speeds go up to 500–1,000 Mbps download and 20–35 Mbps upload for upgrade plans.
Spectrum network in Hemet
Hemet offers a variety of low-income plan tiers and a base consumer speed of 500 Mbps for $49.99. However, they do not offer the Gigabit "Gig" plan upgrade in some neighborhoods.
Is it worth upgrading Spectrum internet to a Gigabit plan?
Spectrum's gig plan costs more than $100 per month. It's designed specifically for "power users" with large smarthomes, home offices, and other situations where you need a massive upload upgrade.
The main difference is not actually the gigabit download they advertise heavily; for most users, the big difference is the 35 Mbps upload speed, which is about double the upload on every other plan tier in the Riverside area.
Spectrum double-play bundles in Riverside
| Plan Name | Speed | Promotional Price | Standard Rate | Channels | NFL Network |
| --- | --- | --- | --- | --- | --- |
| TV Select + Internet | 300 Mbps | $109.98/mo | $159.98 | 125+ | Not Included |
| TV Ultra + Internet Ultra | 500 Mbps | $129.98/mo | $179.98 | 125+ | Included |
| Mi Plan latino + Internet | 300 Mbps | $89.98/mo | $134.98 | 140+ | Included |
| Mi Plan latino + Internet Ultra | 500 Mbps | $109.98/mo | $154.98 | 140+ | Included |
Spectrum Sports TV Package Review
Pricing considerations for Spectrum promotions in Riverside
There are two ways to further discount the price when you sign up for Spectrum internet:
Use your own router to remove the $5 monthly Wi-Fi fee.
Call after 12 months and re-negotiate your sign-up promotion.
Both of these apply throughout Riverside county, but particularly in urban settings.
AT&T Fiber is a major competative issue for Spectrum in Riverside and Hemet, which is why they're sometimes willing to reduce the price for longtime customers… however, it involves a lengthy annual phone call to realize this promotion.
1. Remove the Wi-Fi fee
I've written a longer step-by-step on using your own router with Spectrum here, but here's the summary:
Purchase your own Wi-Fi router from a retailer like Amazon or Best Buy.
Call Spectrum and inform them that you're switching to your own router.
Provide the MAC address on the back of your router.
Return the Spectrum-provided router either in person or by UPS.
Confirm that the $5 fee for "equipment rental" is removed from your next bill.
Doing this saves you $60 per year. However, it voids the tech support for home Wi-Fi issues, so only do this if you're comfortable setting up your own network, security, and etc.
2. Extend the sign-up discount
I've written up a (really quite long) article about how to extend your Spectrum discount here.
Here's the summary:
Spectrum gives a $20 per month discounted rate to new customers in Riverside, regardless of the plan they sign up for.
This is great, until you reach month 13 as a customer… at which point they remove the promotion and start billing you for a higher rate.
Because AT&T Fiber is a strong competitor of Spectrum in Riverside (not to mention the new Verizon and T-Mobile home 5G services), you can often get them to extend the discount. At the very least, most readers have success getting a $5 per month discount on an ongoing basis.
Call Spectrum's customer service and request a new promotional deal.
Listen to their long pitch about why you should sign up for Spectrum Mobile.
Decline Spectrum Mobile and any other "bundles" they offer.
If this doesn't result in a promotion offer, as to cancel your plan.
Generally, they'll send you to their retention department and give you a final promotional offer to stick around.
If no luck, try calling back another time. It often takes a few calls to find an agent who can adjust your account.
Spectrum low-income internet in Riverside
Spectrum has a low-income offer for qualifying residents in Riverside county. However, the speed is 5–10X slower than their base consumer plans in the area.
The qualification is also quite strict. You have to prove that you are eligible by showing paperwork from one of these qualifying programs:
National School Lunch Program (for families)
Community Eligibility Provision (CEP) of the NSLP
Supplemental Security Income (for seniors)
| Plan Name | Speed Down/Up | Monthly Price | WiFi Fee |
| --- | --- | --- | --- |
| Spectrum Internet Assist | 30/4 Mbps | $17.99/mo | $5/mo |
---
Frequently Asked Questions
What is the best Spectrum deal in Riverside?
Riverside County residents can access Spectrum internet for a one-year discount of $49.99. The base speed is higher in some areas like Hemet, where they offer 500 Mbps rather than 300 Mbps which is standard in most of SoCal.
Does Spectrum offer 300 Mbps internet in Riverside?
Spectrum has upgraded their network in Riverside in order to compete more aggresively with fiber providers like AT&T. They currently have a 500 Mbps base speed in Riverside, which is higher than what they offer for the same price in most of SoCal.