Compare plans in Koreatown Internet alternatives in Koreatown
If you search for internet service in Koreatown, most websites will tell you that you have several options. If you actually live in Koreatown, you know this is sadly not accurate.
Koreatown has four primary options for home internet service. However, most buildings only have 2–3 options. For most residents, it boils down to a choice between Spectrum cable versus AT&T DSL.
Among those options, Spectrum is the only internet provider in Koreatown that offers widespread service above 100 Mbps. The base 200 Mbps Spectrum plan is the best option for most homes locally; although AT&T, Earthlink, and Starry Internet make sense in some cases.
Spectrum: Most likely to be available, best unlimited basic internet plan.
AT&T: Also widely available in Koreatown, but slower and may include a data cap.
Starry Internet: Best service for apartment buildings in Koreatown (extremely limited coverage in Ktown currently).
Earthlink: Same speeds as AT&T, but sometimes a bit cheaper.
How to determine the best option at your building
If you're new to Koreatown, or already here and looking for a better provider, I recommend you follow this exact step-by-step. It's a bit tedious, but you'll finish with a confirmation of the exact options at your building (which is impossible to tell for sure online, regardless of what provider marketing sites claim).
Check for AT&T Fiber. Check your address online or call AT&T at (833) 772-1423 to ask if they have fiber internet at your building. You need to specifically ask: "is 1,000 Megabit per second fiber-to-the-home internet available at my address." If they have it, go ahead and sign up. Note that while loading your address, the call center agent will spend a couple minutes trying to sell you their slower DSL service (they will call it something fancy like "IPBB," "high-speed internet," or "Fiber to the Curb"), which is available virtually everywhere in Los Angeles.
Check for Starry internet. If you're in an apartment building, go to Starry and enter your address. If it's available, you're lucky — only a few buildings in Ktown have it currently. Their 200/200 plan is better than Spectrum when it comes to uploads, and around the same price. The only drawback (for some customers) is that it is an internet-only service. So, if you want to get traditional cable channels, you'll be better off with Spectrum.
Check for Spectrum. If neither AT&T Fiber nor Starry is available, your best options is likely to be Spectrum — who is already wired to virtually 100% of buildings in Ktown. You can set up service at (833) 400-1759 or view plan details here. Their base-level plan recently upgraded to 200 Mbps download in Koreatown, which is more than enough for most homes.
Compare internet providers in Koreatown
| | AT&T Internet | AT&T Fiber | Spectrum |
| --- | --- | --- | --- |
| Starting Price | $/mo. | $65/mo. | 49.99/mo. |
| Download Speed Range | Up to Mbps | Up to 500 Mbps | Up to 200 Mbps |
| Data Cap | | Unlimited | Unlimited |
| Network Type | DSL or IPBB (FTTN) | Fiber (FTTH) | Cable |
| Contract | | Contract-Free | Contract-Free |
Compare Internet plans and pricing in Koreatown
While internet providers in Koreatown offer a variety of plans, the majority of users should simply get a "basic" internet-only plan. Spectrum's 200 Mbps basic plan is the most common choice of all internet plans in Los Angeles, but their competitors have equivalent plans worth comparing:
| Provider | Base Plan | Price | Speed | Availability |
| --- | --- | --- | --- | --- |
| Charter Spectrum | Spectrum Internet | $49.99/mo. | up to 200 Mbps | Widely available |
| AT&T | Internet 25–100 | $/mo. | up to Mbps | Widely available |
| Starry Internet | Home Internet | $50/mo. | up to 200 Mbps | Low availability |
If you're working from home, Spectrum's 10 Mbps upload speed on the basic plan can be an issue. Upgrading to Ultra will double that to 20 Mbps, which is still low for moving large files, but a noticeable difference if you video chat daily.
Low-Cost internet options in Koreatown
If paying more than $50/mo or so for internet is not possible for you, you have two options:
Earthlink internet. You might remember this company from the nineties; they recently re-branded and started selling internet again using AT&T lines. So, while the speed range and performance should be exactly the same as AT&T at your building, they have been offering reduced rates to tempt new customers. Just keep in mind that they're relatively new, and the customer service is likely to be offshore to maintain their low rates.
Subsidy plans. If you have a low income or participate in public assistance programs like SNAP, you might be able to get a reduced cost plan. See our write-up on subsidized internet plans in Los Angeles.
5G home internet service availability in Koreatown
As of summer–fall 2020, Verizon is actively piloting 5G home internet service in Los Angeles. Service locations have been confirmed in central and downtown LA, however 5G home internet is not yet available in the Koreatown neighborhood.
Small cell towers have started popping up around Koreatown early in 2020, usually disguised on top of lampposts. We haven't been able to confirm which providers own or will lease the locations, but it seems likely that 5G home internet will become more common in Koreatown by early 2021.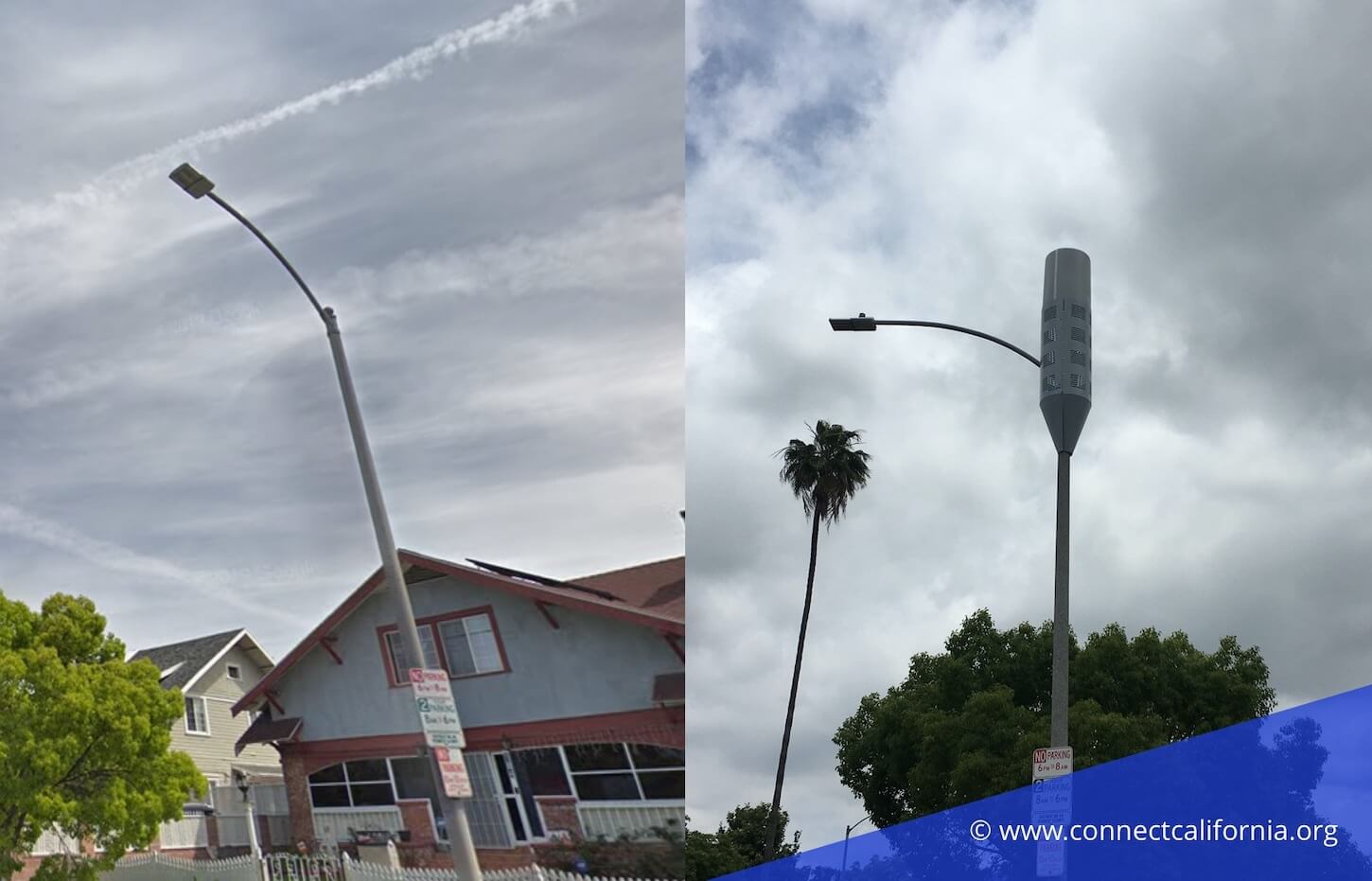 They are commonly disguised into "street furniture" like utility poles and streetlights. The photo on the left above is from Google Street View in 2019. The photo on the right is of the same streetlight in May 2020, with a pole-top concealment device installed.
When it launches, 5G home internet will be similar in concept to Starry Internet — customers will install a reception device on a window, which will relay wireless service to a home WiFi system.
Why are there so few internet options in Koreatown?
If you've ever opened the NextDoor app in Ktown, you know that you're not alone in being dissatisfied about the broadband service in the neighborhood. Aside from Starry's outreach to larger apartment buildings, service has been slow compared to other parts of central LA, even in 2020.
The reason for this is simple: lack of fiber. Fiber lines are the new standard for internet service, but are expensive for the internet companies to install. While around half of Los Angeles neighborhoods have what's called "Fiber to the Home" service, Koreatown is mostly stuck with older copper cables.
Providers like Spectrum and AT&T are able to provide pretty fast download speeds over these lines thanks to improvements in DOCSIS technology (the method for transmitting high-bandwidth frequencies over old analog cables). However, there is an upper limit to it and it's never quite as stable or upstream-enabled as fiber service.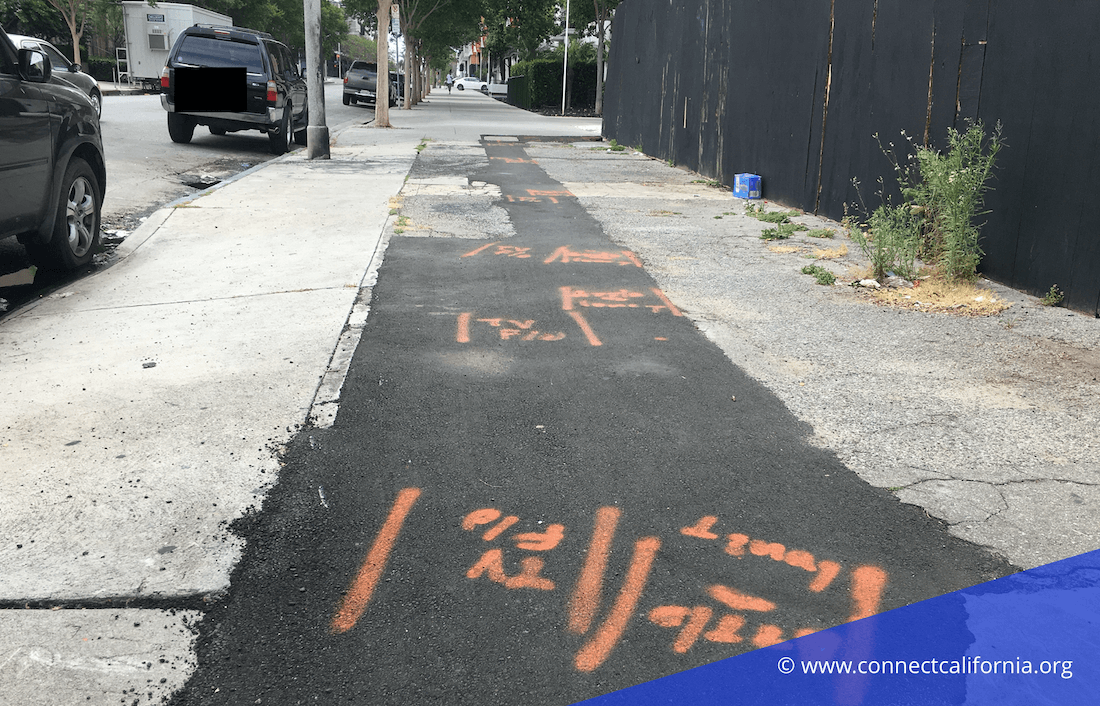 What happened to Time Warner Cable in Koreatown?
There's some confusion about Time Warner Cable or "TMC" internet in Los Angeles generally. The short version is: Spectrum bought them out a few years ago.
Spectrum internet is sold by a telecom company called Charter Communications, who bought several other internet providers (including TMC) in 2016.
They took several years after that to slowly move all the existing customers in Koreatown over to the new "Spectrum" branded service, and to phase out grandfathered prices (much to the chagrin of residents with much cheaper TMC agreements). As of 2020, they've effectively finished the transition and stopped managing customer billing through the old TMC website.
Even in 2020, you may see it called "Charter Communications" or "Time Warner Cable." It's all Spectrum.
AT&T DSL vs AT&T Fiber: Speed varies by location in Ktown
AT&T internet can be kind of confusing in Los Angeles, as they've been expanding their fiber lines and re-branding their services dramatically over the past 5–10 years.
The short version is: all AT&T internet services (U-Verse, AT&T Internet, AT&T Fiber, etc) are all just called "AT&T" as of 2020. Within Koreatown, the speed they offer you basically depends on how far the nearest fiber line is.
Koreatown is unfortunately one of the central LA neighborhoods that does not yet have fiber service from AT&T. (Aside from a few isolated addresses closer to West Hollywood and Silverlake.)
Most of the AT&T internet service in Koreatown uses VDSL "Fiber to the Node" connections, which basically means that fiber lines terminate at boxes around Koreatown and make the final hop to your building via copper telephone lines. Translation: it's not as fast as Spectrum, and they often cap your usage.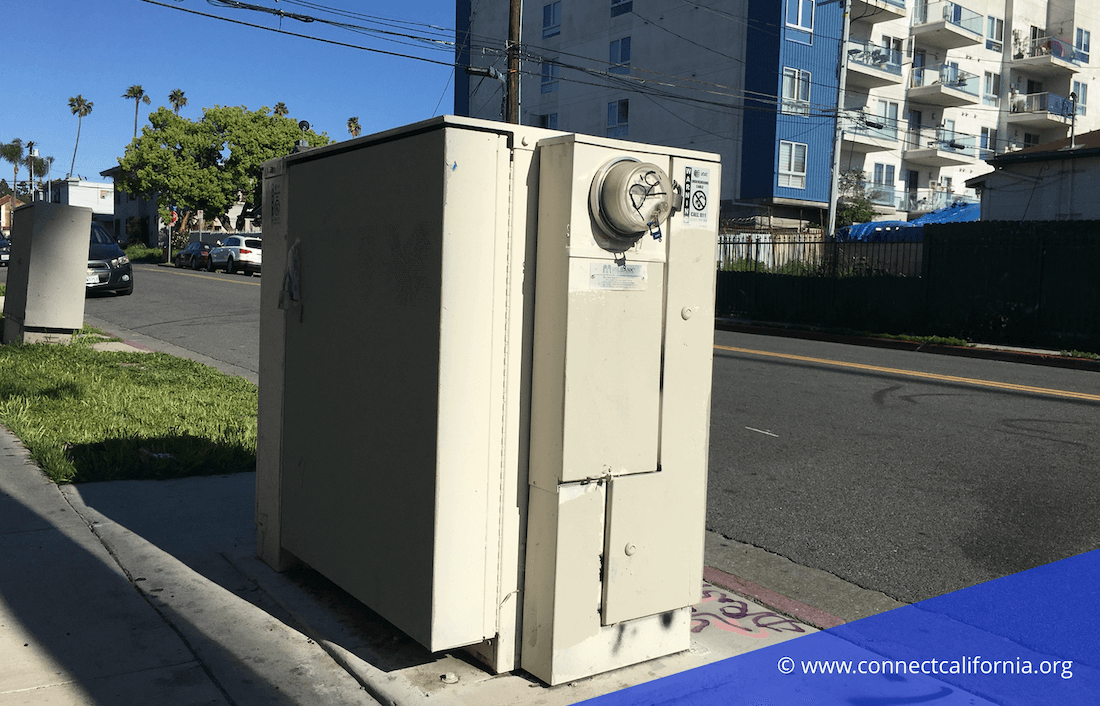 In practice, this means that some addresses such as those along Virgil will have faster speeds (up to 100 Mbps) compared with addresses further from their fiber lines (such as between Beverly and 3rd, where AT&T internet is commonly capped at 25 or even 5 Mbps).
Alternative internet options in Koreatown
Looking to the future, internet alternatives for Koreatown are most likely to come from wireless "last mile" technology. Starry Internet is an example of this: rather than using cables to connect buildings to fiber lines, they use wireless transmission.
So-called "5G" service from mobile carriers like AT&T, Verizon, and T-Mobile is expected to start competing directly with wired internet service over the next few years, but this won't happen until hardware catches up and the carriers finish installing small cell towers in neighborhoods.
We've been seeing these pop up around Los Angeles including Koreatown, but as of 2020 they still only transmit "5G evolution" and similar pseudo-5G services. Translation: it's faster than LTE, but it's not the gigabit unlimited wireless service promised by 5G marketing you might have seen on TV.
As for Starry Internet in Koreatown, it's worth filling out their service request form so they can see where potential customers are. They use service requests to pressure building owners to let them access the building. Keep in mind that Starry currently focuses on apartment buildings because they can get a lot of customers all at once that way. Single-family homes aren't likely to get service callbacks until later in 2020/2021.
For more information on internet alternatives in Koreatown and Los Angeles in general, I maintain this page of alternatives to Spectrum and AT&T in Los Angeles.
---
Frequently Asked Questions
Who is the cable company in Koreatown, Los Angeles?
Spectrum (formerly Time Warner Cable) is the cable company in Koreatown. They offer internet-only service throughout LA, as well as TV, phone bundles, and mobile service. Spectrum plans in Los Angeles start at $49.99 per month for 200 Mbps internet-only service, with 10 Mbps upload.
Are there alternatives to Spectrum in Koreatown?
Koreatown is one of the less well-served neighborhoods in LA when it comes to internet. Spectrum and AT&T both have coverage throughout the area, but there is no fiber service, and many buildings are effectively locked into only one or the other provider due to issues getting wiring into buildings.
Can I get fiber internet in Koreatown?
Fiber internet is only available from AT&T in the Ktown area, but as of 2020 only a couple blocks in the north-east part of the neighborhood are able to get fiber service.
What is the price for AT&T internet in Koreatown?
AT&T internet deals start at $45 per month for 100 Mbps internet-only service in the Ktown area. AT&T gigabit fiber is not available in Koreatown as of 2020, but is expected to expand locally in the next couple years.