If you live in the greater LA area, you may have noticed advertisements and installation vans for a new internet provider in the past couple of years: Starry Internet.
This is good news since the majority of buildings in LA only have one internet option over 100 Mbps. Starry Internet offers 200 Mbps download and upload, making it a welcome upgrade — especially for those of us with home offices who need fast and reliable upload for working with video files.
Starry Internet Plan Pricing
Starry keeps things very simple with pricing: $50/month flat rate, with no fees, and no "suprise price increases" such as those their competitors like Spectrum are known for.
Speaking of Spectrum, Starry also offers much faster upload speeds than basic cable in LA. See our full Starry vs Spectrum breakdown here.
| Plan Name | Download Speed | Upload Speed | Fees | Montly Price |
| --- | --- | --- | --- | --- |
| Starry Internet | 200 Mbps | 200 Mbps | $0 | $50 |
Starry Internet coverage in LA
Starry Internet Coverage in Los Angeles is sparse and only found in mid-large apartment buildings. Based on FCC filings and address checks, we can confirm that Starry internet has service locations in central neighborhoods including Hollywood, Koreatown, Santa Monica, and Los Feliz. Some peripheral areas like Glendale, Sherman Oaks, and Woodland Hills also have reported service.
Here is a full list of areas where we were able to confirm service in at least one local apartment building. Note that this list does not include sample addresses because Starry Internet is explicitly trying not to disclose address lists, due to concerns about larger providers undercutting their offerings. (As confirmed by a Starry employee interviewed for this article.)
If you want to check your building for Starry internet service, the best way to do it is with the Starry Internet online address check tool. Unlike similar tools from competing providers like AT&T, it is quite accurate.
Starry Internet service areas in Los Angeles
Hollywood
Santa Monica
Koreatown
Los Feliz
Glendale
Sherman Oaks
Woodland hills
Beverly Hills
The Arts District
Downtown LA (DTLA)
Venice
Playa Vista
In this article, we'll describe:
What Starry Internet is and who should consider it.
How to determine if you can get Starry Internet service.
Landlord considerations when requesting Starry Internet service.
Starry Internet coverage in Los Angeles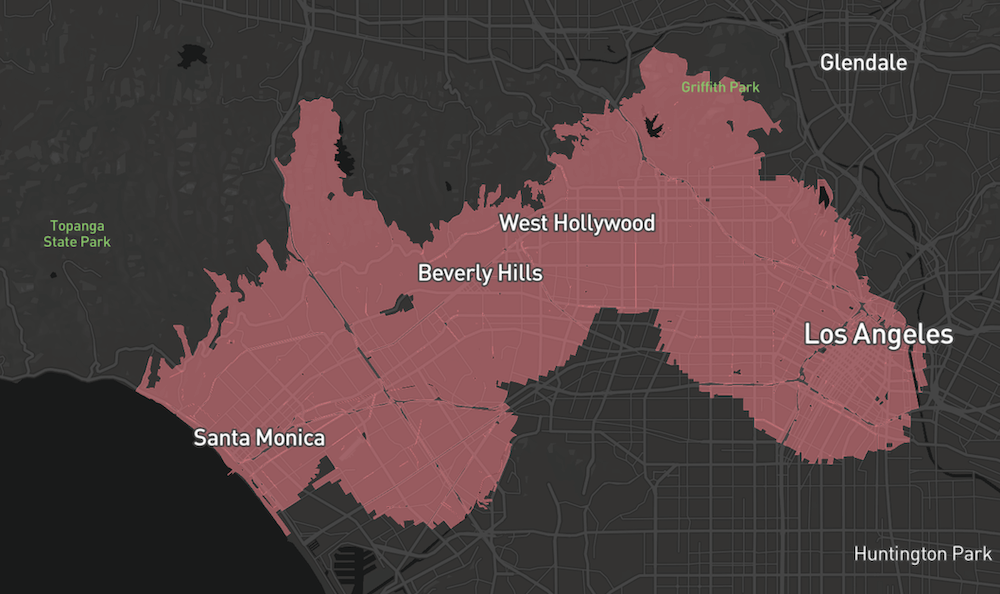 If you've been researching this topic, you may have seen maps on other sites claiming Starry has 100% coverage locally. This is because Starry is a "fixed wireless" service, meaning that they can theoretically cover any location in Los Angeles.
The catch is that it's only economical for them to serve larger buildings, as they have to install receiver devices and wiring in the building to provide service.
While their are close to a dozen internet providers in LA, most locations ultimately only have a couple serviceable options.
If you encounter one of Starry's promotional booths at a local event, they'll likely encourage you to have your landlord contact them, and fill out a form requesting service so they can show it to the building owner and sell them on getting the roof device installed. This is because the biggest barrier for Starry when entering a new city is working with landlords. Landlords have little reason to allow a new company to install equipment, especially if they're already getting a kickback from the cable company already providing service.
While renters have some regulatory grounds to have services such as TV dishes and wiring installed regardless of the landlord's opinion, in practice we reccomend that you work amicably with your landlord to get permission to have the service installed for the building.
What Is Starry Internet? Is it the same as mobile service?
Starry Inc is a WISP. That is, it's a fixed wireless broadband internet service provider. They use a Local Multipoint Distribution Service (LDMS) to connect their base stations to buildings.
In plain english: Starry "beams" internet service to customer buildings wirelessly, rather than using cables like other local internet providers (Spectrum, AT&T, etc.). Fixed wireless is different from mobile service in that the "beam" is pointed directly at your building, rather than spread around in a circle from cell towers.
Starry Internet service was announced back in 2016, and became available in December of 2017 to apartment blocks in Boston. The company has raised over $63 million to date, and they have acquired 104 licenses to provide their services in 25 states (and 51 markets). 1
The company uses consistent space-themed branding, describing their base stations as "Starry Beams" and the receivers on customer buildings "Starry Points." Even the router provided with service has a futuristic triangular shape, and is called a "Starry Station."
How does Starry internet work?
In simpler terms, Starry builds base stations throughout a city that act as broadcasters and receivers for internet services. They then build receiving and broadcasting equipment on a building, which connects wirelessly with the base stations.
From that rooftop equipment, they run internet service to customers via a wire into each apartment.
Installing equipment on roofs might sound complicated, but it has a huge advantage, at least from Starry's point of view, over traditional internet installation – it's completely wireless and thus, in theory, it's very low cost to provide the service.
However, this is only true when they put the service into MDUs (that's multi-dweller units such as condos and apartment blocks). In these developments, the cost of the receiving and broadcasting equipment on the building is split between 30+ homes and that keeps the installation cost per-customer low for Starry.
How low? Well, Starry claims that their cost per customer installation is just $25. 2 That's much lower than the costs for networks that are digging up the sidewalk to lay physical cables (fiber internet service, for example, can cost as much as $5000 per building).
Is Starry Internet a competitive choice in Los Angeles?
Starry's service is very competitive from a consumer perspective. They're aiming to ensure that every customer gets a 200 Mbps (up and down) internet connection for $50 a month.
That's a strong value compared with Spectrum or AT&T locally, and it's something that a lot of people want — particularly Spectrum subscribers who are often happy to go to any other service as long as it's not Spectrum.
In general, Starry is a "buy" unless you have AT&T Fiber service at your building, or live in a part of LA with municipal fiber internet such as Beverly Hills.
As mentioned above, Starry's main selling point other than price is the 200 Mbps standard upload speed with no data use limits. With much of Los Angeles working in the film and entertainment industry, the ability to upload large video files quickly is a strong argument in favor of Starry.
As a comparison point, Spectrum's basic 100 Mbps plan, with is one of the most common choices in Central LA, only has 10 Mbps upload speeds. This means video uploads will be 20 times faster with Starry.
Starry Internet Data Limits and Fees in Los Angeles
One thing that we find appealing about Starry Internet is that the service is very much "what you see, what you get." Their advertised $50 per month headline price includes taxes, installation fees, and even equipment costs (AKA the WiFi router). Most internet providers charge for each of these individually, adding anywhere from $5–150 on your first bill.
There are no data caps involved so $50 is as an "as much as you can eat" deal too — which is meaningful if you stream a lot of video, upload a lot of video, or otherwise stream or move large files on a daily basis at home (or from a home office).
Starry is also a month-to-month service, similar to Netflix. They won't force you to sign a typical 12-month contract, which surprisingly is still common with internet providers even in 2023.
One thing they do that is similar to other providers in California is promise to to not participate in "packet sniffing" and other privacy violations. This is a nice touch and goes over and above California's privacy protections for consumers.
The company has also stated that they will adhere to the principles of net neutrality, which have been repealed under the Trump administration. Starry's terms of service note that while they may use network management to manage congestion on their local network, it won't be triggered by any individual's activity or data usage in any given billing period.
They also promise to only use these facilities when there is actual data congestion on the network and only on the parts of the network that are affected by this congestion. While promises like this by companies should always be taken with a grain of salt, network management is definetly to be expected for a provider using wireless backhaul rather than dedicated wired connections, such as Spectrum or AT&T Fiber.
The Future Prospects Of Starry Internet in Los Angeles
For now, we'd expect to see Starry's services continue to broaden out into more and more locations in Los Angeles. As of this year there have been rumors of a pilot program targeting single-family homes; we'll update this page if and when we're able to confirm that rumor.
As for their long-term viability, some industry insiders say that previous attempts to roll out wireless broadband networks have not gone well and dismiss Starry as being in a similar vein. Others are more optimistic, and they note that if Starry can manage their low cost acquisition targets, this could be a very profitable endeavor, indeed.
Overall, fixed wireless hardware has been having a bit of a Rennaissance as of 2023, especially as the technology gets hyped for 5G service in the last mile to rural areas.
We'll reserve judgment on that but what we are certain of is that Starry has enough funds on hand to remain operating and delivering this service for the foreseeable future.
---
Frequently Asked Questions
Does Starry Internet have service in Los Angeles?
Starry Internet has been expanding in LA since early 2018. They currently focus primarily on large multi-family buildings, where they can install a rooftop reception device and serve dozens of customers from one access point install.
What is the price of Starry Internet?
Starry offers a $50 per month flat-rate deal for 200 Mbps download and upload. In late 2020, they began offering reduced speed/price plans starting at only $30 per month as a reaction to Covid-19 and the digital divide in LA.