Fees and fine print Compare plans
Starry Internet is recommended over Spectrum for most buyers because of the fast upload speeds and flat $50 monthly bill and free WiFi equipment. Spectrum's base rate is $49.99, but it goes up to $79.99 after your first year of service. Spectrum's main strength is their TV service (Starry has none) and much wider availability.
In this post I'll walk you through pricing, network performance, and TV streaming options, so you can understand which provider generates the best home WiFi experience.
Note: Starry Internet has limited availability and mostly serves large apartment buildings. Spectrum is also far more likely to be available at single family homes or duplexes. If you haven't already checked for service, you can do so at the Starry website.
Starry vs Spectrum speeds and pricing in California:
This comparison is between Spectrum's base internet plan and Starry Internet. Spectrum has some faster plans, but their base plan is the closest to Starry in terms of price and speed.
| Plan Features | Starry Internet | Spectrum Internet |
| --- | --- | --- |
| Lowest Cost per month | $50 | 49.99 (79.99 final price after 12 mo.) |
| Download Speed | Up to 200 Mbps | Up to 300 Mbps (100 Mbps in some areas) |
| Upload Speed | Up to 200 Mbps | Up to 10 Mbps |
| Data Cap | Unlimited | Unlimited |
| Network Type | Fixed Wireless | Cable |
As you can see, Starry has a strong offer for internet-only customers. The only issue with Starry is the service area (very limited) and the TV offerings (they only offer internet, no bundles).
Starry's upload speeds are much better than Spectrum's regardless of plan tier, making Starry a better choice for home offices and other upload-intensive use cases.
Spectrum may look cheaper when you're comparing plans online, but this is usually because of their use of "sign-up promotions" to lure new customers. This means that they make it very difficult to find out what the actual price is after your 12-month sign-up promotion runs out. I've written extensively on this topic here: how to extend your new customer promotion with Spectrum.
We've been able to track down the final pricing for Spectrum plans in Los Angeles and found that their internet-only plans usually increase in price anywhere from 18–40%, depending on your plan tier.
Starry takes a more consumer-friendly approach, offering a flat rate that does not change over time for internet-only service.
having worked in the cable industry for some years, I know for a fact that promo pricing (sadly) is very effective at generating extra revenue for providers. So it's very encouraging to see a startup internet provider like Starry taking the high road and using clear, fee-free pricing.
Starry vs Spectrum Data Usage Policies
Many internet providers in California use data caps to manage their network, meaning that if you use more than a certain amount of data, you will be charged extra on top of your monthly bill.
Spectrum and Starry both have unlimited data policies for virtually all plans. However, Spectrum has recently been applying to the FCC to start imposing data limits. (They were previously not allowed due to requirements of their merger with Time Warner Cable and Bright House Networks.) 1
Starry does not have data caps in California. Spectrum offers unlimited plans with no data caps.
Starry Internet Data Caps

Starry offers internet plans with unlimited data
Charter Spectrum Data Caps

Spectrum offers internet plans with unlimited data
Starry vs Spectrum Pricing and Fees
The biggest difference between Starry and Spectrum is their approach to pricing and fees.
Spectrum is better than most cable companies when it comes to pricing. They use confusing "promotional pricing" and add-on fees to increase the rate, but they don't overload you with dozens of options (like Comcast) and their pricing is the same in all states.
Here is a breakdown of how common add-on fees compare for Starry and Spectrum plans. These types of fees are common with internet providers, and can result in larger bill each month.
| Fee | Starry | Spectrum |
| --- | --- | --- |
| WiFi equipment fee | Free | ~$5/mo. |
| Price increases | Flat rate | Bill increases after promo period |
| Early Termination Fee | Free cancellation | Free cancellation |
Note that fee amounts described above may vary by plan. See the plan comparison tables for Starry and Spectrum below for more information.
Be sure to evaluate the WiFi fee when signing up for Spectrum. They advertise a "free modem" for the base plan, but this modem does not produce WiFi. You have to pay an additional fee (see table above) on some plans in order to get WiFi.
Their more expensive plans usually include the WiFi router for free, but this varies based on current promotions. The important part is: confirm the WiFi router leasing cost when you sign up, whether online or over the phone.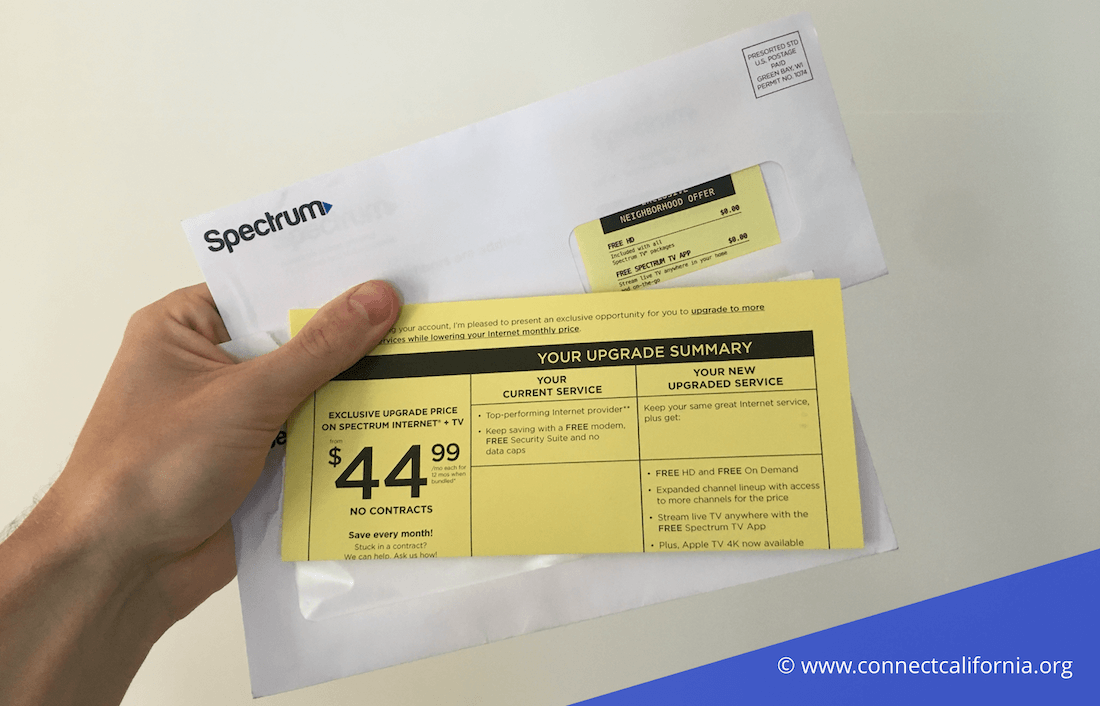 Starry, again, is the clear winner on this feature. Their internet plan includes the router for free, and they've put a lot of work into making it user-friendly with an embedded touchscreen and native app for managing the network. Some users may not love the "space-age" triangular design, but to be fair routers are almost universally ugly. So at least they tried.
Issue: using your own router with Starry Internet
The only issue with Starry's approach to equipment is that if you want to use your own modem and router, Starry does not support it, and also does not support bridge mode. You have to connect through the LAN port of the "Starry Station" device they include with service.
Note that the Starry router only has one LAN port, so you'll also need switches if you need additional ports. The Starry Station is a Wireless 802.11ac with 4x4:3 MIMO.
Establishing Starry or Spectrum serviceability
Starry Internet has low coverage compared to Spectrum. If you're reading this article, I'm assuming you've already checked and found both to be available at your building. If not, you can complete an address check online at their respective websites here:
Within California, Starry is limited to Los Angeles and San Francisco.
Starry vs Spectrum Internet Plans Comparison
| | Most Common Plan | Internet speed | Sign-up price | Final price | Avg price over 2 yrs |
| --- | --- | --- | --- | --- | --- |
| | Starry Internet (Starry Internet) | 200 Mbps | $50/mo. | $50/mo. | $50/mo. |
| | Spectrum Internet (Spectrum) | 300 Mbps | $49.99/mo. | $79.99/mo. | $65/mo. |
Starry Internet uses flat pricing for their entry-level Starry Internet plan. The $50 monthly cost does not rise over time.
Let's compare that to Spectrum:
The price of the Spectrum Spectrum Internet internet plan is $49.99/month for the first Contract-Free. However, the price jumps up 60% to $79.99 after that initial period.
So, the price of Spectrum internet is actually $65/month, when averaged over two years.
Spectrum Internet comes with some fees as well:
$5/month fee for WiFi equipment
Spectrum vs Starry Plans
Spectrum internet plans come in three speed tiers in the majority of their coverage area: basic, Ultra, and GIG. In the service areas shared with Starry (major cities), they recently upgraded the base plan speed:
| Plan Name | Speed Down/Up | Promo Price | Final Price |
| --- | --- | --- | --- |
| Spectrum Internet | 300/10 Mbps | $49.99/mo | $79.99/mo |
| Spectrum Internet Ultra | 500/20 Mbps | $69.99/mo | $99.99/mo |
| Spectrum Internet GIG | 1000/35 Mbps | $89.99/mo | $119.99/mo |
The cheaper base plan is the best choice for the vast majority of internet-only customers.
The speed you get at each tier of service varies by area — as of 2023, most of the state has been upgraded to the higher end: 300 Mbps for the base plan, 500 Mbps for Ultra, and 1,000 for GIG.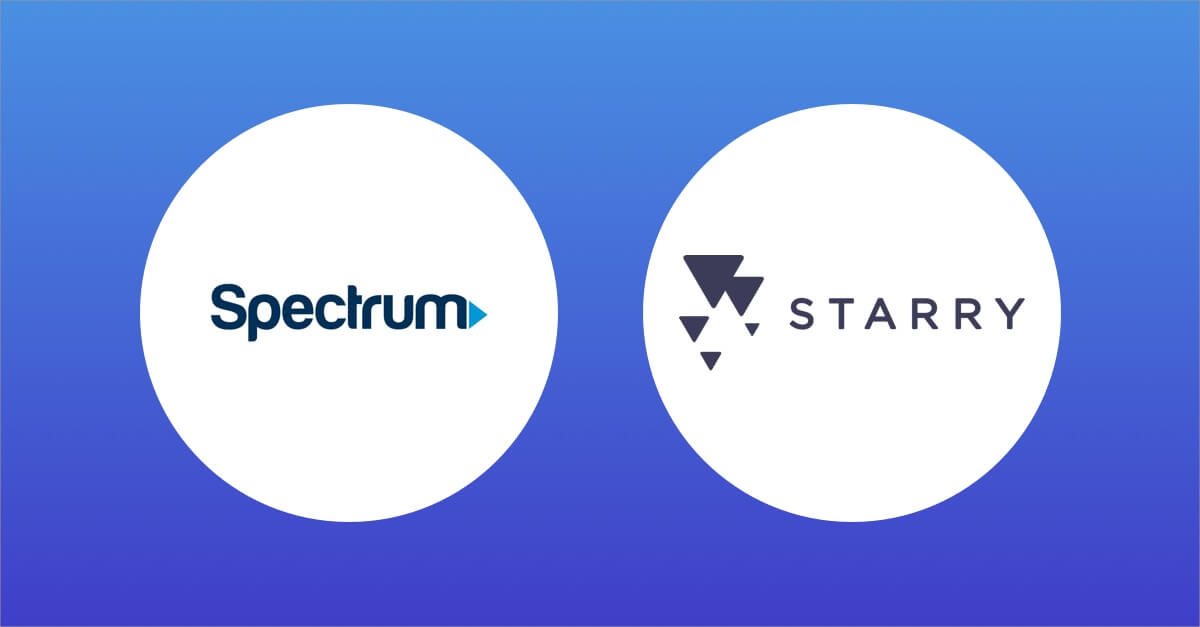 Starry Internet plans keep it simple with one option: $50/month for 200 Mbps internet. Unlike Spectrum, the price doesn't go up over time or "expire." It's a good deal assuming you don't want cable TV bundled in.
| Plan Name | Speed Down/Up | Promo Price | Final Price |
| --- | --- | --- | --- |
| Starry Internet | 200/200 Mbps | None | $50/mo |
TV and phone options from Starry and Spectrum
Spectrum is a traditional cable provider, meaning you can easily bundle in TV channels and landline phone service if you want to.
| Plan Name | Speed | Promo Price | Channels | NFL Network |
| --- | --- | --- | --- | --- |
| TV Select + Internet | 300 Mbps | $109.98/mo | 125+ | Not Included |
| TV Ultra + Internet Ultra | 500 Mbps | $129.98/mo | 125+ | Included |
| Mi Plan latino + Internet | 300 Mbps | $89.98/mo | 140+ | Included |
| Mi Plan latino + Internet Ultra | 500 Mbps | $109.98/mo | 140+ | Included |
Starry is an internet-only provider, meaning that you have to purchase TV separately from over-the-top streaming services like Netflix and Fubo. For most customers, this is honestly a benefit.
Starry Internet vs Spectrum for California Customers
Charter Spectrum is a mainstay, having bought up Time Warner Cable's network in the state back in 2015. Since then, Spectrum has done a lot to improve the network speeds and standardize pricing — although that's mixed news depending on the price you have with TWC.
Starry Internet, meanwhile, has only been in California since 2018, with all service currently in Los Angeles. However, their most recent FCC filings included a couple network blocks in San Francisco, supporting recent publicity from Starry Internet about expanding to the San Fran area.
Starry vs Spectrum Net Neutrality Policies
Starry Internet Net Neutrality Stance
Starry Internet maintains a detailed page on their website describing their traffic treatment in regards to Net Neutrality.
Starry Net Neutrality statement
Charter Spectrum Net Neutrality Stance
Charter Communications has public statements supporting open networks, but in practice has been applying to remove network management requirements imposed by the FCC during their merger with Time Warner Cable.
Spectrum Net Neutrality statement
Starry Internet vs Spectrum customer support and field service
Starry Internet and Spectrum both offer free service visits within reason in California.
Starry Internet is currently offering more or less unconditionally free customer support, including service visits for issues you may have. However, this could change as they expand and get past the honeymoon phase of wowing customers to build brand loyalty. The potential for service visits to incur a fee is hinted at in a clause of the terms and conditions for Starry service (emphasis my own):
Starry may be providing this Service as part of a market trial. The Service may be changed or cancelled as part of this trial at any time and without notice, including for reasons outside of Starry's control…
Spectrum customer support is mostly free, including service visits. However, they may charge if they deem the reason for the service call to be beyond reasonable maintenance of their network, or if the customer is unable to perform basic diagnostics with help from phone support (such as resetting the router).
---
Frequently Asked Questions
Is Starry Internet faster than Spectrum?
Starry Internet has one plan: 200 Mbps download, 200 Mbps upload. Spectrum has several plans, ranging from 80 up to 1,000 Mbps download. However, Spectrum's fastest upload speed is 35 Mbps. So, Starry has the fastest upload speeds, while Spectrum has the fastest download speeds.
Is Starry Internet better than Spectrum?
Starry Internet is well-reviewed on third-party platforms thanks to their status as a small startup in the internet service space, next to cable companies like Spectrum who are widely disliked due to their generally confusing and high pricing. Starry Internet has upload speeds more than five times faster than Spectrum, and provides flat pricing that doesn't change from year to year like Spectrum.
Which is cheaper, Spectrum or Starry Internet?
Over three years, Spectrum internet will cost you slightly more than Starry Internet. Starry Internet has flat-rate $50 per month pricing. Spectrum starts at a low rate, then gradually increases over your first 2–3 years of service. Starry offers one plan for 200 Mbps, while Spectrum offers several plans going up to 1,000 Mbps download.