The 940 Mbps Gigablast internet plan is the fastest internet-only plan currently offered by Cox Cable.
Plan recommendations Set up Service: (833) 438-1020
Gigablast offers six times more download bandwidth than the standard 150 Mbps Cox plan.
However, it comes at a cost: the final price for Gigablast is over $100 per month, and Cox offers a 500 Mbps plan that will feel just as "fast" for most homes — for a savings of $240 over the first year of service.
Cox Gigablast plan speed and pricing overview:
*Promotional price expires after first year of service. See full Cox pricing sheet for details.

| Plan Name | Speeds | Promo Price* | Final Price | Router lease fee | Details |
| --- | --- | --- | --- | --- | --- |
| Gigablast | 1000/35 Mbps | $99.99/mo | $119.99/mo | $13/mo | View Plan |
For most customers, $119.99 per month for internet service is simply too much money for the value. Only large homes with multiple "power users" will notice the difference between 150 Mbps download and 940 Mbps download.
However, there are some cases where Gigablast makes sense:
Summary of Recommendations
Cox Gigablast is only worth it for large homes of 4+ users, or for home offices. Home offices in particular benefit from the increased 35 Mbps upload rate, which improves video calls, moving files, and other common work-from-home use cases.
We do not recommend Gigablast for cord cutters, because the plan still has a data cap of 1.25 TB. Cord cutters should consider a cheaper base plan like Ultimate or Preferred, and pair it with an increased data plan.
Cox offers extra or unlimited data for $29.99–49.99 per month. Combining extra data with mid-range speeds gets better value for homes that stream a large amount of 4K or HD video (Netflix, Hulu, HBO, etc).
Set up Service: (833) 438-1020
Cox Gigablast data cap issues
The biggest issue with Cox's Gigablast plan is that while it give you massive bandwidth increases compared to the other plans, you still have the same 1.25 TB data cap.
The major benefit of gigabit internet, for family homes, is that you can stream essentially unlimited 4K content to multiple screens without buffering issues. Putting a data cap on streaming removes that benefit, and for most people, paying an extra $50 for unlimited data on top of an internet plan that already costs more than a hundred dollars a month is simply not feasible.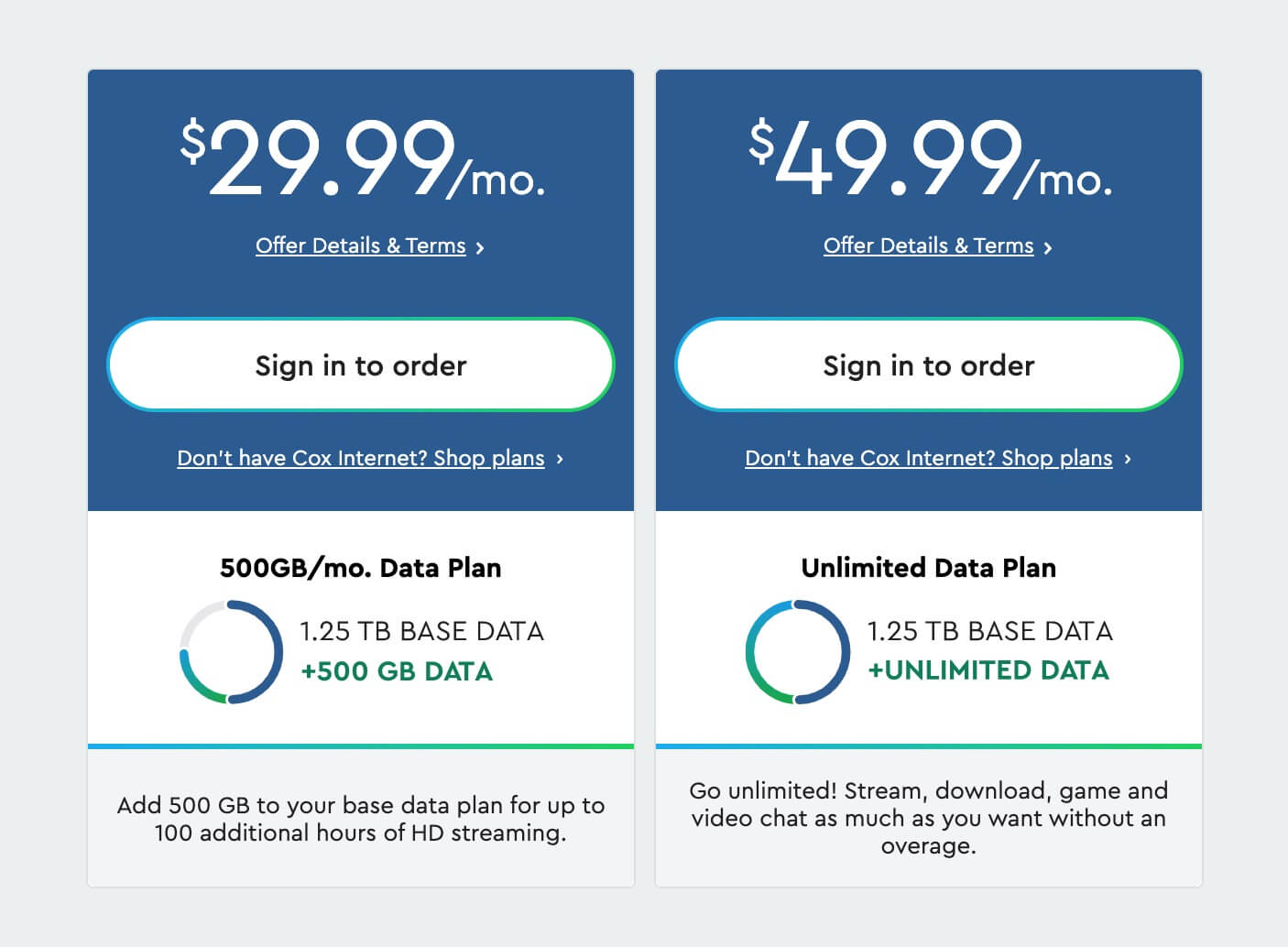 For this reason, I strongly recommend that if your reason for considering Gigablast is streaming, that you purchase one of the lower speed tiers (like 150 Mbps or 500 Mbps) and combine that with the unlimited data package.
This still isn't ideal, but for most of the Cox coverage area, it's the only way to get truly unlimited internet faster than 100 Mbps download for cord cutting households.
Cox's data cap policy has been a consistent source of customer complaints on online forums since the Gigablast plan was launched in 2017. Hopefully, this will change as they're increasingly forced to compete with 5G carriers and other internet alternatives in their major service areas like Irvine.
Cox Gigablast Plan Pricing Breakdown
Cox Gigablast is about $20 more per month than the 500 Mbps Ultimate plan, and $40 more per month than the mid-range 150 Mbps plan.
That adds up to a lot over the course of a year — opting for the Preferred 150 Mbps plan saves you $480 per year. If you subscribe to the Preferred plan and add-on 500GB of extra monthly data, you're still looking at a net annual savings of $120.
Cost of Cox Gigablast after 12 months
Like all Cox cable plans (and most internet provider offerings, for that matter), Gigablast pricing changes after your first year of service. The price you see advertised is a "promotional rate" that expires after one year.
Sure, you can go through some effort to extend the promo by calling and complaining, or by switching to a spouse's name — but the majority of customers don't have the time, and just accept the final price.
In the case of Gigablast, the difference is pretty substantial: $99.99 for 1 Year, then a 20% increase to $119.99 per month. And that's before you add on the $13 monthly leasing fee for your WiFi router.
Cox Gigablast vs Ultimate and budget plans
Here's a quick rundown of how the promotional and final rates vary between Cox Gigablast, Ultimate, and Preferred plans, as well as budget plans with lower speeds offered by Cox:
| Plan Name | Down/Up | Promo/Final Price | Avg price over 2 years | Price increase |
| --- | --- | --- | --- | --- |
| Gigablast | 1000/35 Mbps | $99.99/$119.99 | $109.99/mo. | +20% |
| Cox Internet Ultimate 500 | 500/10 Mbps | $79.99/$99.99 | $89.99/mo. | +25% |
| Cox Internet Preferred 250 | 250/10 Mbps | $59.99/$83.99 | $71.99/mo. | +40% |
| Cox Internet Essential 100 | 100/5 Mbps | $49.99/$49.99 | $49.99/mo. | +0% |
Gigablast WiFi Router Costs
Like all Cox internet plans, Gigablast requires you to lease the WiFi router separately.
The default charge is $13 per month, which adds up pretty fast if you're a customer for multiple years.
The only way around this fee is to purchase your own router and modem, and opt out of the router lease when signing up for Cox. This will remove the router fee, but keep in mind that their tech support will often assume the issue is your router if you have service issues down the road.
Gigablast cable modem and router requirements
If you decide to purchase your own equipment, you need to ensure that the modem is marked as DOCSIS 3.1 or higher. You'll also need to check Cox's compatible modems page to check that the brand and make/model is supported.
The equipment company Arris makes DOCSIS 3.1 modem/router combo devices specifically for Cox and Spectrum gigabit cable, such as the Arris Surfboard. These are recommended for ease of use, since otherwise you have to purchase the modem and router independently and configure them.
Installing Cox Gigablast
If you've decided the price is worth it, installing Gigablast comes with some caveats.
For starters, you'll need to be extra vigilant with testing the speed after installation. Sending gigabit download over old home wiring can be iffy, and the plan's performance can also be impacted by other users on the line in your neighborhood.
Speed test: when service is installed, connect your laptop to the router or modem using a short ethernet cable. When running a speed test this way, with no other devices yet added to the network, you should see download and upload speeds within 15% of the 940 Mbps download and 35 Mbps upload promised by the plan.
Home wiring issues: When the technician does the install, as them to check the wiring performance between the pole and your modem. In some cases, they may need to replace a coax head or splitter on the wire, if it is old.
Gigablast pros:
As mentioned above, most homes really don't need gigabit internet. Even with five users watching 4K TV at the same time, the 500 Mbps plan would be more than enough.
35 Mbps Upload speed
Gigablast really only makes sense if you absolutely have to have more than 10 Mbps upload speed. Home offices often have issues on Cox internet, thanks to the maximum 10 Mbps upload speed on all non-Gigablast plans.
10 Mbps for uploads is limiting if you work from home because it's a tight channel for video chat (sending video in real time) and a slow bottleneck for uploading videos and other large files.
high bandwidth for entertainment
The other area where Gigablast is worth considering is if you have a large cloud-connected smarthome, and need to stream a lot of video for multiple family members.
You'll also feel the large download bandwidth when moving large files from the internet to your laptop.
Is Gigablast good for gaming?
Gigablast only impacts gaming in two scenarios: downloading large files from Steam-type platforms, and streaming through Stadia and other cloud-based gaming platforms.
However, streaming games only requires 10 Mbps or so of download capacity, and less upload — so pretty much any Cox plan at or above 150 Mbps would work fine for streamed games.
Latency is obviously important for real-time gaming, but Gigablast doesn't offer a benefit here over other Cox plans. The ping reading on Gigablast is about the same as any other plan — it just has more bandwidth, but the distance between your home and the server is not changed by the upgrade.
Summary: Gigablast is fast, but most customers should look opt for the Ultimate or Preferred plan with an extra data package
To summarize, Gigablast is an interesting option for power users who have a way to use all that extra download bandwidth. However, for the average home, the limited 35 Mbps upload speed and data cap is going to make it hard to justify the extra $40+ per month for the privilege.