Starter 25 Connect2Compete Contour TV Best Internet + TV bundle
In doing research for this article, I spent three hours reading the fine print on Cox's website, speaking with Cox representatives, and running test purchases to get a feel for the Cox checkout process. The cheapest plans I found are as follows:
These plans are as follows:
Cheapest consumer internet plan: Starter 25
Cheapest low-income plan: Cox Connect2Compete
Cheapest television plan: Cox Contour TV Starter
Cheapest television + internet bundle: Cox 50 Mbps + Streaming
I found that while Cox offers great prices for some of its lower-cost plans, those rates are, in many cases, going to go up significantly after the first year. And if you live on the east coast, I've included the generally more expensive rates that you can expect to pay when you pursue service with Cox.
I'll walk you through some of Cox's cheapest internet and television plans, show you the features and prices of each, and help you make the right decision.
Cheapest consumer internet plan: Starter 25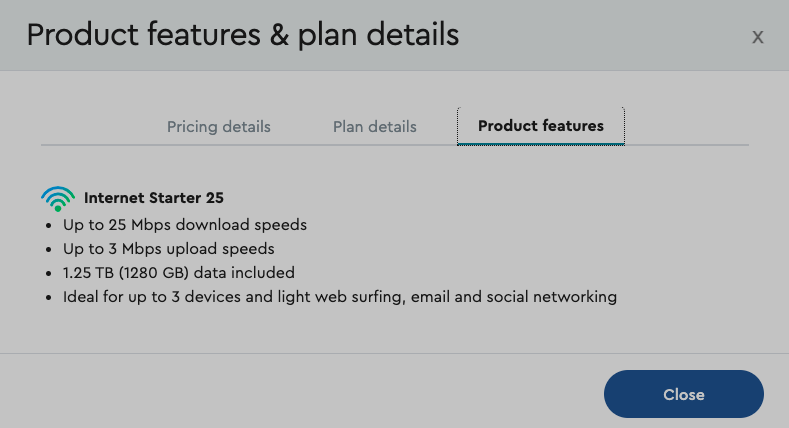 Cox Starter 25 is the cheapest generally available internet plan that Cox offers. Starter 25 gives residents of the west coast speeds of 25 Mbps (that's megabits per second, the most common unit of internet speed measurement) down and 3 Mbps up for $20 per month. On the east coast, however, this plan will run you about $30 per month.
Those speeds at that price are pretty good and can support a few phones connected to the internet, a television streaming high definition video, and a computer or two doing moderate internet browsing at the same time. But it's upload speeds where you'll probably hit some turbulence: If you stream live on Twitch or are big on video calling in Zoom, 3 Mbps will probably be enough for one person but will likely be strained for two or more.
This plan is generally pretty no-frills. You're going to have to get a Cox-approved modem and router (or a combination of the two), and you can save some money here by purchasing them from a third-party distributor instead of a monthly rental from Cox.
You'll also have to sign a one-year agreement, and pay an early termination fee of up to $120 if you cancel your service. If self-installation is not available at your address or you want a professional to install your internet service, you can add $100 to your up-front costs.
But there is one freebie that you get on this plan: when you sign up for Starter 25, you get access to 1.25 terabytes (1280 gigabytes) of monthly data, which is likely enough for a couple of people doing light browsing. But keep in mind that you will be charged $10 for every 50 gigabytes extra that you use.
On top of that, expect the cost of your plan to go up after the first year — all the way up to $45 per month.
If you're looking for a low-cost plan that will get you connected quickly and provide good speeds, Starter 25 may be a good fit. However, I have a few other plans that you'll want to consider before pulling the trigger on this one, which I'll cover in the next section.
Cheapest low-income plan: Cox Connect2Compete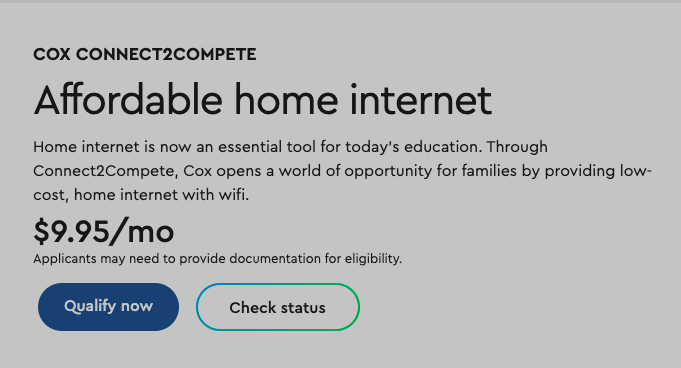 Cox Connect2Compete is Cox's internet plan for low-income individuals, and it's hard to beat the value it provides. On Connect2Compete, you get up to 50 Mbps download, up to 3 Mbps upload, and a handful of other freebies for only $10 per month.
When you subscribe to the service, you get access to a network of over three million Wi-Fi hotspots across the country that will help you get connected outside your home. Additionally, you'll get a Wi-Fi modem rental for free for the length of your eligibility. What's more, you'll never have to deal with term agreements or early termination fees with Cox Connect2Compete.
However, as with the previous plan, it's likely that you'll run into speed issues if you do anything more than light uploads on your internet connection.
In order to take part in the service, you'll first want to make sure you qualify. To participate, the Cox website states that you must "currently have a child in [your] household attending a K-12 school" and "Participate in one of the following Government Assistance Programs:
National School Lunch Program (NSLP)
Temporary Assistance for Needy Families (TANF)
Supplemental Nutrition Assistance Program (SNAP)
Public Housing
Head Start
Low Income Home Energy Assistance Program (LIHEAP)
Women, Infants and Children Program (WIC)"
Those qualifications are far broader than a lot of other internet providers' low-income plans, which is good news. This plan is a great deal, so if you qualify, I recommend that you take advantage of it.
If you want to take part in this service, head to Cox's website and fill out the company's application. And if you want to see your monthly costs drop to about a dollar, read on and I'll tell you about a federal benefit program called Lifeline that could get you there.
Cheapest television plan: Cox Contour TV Starter

It's no secret that cable television is going through a bit of a rough patch right now, and that's bad news for legacy cable companies. However, cord-cutting has forced companies to come out with some very attractive offers — like Cox's Contour TV Starter plan.
Contour TV Starter is Cox's lowest-cost television plan at only $50 per month, and it comes with a load of free stuff. Here's the full list of things you get access to when you sign up:
Top networks like CBS, NBC, and ABC
Over 75 channels, including commercial-free music channels
One free premium channel for 12 months
DVR for 12 months
One Contour box, which allows you to access subscription and streaming services like Peacock, YouTube, and Prime Video from Amazon. Think of a Roku, with access to a few live channels.
One voice remote
Access to the Contour TV app, which lets you stream anywhere right from your phone or laptop
As you can see, that's quite a lot of upsides. However, you should confirm with your particular Cox salesman that you do not have to sign a contract. When I asked a representative from Cox about a yearlong contract that was referenced in their terms of service, she told me that the monthly price is the same whether you sign a contract or not. If you chose to sign the contract (which there would be no incentive to do), she told me that you could pay an early termination fee of up to $250 for canceling your service.
This plan is best for those who want to watch local news as well as some cable channels, but don't want to spend money on expensive extras like HBO, Showtime, or Starz. If you want to add those channels later, you can always do so through the Contour box for an additional monthly charge.
Additionally, if you're a fan of live sports, you're likely to find this plan lacking as it only offers local, in-market event coverage. To get NFL, NHL, and MLB games, you'll have to either upgrade your plan or pay more for the individual channels.
Cheapest television + internet bundle: Cox 50 Mbps + Streaming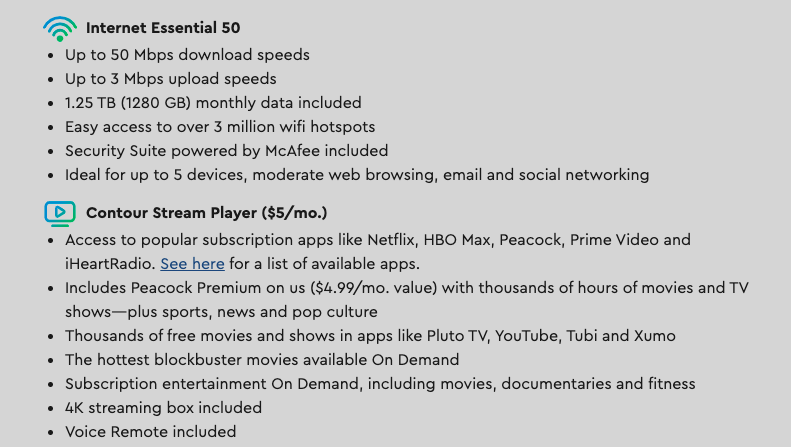 Cox's cheapest internet and television bundle features internet speeds of up to 50 Mbps down, upload speeds of up to 3 Mbps, and streaming through Cox's Contour device for $45 a month for 36 months on the west coast. On the more expensive east coast, this plan costs about $57 per month for 12 months if you opt to sign a one-year contract.
On top of those features, you'll also get access to 1.25 TB (1280 GB) of monthly data, access to over 3 million Wi-Fi hotspots across the country, internet privacy software from McAfee that Cox calls Security Suite, a Wi-Fi gateway, and the Cox Contour streaming device with a voice remote, all included in the monthly cost.
That's a lot of freebies at a pretty good price, but to make sure this plan is right for you it's best to remember the fees that you're going to have to pay.
On top of any applicable taxes in your region, prepare to pay an installation fee. Some regions allow you to self-install your internet and television, but you won't find out if self-install is available at your home until you go to check out. For budgeting purposes, a Cox representative told me that you should plan to spend up to $100 for a professional Cox technician to install your system.
Additionally, you're going to have to sign a contract with this plan. If you don't want to do that, you may be able to opt out of it, but it'll cost you $10 a month. At the end of the 36 months, the price of this plan will return to the normal rate of $82.99 per month.
Overall, this plan is a good option for a small family who uses the internet lightly and prefers to stream television from Netflix or Amazon Prime rather than cable. If you are a fan of live sports, however, this plan is extremely limited and probably doesn't offer the range of NHL, MLB, and NFL games that you are interested in.
---
Does Cox offer discounts on internet plans?
Unfortunately, Cox does not give senior discounts. Military and teacher benefits are also not offered. However, there are some ways that you can lower your costs.
Cox's monthly Wi-Fi equipment rental can get costly at $10.99 per month. That may seem like a good short-term deal, but if you're willing to spend around $100 on a Wi-Fi gateway that is compatible with Cox, that gateway will pay for itself within a year. Otherwise, you'd be paying $131.88 annually for equipment you don't even own, so you can save some big money here.
Use the Lifeline program to achieve the cheapest possible Cox price
Lifeline is a program instituted by the Federal Communications Commission that is aimed at closing the so-called "digital divide," or the gap between those who have consistent access to broadband internet and those who don't. If you meet the conditions listed below, you could receive a $9.25 monthly stipend to lessen the cost of internet service. In order to qualify, you or a member of your family must either have an annual income that is less than 135% of the national poverty level, or:
Participate in the Supplemental Nutrition Assistance Program (SNAP), formerly known as Food Stamps
Receive Medicaid
Receive Supplemental Security Income (SSI)
Participate in the Federal Public Housing Assistance (FPHA) program
Receive the Veterans Pension and Survivors Benefit
If you meet the income, Supplemental Nutrition Assistance Program (SNAP), or the Public Housing requirement and have a child in a K-12 school, I strongly recommend that you apply for Cox Connect2Compete in addition to Lifeline. If you do so, you could see your monthly bill dramatically reduced to less than a dollar before applicable fees.
To find out more about how you can keep your Cox bill as low as possible, check out our article, How to Get a Lower Cox Cable Price (As Existing Customer). To apply for the Lifeline program, head over to the FCC's dedicated Lifeline website.
Cheapest Cox internet plans per Mbps
Sometimes, the cheapest plan isn't the best one for you. There are cases in which you need a minimum level of speed, and in those cases, it's good to have all your options in front of you. Here are all of Cox's internet plans, ranked by their introductory price.
*Prices vary, but these are the most common prices pulled from test addresses on the west coast.

| Plan | Price | Price per Mbps |
| --- | --- | --- |
| Cox Connect2Compete | $10 per month | $0.20 per Mbps |
| Starter 25 | $20 per month | $0.80 per Mbps |
| Essential 50 | $30 per month | $0.60 per Mbps |
| Preferred 150 | $50 per month | $0.33 per Mbps |
| Ultimate 500 | $70 per month | $0.14 per Mbps |
| Gigablast | $100 per month | $0.10 per Mbps |
Keep in mind that the prices of all of these plans will go up after the first year and that the east coast is generally more expensive. To confirm your price, go to Cox's website and type your address into the company's search function.
Conclusion: Are the low-price Cox plans worth the tradeoff?
Cox offers some great introductory deals for its services and some very attractive benefits. The company is attempting to gain ground in the streaming space, so its television plans and packages come at a great value.
Additionally, the company's low-income plan is generous, and when combined with the FCC's Lifeline program, has the potential to drastically reduce some already very low costs.
But unfortunately, as with just about every internet provider, these deals and benefits aren't forever. When you sign up, you're going to have to keep in mind that on top of existing taxes and fees, you're also going to be signing term agreements on almost all of these plans (except for Connect2Compete). On top of that expense, prepare to pay a lot extra once that alluring introductory price has expired — as much as nearly 85% more.
With Cox as with every internet provider, it's best to do independent research on the fees and plans that you'll have in your area.
I suggest that you start by going to Cox's website and typing your address into the service availability engine to find out which plans are available to you. When you've done that, consider speaking with a Cox representative about specific questions you might have.
I spoke with about 10 different Cox representatives while researching this article and generally found them to be polite and helpful on their 24-hour helpline. Keep in mind, though, that they are salesmen, and may attempt to upsell you on services you don't really need.
---
Frequently Asked Questions
Does Cox have low-income assistance plans?
Cox Connect2Compete is Cox's low-income plan. Through it, participants can get access to speeds of up to 50 Mbps up/3 Mbps down for just $10 per month. There aren't built-in price increases, and you don't have to worry about contracts or early termination fees.
Does Cox offer discounts?
Cox doesn't offer many discounts. To keep your monthly bill as low as possible, I recommend taking advantage of Cox Connect2Compete and Lifeline (if you are eligible) or purchasing your own Wi-Fi gateway.
What is the cheapest Cox internet-only plan?
Cox Starter 25 is the cheapest internet-only plan that Cox currently offers. It gives participants speeds of up to 25 Mbps download, 3 Mbps upload, and its cost starts at $20 a month — though the plan is closer to $30 per month in the more expensive northeast.
How much does Cox installation cost?
If you don't want to or aren't able to self-install your Wi-Fi and television, you should expect to pay a $100 fee to have a professional do it.