Since Joshua Tree National Park spans 800,000 acres of rugged terrain, you might wonder about the mobile and internet service in the area.
The town of Joshua Tree has reliable mobile coverage from major carriers, including AT&T, T-Mobile, and Verizon. However, Joshua Tree National Park coverage is limited to visitor centers and entrance areas. The interior of the park does not have reliable cell service or mobile data coverage.
Depending on your carrier, coverage has improved for select trails listed below. We'll also cover what to expect for internet service at Airbnbs in Joshua Tree.
Mobile Service in the Joshua Tree National Park
AT&T and Verizon have the strongest user reviews as the best mobile service providers in the town. Still, frequent park visitors record limited to no cellphone connectivity in most parts of the park. The best option is to travel to a nearby entrance or town, where cellphone reception is available.
The park has two main entrances, the West Entrance (located 5.2 miles from the center of Joshua Tree) and the North Entrance (located in Twentynine Palms, 19.6 miles from the center of Joshua Tree). Parkgoers will need to travel these distances for decent cell phone reception.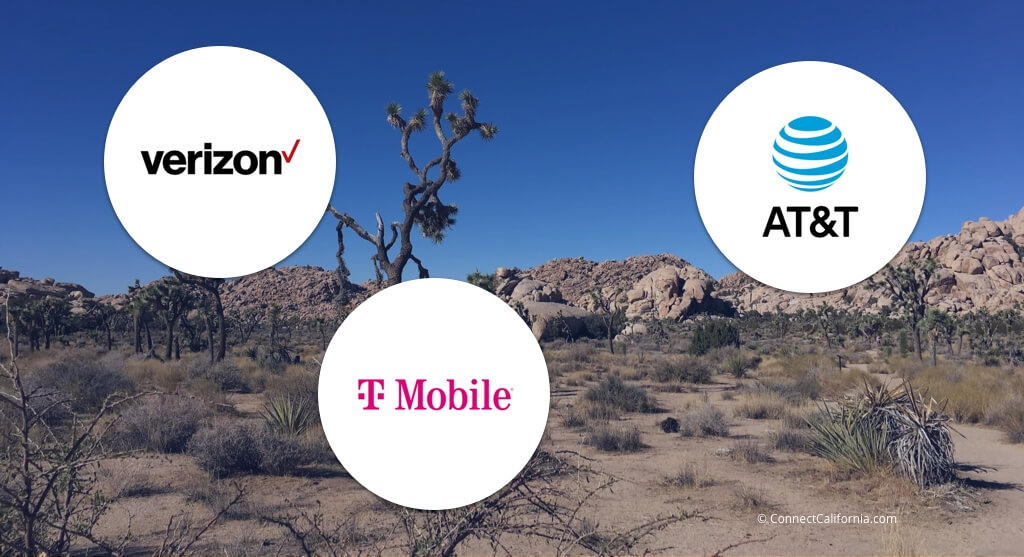 The following popular locations within the park have frequent reports of cell service, including mentions of the mobile service carrier used:
Please note that the Oasis Visitor Centre closed permanently on 2 May 2022 to allocate resources to the new Joshua Tree Cultural Center that opened on 7 May 2022 in Twentynine Palms.

| Location Reported | Carrier Reported | Quality Reported | Notes |
| --- | --- | --- | --- |
| Boyscout Trailhead (West Wonderland) | AT&T | Decent enough for calls and checking emails. | In the Sheep Pass Campground and at the Park Boulevard & Pinot Basin Road intersection. |
| Black Rock Canyon Campground | Not mentioned | Not mentioned | Close to the main highway through Yucca Valley. |
| JT Visitor Centre | Verizon | Good signal | From Park Boulevard to just past the West Gate. |
| Oasis Visitor Center* | Not mentioned | Not mentioned | Close to Twentynine Palms. |
Locals and frequent park visitors have come to accept (end enjoy) the limited cell coverage within the park. A short drive to Joshua Tree town, or other towns close by, is the simplest solution for travellers to get decent cell coverage.
Mobile Service in Joshua Tree Town
Since the park has very limited connectivity, parkgoers tend to travel to the nearby town for reception. Let's look at the mobile service available in the town.
AT&T has the best cell phone coverage in the town of Joshua Tree. All three major carriers claim to have 100% coverage in Joshua Tree, with four cell towers within 25 miles of the city center. You should have good cell service in Joshua Tree and surrounding towns (Twentynine Palms & Yucca Valley).
Let's look at the cell phone carriers that service the town of Joshua Tree and the surrounding area.
AT&T
AT&T is consistently ranked by consumer sentiment scores as the best mobile service provider in California; therefore, it is no surprise that the locals of Joshua Tree prefer them. They have 100% coverage in the residential areas (not so much in the park).
T-Mobile/Sprint
Since T-Mobile acquired Sprint in April 2020, T-Mobile's network coverage has increased. T-Mobile has about 99.7% coverage in the town of Joshua Tree, meaning you'll most likely have coverage, albeit spotty at times. Users report low signal strength a few miles out from the cell towers.
Verizon
Consumer sentiment scores place Verizon as the strongest contender in California, noting their widest network reach. Like AT&T, Verizon has 100% coverage for Joshua Tree (the town). Some instances of reported dead zones exist and are expected from the remote nature of Joshua Tree and surround.
Internet Service Options In and Around Joshua Tree
Internet service is available at most homes and Airbnbs in Joshua Tree — but the quality and price of the connection vary considerably based on whether or not the road has wired cable or DSL service.
Internet connections are slow and limited in Joshua Tree compared to metropolitan cities like Los Angeles. The internet connectivity options available are Spectrum (cable), Hughesnet (satellite), Viasat (satellite), Frontier (DSL), and Mojavewifi.com (wireless).
Internet connections in Joshua Tree tend to be unstable. While expected in remote areas, online ratings tend to reflect a poor experience. The different types of connectivity available are summarized below:
Customer rating is an aggregate rating sourced from local review platforms and consumer rating organizations.

| Provider | Type | Advertised download speed | Availability | Customer Rating* |
| --- | --- | --- | --- | --- |
| Spectrum | Cable | Up to 1,000 Mbps | 85% | 2.5 / 5 |
| Hughesnet | Satellite | Up to 25 Mbps | 99% | 3 / 5 |
| Viasat | Satellite | Up to 100 Mbps | 99% | 3.5 / 5 |
| Frontier | DSL | Up to 24 Mbps | 94% | 3 / 5 |
| Mojavewifi.com | wireless | Up to 12 Mbps | 31% | 3.5 / 5 |
Note that the coverage quoted above is for the town of Joshua Tree; streets that run outside of the census area are typically only serviced by Frontier, since cable is more common on established and paved streets.
Spectrum pricing for internet-only service starts at $49.99 per month in Joshua Tree.
Residents report internet connectivity in Joshua Tree as "slow" and "much slower" than the advertised speed. Online users report internet speeds of 1 - 2 Mbps during peak traffic times, despite having up to a 50 Mbps package. Others have no complaints, emphasizing the unpredictable nature of the internet connection.
In summary, residents and visitors to Joshua Tree can expect Wi-Fi service at home as normal. However, the connection is likely to be unstable compared with urban areas; it should not be relied on for remote work or other time-sensitive uses.
Joshua Tree is Underserviced by Large Internet Providers
Nationwide internet providers like Spectrum, Hughesnet, and Frontier tend to target larger population areas.
Joshua Tree is a rural area next to the Joshua Tree National Park, which is unpopulated, resulting in the large carriers not seeing the need to enhance their offerings to Joshua Tree.
For example, there have been cases of local carriers quoting as much as $30,000+ to a resident in the Joshua Tree area for a line extension. The expensive costs required for improved connectivity have opened the door to local internet service providers (like Mojavewifi.com).
Local Internet Provider: Mojavewifi
Located in Joshua Tree, Mojavewifi.com is a Wireless Internet Service Provider (WISP) servicing the Morongo Basin, including Joshua Tree, Twentynine Palms, Yucca Valley, and surrounding.
If you're looking for a locally respected internet service provider, Mojavewifi is a strong contender.
| Package | Download Speed | Upload Speed | Price |
| --- | --- | --- | --- |
| Basic | 4 Mbps | 3 Mbps | $29.95 pm |
| Premium | 6 Mbps | 4 Mbps | $49.95 pm |
| Advanced | 8 Mbps | 5 Mbps | $69.95 pm |
| Professional | 10 Mbps | 6 Mbps | $89.95 pm |
| Professional Plus | 10 Mbps | 10 Mbps | $99.95 pm |
Mojavewifi.com has higher speed packages available (up to 25 Mbps up and down); however, they are subject to testing on the client's location.
Internet Options for Remote Work in Joshua Tree
While the average internet connection locally is spotty, some Airbnb hosts have invested in stronger connections to draw remote workers to the area.
The Joshua Tree region has more than 1,000 listings on Airbnb listed as including Wifi. The area consists of Joshua Tree, Yucca Valley, and Twentynine Palms. One Airbnb even promotes fast wifi of up to 164 Mbps, and another up to 192 Mbps).
The abundance of Airbnb listings indicates sufficient availability for remote workers and service providers for Airbnb hosts in the Joshua Tree region.
Summary: Who is the Best Internet or Mobile Option in Joshua Tree?
The good news is there are mobile services and internet connections in the town of Joshua tree and surrounding towns. Please note when venturing into the Joshua Tree National Park, there is limited to no cell service available. Expect to lose any connectivity the deeper you delve into the park.
AT&T & Verizon are the preferred mobile service providers in Joshua Tree. Satellite internet service providers (Hughesnet and Viasat) are your best option for internet connectivity outside of town.
A local wireless internet service provider, Mojavewifi.com, is locally recommended and a strong competitor for the national satellite providers.
---
Frequently Asked Questions
Is there Internet Service in the town of Joshua Tree?
The town of Joshua Tree has internet service from Frontier and Spectrum, although some streets outside the main drag are limited to satellite service. A local provider called Mojavewifi specializes in internet service for homes that are off the grid or otherwise hard to serve.
Is There Cell Service in Joshua Tree National Park?
There is limited mobile signal inside Joshua Tree National Park, with most reliable service near visitor centers and entrance roads. Visitors should not anticipate service for calls of any sort on trails or within the park.