Step-by-step cancellation Return equipment Cut the cord FAQ
Cancelling Cox internet service is a multi-step process which requires phone, store, and UPS visits for most customers.
It isn't an accident on their part; after all, upgrading or adding services can conveniently be done online.
Like most cable companies, Cox simply has a financial incentive to make cancellation, cord-cutting, and plan downgrades difficult. On top of that, they still use contracts to lock-in customers — so get ready to pay an early termination fee up to $120 if you're still in-contract.
With that in mind, this guide will walk you through the process so you can avoid the holdups and get everything done within an hour.
Quick tips
No online cancellations: Cox allows you to schedule your service cancellation by phone or in-store. There is a cancellation option in your online account and in their online chat — but in both cases, the flow dead-ends at a phone number (after suggesting several alternatives to cancelling, of course).
Limited business hours: You can only cancel by phone during Cox's "regular business hours," which are 8AM–8PM and Saturday 9AM–6PM Pacific.
Prorated final bills: Unlike other major cable companies, Cox still prorates final bills. This is good — it means you'll be refunded for days in your final month after you cancellation date.
Cox email addresses: If you are using an @cox.net email address, you will need to transfer your email account prior to cancellation. You cannot keep your Cox email address if you cancel Cox internet service. (Note: Cox stopped offering new consumer email accounts in 2019.)
Cox Cancellation Fees
Cox internet-only plans require contracts for the best prices when you sign up, which means that most customers will have to pay an early termination fee if they cancel before the first 1–2 years of service.

| Cancellation type | Contract requirement | Termination fee |
| --- | --- | --- |
| Internet-only | Contract for best price | Up to $120 |
| Internet, TV | Contract usually required | Up to $120 |
| Internet, TV, Phone | Contract usually required | Up to $240 |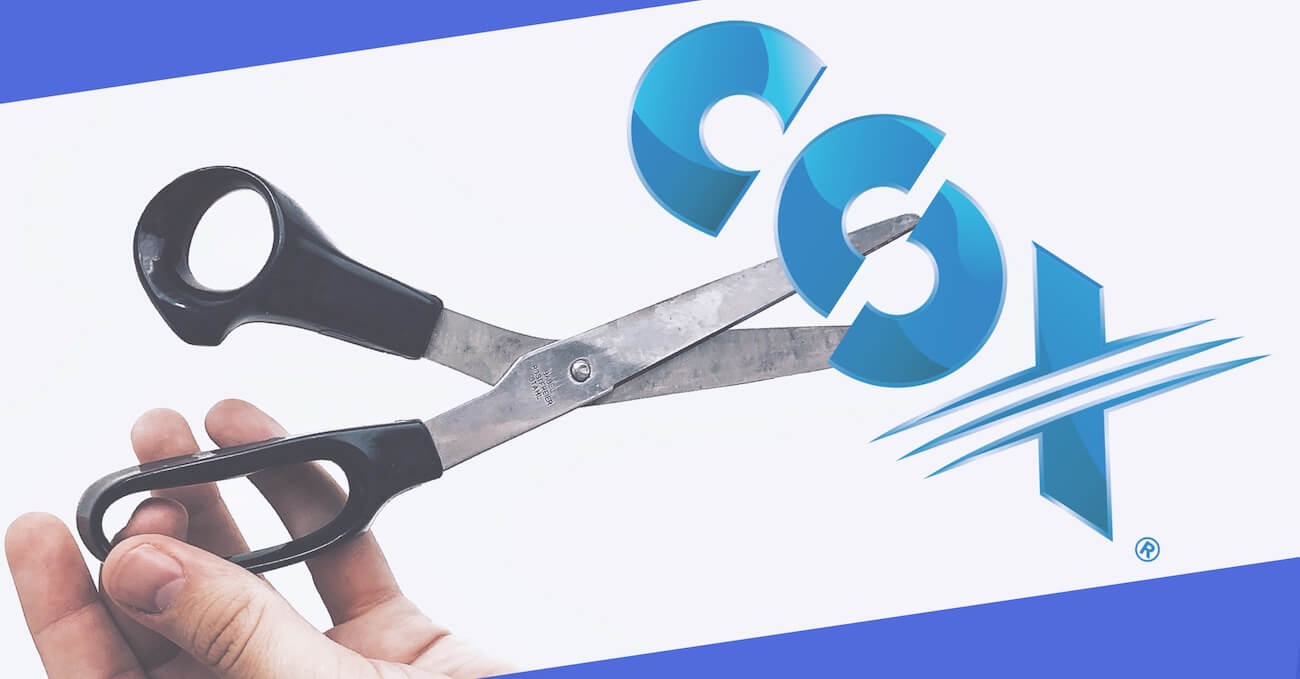 How to Cancel Cox internet service
1. Check if you're under contract
Most Cox plans have 1-year contracts, including basic internet-only plans.
Cox doesn't require contracts on internet-only plans, but they charge an additional $10/month if you want contract-free service.
As such, most customers opt to sign a contract (or simply don't realize there is one while they go through the signup process). In short, it's very likely you're on one.
Customers who cancel before their 1-2 year contract is up have to pay $10 for every month left in the contract — which can add up to a maximum of $120 for a year plan, or $240 for a 2-year plan. You want to be aware of this bill before you cancel, and consider waiting until closer to the end of contract if you're cancelling for a price-related reason like switching to a different internet provider.
The simplest way to check if you have a contract end date for your plan is to review your bill, or ask through the online chat on the Cox website.
2. Settle remaining statement balances
Regardless of your contract status, you'll need to make sure there are no open balances on your account. Otherwise, they're going to use it to delay the account closure process.
You can solve this by simply paying the bill in your online account — let the payment go through before you proceed with cancellation.
3. Notify Cox of your cancellation date
You have two options for notifying Cox internet of your plan to cancel service:
Via phone by calling 1-844-227-3943.
In-person at a Cox Communications storefront.
| Cancellation method | Permitted by Cox |
| --- | --- |
| In-store | Permitted |
| By phone | Permitted |
| Online Account | Not Permitted |
| Online Chat | Not Permitted |
I recommend you opt for the store, because you can simply notify them of your cancellation date, drop off your equipment, and close out any open balances in one visit.
If you opt to notify them by phone, be aware that you have to call during their normal business hours, which are:
Monday-Friday, 8:00AM-8:00PM
Saturday, 9:00AM-6:00PM
Closed Sundays
Important point: Cox prorates final bills. This is actually good, and they're one of the only cable companies that still does it (all the others like Spectrum and Xfinity stopped circa 2019).
Because they prorate bills, be sure to set a cancellation date for the last day you want to receive internet service, not the last day of your billing period. You'll be refunded for the days you don't use service — but if you don't set a specific date, they'll just assume the last day of your billing period and charge you for the full month.
4. Return leased Cox equipment
Most Cox internet customers opt to lease their plan equipment from Cox rather than buy it up-front. This includes the modem, WiFi gateway, and various other items like DVRs, receivers, and etc.
Basically, any box and doo-dad in your house related to internet, you're probably renting it from Cox. That means you have to return it when you cancel service.
You have two options for returning your equipment:
Drop it off at a Cox storefront in person.
Return it by mail via a UPS location.
Note: Cox equipment must be returned within 10 days of your disconnect date, not the final date on your regular billing cycle. Be sure to get a receipt confirming you returned the equipment, whether doing it in-store or by UPS. Otherwise, you could be on the hook for equipment replacement fees.
| Equipment return option | Description | Price |
| --- | --- | --- |
| In-store | Best to ensure no fee disputes | Free |
| UPS | Best for convenience | Free (Cox provides shipping label and packaging) |

How to Return Cox equipment by UPS
Returning your Cox equipment by UPS is simple, although I still recommend you drop off in a store if possible to remove the possibility of any issues with your return process. It's easy to miss a receiver or remote control, and if you return in the store, they'll let you know right there if anything is missing.
Returning in-store also removes the possibility of UPS losing your equipment, or someone on Cox's end mixing it up somehow.
You'll need two things to complete a UPS return:
Packaging for the equipment.
A pre-paid UPS shipping label.
Cox will provide both to you by mail, free of charge. You can request the return kit using the online chat on their website, or by calling their customer service line on your bill. You can also call the Cox store if your area.
5. Check for surprise billings
At this point, you should have completed all the steps above including returning your equipment. You should have:
A receipt proving you returned your equipment (from Cox and/or UPS).
A "0" on your account balance when you log in online.
The last step is to check your credit card or bank statement on the day your account is normally auto-drafted each month, to ensure that Cox has removed any auto-billing.
You should also call them and double check that your balance is zero a few days after the last month of service, just in case any fees have been added related to your equipment returns.
If you find any surprise fees… keep reading for information on how to dispute them.
Cox Communications missing equipment fees
These equipment replacement fee are estimates based on Cox's current rate sheet in 2023, and on write-ins from reader bills. Actual fees vary by hardware type and location.

| Equipment type | Example replacement fee |
| --- | --- |
| WiFi modem/routers | $63–122 |
| Gateway | $122–200 |
| Mini Box | $32 (all models) |
| Contour 1 DVR/accessories | $225–350 |
| Contour 2 DVR/accessories | $125–350 |
| remotes/extendors | ~$15 |
If you lose or fail to return any of the equipment you leased from Cox, you'll be charged for the cost of the equipment after you cancel your account.
The cost of each make and model of modem, gateway, and etc is different. Since it's not published online, I contacted Cox and acquired a full list of each model they currently use, and the fees associated.
How to fight the Cox Early Termination Fee
Quick disclaimer: this is not legal or financial advice, and I am not a legal professional. This is just some information based on my research, and on feedback from the thousands of readers on this website every month.
It's not common, but from time to time you'll cancel your Cox account and wind up with miscellaneous fees that may be errors, such as Cox losing your equipment return, or mistakes, such as auto-billing continuing after closure.
First, be aware that if you fail to return your router and other equipment, it's normal to be charged for it.
Second, be aware that when you sign up for Cox service, the fine print you agree to has a clause which makes sure you can't take any of these claims beyond small claims court.
They permit customers to "opt out" of this within a certain time frame, but by the time customers close their accounts and encounter issues, that time frame will have closed.
Small claims court is actually appropriate for this type of claim though, since it's designed for low-value cases of a few hundred dollars or less. The maximum claim varies by state; however, you're unlikely to get a claim in your favor unless Cox fails to send a representative to contest your claim in court, which is fairly common with large companies.
I wouldn't recommend it personally, but it is an option, although taking it beyond small claims and FCC complaints is not permitted by your service agreement, as mentioned above.
How to Downgrade, Upgrade, or Change Your Cox Plan
Like most cable companies, Cox permits you to perform plan upgrades fairly easily through your online account.
Just keep in mind that you'll be signing up for the "final price" of service for each plan, not the "new customer price" you may have seen advertised or listed on comparison websites.
For example, Cox Gigablast may seem worth it at the advertised $99.99 price, but the actual price for existing customers is $119.99… plus $10.99 per month for the Gigablast WiFi gateway… plus $30 or so for unlimited data, assuming you actually want to use your gigabit connection to its full potential.
Plan Upgrades: Can be done through your online account. Just select "change plan" in the navigation.
Plan Downgrades: Can only be done via phone or in-person at a Cox store, both during normal business hours 8AM–8PM on weekdays.
Downgrading your plan may not be convenient, but it is a good way to save money. Especially if you're paying for a legacy cable TV and phone bundle, "cutting the cord" from non-internet services with Cox is likely to save you $100 or more per month.
However, as mentioned above, the price of an internet-only plan for existing customers is not the price you see advertised online. We actually maintain a database of the final pricing and fees for each major cable company; here are the details for each plan:
Most plans also have a $10.99 per month WiFi fee. Unlimited data costs extra on all Cox plans.

| Plan Name | Contract requirement | Final Price of service |
| --- | --- | --- |
| Cox Internet Essential 100 | No contract | $49.99/mo. |
| Cox Internet Preferred 250 | Contract default | $83.99/mo. |
| Cox Internet Ultimate 500 | Contract default | $99.99/mo. |
| Gigablast | Contract default | $119.99/mo. |
---
Frequently Asked Questions
Does Cox cable internet have a satisfaction guarantee?
Cox Communications terms of service allows customers on most residential plans to cancel for free if they are not satisfied for any reason within he first thirty days of service. This includes internet-only plans as well as TV and phone bundles, and all Cox Homelife-branded product lines.
Does Cox Communications prorate bills?
Cox is one of the only cable companies which currently prorates bills. This is a nice perk for customers who want to cancel without racking up charges for days when they don't use the service in their final month.
Can I remove just TV and keep internet from Cox?
Cox offers a variety of internet-only plans, including a prepaid contract-free basic plan. All Cox plans have sufficient downstream bandwidth to support streaming TV on OTT services like Netflix and YouTube TV.
Does Cox charge a cancellation fee?
Cox places contract requirements or options on most plans, including internet-only plans. It is common for the term to be one year, although some bundles may have longer 2–year terms. Customers who cancel before their contract is over must pay an early termination fee of $10 for each month remaining, which results in a maximum potential cancellation fee of $120–240. In practice, most customers cancel with fewer months remaining and pay more modest double-digit fees.
Is it hard to cancel Cox internet?
Cancelling Cox internet can be time-consuming by phone, since agents may be incentivized to convince customers to pause or reduce their plan rather than fully cancel. The fastest way to cancel Cox internet is to do it in a Cox store, since in-person agents tend to be more concerned with processing your request quickly rather than producing a certain outcome.
Can you cancel Cox internet online?
Cox internet service cannot be canceled fully online at this time. Attempting to cancel using their online chat or account options will result in a prompt to call them during normal business hours, or visit a Cox store location.
What is the Cox retention department phone number?
Cox customers who wish to cancel their service can do so by phone at their Loyalty Department line: 1-800-234-3993. Hours for the Loyalty Department are 8:00AM–8:00PM Monday–Friday, with partial hours 9AM–6PM on Saturdays.