With plans ranging from 25 Mbps to 1000 Mbps, Cox has far more options for budget-conscious seniors than their competitors like AT&T.
After hours of research, I can say that Cox doesn't offer any senior discounts or rates, but they do offer some of the best plans for seniors that I've seen. We think that Cox has a highly varied selection of plans that accommodate seniors who aren't worried about having the fastest possible internet speeds.
In the article below, I broke down the plans I think are best for seniors, as well as some steps that anyone looking to reduce their Cox bill could take.
Summary of Recommendations
Best for most seniors: Essential 50 Plan
Best for seniors on a budget: Starter 25 Plan
Best for seniors with a kid in the house: Connect2Compete Plan
Starter 25 Plan (for seniors on a budget)

Cox's best budget plan is ideal for any seniors looking to save some money who aren't all that interested in getting the fastest internet speeds available. This is the "slowest" plan Cox offers, making it the cheapest.
The plan is $29.99/mo and offers speeds up to 25 Mbps. While technically "high-speed internet," this plan is only ideal for seniors looking to browse the web or use do basic online tasks (email, social media). This plan requires a Cox-supported modem and will tack an extra $12/mo onto your bill since they are technically leasing you the special equipment. Additionally, the current promotional rate will expire after a year of contract use and the price will move to $44.99/mo plus any other fees that normally show up.
Connect2Compete (for seniors with a k-12 student in the home)

Requirements to apply for Connect2Compete
Since Connect2Compete is primarily a program to allow kids academic opportunity to compete with their peers (hence the name), having a student in grades k-12 is essential to qualify. If you have a child living in your household in those grades, you must also meet one of the following requirements:
NSLP
SNAP
LIHEAP
WIC
Head Start
TANF
Public Housing
As I mentioned, it's not super easy to qualify for this program. Still, if you happen to have a grandkid living with you who is on a government assistance program listed above, you have the ability to apply.
Connect2Compete's features
Although it's not available for the vast majority of seniors, Connect2Compete does have some decent offerings. For starters, the plan is $9.95/mo and offers speeds of up to 50 Mbps, depending on the location. At 50 Mbps, you can surf the web, watch online videos, and use a few devices at the same time. The plan doesn't have a contract option, and it comes with free modem rental.
Low-cost computers
Additionally, Connect2Compete offers the ability to buy low-cost computers for families who qualify. It's a nice benefit, but remember, it doesn't apply to everyone. For families looking for low-cost internet, this might be a great option.
Specialized internet training classes for seniors
Apart from the physical offerings, Cox also offers internet training classes through their Digital Academy for seniors or students who want resources on how to navigate the web.
It's fairly easy to apply and you can do so through their online portal.
Essential 50 Plan (best for most seniors)
If you're a senior who isn't on a strict budget and you don't have a child in the home, the Essential 50 Plan is probably your best bet. It's inexpensive and provides the basic speeds needed for a basic internet user, senors included. This plan would be ideal for seniors with 1-3 people in the home and allows for streaming movies, using the web, and browsing social media. With its slightly lower speed, it probably isn't ideal for anyone with lots of devices (a Wi-Fi-based home security network, smart home appliances, or others) since it would likely get bogged down.
The Essential 50 Plan starts at $39.99 for the first 12 months and bumps up to $65.99 once the promotional year is over. In addition to the basic costs, there is a $12/mo fee for modem rental as they recommend their specific technology to guarantee their "Panoramic Wifi." This plan also includes a security service to keep your network safe.
Preferred 150 Plan (best for seniors with larger homes)
Not all seniors need 150 Mbps for their home, but for those who do, Cox has some options. They advertise it as "good for students," and it makes sense. For any seniors with older kids in the house who love to use the internet, it probably wouldn't hurt to bump up from their 50 Mbps plan. This plan is ideal for tech-savvy seniors, households with lots of devices (home security or smart devices), or homes with lots of users. For example, a 90-minute movie would take around 3 minutes to download on the 50 Mbps plan any only 45 seconds on the 150 Mbps plan.
The Preferred 250 Plan starts at $59.99/mo and offers speeds of 250 Mbps. After 12 months, the bill is bumped to $83.99/mo once the promotional has ended. Like the others, this plan has a $12/mo fee for modem rental to ensure their promoted speeds. Aside from the internet itself, the plan also offers a security suite to help keep your network secure.
Affordable Connectivity Program vs Cox Connect2Compete
When reviewing Cox's low-cost plans, it's important to understand the difference between the two main programs active in 2023: Cox's Connect2Compete program and the Emergency Broadband Benefit (EBB).
The Affordable Connectivity Program is a federally-funded program in response to Covid-19. It offers a $30/mo reduction on internet plans with participating internet providers. It does not apply to all plans, but generally brings your billing down to around $30 per month. Cox is offering this program as a way to discount their internet services. This program is a continuation of the "Emergency Broadband Benefit" program developed during the first two years of Covid-19. If you were enrolled in the Emergency Broadband Benefit, you automatically receive enrollmenet in the Affordable Connectivity Program.
Cox Connect2Compete is a low-income assistance program run exclusively by Cox. While EBB applies to anyone with income issues, Connect2Compete is only for families with low incomes (near the poverty level) and small children.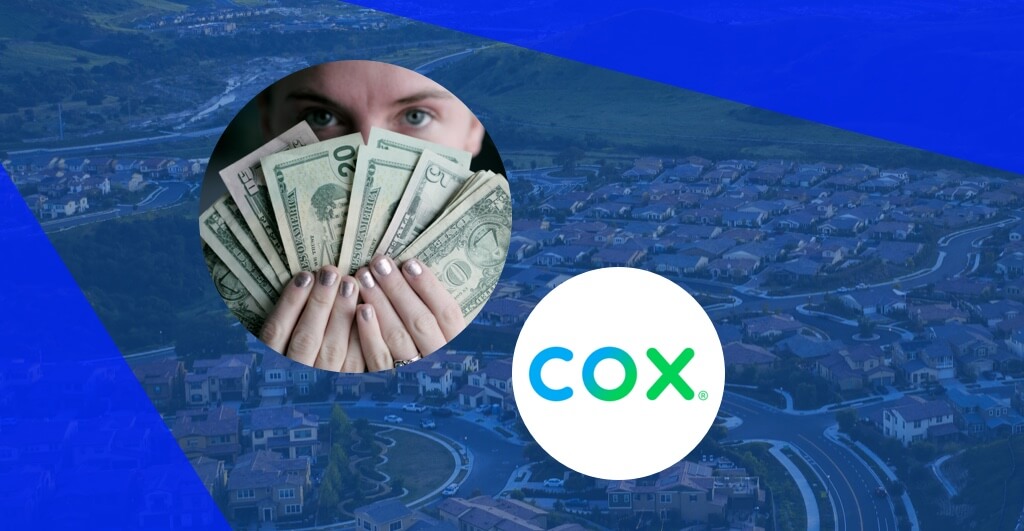 Tips to get the cheapest Cox rates as a senior
While things are pretty straightforward when looking through Cox's internet options, let's go over a few things to keep in mind that could save you some money or some headaches.
All of their pricing is conditional on a 1-year contract. Cox uses 1-year-long contracts to confirm business and their promo pricing offers $10/mo off the standard price.
All of their pricing goes up after a year. Even with a contract, the price of the service increases after the first 12 months. Current price increases are shown in the table at the top of this page.
Everything is localized. Internet price, availability and potential discounts are all regional. Make sure you use their online address tool to make sure you can get service or to see any regional promotions being offered.
Cox offers specialized tech support through their Cox Complete Care Program.
You can refund your service within 30-days if you've signed a one-year contract. Otherwise, it will cost a $120 flat fee.
---
Frequently Asked Questions
Does Cox Cable offer any senior discounts for their internet service?
Cox Cable doesn't offer any senior discounts or deals for their internet service. Does Cox offer a low-income internet plan?
Does Cox offer a low-income internet plan?
Cox offers a low-income plan to those with a student in grades k-12 enrolled in government assistance programs like SNAP. They also provide a budget-friendly internet plan that anyone can purchase.
Does Cox have Fiber internet?
Cox only offers fiber internet to business customers. However, this is scheduled to change as the company is engaged in a large fiber to the home network build scheduled for 2025.