AT&T 2nd-year prices AT&T fees AT&T pricing sheet Why did my bill go up? FAQ
AT&T Internet price changes after 12 months
AT&T applies a flat $20 discount to fiber internet-only plans, and a flat $10 discount to DSL or IPBB plans.
The discount times out after the first 12 months of service, at which point the prevailing rate for service applies.
Note that advertised pricing is before adding the $10 per month WiFi gateway leasing fee, which raises the effective price by $10 on all plans, regardless of sign-up discount.
Fed up with AT&T price increases? Switch providers today.
Enter an address to view alternative internet companies in your area. Spectrum, Xinity, and Earthlink are the most common alternatives to AT&T.
Actual rates of AT&T Internet by plan
| Plan name | Advertised 1st-year price | 2nd-year price including WiFi fee | Price difference |
| --- | --- | --- | --- |
| AT&T Fiber Internet 1000 | $60/mo. | $90/mo. | $20/mo. |
| AT&T Fiber Internet 500 | $45/mo. | $75/mo. | $20/mo. |
| AT&T Fiber Internet 300 | $35/mo. | $65/mo. | $20/mo. |
| AT&T Internet 25 | $45/mo. | $65/mo. | $10/mo. |
The AT&T Fiber 1000 plan costs $80 per month after the first 12 months of service. Including WiFi fees, the final bill is typically $90. New customers can sign up for $60 ($70 including fees), at a $20 per month discount for the first year.
The middle-tier AT&T Fiber 300 plan costs $65 per month after the 12 month new customer discount expires, for a total bill of $75 including the WiFi fee. The final cost is 44% higher than the $45 advertised price for new customers.
The base AT&T Fiber 300 plan increases to a cost of $55 per month after the first year of service, which adds up to $65 per month including WiFi fees. The final price represents a relatively large 57% increase on the $35 per month (pre-fees) sign-up rate, which is currently AT&T's most affordable consumer-grade plan.
AT&T alternatives like Earthlink and Ziply Fiber expanded rapidly in 2021, thanks to increased demand for fast home internet during Covid-19.
As a result, you might be able to cut off AT&T and switch to a faster, cheaper internet provider.
Call our partner BundleYourHome for live help choosing the cheapest Spectrum alternative. Their agents can compare options at your address and advise which is best for your needs.
Get Help Switching Now
In summary, the final cost after first-year discounts of each AT&T internet-only plan, including the WiFi equipment fee, is:
Fiber Internet 1000 (940 Mbps plan) standard rate including equipment fee: $90/mo.
Fiber Internet 500 (500 Mbps plan) standard rate including equipment fee: $75/mo.
Fiber Internet 300 (300 Mbps plan) standard rate including equipment fee: $65/mo.
Internet 25 (25 Mbps plan) standard rate including equipment fee: $65/mo.
AT&T Internet pricing including fees
There are three fees you need to be aware of that affect the actual cost of AT&T internet-only service:
WiFi equipment leasing fees
Installation fees
Cancellation fees
WiFi fees add $10+ to all plans
The main fee that drives up AT&T bills at this time is their $10 per month WiFi gateway leasing fee. You'll see this as an "Equipment" line item on your monthly bill.
The AT&T WiFi equipment fee effectively adds $10 to all internet bills. When you see the advertised $35 price for their base 300 Mbps plan, for example, the fiber print below the price disclosures the additional fees, per FTC requirements: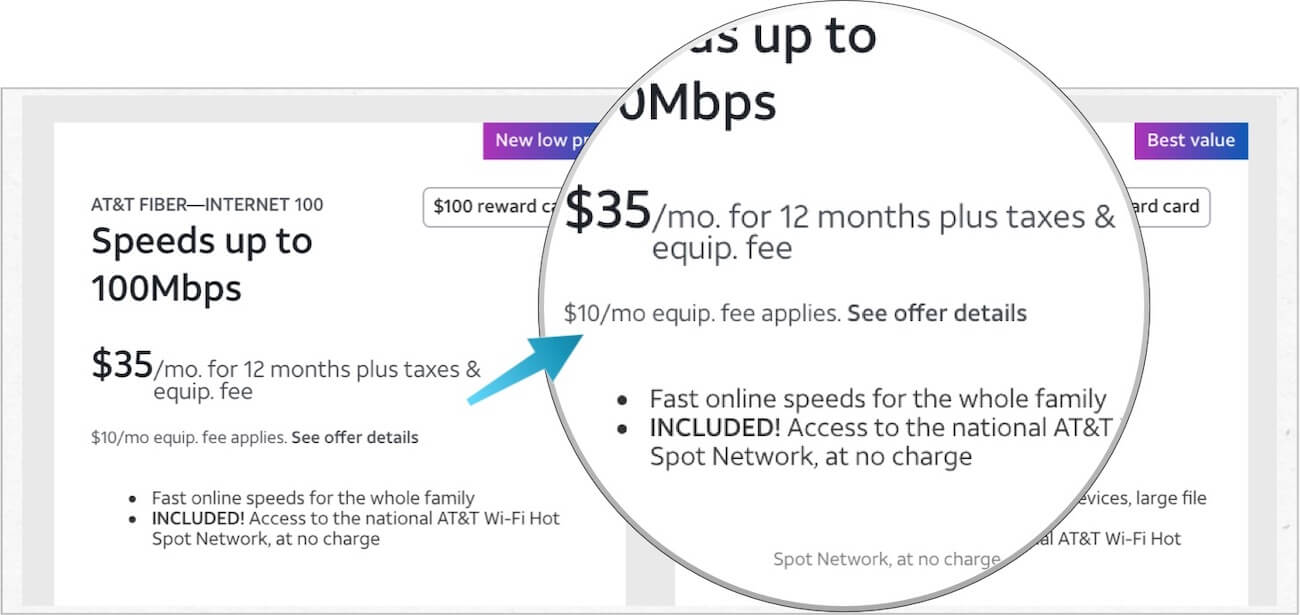 While the FCC has passed laws prohibiting internet providers from charging WiFi-related leasing fees to customers who use their own equipment1, AT&T currently gets around this requirement by not permitting customers to use their own equipment at all — to be fair, this is pretty common with fiber providers, but still a nuisance.
Installation fees: add $99 to the first bill for most plans
AT&T charges a standard $99 installation fee for new customers, so you can expect that your first bill will be $99 higher than following bills. You can be refunded for this fee if you cancel in the first 15 days.
This fee is often waived if you sign up online rather than over the phone, but it depends on if your address already has an ONT (Optical Network Terminal) installed or not.
If you don't see the fee waived when signing up online, it's also worth calling and requesting the fee be removed, particularly if your home or apartment is already wired for AT&T Fiber (e.g. if the last tenant used it).
It's not guaranteed, but in some cases a sales agent can waive the installation fee in order to get you signed up. However, if they have to send a truck to install the ONT on the side of your house for first-time fiber service at the location, arguing out of the fee is less likely to work.
Cancellation fees: only for contract plans
Generally, the amount charged on your first and last bill will be higher than your standard month-to-month bills. When you cancel, this is because cancellation fees come into the picture.
I've written up a full guide to cancelling AT&T internet service and all the fees involved here.
In summary: to their credit, AT&T does not charge a blanket "cancellation fee" or "disconnect fee" like some of their competitors (*cough* Frontier).
They do charge early termination fees for TV plans, though, which can put you on the hook for as much as $360. It's prorated based on how much time is left in your contract, at a rate of $15 per month.
Termination fees no longer apply to AT&T internet-only plans as of 2021, though some legacy DSL customers may see fees if cancelling service prior to the second half of 2021–2022.
AT&T TV bundle pricing after 12 months
AT&T currently has removed the requirement for 2-year contracts on AT&T TV plans.
This means that you get a less favorable sign-up rate for TV, but you don't have to guess what the price will be over several years as a customer. While there are some caveats, such as unlimited DVR being removed for month-to-month plans, I think this is a good PR move for AT&T and will reduce customer complaints.
Month-to-month set rate plans are now the default when you order AT&T internet and TV online. They do allow you to select a two-year contract to access a lower first-year rate… but for most customers, the month-to-month plan is a better deal long term.
AT&T DirecTV bundles are still subject to high rate hikes in the second year, but as that service is run standalone it's beyond the scope of this post. I'll update and add a guide to DirecTV pricing in a future article.
AT&T TV programming costs drive higher prices
Legacy U-verse TV and DirecTV customers can expect that the programming cost line items on their bills will go up annually or semi-annually.
These fees vary widely from place to place, particularly for regional sports fees and other regional programming costs.
AT&T maintains a very detailed support page on this topic.
The summary is: if you want a satellite bundle, you'll pay programming fees. You will be warned of the fee changes by email around mid-year, and the price changes usually go into effect in January.
Programming fees will typically add $6–25 to the price of your plan, depending on how many add-ons and what tier your bundle is.
Why did my AT&T internet price go up?
For many AT&T internet customers, the second-year price change comes as a surprise.
In short, if you're confused why your internet bill went up, the reason is that you no longer qualify for their standard $10–20 new customer discount.
Because the final price is buried in the fine print when you sign up, customers frequently sign up without realizing that the price they see advertised in large print is not the actual price of service, minus discounts and plus fees.
The final price of each internet-only plan is effectively $30 more than what you see advertised, once you factor in the removal of the new customer discount and the addition of the required $10 WiFi equipment fee.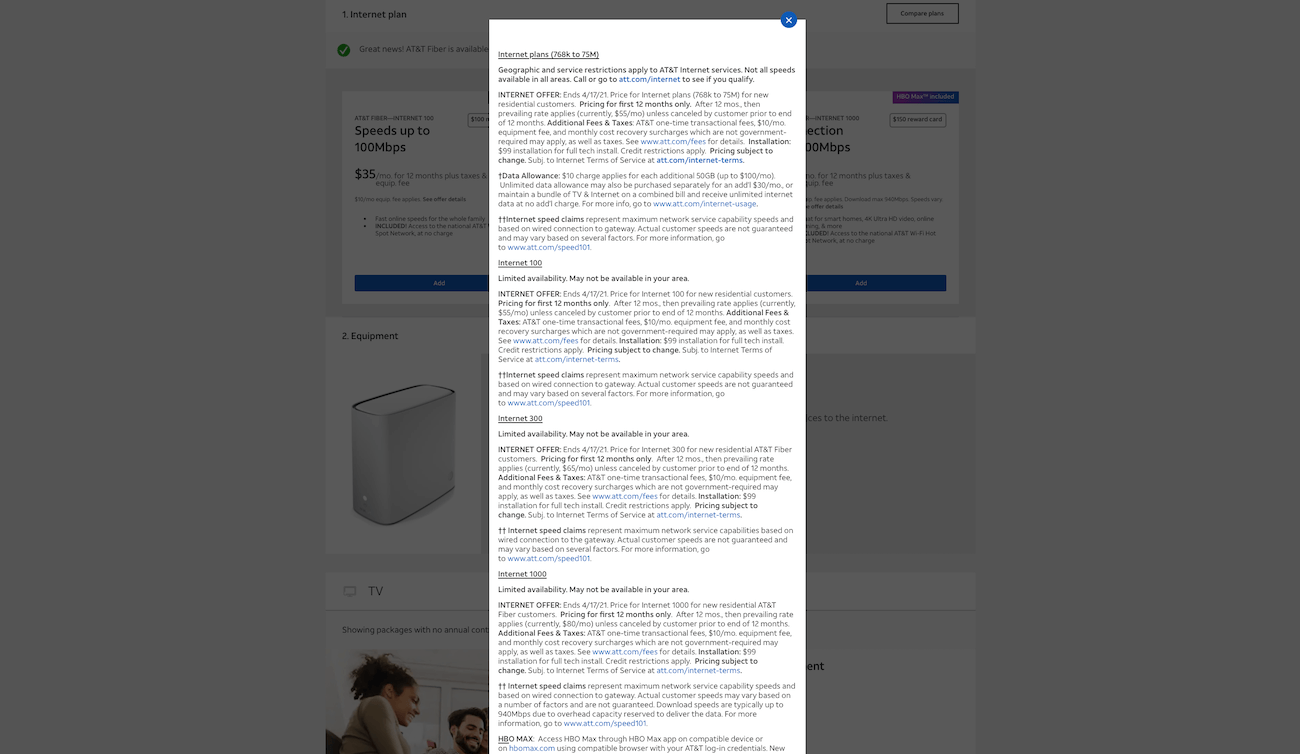 AT&T TV plans are also subject to regional licensing and programming fees, which essentially means that AT&T is passing down the cost of maintaining access to regional sports, live TV, and etc down to the customer when their price to access that content changes.
Handling TV fees as variable add-on line items allows them to make consistent income minus costs from subscribers. Otherwise, their net profit per user would vary annually based on the fees they pay for particular sports and other paid programming (which is to say, the majority of cable TV content) and (likely) negatively impact shareholders.
Summary: AT&T promotional and average pricing
Ultimately, you should consider two prices when comparing AT&T internet to other options — the the average price over two years and the final price after new customer promotions expire.
Here's a summary of the entry, 2-year average, and final price for each AT&T internet plan on the market:
AT&T Internet-only final and averaged prices
The main issue with new customer pricing isn't the price change, but the difficulty in comparing AT&T to other providers. Reference these prices when comparing to their common competitors like Spectrum and Cox.

| Plan name | 1st-year price | Average price over two years | Final price |
| --- | --- | --- | --- |
| AT&T Fiber Internet 1000 | $60/mo. + $10 fees | $70/mo. + $10 fees | $80/mo. + $10 fees |
| AT&T Fiber Internet 500 | $45/mo. + $10 fees | $55/mo. + $10 fees | $65/mo. + $10 fees |
| AT&T Fiber Internet 300 | $35/mo. + $10 fees | $45/mo. + $10 fees | $55/mo. + $10 fees |
| AT&T Internet 25 | $45/mo. + $10 fees | $50/mo. + $10 fees | $55/mo. + $10 fees |
---
Frequently Asked Questions
How much is AT&T Fiber Internet 300 after 12 months?
The advertised cost of AT&T Fiber Internet 300 is currently $35 per month. After the first year of service, the $20 discount is removed, pushing the price up to $55 per month. The required WiFi equipment fee also adds $10 to the bill, for an effective final cost of $65 per month.
How much is AT&T Fiber Internet 1000 after 12 months?
The gigabit-speed AT&T Fiber 1000 plan offers a $60 per month rate for new customers. After the first year, the discount is removed and a prevailing rate applies (currently $80 plus a $10 WiFi fee, for an effective final cost of $90 per month).
How much is AT&T TV after the first year?
AT&T TV currently offers month-to-month service at a flat rate which does not change in the second year of service. They also offer two-year contract plans, in which case the first year price is reduced to $55.99 for base packages and increased to $93 per month in the second year. Programming fees and premium channels may add additional costs.
Why do AT&T internet prices go up after 12 months?
After 12 months, AT&T removes the new customer discount rate for existing AT&T internet customers. Removing the discount raises the price of AT&T internet by $10–20 for internet-only customers, or up to 55% in price increases for AT&T TV customers.