AT&T Internet 300 Access from AT&T AT&T Entertainment TV Entertainment Package + Fiber 300
AT&T is quickly moving into the fiber space, and they offer a wide range of speeds. I've spent three hours conversing with AT&T representatives and researching the fine print on the company's website to try and find you the best deal, whether you're low-income, looking for a simple internet plan, or want to add television to your lineup.
Here are the cheapest AT&T plans I was able to find and confirm:
AT&T Internet 300
Access from AT&T
AT&T Entertainment TV
Entertainment Package + Fiber 300
I'm going to show you the pros and cons of each of the plans to help you make a decision on the best level of service for you.
I'll also explain a federal benefit program later on that could lower your monthly cost to near-zero.
The cheapest internet plan: AT&T 300 Mbps Internet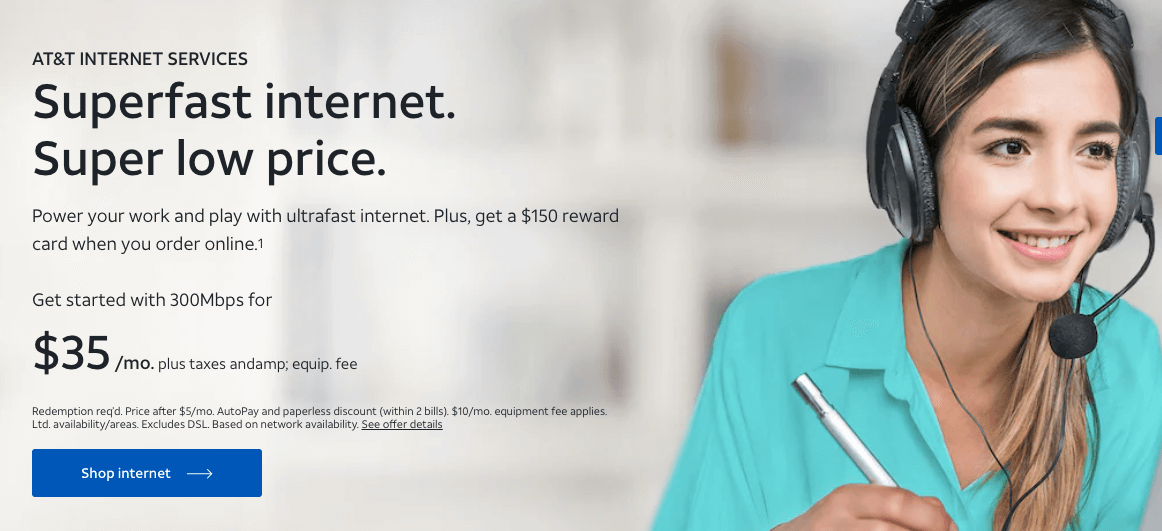 At just $35 per month for the first 12 months, AT&T's 300 Mbps plan (Mbps is megabits per second, and it's one of the most common units of speed measurement) is the cheapest plan the company offers.
As its name suggests, the plan features speeds of up to 300 Mbps download and upload, which is fast enough to handle 4K streaming on a large television, internet browsing on all of your devices, and gaming online too. You probably won't run into many issues with speed here, but it's worth noting that you're paying for up to 300 Mbps, which means that your speed could be considerably lower.
Now, there are a few fees that you need to remember as you pursue this deal. Though $35 per month is a great price for the speeds, you're going to have to shell out up to $99 if you don't want to self-install for free. On top of that, you'll have to pay a $10 per month equipment fee if you don't purchase a third-party router, as well as any applicable taxes.
Lastly, expect the price of your plan to go up significantly — up to $65 per month — after the first 12 months. That's a price increase of 57%, which is a lot. However, $65 per month for 300 Mbps down and up is still a good price if you can afford it.
However, when you sign up for this plan online you get a $150 Visa gift card that an AT&T representative told me could be used toward your monthly bill. If you want to save even more, you should purchase your own Wi-Fi modem and router and install your internet yourself.
The low-income internet plan: Access from AT&T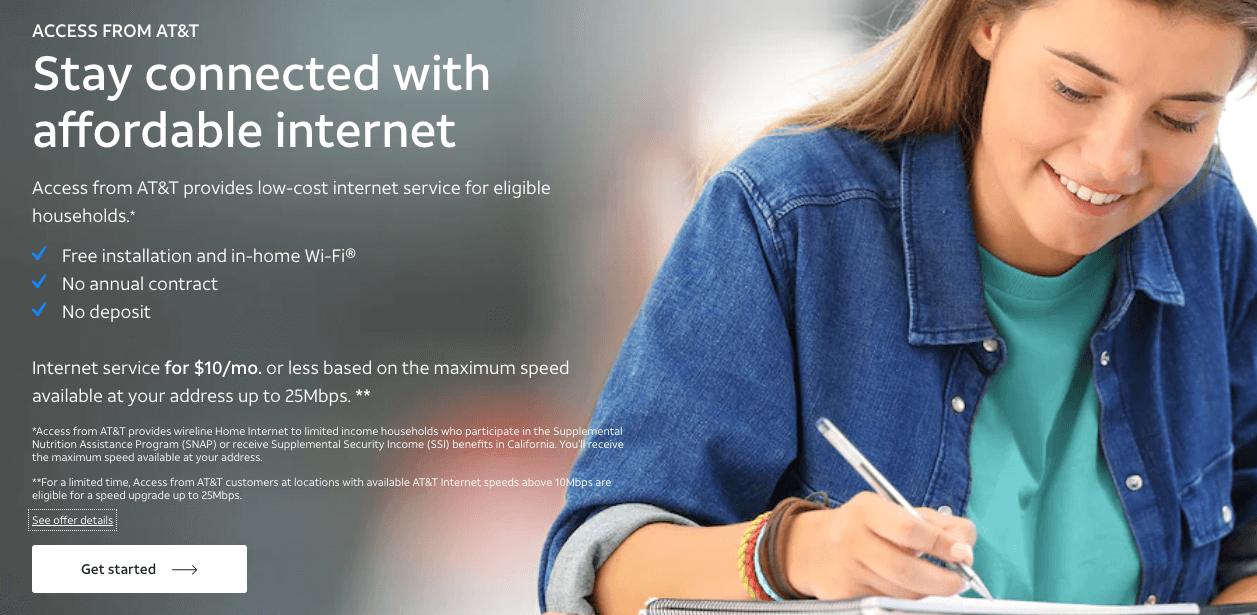 Access from AT&T is the program that AT&T uses to get low-income customers connected to the internet. It is a solid, no-frills offering that gives users access to internet speeds of up to 25 Mbps download and 5 Mbps upload for just $10 per month.
And while those speeds aren't stellar, they are good for the price. 25 Mbps will allow a small family of, say, four people, to connect their phones to the internet, stream video on a television in high definition, and browse the internet on a couple of computers at the same time.
However, it's upload speeds where you might run into trouble. If you stream or game on Twitch or more than one person is making a Zoom call in your home at a given moment, it may be the case that you experience slower, lagging internet because of the low speeds.
That said, if you're looking for a plan that is easy to start and doesn't have a lot of hassle to it, this is a good one. You're not going to have to pay for installation or a Wi-Fi-enabled router, and you don't have to sign a yearly contract or deposit money to get started. Once you're connected, you're connected — there's nothing more needed.
So how do you get connected? First, review AT&T eligibility criteria as listed on the internet provider's website. To connect, you'll need to receive benefits under the Supplemental Nutritional Access Program (SNAP), receive Supplemental Security Income (this benefit is for California residents only), have a household income that is less than 135 % of the national poverty level, or have a child that takes part in the National School Lunch and Head Start programs.
Keep in mind that two of these qualifiers — the income qualifier and the National School Lunch and Head Start programs — are only temporary. AT&T expanded eligibility during the coronavirus pandemic, and though it's obviously not clear when the health crisis will be over, AT&T is careful to note that these qualifiers will go away when all is said and done.
Additionally, AT&T is temporarily waving data overage fees for Access customers, but don't expect that to last. On this plan, you get between 150 gigabytes and 1 terabyte of data included, and every 50 additional gigabytes is $10 extra — so keep an eye on both your data usage and your bill.
Once you determine that you're eligible and want to sign up, head over to the Access from AT&T website and click on the "Get Started" button to take part.
The cheapest television-only plan: DIRECTV Entertainment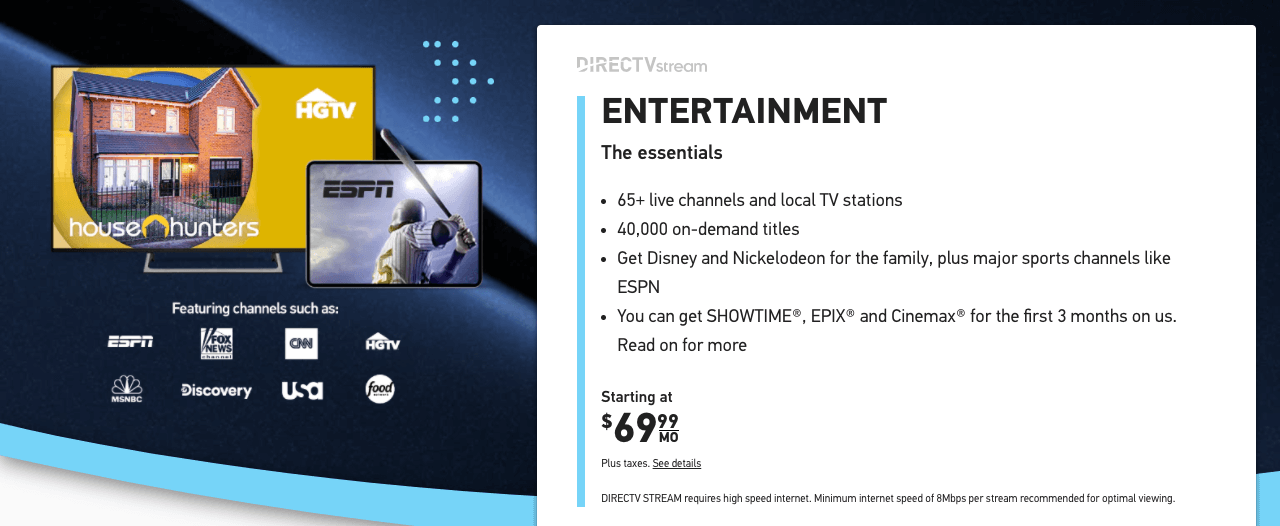 DirecTV Entertainment is the cheapest plan AT&T offers through its partner. Through it, subscribers can get more than 65 channels and 40,000 on-demand movies and shows. On top of that, DirecTV is throwing in three premium channels — Showtime, EPIX, and Cinemax — completely free for the first three months.
The channels included in this plan are pretty good, and will probably work well for most moderate television watchers. If you're a sports fanatic, you can get in-market games, games on ESPN and ESPN 2, as well as the NBC Sports Network. However, if you're big on the NFL, you're going to have to upgrade to DirecTV Choice to get NFL Sunday Ticket.
Once you sign up, you'll be able to access all of your favorite shows through DirecTV's menu interface (as opposed to a streaming box).
All of these benefits will cost you $65 per month plus taxes and fees (which I'll go over in a moment) for the first year, then $102 per month after the introductory period expires.
Now, a bit about the fees you'll face: If you choose to have your bills mailed to you, you'll have to pay a monthly fee of $5. Luckily, that fee can be waived simply by setting up paperless autopay. If you choose to have a professional install your DirecTV Entertainment package (which you don't have to do), you can tack on an additional $99 to your first bill.
Additionally, prepare to pay a $20 activation fee, sign a one-year contract, and pay an early termination fee of $20 for every month remaining on your plan.
If you don't have high-speed Wi-Fi (AT&T recommends at least 8 Mbps down for optimal performance), you should probably consider upgrading. If you don't yet have any internet services, consider bundling internet and television — I'll walk you through your options in the next section.
The cheapest television bundle: Entertainment Package + Fiber 300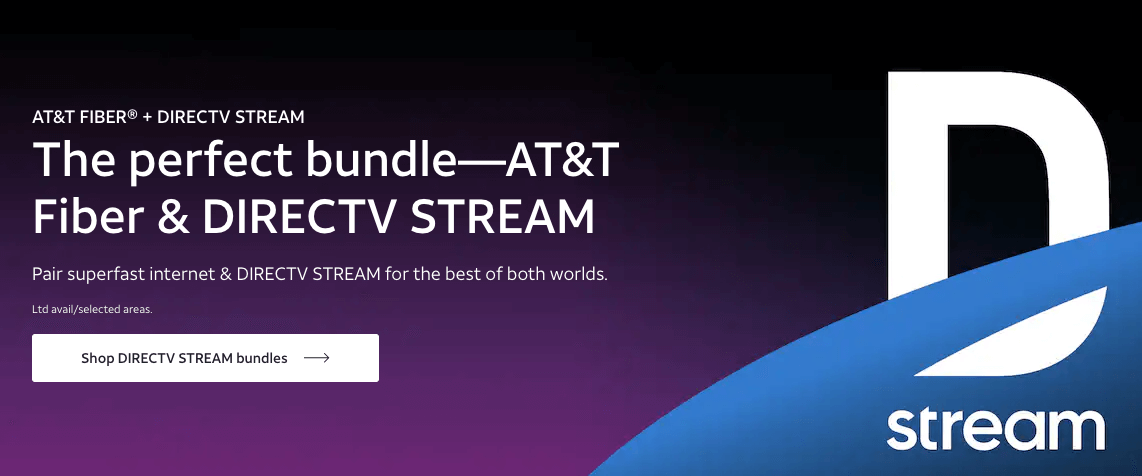 When it comes to AT&T and DirecTV's Entertainment Package bundled with Fiber 300, there's really nothing particularly unique here.
DirecTV's Entertainment Package with Fiber 300 offers internet speeds of 300 Mbps down and up with over 65 different channels like ESPN, Cartoon Network, and Comedy Central. This is the cheapest plan the two companies offer, and the biggest difference you'll see when you bundle these two services is a $200 coupon applied to your service, which will take approximately six weeks to arrive at your home and can be used to lower the price of future bills. When I ran a test purchase, I found that AT&T offered me an additional discount card with promo code "ACTNOW."
As far as fees and your monthly bills go, expect to pay a $10 Internet Equipment fee if you decide to rent a modem (you don't have to), and about $110 per month after that. Once you've had your service for 12 months, you'll pay nearly $170 per month.
Keep in mind, though, that speeds and plans are dependent on your location. If you happen to live in a market that has not yet received fiber services, you may have to pay as much as $45 per month for internet that is much slower.
And since this program is a partnership between AT&T and DirecTV, it's possible that either internet or television services will not be available at your home. The best way to know if you're eligible is to put your address into an AT&T service address checker, which will show you all the plans that you have to choose from.
---
What discounts does AT&T offer?
AT&T is one of the more generous internet providers I have come across in my research when it comes to discounts. However, all of AT&T's discounts are for customers who receive their phone service through the company.
Members of the military, teachers, nurses and physicians, and first responders: AT&T currently offers phone plans with unlimited data for at least $26.25 per month when they purchase four or more lines. You can find out more about that here.
Seniors: For seniors who are members of the American Association of Retired Persons (AARP), AT&T offers a monthly discount of $10 per phone line when you sign up for AT&T Unlimited Elite with 5G access. To find out more about AT&T's senior discount, go to their website here.
Union members: When you show an authorized AT&T salesman your union membership, you'll have the opportunity to take advantage of the company's discount for the AT&T Unlimited Elite service. That is, a monthly discount of $10 per phone line when you sign up. You can find out more about that discount here.
General discount: On top of all those discounts, it's possible that AT&T offers further discounts to your employer. Type in the name of your employer here to find out if you are eligible to save even more money.
Lifeline: the cheapest AT&T plan possible
AT&T participates in Lifeline, a program instituted by the Federal Communications Commission that gives eligible low-income individuals a $9.25 monthly subsidy to help lower the monthly cost of internet service.
To apply, first check that you meet the FCC's requirements. In order to qualify, you must either:
Have a yearly income that is "135% or less than the federal poverty guidelines" or "you or someone else in your household" must participate "in one of the following federal assistance programs:
Supplemental Nutrition Assistance Program (SNAP), formerly known as Food Stamps
Medicaid
Supplemental Security Income (SSI)
Federal Public Housing Assistance (FPHA)
Veterans Pension and Survivors Benefit
Tribal Programs (and live on federally-recognized Tribal lands)"
When combined with Access from AT&T, you could see your monthly costs drop to less than a dollar before any applicable taxes and fees.
To sign up, head over to the dedicated Lifeline section of AT&T's website.
What is the cheapest internet plan per Mbps?
AT&T offers a large number of different internet plans across its sizable network.
The company's internet speeds range from below-megabit speeds (which is only good for email, some social networking, and other low-bandwidth activities) to gig speeds (which can handle just about anything you throw at it, and the prices of AT&T's faster internet are generally pretty good.
In my opinion, 300 Mbps is the sweet spot at only $35 per month for the first twelve months. However, fiber networks are generally very limited and it's possible that you don't receive service in your area. To be sure, check out AT&T's address search function to see which plans AT&T offers at your home.
*Prices vary, but these are the most common prices pulled from test addresses on the west coast.

| Plan | Price | Price per Mbps |
| --- | --- | --- |
| AT&T Internet Basic 768 | $45 per month | ~$45.00 per Mbps |
| AT&T Internet Basic 1.5 | $45 per month | $30.00 per Mbps |
| AT&T Internet Basic 5 | $45 per month | $9.00 per Mbps |
| AT&T Internet 10 | $45 per month | $4.50 per Mbps |
| AT&T Internet 18 | $45 per month | $2.50 per Mbps |
| AT&T Internet 25 | $45 per month | $2.25 per Mbps |
| AT&T Internet 50 | $45 per month | $0.90 per Mbps |
| AT&T Internet 100 | $45 per month | $0.45 per Mbps |
| AT&T Fiber Internet 300 | $35 per month | $0.12 per Mbps |
| AT&T Fiber Internet 500 | $45 per month | $0.09 per Mbps |
| AT&T Fiber Internet 1000 | $60 per month | $0.06 per Mbps |
Conclusion: Is AT&T worth it?
AT&T offers internet speeds ranging from extremely slow to hyper-fast, and the high-speed plans are priced competitively. The company is attempting to keep growing in the ultra-competitive internet and television space, so they offer many attractive introductory deals and discounts, but you'll want to keep an eye on your bill because price increases can be substantial.
In my three hours researching this article and asking questions of AT&T representatives, I found the company's customer service and tech support specialists to be friendly and helpful. If you have any issues with your service, I'd recommend contacting them on their 24/7 chat helpline.
---
Frequently Asked Questions
Does AT&T have low-income assistance plans?
Access from AT&T is the company's low-income internet plan. Access offers download speeds of up to 25 Mbps and upload speeds of up to 5 Mbps for only $10 per month with no contracts or installation fees.
Does AT&T offer discounts?
AT&T offers numerous discounts on certain phone service plans for seniors, first responders, nurses, physicians, teachers, and union members.
What is the cheapest AT&T internet-only plan?
AT&T 300 Mbps is the cheapest internet-only plan at just $35 per month. For low-income individuals, Access from AT&T is the cheapest at $10 per month.
Are there any federal programs I can take advantage of?
Xfinity takes part in the Federal Communications Commission's Lifeline program, which provides $9.25 in monthly subsidies to qualifying individuals.