Fiber Internet 50/50 Ziply Fiber Lifeline Pricing Fiber Internet 200/200 Fiber Internet 50/50 + Landline
After spending four hours researching their plans and pricing, I can confirm that Ziply doesn't offer senior discounts based on age alone.
However, they do have some of the best fiber plans that I've seen on the market, and a workable low-income plan with allowances for low-income seniors.
Fiber providers like Ziply are a good pick for seniors because they provide simpler equipment than cable and DSL companies, and the price is almost always lower.
I've listed some of the best plans for seniors and excluded others (like their gigabit plan) since many seniors won't need those kinds of speeds. I've found that most families don't notice the difference between 500 Mbps and 1,000 Mbps internet service in daily use.
For seniors looking for reliable and stable internet, their 50/50 plan doesn't offer "too much" internet and overcharge for it. $20 per month is cheaper than the "low income" plans offered by some cable companies, and I don't expect the price to last long once Ziply gets more established in the Pacific Northwest.
Here are some of the best reasons to go with Ziply as a senior:
Their internet is the "goldilocks zone" for seniors. Not everyone needs blazing speeds (and the cost that comes with it). Ziply's packaging is reasonable and, as a result, really affordable.
They are running some great promotions. Currently, you can get a month of service free, and your installation fee is waived when you sign up. Altogether, that's at least $150 in savings.
Ziply is a pure fiber network. Fiber-based networks are faster and more stable than traditional copper-wire internet. Ziply is spending millions to extend fiber in the Pacific Northwest in 2021–2023.
They don't require long contracts to get service. Month-to-month service means you don't have to worry about termination fees if you move.
There are also a few drawbacks to be aware of with Ziply as a senior:
After 12 months, the promotional pricing will disappear, and your bill will go up. The current non-discount price for their base plan is $40 — double the discount rate.
They do not offer much in the way of traditional TV service. If you want a regular cable experience, you should check your address for Xfinity plans.
Let's go through the plans that Ziply offers and the best ones seniors should be considering. I'll also include some general tips when considering Ziply as your provider and some things to look out for.
Ziply Fiber Plan Details for Seniors
With price usually being the most important factor when considering internet service, Ziply is an excellent option for seniors. They are inexpensive, fiber-based, and offer a low-income program that seniors can qualify for. Let's go over some of the specifics that Ziply offers.
What is fiber?
Ziply operates off of a fiber network, and it's valuable to know what that is before you use their services. Fiber-based networks use new technology (fiber optic cables) to allow for faster internet speeds. The traditional networks used copper wires, which deliver slower speeds and more downtime.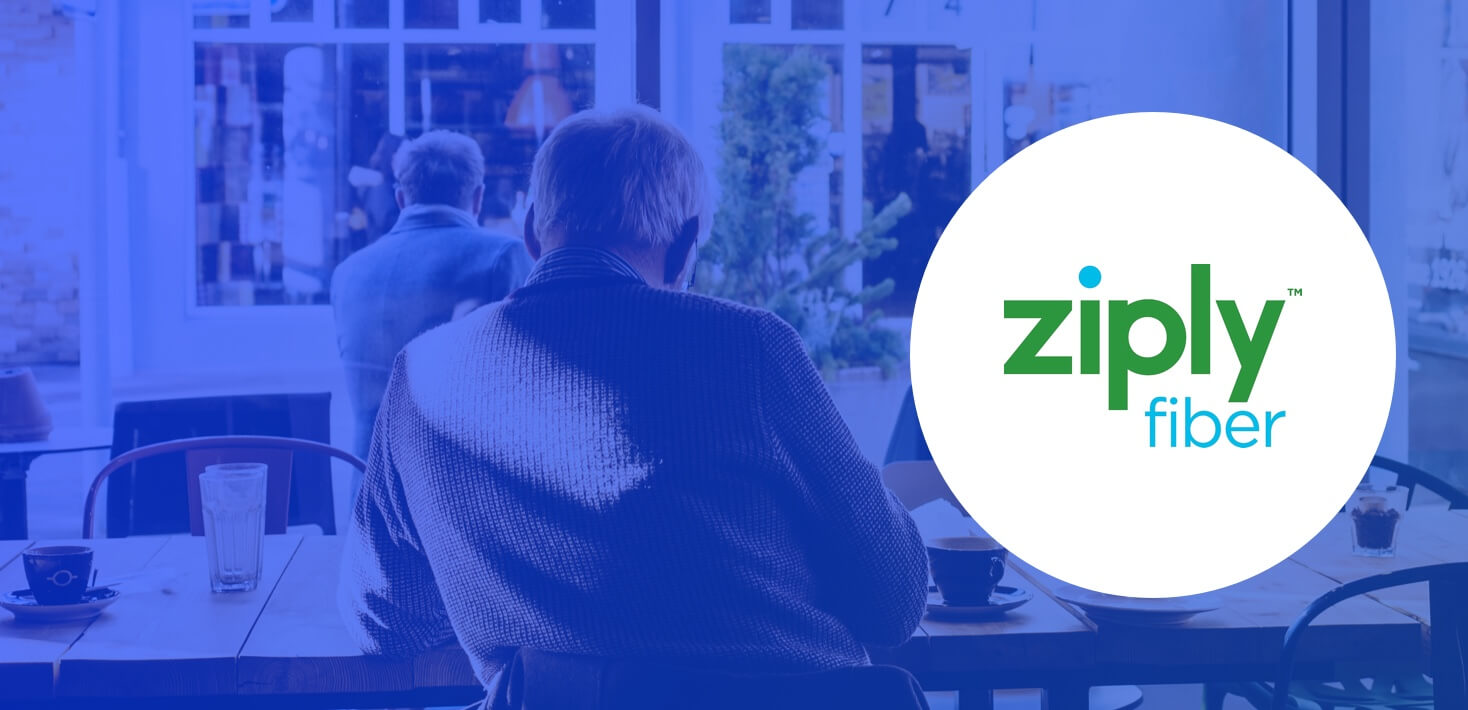 1. Fiber Internet 50/50 (best for most seniors)
Most fiber companies begin their pricing and speeds at 200 Mbps and go up from there. Ziply offers something unique with their 50/50 plan. This is their entry-level fiber option and it's a great plan for any senior who wants fiber-based internet at an incredibly affordable cost.
The 50/50 Plan offers speeds of 50 Mbps (upload and download). This is ideal for surfing the web, watching movies and videos online, and video chatting with family.
Ziply claims up to 4 users at a time without lag or buffering. That estimate squares well with our bandwidth use measurements.
This plan also comes with free activation and a free month of usage. Something to note is that this plan (as well as the others) requires an additional $10/mo for Wi-Fi equipment. Additionally, the plan isn't contractual, but it will increase in price after 12 months.
Overall, this plan is the cheapest Ziply deal, as well as the lowest cost plan for the speed in their service area. The only comparable plan is Xfinity's 50 Mbps plan, which has the same entry price, but increased to a higher final rate and offers just one tenth of the upload speed.
2. Ziply Fiber Lifeline Pricing (best for seniors with low or fixed-income)
Ziply offers a reduced-cost internet plan for those who meet the qualifications through their Lifeline Program. Lifeline offers internet at $9.25/mo with no contracts and no installation fees, but it isn't available for everyone. Let's go over the requirements to qualify for Ziply's Lifeline Program.
How to qualify for Ziply's Lifeline Program
The Lifeline Program is a federally funded program that offers phone and internet services to low-income households. Since the program is federally funded, anyone looking to apply must do so through an online portal specific to each state.
There are two ways to qualify for the Lifeline Program
Income-based qualification
Program-based qualification
Let's go over these in a bit more detail:
1. Income-based qualification
For a household to meet the threshold for income-based qualification, it must be at or below 135% of the poverty line. The specific number changes each year, but this is the current cutoff point federally: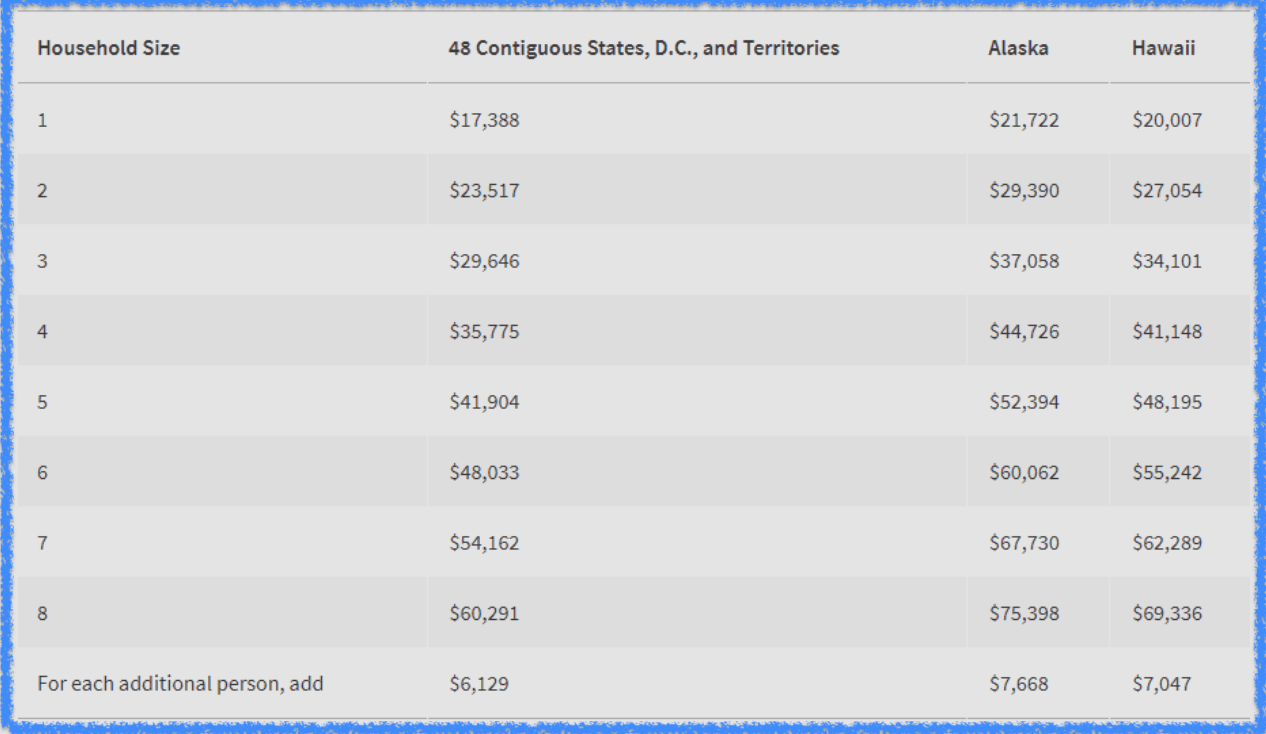 If you fall within the threshold, you need to show proof of income through pay stubs or tax returns.
2. Program-based qualification
The Program-based qualification is a bit more specific. There is a list of approved federal programs that, if enrolled, give you access to apply for Lifeline.
Here's the list:
SNAP (formally known as food stamps)
Medicaid
Supplemental Security Income
Public Housing Assistance
VA Pension Programs
Like the income-based qualification, you need to provide paperwork to prove you are enrolled in one of the programs. Also, it's important to note that if anyone in the household is enrolled in any one of the programs, it qualifies the entire household. For those with kids living in the house, that could mean the difference between qualification or not.
Lifeline Program Features
The Lifeline Program offers internet at a reduced rate but at the cost of reduced speeds. The plan offers 25/3 Mbps (25 download and 3 upload). While this isn't "blazing fast internet," it will certainly get the job done when it comes to basic internet usages like online shopping or web surfing.
Overall, the Lifeline Program is a decent option for seniors who happen to qualify, but I recommend the 50/50 plan to any senior who can afford it.
Emergency Broadband Benefit vs. Lifeline Programs
A common question asked is, "What is the difference between EBB and other low-income programs?" Let's quickly break them down.
EBB is a temporary fund that helps provide internet to people affected by covid-19. It was enacted to give people access to the internet during a time when the world was working from home. Essentially, EBB is a $50 credit that takes money off an existing internet bill. The Lifeline Program isn't a credit; it's a plan all on its own.
There are two important things to know about EBB and Lifeline:
EBB is temporary and will end when the pandemic is declared over.
You can use the EBB credit to reduce any plan, including the Lifeline Program. However, I recommend using it to fully cover the 50/50 plan since it's higher speed for the same price (free with EBB).
3. Fiber Internet 200/200 (best for seniors with a large household)
While the starting 50/50 plan will be ideal for nearly all seniors, there are still be some cases where seniors want faster speeds. Ziply offers a faster version of their 50/50 plan that is perfect for anyone looking for an upgrade in speed, or for those with larger households.
The 200/200 plan offers 200 Mbps upload and download and costs $40/mo. The plan is ideal for any seniors looking for a performance increase in their house, or for seniors with larger households (lots of grandkids watching videos on their phones, for example). With 200 Mbps, you can have multiple people video chatting, surfing the web, and downloading simultaneously.
The plan includes free installation and the first month for free. It also requires a $10/mo fee to lease a Ziply Fiber router to ensure your network is operational. Additionally, the plan isn't contractual, but the promotional pricing will increase after 12 months of service.
4. Fiber Internet 50/50 + Landline
Like most internet service providers, internet isn't the only thing Ziply offers. They also provide phone service as an addition to their fiber network. You can bundle the two together through their website and secure a phone line for only $10/mo. Since many seniors value having a home phone, this is a great option.
The plan can be customized, but I went with the 50/50 internet plan for this example since it provides the best value in terms of billing.
With the 50/50 internet package plus the phone line, it will cost $30/mo + $10/mo for the equipment fee. Apart from the services, this plan offers free installation, activation, and one month for free that the other packages offer. All in all, this is a pretty inexpensive service bundle that seniors can consider.
Tips for saving money on Ziply Fiber internet service
If you decide to go with Ziply, here are a few things that could make your life a lot easier:
1. Watch out for expiring discounts
Although Ziply doesn't use contracts, they do use promotional rates. After 12 months, you can be reasonably certain that your bill will go up.
2. Ask for free installation
They offer free installation and activation but only during promotions. If they aren't currently offering it, it's worth it to call and negotiate it as part of your package. They also offer refunds if you cancel the service within 30 days of usage, although you'll have to return the router you leased from them.
3. Be sure to enroll in autopay, because paper billing costs extra
All of the pricing on their website (and on our table) shows the rates when you enroll in paperless and autopay billing. Without paperless and autopay billing, expect an additional $6 to be tacked onto your monthly bill.
4. Set a reminder to cancel any "free" streaming services included in your package
They include a streaming service in all internet plans that goes up in price after 90 days. For every package, they offer Peacock for free only for the first 90 days. After that, expect an additional $4.99/mo for the service unless you call and cancel.
---
Frequently Asked Questions
Does Ziply Fiber offer any senior discounts or rates?
While Ziply Fiber doesn't offer any senior discounts or rates based on age alone, they do participate in the Lifeline Program for low-income households. Seniors with incomes near their state poverty line can qualify for $10 per month basic internet service. Seniors can also qualify through participation in programs including Supplemental Security Income or VA Pension benefits.
Does Ziply Fiber offer landline phone service?
Ziply Fiber offers landline phone service as an add-on for their internet plans. However, it is only a true POTS landline for their DSL customers. Customers who purchase their newer fiber internet services will get a digital voice connection (Voice over IP), which is the standard offering from cable and fiber companies. The only difference you'll notice is that it is cheaper than an analog landline, and will not function if the electricity goes out like a traditional landline.
How do you qualify for the Ziply Lifeline Program?
There are two ways to qualify for the Ziply Lifeline Program. The first is to be at or below 135% of the poverty line. The second is if you or a member of your household are currently enrolled in one of the following programs: Medicaid, Supplemental Security Income, VA Pension Programs, or assisted meal programs like SNAP.
What is the best Ziply Fiber plan for seniors?
Ziply's 50/50 Fiber Plan is ideal for seniors because it offers reasonable 50 Mbps speeds that match the average senior household usage. The pricing is lower than average for this plan at $20–40 per month, making it a good fit for fixed-income households and those living on pensions.