Ziply offers one of the fastest symmetrical gigabit plans in the northwest. But is it worth the extra $20–40 each month?
The short answer is, yes — but only if you have three or more people using the connection, and you tend to do a lot of high-bandwidth activities like 4K streaming, uploading content to Twitch and YouTube, working out of a home office, or otherwise "power using."
Here's how the gig plan stacks up in terms of speed and price:
*Promotional price expires after first year of service

| Plan Name | Download | Upload | Promo Price* | Final Price | Details |
| --- | --- | --- | --- | --- | --- |
| Ziply Fiber Internet Gig | 1000 Mbps | 1000 Mbps | $60/mo | $80 | View Plan |
Otherwise, the average household of 1–2 people in an apartment or duplex will be more than satisified with the mid-range 100/100 plan.
The downloads of this plan are comparable to basic cable internet from competitors like Xfinity, but with about ten times the upload speed offered by cable companies:
*Promotional price expires after first year of service

| Plan Name | Download | Upload | Promo Price* | Final Price | Details |
| --- | --- | --- | --- | --- | --- |
| Ziply Fiber Internet 100/100 | 100 Mbps | 100 Mbps | $40/mo | $60 | View Plan |
Ziply also has a baseline 30/30 plan, which we'll cover below. Let's get into the numbers so you can make an educated decision:
Summary of Recommendations
Ziply Gig is worth the upgrade if you have more than three people in your home and often depend on strong uploads for online classes, video chat, or moving large files. The high-bandwidth connection is well-suited to large home theater setups and easily supports 4K to multiple widescreens.
Ziply 100/100 is $20/month cheaper, but has just 1/10th of the speed both down and up. However, this is still enough for two or even three users to stream, work from home, etc. provided that they have a well-configured WiFi setup and use ethernet cables when possible to maximize bandwidth.
Set Up Service
Call to order

: (833) 438-1049
Spectrum Gig Pricing Breakdown
When you think "fiber," you probably think "gigabit." Ziply, however, offers three different speed tiers for fiber internet:
| Plan Name | Down/Up | Promo/Final Price | Avg price over 2 years | Price increase |
| --- | --- | --- | --- | --- |
| Fiber Internet Gig | 1000/1000 Mbps | $60/$80 | $70/mo. | +33% |
| Fiber Internet 100/100 | 100/100 Mbps | $40/$60 | $50/mo. | +50% |
| Fiber Internet 30/30 | 30/30 Mbps | $20/$40 | $30/mo. | +100% |
The most common choice here is between the Gig and 100/100 plan, because honestly 30 is a bit low for most people. (Great budget option for single apartments or older users, though.)
All Ziply plans use "new customer pricing," meaning that the price you pay during the first year increases to a higher rate after 12 months.
This chart shows how the price between Gig and 100/100 compares during and after the initial promo period:
All three plans come with three WiFi router options:
Whole Home WiFi: mesh WiFi setup with a personalized install process.
Basic WiFi: one WiFi router lease.
No WiFi: you can skip the router fee altogether and just use your own.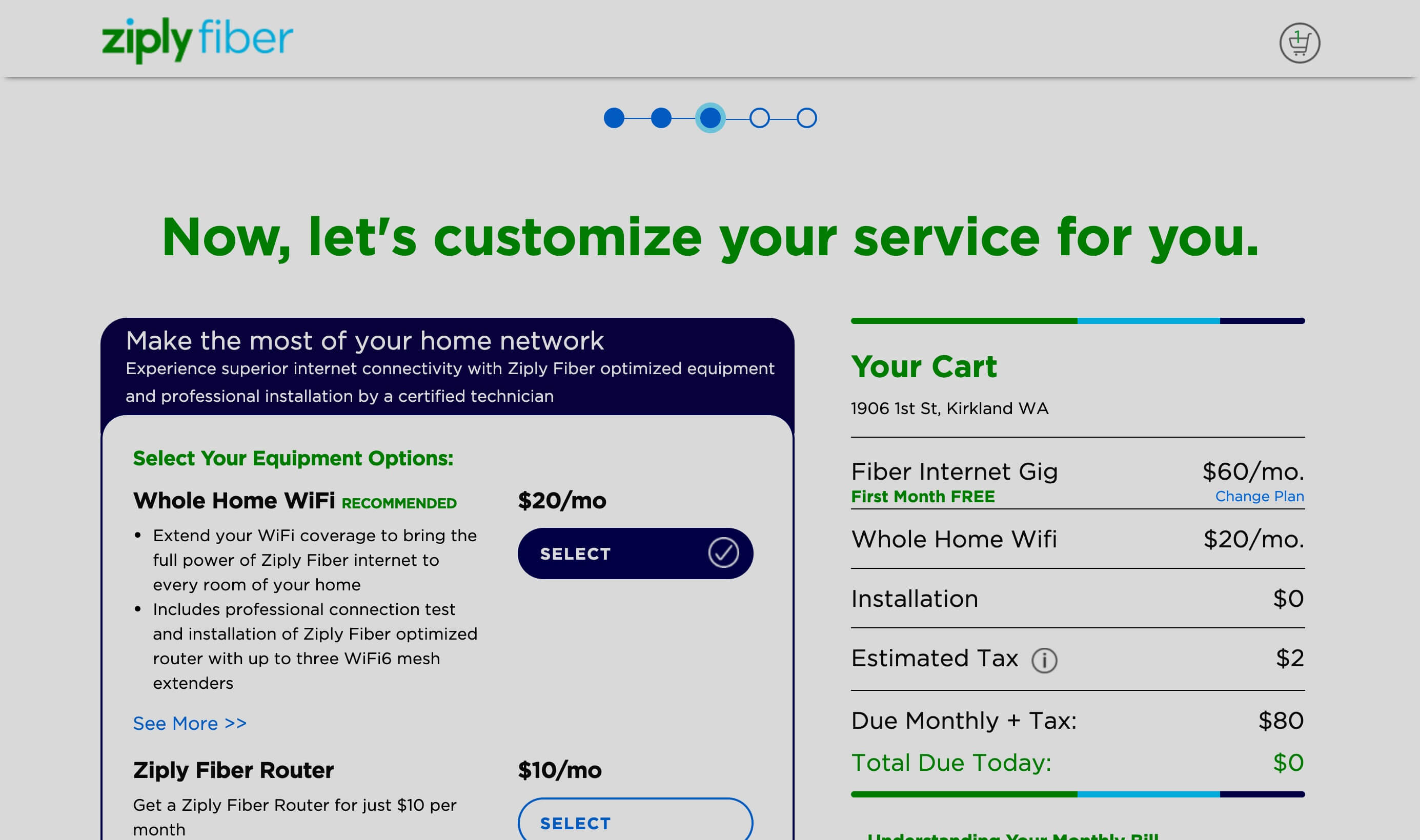 Accounting for the basic WiFi fee, the Gig price increases by $120 over the year (or $240 if you go for the premium setup!).
Here's how the Gig and 100/100 plan compare, with the router fees included:
Is Gigabit speed really that big a deal?
Gigabit speeds make a big difference for three types of users: home offices, power users, and large family homes.
Home offices should absolutely get the gigabit connection, because it's going to increase your productivity enough to be easily worth an extra #20/month. This is especially true if you work with video or other large files. However, even basic teleconferencing will work more smoothly on a gig connection, especially if you have family members using the internet at the same time.
Couple that works from home? Not even a question, just get gig in this case.
Large family homes should consider gig because it'll eliminate issues with streaming to multiple devices. While 100/100 is enough for streaming 4K to 3–4 screens, in practice once you account for WiFi issues and always-on devices like home security cameras, the bandwidth goes fast in a family home.
If you have four or more people using the connection, we recomend Ziply Gig over Ziply 100/100.
Will Gig be better than 100/100 for gaming?
Gamers will have equivalent experience on a Ziply gigabit and Ziply 100/100 connection. With gaming, the thing that really matters is latency or "ping," meaning the time it takes for your movements to reach the remote server.
Ziply 30, 100, and Gig plans are all fiber-to-the-home, so the latency should be the same regardless of plan. However, gamers should ideally get the 100 plan over 30, to avoid long wait times for game downloads or issues on cloud gaming platforms like Stadia.
---
Frequently Asked Questions
Is it worth switching to Ziply?
Ziply Fiber is worth the switch if you're coming from a connection with slower uploads like cable or DSL. As a new brand, they are competing heavily on price and investing $500 million into fiber network upgrades to improve the network in 2022–2023.
How much does Ziply Fiber cost?
Ziply has three fiber plans, with pricing that ranges from $30–80 per month. Gig service is currently sold for a $60 promo rate, but it goes up to $80 after the first year. To be fair, though, this is still cheaper than the gig plan offered by their primary competitors, Spectrum and Xfinity.