Fees and fine print Compare plans
Many Spectrum customers don't even know Sonic is an option, and assume that the only other option is AT&T.
Sonic resells internet service over AT&T lines. This means that instead of buying AT&T internet, you purchase through Sonic, and get their improved customer service. In some areas, they also control the hardware used to provision service over the line, resulting in stronger performance than going with AT&T directly.
The pricing is generally equivalent to AT&T, although Sonic oddly requires you to take a landline phone with all plans. So, it's not a strictly "internet-only" service.
Spectrum vs Sonic Internet Basic Features
| Feature | Charter Spectrum | Sonic Internet |
| --- | --- | --- |
| Starting price | $49.99/mo. sign-up price | $39.99/mo. sign-up price |
| Download speed range | 300–1,000 Mbps | 10,000 Mbps |
| Upload speed range | 10–35 Mbps | 10,000 Mbps |
| Network type | Cable | Fiber |
| Contract terms | Contract-free | Contract-free |
Spectrum vs Sonic Data Usage Policies
It's common for internet providers to use data caps to manage their networks. However, this can result in extra fees if you use too much data in a given month.
Spectrum does not have data caps in California. Sonic offers unlimited plans with no data caps.
Spectrum and Sonic both have pro-consumer policies when it comes to data caps. However, it's worth mentioning that Spectrum has been applying to have data caps added back to plans. They were previously not allowed to cap plans as part of their merger agreement with Time Warner Cable in 2016. 1 That requirement will time out within the next couple years, and it's possible that Spectrum may add caps back at that time.
Charter Spectrum Data Caps

Spectrum offers internet plans with unlimited data
Sonic Internet Data Caps

Sonic offers internet plans with unlimited data
Spectrum vs Sonic Net Neutrality Policies
Sonic has an established pro-Net-Neutrality stance, as well as being a staunch supporter of consumer privacy. They've run into trouble for this in the past, for example when refusing to hand over data about a WikiLeaks volunteer using their service in the Bay Area without also alerting the customer. 2
Spectrum has a more lukewarm stance on the topic, as described in their official disclaimer linked below.
Charter Spectrum Net Neutrality Stance
Charter Communications has public statements supporting open networks, but in practice has been applying to remove network management requirements imposed by the FCC during their merger with Time Warner Cable.
Spectrum Net Neutrality statement
Sonic Internet Net Neutrality Stance
Sonic is one of the loudest pro-Net-Neutrality voices among US internet providers. The company has actively taken steps to protect user privacy and preserve Net Neutrality.
Sonic Net Neutrality statement
Spectrum vs Sonic Pricing and Fees
See the table below for an overview of how common add-on fees compare for Spectrum and Sonic plans.
| Fee | Spectrum | Sonic |
| --- | --- | --- |
| WiFi equipment fee | ~$5/mo. | ~$10.00/mo. |
| Price increases | Bill increases after promo period | Bill increases after promo period |
| Early Termination Fee | Free cancellation | Free cancellation |
Note that fee amounts described above may vary by plan tier and location.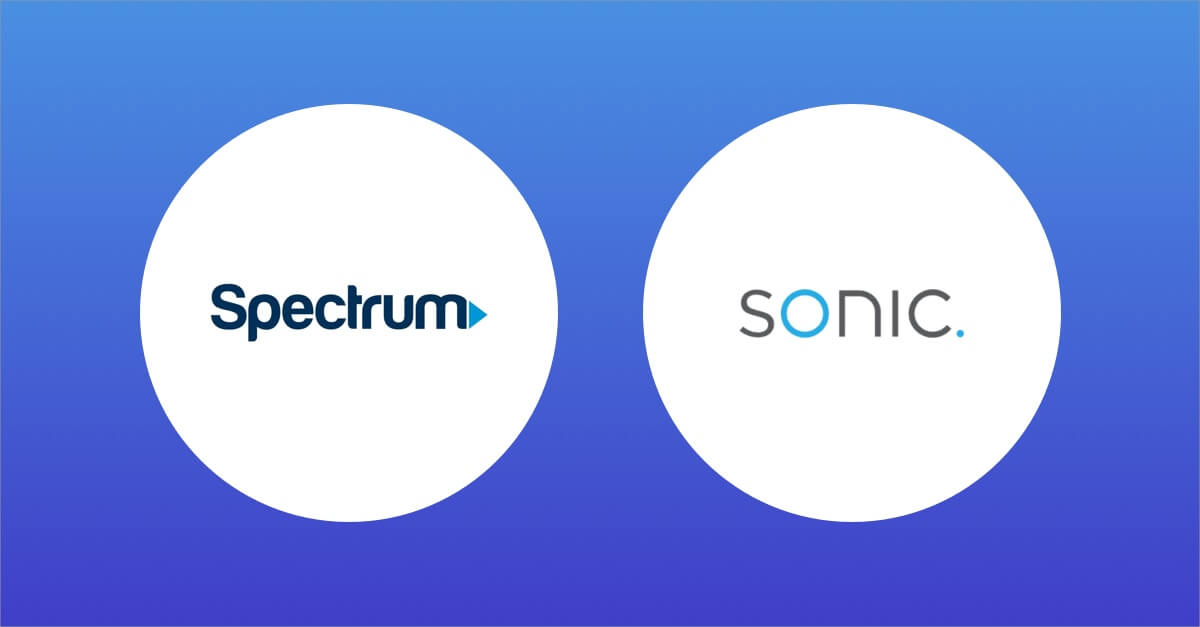 Spectrum vs Sonic Internet-Only Plan Comparison
Spectrum Internet Plans
The 300 Mbps plan is Spectrum's most common plan (may be 100–200 Mbps in some areas). Keep in mind that Spectrum pricing rises after the first year. So, the price you sign up for might not look so appealing in the long run. This is common, and Sonic uses the same pricing strategy.
| Plan Name | Download Speed | Promo Price | Final Price |
| --- | --- | --- | --- |
| Spectrum Internet | 300 Mbps | $49.99/mo | $79.99 |
| Spectrum Internet Ultra | 500 Mbps | $69.99/mo | $99.99 |
| Spectrum Internet GIG | 1000 Mbps | $89.99/mo | $119.99 |
Sonic Internet Plans
In the areas where they overlap with Spectrum, Sonic plans are almost always DSL delivered over AT&T's network. While they offer fiber in some areas, all their fiber coverage is in Northern California outside of Spectrum's network area, so we're not including those plans in the comparison here.
| Plan Name | Download Speed | Final Price |
| --- | --- | --- |