Plan Recommendations HughesNet vs Viasat Rural Alternatives
California gets rural quickly outside major metro areas like Los Angeles and San Francisco. If you can't get DSL from a telephone company like AT&T or Frontier, you're likely to be stuck with satellite internet.
In California, that means you're choosing between HughesNet and Viasat.
Recommended satellite plans in California
Keep in mind that satellite internet should only be considered if no wired or fixed-wireless options are available, since it has higher prices and lower data allowances compared with traditional cable or DSL.
You can check for fixed wireless providers by plugging your address into the FCC broadband coverage map, or check out our alternate recommendations for rural California below.
HughesNet's entry-level 25 Mbps is the absolute cheapest satellite internet option currently available in California with speeds of at least 25 Mbps. It costs $59.99 per month, plus a one-time activation fee of $99 and a $14.99 per month equipment leasing fee (including the router and dish).
That averages out to $79 per month over two years. However, you can reduce the cost further by purchasing the dish and router up-front from HughesNet when you sign up. The cost of equipment is about the same as two years of leasing, so assuming you're a customer for 2+ years, you pay a flat $59.99/month for the rest of the 7–10 years expected life span of the equipment.
The limitation of this plan is the low data cap: 10 GB is extremely low, only enough for 20 hours or so of SD video streaming, or 120 hours of standard web browsing (email, Reddit, etc).
We still recommend this plan for 1–2 users with basic internet needs, because HughesNet is very flexible about plan upgrades. If you need more data in a particular month, or want to get a plan with more data, you can switch plans with no penalty each month, similar to a mobile plan.
View HughesNet Plans
Viasat's Unlimited Silver 25 plan costs as low as $100–120 per month in some parts of California, with a $30 per month discount for the first three months. That makes the cheapest average monthly price $106.25 for the two-year contract period, including the $10 per month equipment lease. Some zip codes have higher pricing for this plan up to $150 per month.
The plan name is a bit misleading, since the data isn't technically unlimited. Like all satellite internet plans currently on the market, it has a "soft limit" on data usage. For this plan, once you use 60 GB in any 1-month period, it'll lower your performance to prioritize other users.
However, 60 GB is enough for basic home use including some video streaming, and is six times more than the basic HughesNet plan. Viasat's "unlimited" plans have much better terms than HughesNet currently, and your speed won't actually drop at all if you're not in a heavily subscribed area.
This plan is the best "middle of the road" option for a home with 1–3 people who expect to be able to watch Netflix and video chat without running into throttling halfway through the month.
View Viasat Plans
Hughesnet vs Viasat overall features
At a high level, Viasat is the premium option while HughesNet is the backup, at least in California.
HughesNet's only real differentiation right now is that they have very simple pricing with no "games" like prices that change from month to month. Viasat, on the other hand, uses "promotional pricing" to lure new customers.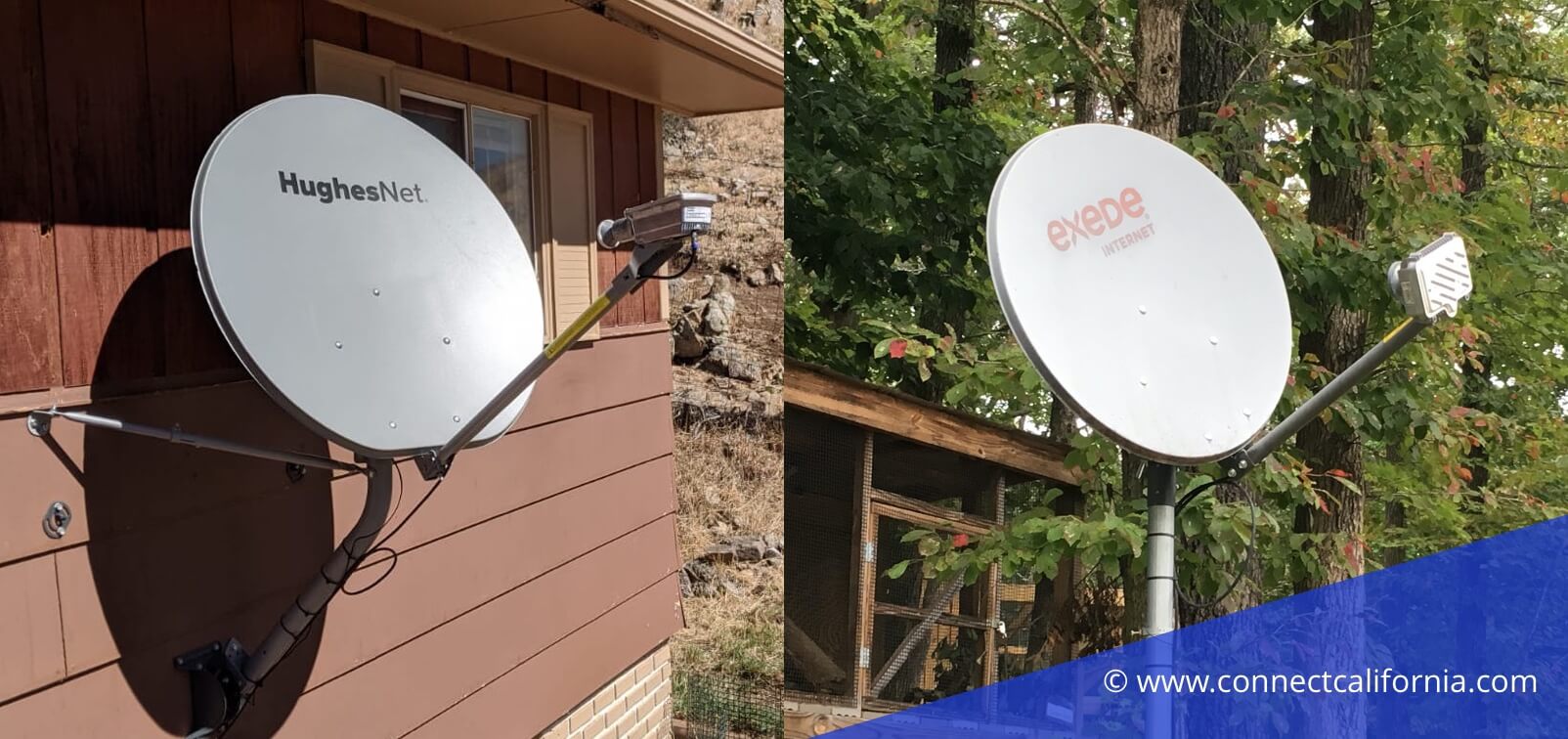 This means that you might sign up for a plan at $70 per months, and wind up paying $100 per month once you're on the hook and locked into the 2-year contract. Customers often miss this in the fine print, resulting in relatively low reviews for the company on review platforms like Yelp or consumer rating systems like ACSI.
All that said, Viasat has more advanced satellites powering their service, positioned in geostationary orbit and capable of offering 1 terabyte of capacity. People are often surprised to learn that it's just one or two satellites powering service for the entire North American subscriber base — but it makes sense, when you consider
Viasat Liberty vs Unlimited plans
Viasat offers a variety of plan types, with "bronze/silver/gold" and "unlimited/liberty" brand names attached.
The system is quite confusing, but the short version is that they correspond with the service speeds available in each part of the country.
Viasat Liberty plans are unique in that when you go over your data limit, they immediately throttle your speed down to 1–5 Mbps for the remainder of the month.
Viasat Unlimited plans are not actually unlimited when it comes to speed — but once you hit the cap, they will only reduce your speed if it's required for network prioritization. In practice, it often is, but suffice it to say you're buying a spot in the line ahead of the Liberty customers when it comes to service bandwidth.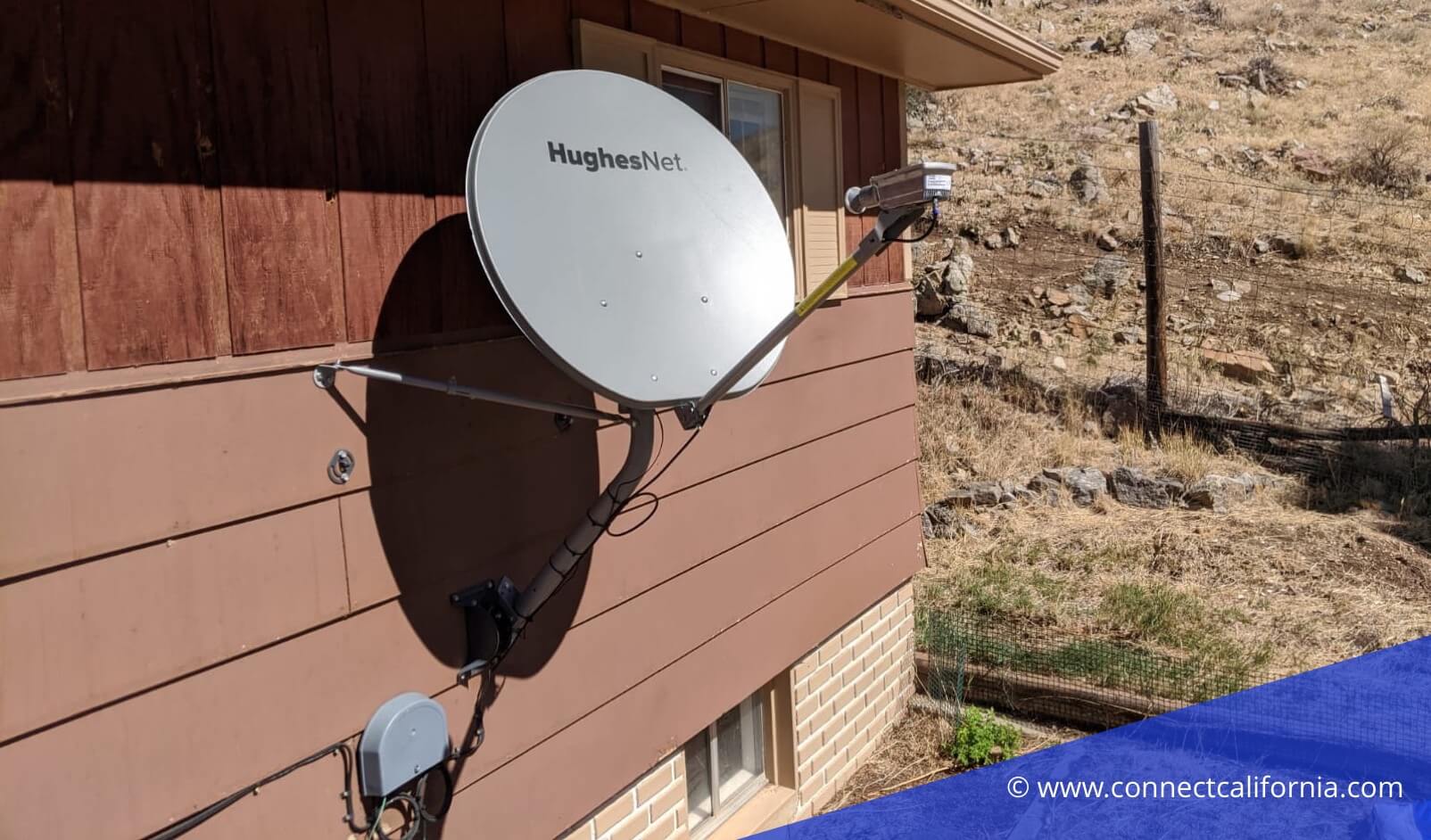 Neither plan offers rollover data — in fact, there is no satellite provider with rollover data in California, since the point of data limits is to manage congestion, with is more or less the same from month to month.
Viasat vs HughesNet pricing and terms
Minimum service length requirements
Both Viasat and HughesNet have two-year contracts on all plans. If you need to cancel before the first year is up, you'll be on the hook for as much as $400.
Prices
Both Viasat and HughesNet have similar pricing in California, although Viasat offers better "price per GB" for mid-tier service. Both approach $200 per month for service that is anywhere close to cable or DSL in terms of bandwidth or data allowance — even then, the top guaranteed data pack from either provider is only 150 GB, which is practically 1/10 of what wired internet companies like Comcast and AT&T offer for internet service.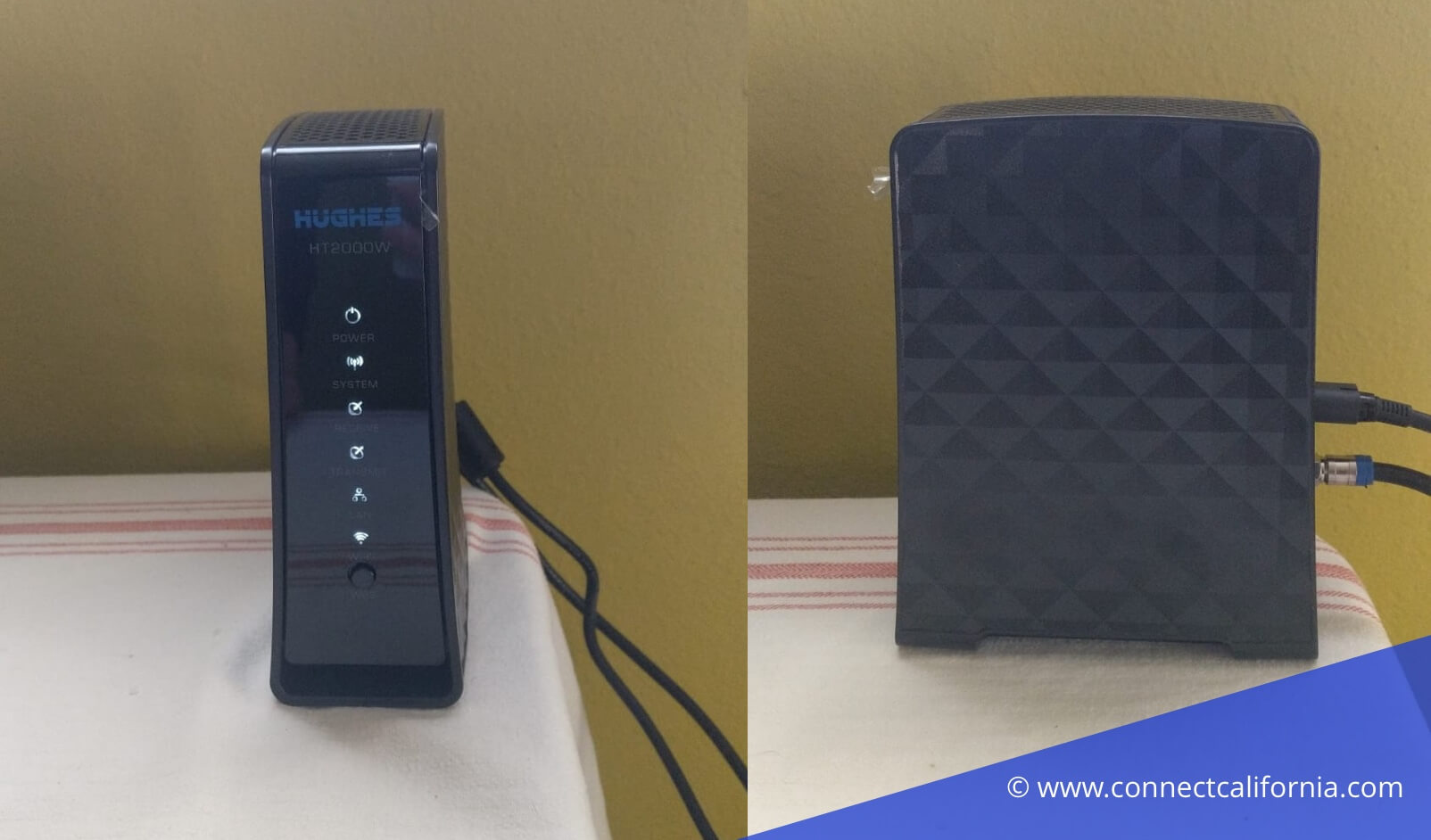 Data caps
Both Viasat and HughesNet offer "soft cap" service where you get a certain amount of data each month, with more data for the more expensive plans. The data packets range from 10–150 GB per month, and you can top them up with per-GB purchases if you go over. Otherwise, both providers simply throttle your speed if you use more data than your plan permits.
What about satellite TV options? Can I bundle?
DirecTV and Dish both offer satellite TV service throughout California.
Much like satellite internet, the benefit of these services is that you can get them anywhere with a view of the southern sky.
Also like satellite internet, satellite TV is very expensive compared with cable. DirecTV is more popular thanks to their exclusive access to sports programming like NFL Sunday Ticket.
When will Starlink launch in California?
Starlink has been conducting early consumer service pilot tests for the California market since 2020.
However, California is one of the only parts of the US that hasn't fully launched access to the Starlink network.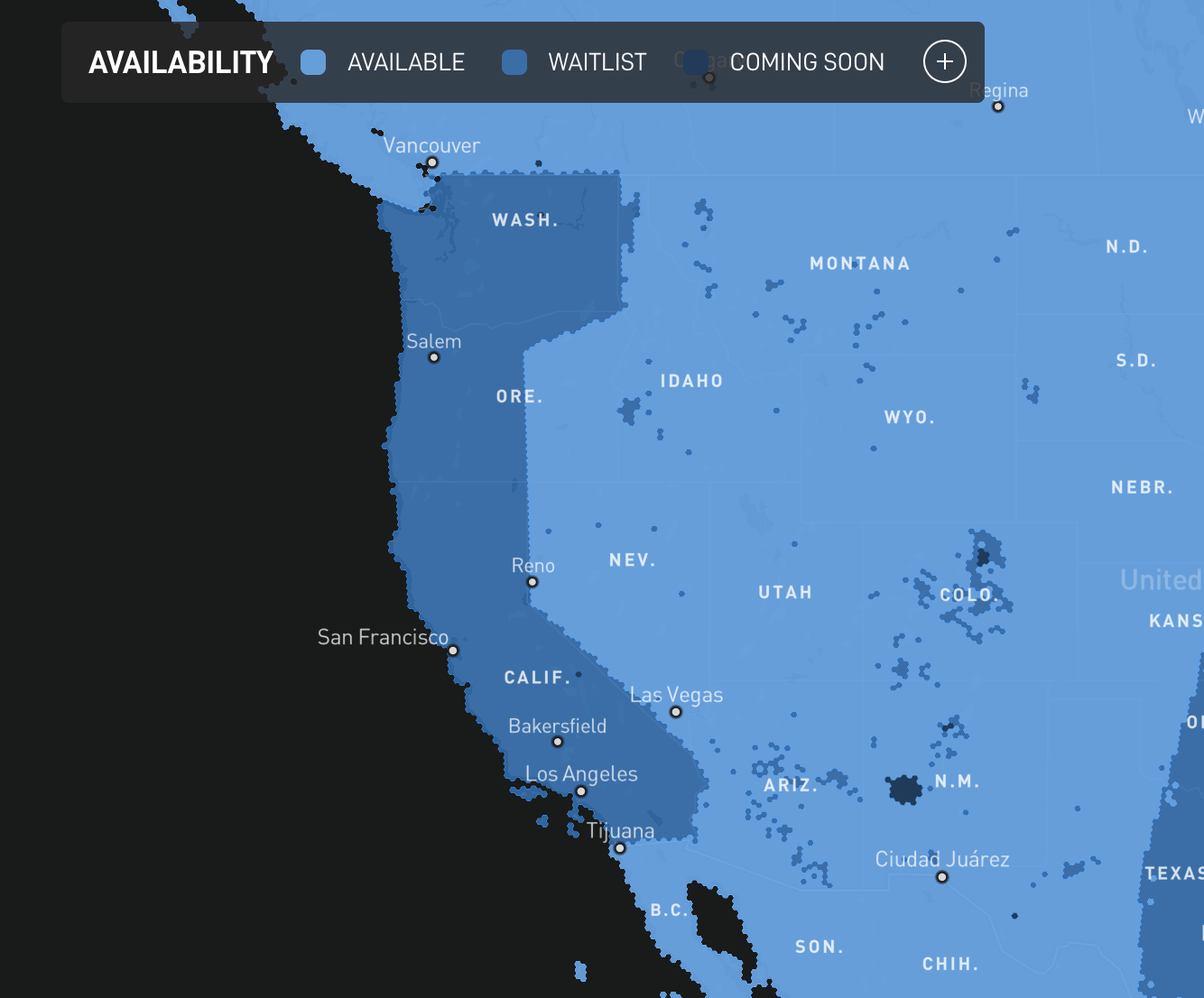 SpaceX gave a big Starlink update today:

— Private beta testing shows "super low latency and download speeds greater than 100 [megabits] per second"
— Connected 2 satellites to each other with "space lasers," transferring "hundreds of gigabytes of data" https://t.co/Aq8xWzaUY3

— Michael Sheetz (@thesheetztweetz) September 3, 2020
As all beta users signed non-disclosure agreements, information is scarce on how the network is holding up with the current satellite constellation.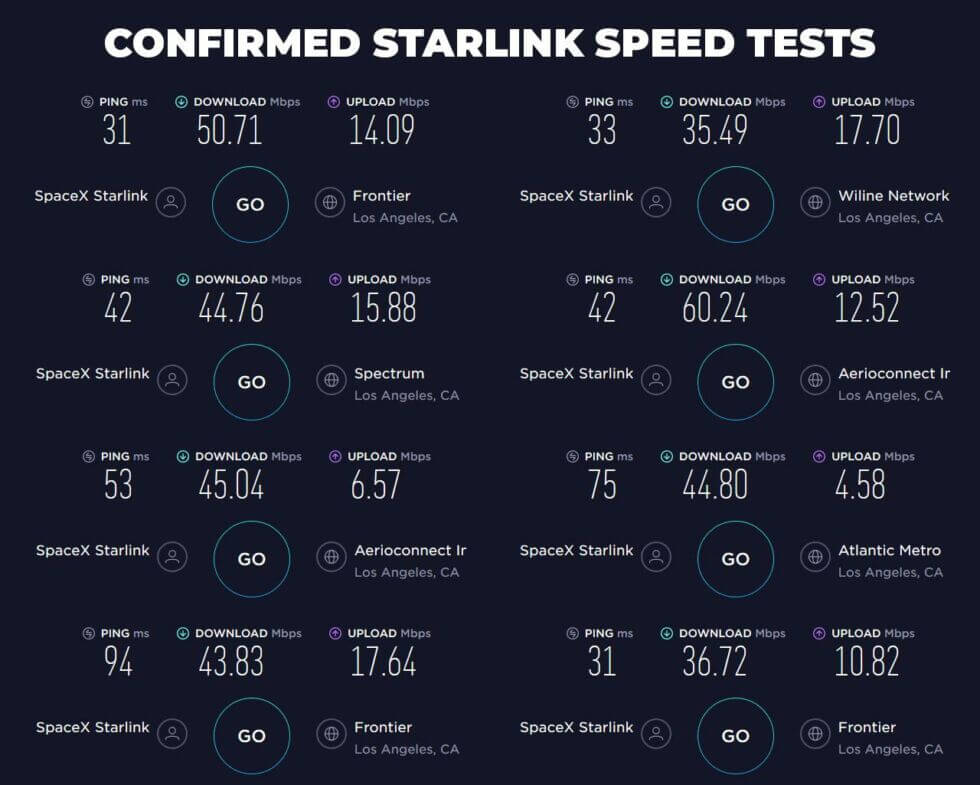 Starlink and Kuiper: difference from existing providers in California
The introduction of Starlink into the satellite internet market is a huge deal for rural California residents, because the company's technology promises to be able to deliver 100 Mbps internet service at prices and data rates competitive with standard cable.
While traditional satellite providers like Viasat and HughesNet use a small number of large satellites in geostationary upper orbit, Starlink and similar "low earth orbit" satellite providers aim to dramatically reduce latency and boost speeds by operating a network of hundreds of smaller, cheaper satellites that fly around the planet in a low-orbit "mesh."
This poses obvious coordination problems, but has been shown to work in theory. The only remaining question is if the hardware can keep up with demand, or if it'll face similar oversubscription issues, like those faced by current operating providers.
Analysts expect their may be a corresponding improvement in the pricing and bandwidth of Viasat and HughesNet once Starlink launches, as the reduction in customers could free up bandwidth and reduce the need for "prioritization" currently baked into the plans for both companies.
Rural California internet options aside from satellite
Other options for rural internet in California include fixed wireless, mobile hotspots, and DSL over telephone lines.
Fixed wireless is offered by companies like Mojave WiFi in the Joshua Tree area, or Google Webpass in San Francisco. It works by "beaming" internet service from a tower to fixed reception device. This is preferable to satellite, because the signal doesn't have to go to space and back. As a result, the latency is less of an issue and performance is similar to cable and DSL.
Fixed wireless requires line-of-site with a company offering the service, so it's spotty and not universally available. It's more common in areas like Joshua Tree or Pioneertown where there is a high population spread over a large area.
Mobile hotspots operate similar to satellite, in that they have strict data limits. Verizon offers a "jetpack" service that's specifically geared towards rural areas. Some wireless resellers like Nomad Wireless also specialize in mobile hotspot service. This can be a good solution for RVs and mobile units, but usually isn't the best fit for fixed structures like homes and barn offices.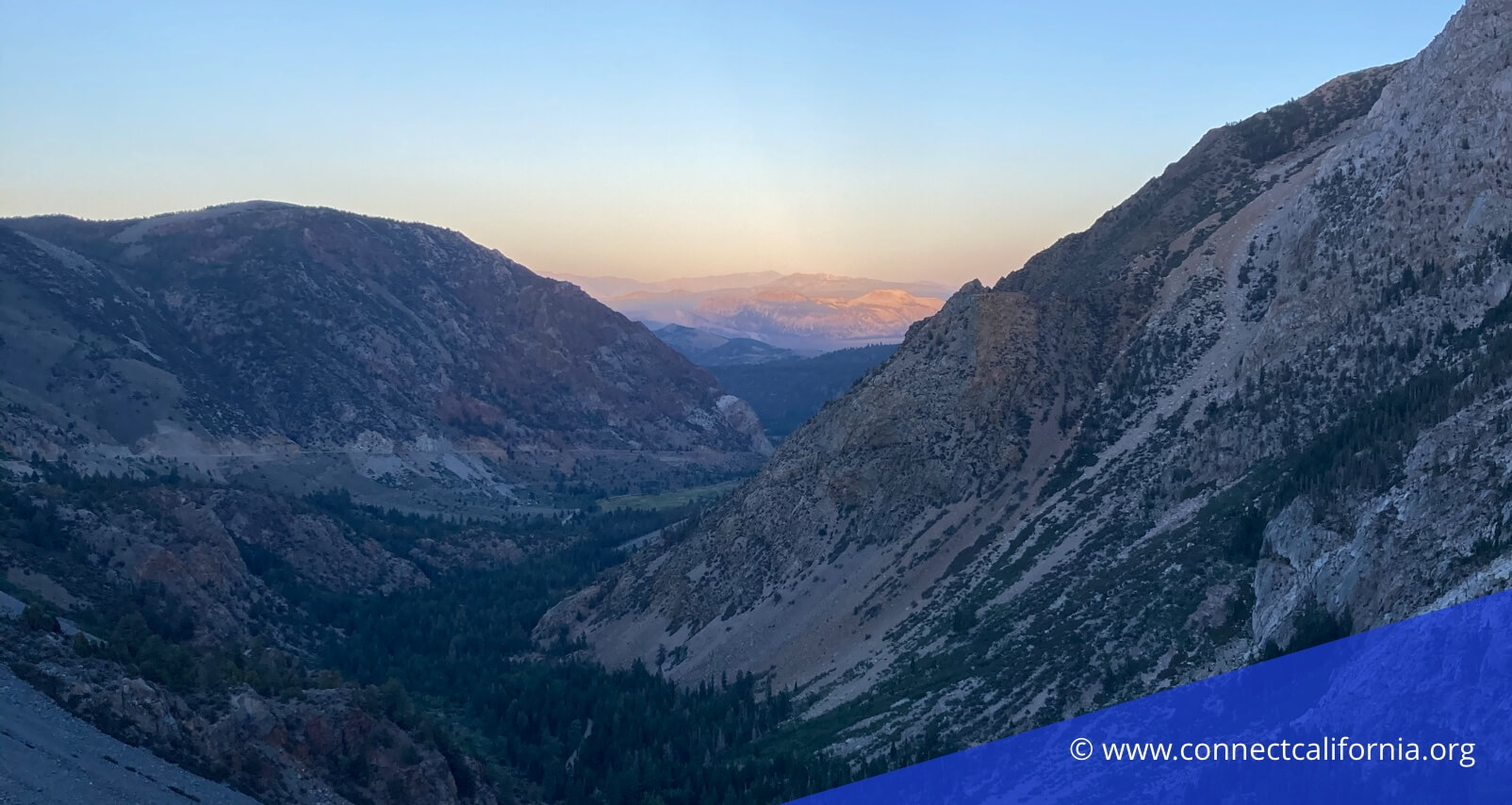 DSL speeds depend on your distance to the provider. If AT&T or Frontier has telephone service in your town or county, it's worth giving them a call to check if they can provision service at your address. Just be sure to check the speed once installed, since it's often much lower than advertised in rural areas due to "signal fade" as the signal travels multiple miles over aging copper lines.
Rural California Internet Access Resources