Xfinity low-income plan AT&T low-income plan Spectrum low-income plan Other programs
While the poverty rate in San Jose is low relative to other cities in California1, the federal standards for "low income" are actually more flexible than it appears.
For example, most low-income plans permit users up to 135% of the federal poverty line. Some discounts, like the Affordable Connectivity Program (ACP), actually accept customers up to double the federal poverty line.
This means a household of four people in San Jose can earn up to $55,500 and still qualify for $360/year in discounts on their existing internet plan.
Households close to $30,000 annual income can typically qualify for even more affordable programs such as the Essentials and Access plans highlighted below.
Comcast Internet Essentials in San Jose & Santa Clara County
Xfinity offers the best low-income plan in the San Jose area through their Essentials program. At $9.95 for 50 Mbps download, this speed is half the price and double the speed of what Spectrum offers locally.
This plan is more than enough to handle essential use for remote work, remote study, and regular household use for streaming video. 50 Mbps internet is capable of supporting up to 4 users, or 6 in a pinch.
Plan features
Xfinity's Essentials plan offers Wi-Fi equipment for free, and does not feature any fees beyond taxes.
The only caveat with this plan is the upload speed, which is somewhat low at 5 Mbps; this is the lowest upload tier Xfinity offers. It's enough for basic use, but can struggle if more than two people attempt video calls over Wi-Fi at once.
Plan pricing
Once local taxes are factored in, expect to see $10–12 on your final monthly bill. Unlike Spectrum's plans in Santa Clara County, Xfinity does not charge extra for Wi-Fi equipment.
How to qualify
Xfinity expanded their qualification criteria and speed limits post-Covid to make the Essentials program more accessible to struggling families.
The programs used to check participant income are as follows: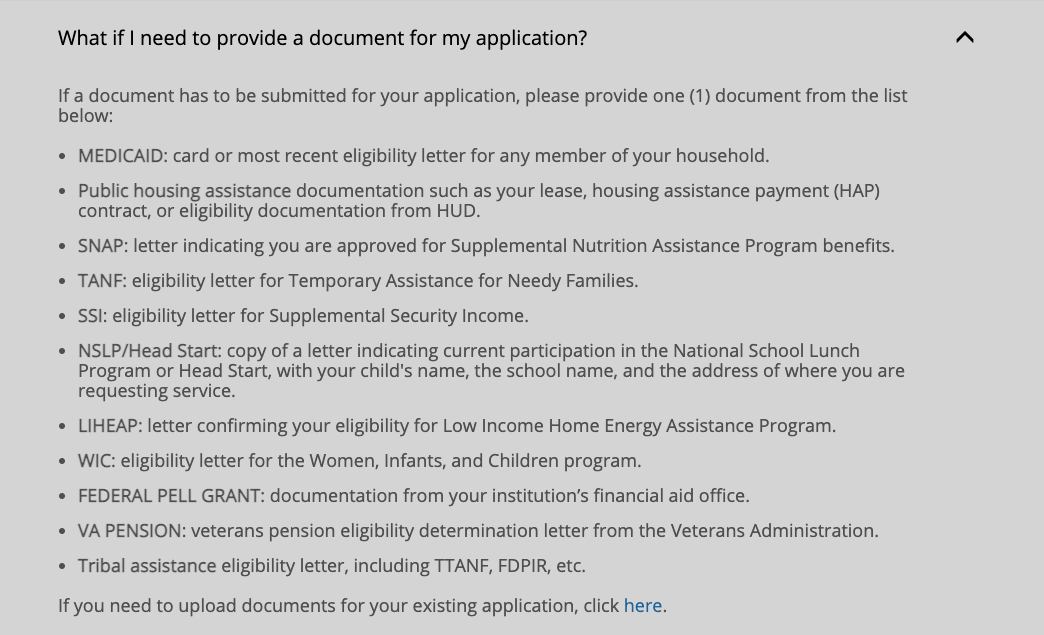 Access from AT&T in San Jose & Santa Clara County
Access from AT&T is viewed as more of a back-up plan over cable programs. It has wider availability, since some low-income buildings don't have cable hookups, and AT&T can deliver over phone lines in a pinch.
While the pricing is similar to Xfinity, the AT&T plan is trickier to qualify for and offers lower speeds. The upload speeds are typically lower than cable in low-income neighborhoods, since the company has a reputation for focusing on high-income areas for expanding their fiber network.2
Plan features
AT&T Access offers 25 Mbps download speeds, which is about half of Xfinity's offer in the area. While not ideal, it's actually much better priced than the 25 Mbps plan offered by Spectrum.
The plan comes with no extra fees beyond taxes. Final bills are typically below $13 per month. Wi-Fi service is included.
Plan pricing
AT&T charges $10 per month for this plan, with no fees and — critically — no data caps. Xfinity's plan has data caps set at 1.2 TB, while AT&T allows everyone but DSL customers unlimited data.
How to qualify
AT&T uses a smaller selection of programs to qualify customer income level:
Supplemental Nutritional Access Program (SNAP)
Supplemental Security Income (SSI) for California residents only
Receive National School Lunch and Head Start Programs benefits
Overall, they look to see income at or below 135% of the federal poverty line.
Spectrum Internet Assist in San Jose & Santa Clara County
Plan features
Spectrum's low-income plan is one of the least advantageous in California, according to ConnectCalifornia analysis. Speeds are mid-level at 25 Mbps download, while pricing is high at $17.99.
Plan pricing
$17.99 is already high for monthly pricing on a low-income plan. However, the final cost is actually $22.99 for most customers, since Spectrum requires a Wi-Fi router lease for anyone that wants Wi-Fi instead of a hardwired connection.
Needless to say, families intending to connect multiple devices can't generally get much benefit from a non-Wi-Fi plan.
How to qualify
Like AT&T, Spectrum is very strict with their qualifying programs for the Assist program. They expect customers to already participate in one of these programs:
National School Lunch Program (NSLP)
Community Eligibility Provision (CEP) of the NSLP
Supplemental Security Income (for applications age 65+ only)
Overall, their sign-up process drives customers to participate in the ACP discount program instead. This is advantageous to them because the difference in price is covered by the government directly, so they make the same income as a full-price customer.
Other Programs in San Jose
Digital Equity programs
San Jose's digital inclusion fund recently began deploying $24 Million into network and connectivity improvements in the region.
Because of this spend, there are a variety of in-person events and programs operating in San Jose to connect those who need help navigating the paperwork.
The Human-I-T organization is also active in San Jose. While they sometimes advertise a low-income internet plan, what they actually do is simply help people connect to the existing Xfinity and AT&T network options.
Human-I-T maintains a portal for San Jose residents to find and sign up for discounted computing equipment programs.
Free Wi-Fi areas
San Jose operates a community Wi-Fi program that currently reaches over 100,000 residents. This is a grassroots project; look for the San Jose network on your device to see if it extends to your neighborhood. If not, you are probably outside their footprint.
Beyond the San Jose Community Wi-Fi program discussed above, San Jose also has an extensive library system featuring free Wi-Fi and computer access.
Programs to avoid in San Jose
We typically suggest avoiding off-brand programs such as DSL Extreme or Earthlink, since they are reselling services from AT&T in most cases. As of 2023, the best pricing and customer service is offered by buying from the provider directly.
---
Frequently Asked Questions
What are the low-income internet options in San Jose?
The primary low-income internet programs offered in San Jose are Xfinity Essentials and Access from AT&T. Both offer service at $10 per month or less.
What are the low-income internet options in Santa Clara County?
Residents of Santa Clara County can generally access low-income internet via either AT&T or Spectrum. Communities closer to San Jose can access Xfinity Essentials as well.
Is it possible to get free internet or Wi-Fi in San Jose & Santa Clara County?
Free Wi-Fi can be accessed in San Jose via the public library system. Low-cost internet is offered at about $10 per month including taxes by both AT&T and Xfinity. Spectrum offers a slightly more expensive program in the county.