Comcast low-income plan AT&T low-income plan Other programs
I've spent more than 20 hours researching California low-income internet and technology this year, and I'm happy to say that there are several good options in Sacramento. If you are looking for technology or internet for cheap, here are a few of the best options:
Comcast Internet Essentials (low-cost internet)
Access from AT&T (low-cost internet)
Human-I-T (discounted internet and technology)
Sacramento public Wi-Fi system (free Wi-Fi)
I'll show you the best ways to connect to each, and give you a few helpful pointers along the way.
Comcast Internet Essentials in Sacramento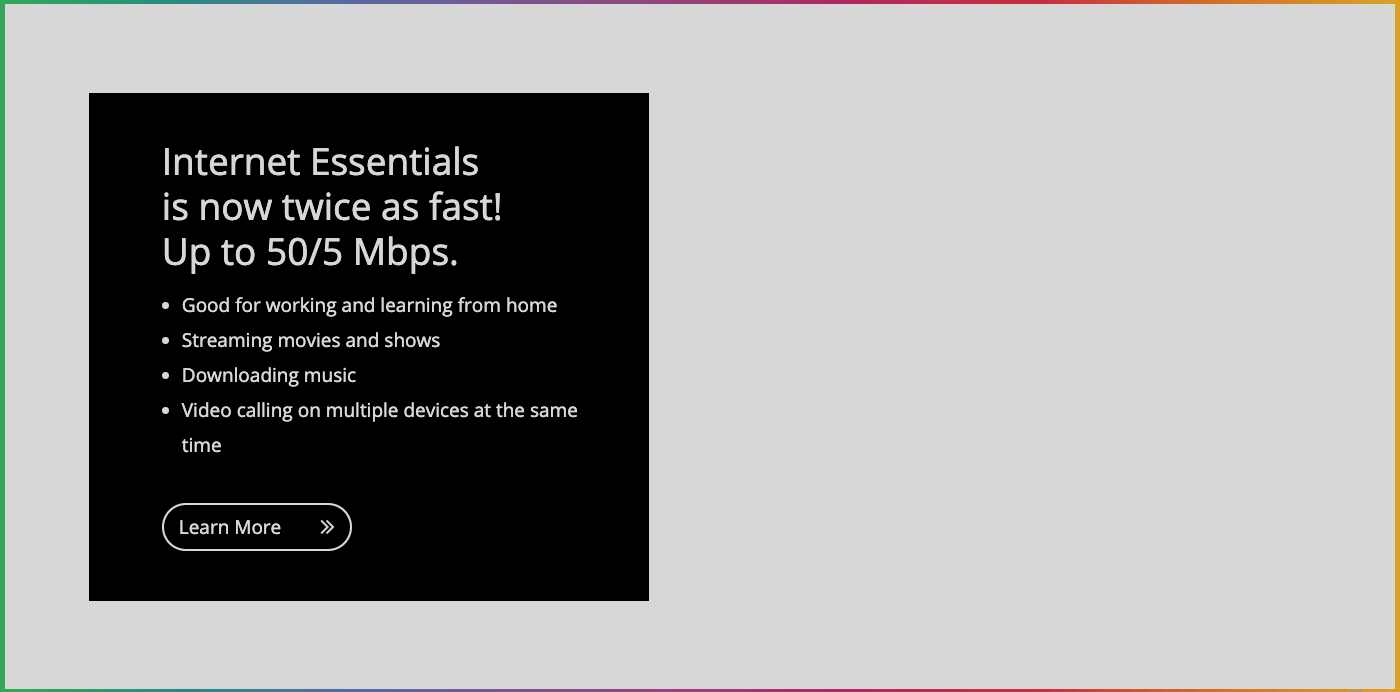 If you need cheap internet, I recommend Comcast Internet Essentials. Not only is it available in about 98% of Sacramento, but it's also faster than AT&T. For comparison, Internet Essentials' download speed (the amount of time it would take a YouTube video to upload, for example) is double the speed of AT&T's.
That means that you'll be able to access your videos faster, web pages will load more quickly, and more people can connect to the internet without it faltering.
Plan features
Even though Internet Essentials' 50 Mbps download speeds are double AT&T's 25, their upload speeds are the same.
Upload speeds are the speed it takes you to transmit information across the internet. For example, a Zoom call takes about 1 or 2 Mbps to transmit your video and voice. Now, if multiple people are using Zoom, gaming online, or uploading a YouTube video, you can imagine how quickly that 50 Mbps will get used up.
Despite that, 5 Mbps of upload speed is pretty standard for a low-income plan. And when you sign up, you'll be avoiding a lot of the headaches that non-low-income customers have to deal with.
For example, you'll never have to deal with contracts, credit checks, or cancellation fees on this plan, and you'll get a free Wi-Fi gateway rental, too. This gateway makes it possible to get Wi-Fi in your home and would normally cost about $14 a month.
Plan pricing
Comcast Internet Essentials costs $9.95 a month, which is one of the cheapest low-income programs I've seen anywhere in the country.
As I said, there is really no hassle or fees with this plan, and even with Sacramento's 8.75% tax rate, you'll only end up paying about $10.82 a month.
How to qualify
Internet Essentials is one of the easier programs to apply to. If your child receives benefits from the National School Lunch Program or 40% of the kids in their school are eligible for it, you can enroll. If that doesn't describe you, check out some of the qualifications below: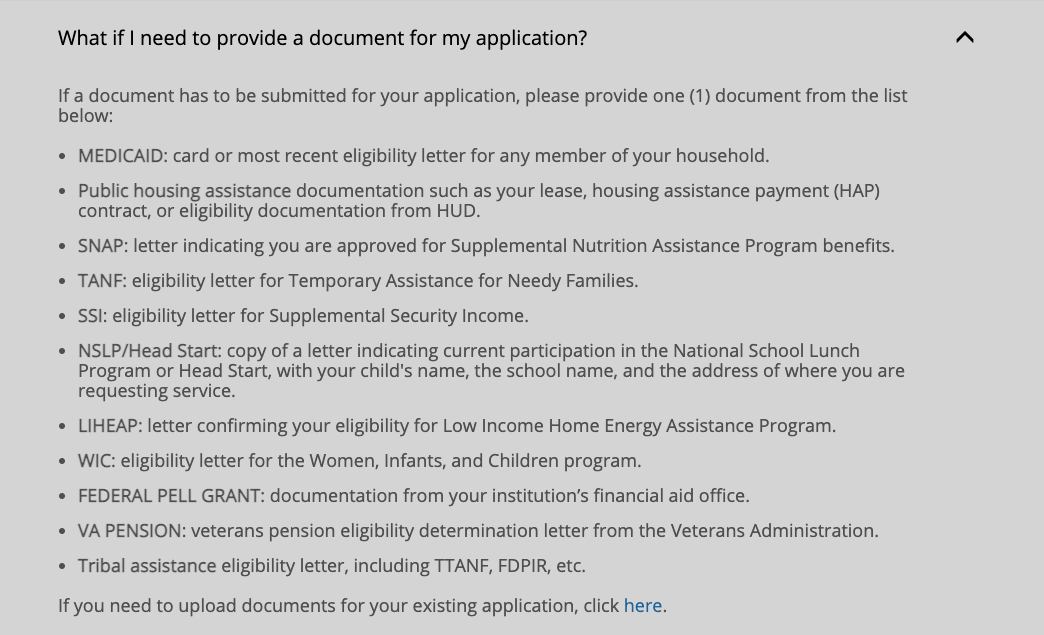 Now that you've determined your eligibility, navigate to the Internet Essentials website to sign up.
Access from AT&T in Sacramento

The other major low-income plan in Sacramento is Access from AT&T. The network covers about 94% of Sacramento, but don't expect the same sort of speeds with AT&T. The company's internet is built on an older technology, which generally equates to lower speeds. Still, this plan is a great one for low-income individuals looking to connect on a budget.
Plan features
Access gives you access to internet speeds of 25 Mbps download, 5 Mbps upload. As we've already discussed, those speeds are alright, especially for a family of up to three people, but they will probably become strained as more people connect.
Besides that, this plan is going to offer you a way out of a lot of the frustrations typical of a normal internet plan. You won't have to sign any contracts, pay extra for installation or a Wi-Fi modem, or make a security deposit to receive service. Those are all big selling points and can save you several hundred dollars a year.
You'll also get either 150 GB or 1 TB of monthly data. There is a bit of a catch with this feature, though — but I'll discuss that in a moment.
Plan pricing
At only $10 a month, Access from AT&T is priced similarly to Internet Essentials. This makes it so that your decision will probably be determined by what is available in your location, or whether your landlord has locked your building into only one provider.
As far as that catch I mentioned, watch your bill for charges related to data usage. For every 50 Gigabytes you use above your limit, you'll be charged a $10 fee. Those fees can accumulate quickly if you're not paying attention, so make sure you do.
How to qualify
Access is more difficult to qualify for than Internet Essentials, and it's not exactly clear why. There are only two main programs that AT&T uses as permanent eligibility qualifiers:
Supplemental Nutritional Access Program (SNAP)
Supplemental Security Income (SSI) for California residents only
But if you don't participate in either of those, the company has widened eligibility a bit for the time being. During the coronavirus, you can receive Access from AT&T if you:
**Receive National School Lunch and Head Start Programs benefits, or **
Have an annual income that is 135% or less than the federal poverty guidelines.
If you qualify for Access from AT&T and want to sign up, head over to the company's website to do so.
Other free or discounted internet and tech programs for low-income residents of Sacramento
More than 12% of Sacramento residents do not have a consistent broadband connection, according to census data recorded in 2019. Luckily, there are plenty of options to get low-income individuals connected to the internet and technology offerings in their area, which we'll discuss below.
City of Sacramento internet and technology grant
In partnership with United Way, the City of Sacramento is offering all sorts of free technology and internet options for low-income residents. All you have to do is qualify, let the city know what you need, and apply. Then, the city will let you know which devices and internet services you can get for free. Here's the full list of offerings you can receive if you qualify:
Free hotspots (covered for a full year)
Free broadband for up to 200 people for a year (via Comcast Internet Essentials or AT&T low-cost internet plan)
Refurbished desktop and/or all-in-one computer
Digital literacy training and other important learning resources
If that sounds good, your next step is to qualify. You can check if you meet any of the qualifications I'll list below. If you do, all you have to do is apply.
Households in the Sacramento region who earn $30,000 or less, or families eligible for public assistance programs such as the National School Lunch Program, housing assistance, Medicaid, SNAP, etc.
Residents of the City of Sacramento
Those residing within SMUD's service area
You can apply at the United Way website, but the City says it will take a few weeks to hear back from them.
Human-I-T
Human-I-T is an organization dedicated to closing the digital divide by selling low-cost technology. If you are a member of a ​​low-income family, a veteran in need, a person with a disability, a senior, buying on behalf of a school, or a representative of a non-profit organization, you can qualify for discounted tech.
Once you qualify, you'll have to provide proof that you fall into one of those buckets. Here are some of the acceptable forms of proof: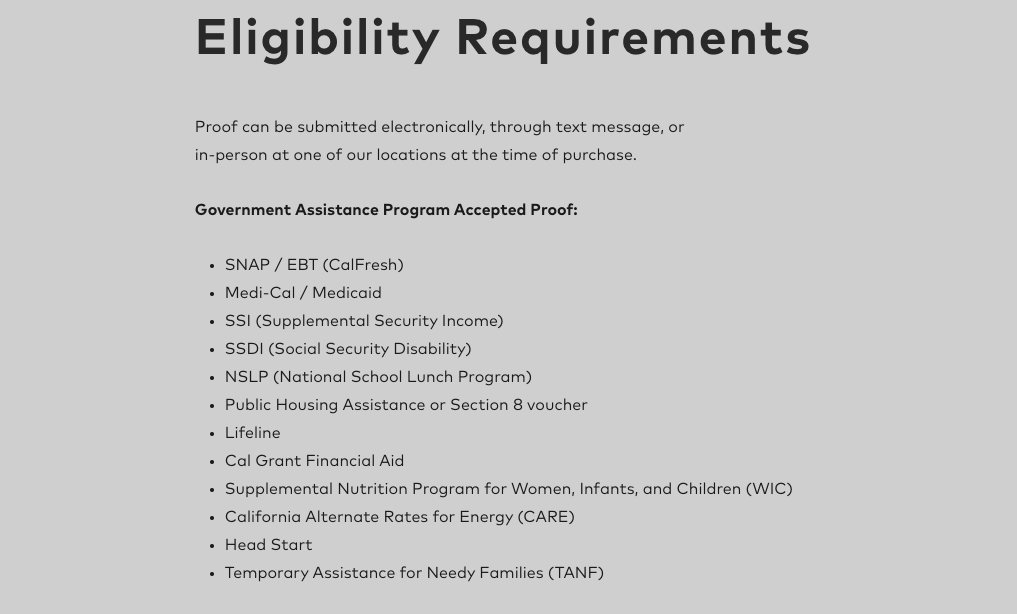 You can provide these forms of proof in person, through the Human-I-T website, or via the phone number on the website. Once you do, you'll get access to heavily discounted computers and Wi-Fi hotspots that will help you work and learn online.
How to get help signing up for low income internet in Sacramento
Sometimes, signing up for internet service can be tricky, and internet providers often do not make it easy. Luckily, several organizations will help you get connected to the major options in your area of Sacramento.
Human-I-T
We've already spoken about Human-I-T's device business, but they'll also help you get onto the internet. All you have to do is navigate to the Human-I-T website, fill out the form, and tell Human-I-T what you need. They'll get back to you in 24 hours and help you with whatever you need, totally free of charge.
EveryoneOn
EveryoneOn works simply: you type in your ZIP code and click on the low-income programs you participate in, and EveryoneOn will show you programs in your area that you can benefit from. All you have to do is click on the ones you're interested in and sign up.
How to get free Wi-Fi in Sacramento
Sacramento has several options for public Wi-Fi. If you live near one of Sacramento's 27 Wi-Fi-connected parks, I suggest starting there. If you are closer to a public library, all you'll have to do is get a library card to get connected. We'll dive in a bit deeper below:
Free internet at public parks in Sacramento
There are 27 Wi-Fi-equipped parks spread pretty evenly across Sacramento, and all of them are free. The only thing you need to do to get connected is to head to the park nearest you between sunrise and sunset, go to your Wi-Fi settings, and follow the instructions.
Free internet at public libraries in Sacramento
There are 18 public libraries in Sacramento, and all of them offer free Wi-Fi to members. To get the internet on your device, all you need to do is get a library card, walk in, and go to your Wi-Fi settings to connect.
Once you have your library card, you can also rent Wi-Fi hotspots from the library whenever they are available. To do so, you'll have to go to one of the participating locations below:
Belle Cooledge
Central
Colonial Heights
Del Paso Heights
Martin Luther King, Jr.
McKinley
North Natomas
North Sacramento – Hagginwood
Robbie Waters Pocket-Greenhaven
South Natomas
Valley Hi-North Laguna
Then, text "hotspot" to the number posted outside the library. The library staff will bring a hotspot out to you for you to use and return in six weeks.
What is Sacramento doing to solve the digital divide for low-income families?
Sacramento is heavily invested in closing the digital divide, and the City's partnership with United Way is a critical part of that.
In addition to this, public Wi-Fi in parks across the city and free Wi-Fi in all public libraries mean that low-income individuals in Sacramento have plenty of options at their disposal. While not the most convenient, the city provides more than most in the region.
Between these programs and the standard low-income internet plans offered by the major telecom providers, Sacramento's digital divide has improved substantially post-Covid.
---
Frequently Asked Questions
What are the low-income internet options in Sacramento?
There are two major low-income internet programs in San Francisco, and they come from Comcast and AT&T. Comcast Internet Essentials offers users download speeds of up to 50 Mbps, Access from AT&T offers download speeds of up to 25 Mbps and both cost around $10 per month.
How bad is the digital divide in Sacramento?
Nearly 6% of Sacramento does not have a personal computer, and about double that does not have an internet connection. This clear digital divide shows that the city has a long way to go in getting residents connected — but through the public Wi-Fi system and several local nonprofits, there are, luckily, many options for low-income individuals.
How can I get Wi-Fi for free in Sacramento?
There are two main ways to get a free internet connection in Sacramento: through the public library system or the public Wi-Fi program. There are several public Wi-Fi connections in the city's parks, which you can find on the city's website.