Spectrum low-income plan Frontier low-income plan Other programs
I did more than three hours of research on this article to help you find the discounts, deals, and promotions you need if you are low-income in Long Beach.
In truth, there are plenty of programs that you can take advantage of — here are a few of the city's offerings that I'll discuss later on in the article.
Spectrum Internet Assist (low-income Wi-Fi)
Frontier Fundamental Internet (low-income Wi-Fi)
Long Beach Public Library (free Wi-Fi)
Human-I-T (low-cost devices)
I'll show you how to take advantage of these programs and more, as well as show you a way that you can take five dollars off your monthly internet bill.
Spectrum Internet Assist in Long Beach

For most homes, Spectrum Internet Assist is the best low-income internet offering in Long Beach. The company's network covers about 100% of the city, and unless your landlord has locked your building into exclusively receiving another network, it's probably in your area.
Plan features
Whenever you download a video or document to your device, you're using a share of the download speeds available at your home. When you upload a photo to Facebook or Instagram, you're using a small share of your upload speed. These speeds are measured in Megabits per second, or Mbps, and Spectrum gives you a pretty good amount of them.
With Internet Essentials, you're getting up to 30 Mbps download and 10 Mbps upload, which is better than a lot of Spectrum's competitors. AT&T's low-income plan, for instance, gives you half of the upload speed.
Even better, you aren't subject to credit checks, contracts, or data caps when you sign up for Internet Assist. Low-income consumers that meet the qualifications (which I'll detail in a second), can sign up without worry.

However, the speeds we've just talked about aren't exactly lightning fast. It takes between 1-2 Mbps upload to make a Zoom colleague to a friend, coworker, or family member, and multiple activities of the same kind occurring simultaneously could clog up your bandwidth. This could leave you with internet that temporarily skips and buffers, which you'd want to avoid if you're working or learning from home.
Speaking of potential future frustrations, this plan comes with two fees that will raise the price of your first bill — and that you probably don't want to opt out of. I'll discuss more in the next section.
Plan pricing
At $23 per month, Spectrum Internet Assist is probably the most expensive low-income plan I've seen in California. For example, the Frontier plan we're going to discuss next is about $8 less per month. However, I think the speeds and coverage you're getting with Spectrum makes it worth it.
There are two fees here that I think you should be aware of. For one, you're probably going to want to pay the company's $5 monthly bill for in-home Wi-Fi. Without it, you're going to have to plug an ethernet cable into your computer (some of them don't even have a port for it anymore) and use that wired connection every time you want to get online. In 2023, a wired connection is often insufficient, so this bill is probably unavoidable for most people.
Secondly, when you sign up for Internet Assist, you're going to have to pay an installation fee. If you want a Spectrum professional to set up your internet for you, expect to pay $50. If you want to set it up yourself — I encourage you to do so, it's not difficult — Spectrum still charges $10 for a self-install kit.
Altogether, that brings your first bill to somewhere around $38-$40. After that, expect to pay close to $30 every month.
Interested? We'll talk about how to apply in the next section.
How to qualify
I'll be frank: qualifying for this plan is tricky. If your kids don't participate in the National School Lunch Program or you don't receive social security benefits, you probably won't qualify for this plan, even if you are low-income.

However, if you do meet the requirements, you can sign up and expect to hear back within a few weeks.
Frontier Fundamental Internet in Long Beach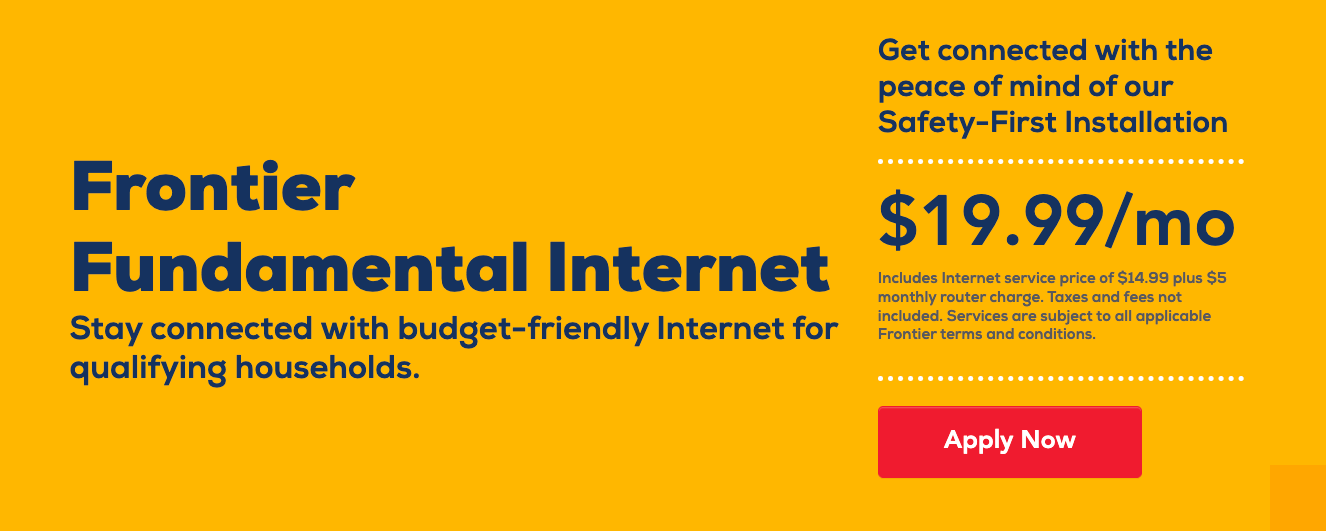 The other major low-income plan in Long Beach is Frontier Fundamental Internet. Frontier is available in about 96% of Long Beach, meaning that this plan will work for plenty of people. Still, the plan is a little more complicated than Internet Assist. I'll break it down in the next section, and go over pricing information in the section after that.
Plan features
Rather than providing a single speed range of up to 30 Mbps or so like Spectrum, Frontier's speeds depend on whether or not there is fiber internet in your part of Long Beach. If there is, your download and upload speeds could be as fast as 50 Mbps. Those speeds are great, especially on upload, but if you don't have fiber, they could be much slower.
If you have the older, more common internet, your speed could be as low as 1.61 Mbps to 12 Mbps download and 1 Mbps upload. Those upload speeds are really slow and could make it extremely difficult to make smooth Zoom calls for work or school.
Plan pricing
At $14.99, this plan isn't too expensive. But there are a few major downsides for low-income customers that you need to remember:
For one, if you want in-home Wi-Fi, there is an additional monthly router charge of $5. My guess is that you'll want to pay for this because otherwise, you'll have to use a wired connection. That may have been fine in the '90s, but won't work for most customers now.
You will have to submit to a credit check to participate in this plan. However, Frontier says that the results of the credit check will not impact your ability to sign up — and that a deposit might be required.
You must produce proof of eligibility every two years.
As you can see, these restrictions are more stringent than Spectrum's. If you want to participate in Frontier Fundamental Internet and save the most money, I suggest opting out of a router rental. On top of that, you're also saving money on installation. Frontier does not charge for installation when you qualify for Fundamental Internet.
In the next section, I'll show you how low-income individuals can get signed up.
How to qualify
If the features I laid out a moment ago sound good to you and you want to sign up, check the list of qualifications that Frontier requires below.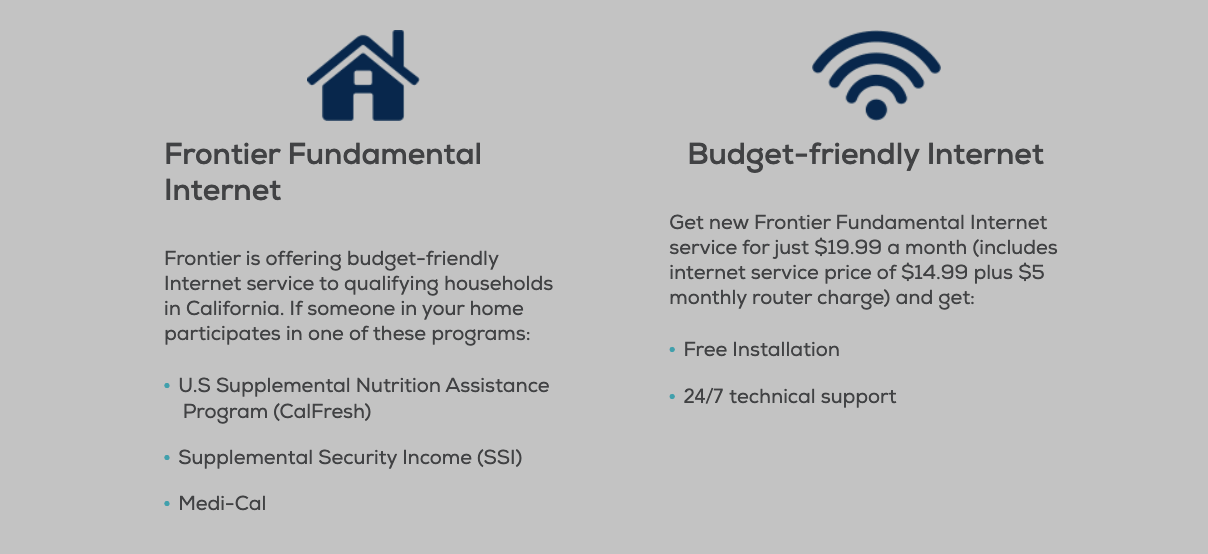 Eligibility here is a tiny bit wider, but it's still pretty limited. If you don't participate in the U.S Supplemental Nutrition Assistance Program (which was formerly known as Food Stamps), Supplemental Security Income, or Medi-Cal, you probably won't be able to take advantage of the plan.
How to get free and discounted computers and Wi-Fi in Long Beach
Nearly 8% of Long Beach residents do not own a home computer. In today's ultra-connected world, that's a big problem. Luckily, there are several public and privately funded programs that can help get free and discounted computers to residents of Long Beach.
Human-I-T
Human-I-T is an organization that is dedicated to providing low-cost technology to people in need. If you need to get connected to the internet via a laptop or mobile hotspot, this is the organization for you.
Mobile hotspots run around $15 a month, and Human-I-T says that one can get as many as 10 people connected. Laptops and desktops generally run around $100, but you'll need to qualify for both. If you are low-income or fall into one of the categories in the photo below, you're on your way.

Next, you'll need to provide documented proof that you are eligible to participate. You can do so through documents related to any of these programs:

To learn more and apply, head over to Human-I-T's website.
How to get help signing up for low-income internet in Long Beach
Signing up for the internet can be difficult. Fortunately, there are a few different organizations that can help you get connected.
Human-I-T
We've already discussed Human-I-T, but it's worth mentioning again: the organization also has volunteers that will direct you to the best offers in your area. All you have to do is go to the website, fill out the contact form, and wait to hear more. Within a day or so, someone at Human-I-T will reach out with all the information you need to make an informed decision.
EveryoneOn
EveryoneOn is a pretty simple website, but it could help you out. Essentially, all you have to do is type in your ZIP code, click on any government programs you participate in, and the website will show you what low-income internet programs are available to you. Head over to the EveryoneOn website to check it out.
How to get free Wi-Fi in Long Beach
Long Beach residents are only about 84.4% connected to the internet, according to census data from 2019. That means that nearly 16% of the city's residents do not have a reliable internet connection. And if you can't afford any of the low-income plans in Long Beach, there are a few other options available to you.
Free internet at public parks in Long Beach
The City of Long Beach offers free Wi-Fi at 24 public parks across the city. If you want to connect to one of the networks, all you have to do is head to one of the parks on this list, go to the Wi-Fi settings on your device, and get online.
Free internet at public libraries in Long Beach
Similarly, the City of Long Beach provides free public Wi-Fi networks at a dozen of the city's libraries. If you want to see the complete list of libraries that offer free Wi-Fi, you can do so on the Long Beach government website.
What is Long Beach doing to solve the digital divide for low income families?
The City of Long Beach is doing a lot to solve the so-called "digital divide." This year, the local government approved a roadmap to decreasing the number of unconnected individuals, some of which we've covered already. In addition to free public Wi-Fi in parks and libraries, the city is also building a digital training program, crafting several English-as-a-second-language classes across the city, and setting up a hotline that residents can call for help with their internet.
What's more, Lea Erikson, the Director of Technology and Innovation for the City, told me that they're planning to distribute free computers to those in need starting in 2022–2023.
---
Frequently Asked Questions
Is there a low-income internet program in Long Beach?
There are two low-income programs in Long Beach, from Frontier and Spectrum. Frontier Fundamental Internet and Spectrum Internet Assist both offer cheap internet for around $20, but I suggest signing up for Internet Assist — it's a little more expensive, but the speed (30 Mbps down, 10 Mbps up) is more consistent across Long Beach.
How bad is the digital divide in Long Beach?
According to 2019 census data, only about 84% of Long Beach residents are connected to the internet. That's a pretty large number, but luckily the City has some new programs in the works, like an internet assistance hotline and a round of new computer giveaways.
Where can I get free Wi-Fi in Long Beach?
If you need free internet in Long Beach, there are two options you can pursue: free public Wi-Fi in the city's parks or the city's libraries. All in all, that amounts to nearly three dozen locations across the city. A full list of locations is listed at the city website.