Google Fiber entered the California market in 2017 in Orange County, just a few months before pausing their nationwide fiber buildout.
As of 2023, FCC data shows that Google Fiber is still available in California — but less than 1% (0.1% to be specific) of the state has availability for their Fiber-to-the-Home (FTTH) network.
Orange County has the most service, where communities like Irvine, Newport Beach, and Woodbury were all built out circa 2017. They never entered larger metros like Los Angeles, San Francisco, and Sacramento.
Google Fiber has indicated that they are once again expanding as of Fall 2021, both to new cities and through adding serviceable addresses around existing fiber areas. Des Moines was confirmed in 2022 as the first expansion scheduled to go live.
In addition to 6 new cities in Utah and Iowa, customers near existing Google Fiber locations should check their address regularly to see if their street is on the still-growing list of new locations.
Check For New Service
As of 2023, Google Fiber only has 145 California census blocks registered for FTTH service with the FCC (out of 710,145 total census blocks within the state). 70 of those blocks are in Irvine, CA, where their buildout was easier due to Irvine having an extensive pre-existing open network infrastructure. 1
Google Fiber also offers service in apartment buildings in San Francisco, San Diego, and Oakland — however, "Google Fiber" service in these areas is actually delivered via Webpass, a fixed wireless company they own that has a different pricing structure.
The Webpass service area is larger than their FTTH footprint, comprising about 0.43% of California. However, Webpass primarily serves large apartment buildings, which is common with urban and suburban fixed wireless services.
More recently, there are signs that Google Fiber is restarting fiber investement and expansions, with expansion in Des Moines and new build in Mill Creek near Salt Lake City. However, nothing has yet been announced in California.
What Orange County neighborhoods have Google Fiber?
The following Orange County locations have Google Fiber serviceable addresses as of 2023:
Google Fiber service areas in Orange County, CA
Irvine Business District
Irvine Spectrum
Lower Peters Canyon
Newport Beach
Oak Creek
Orchard Hills
Portola Springs
Quail Hill
Stonegate
Tustin
West Park
Woodbury
Why hasn't Google Fiber continued to expand in California?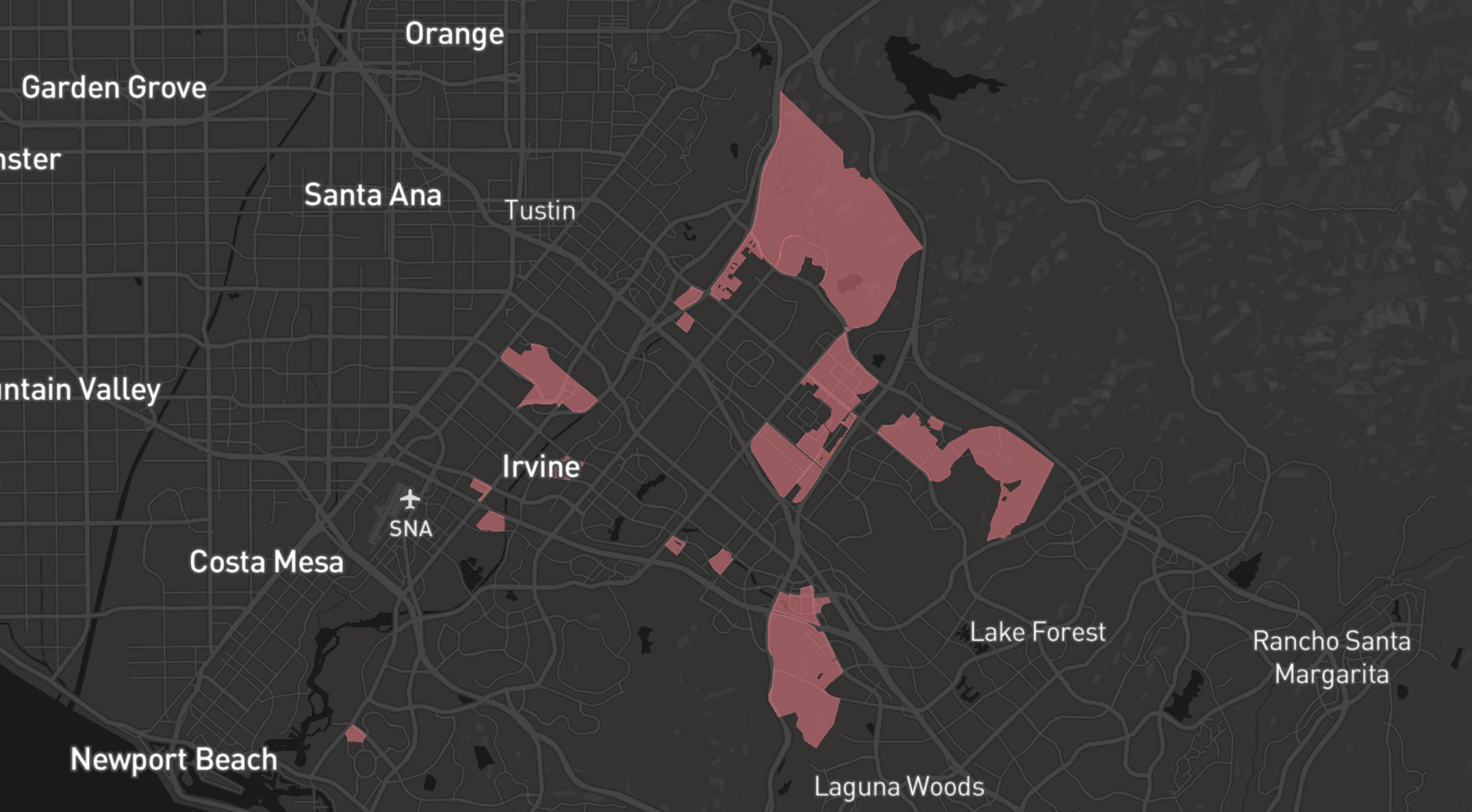 In 2012, Google announced a $60 billion initiative to change the shape of the Internet in America forever. They would offer homes gigabit speeds (which in 2010 was about 100 times faster than the best the market had to offer) and consumers would be ecstatic with the results. So, what happened?
Just four years later, Alphabet announced that Google Fiber would be effectively paused due to high costs — albeit somewhat sheepishly in a blog post titled "Advancing Our Amazing Bet."
Covid changed everything, with hundreds of small fiber upstarts like Ting, US Internet, and even city governments doubling down on fiber as a long-term investement. When Biden signed the much-debated Infrastructure Bill in November 2021, it included $65 Billion for expanding broadband access — and that means money for ISPs installing local networks.
Let's take a look at what happened to Google Fiber and what the future of high speed consumer broadband might be without the internet giant's intervention in California's market.
Research Inquiries
Researching this topic for an article or project? Contact the author for custom insights and commentary on broadband and internet access topics.
Contact: jameson@connectcalifornia.com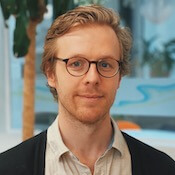 Google Fiber Background in the US and California
Google Fiber was announced in 2012 by Eric Schmidt, their Executive Chairman, and has been classified as an "experiment" in Alphabet earnings reports from day one. However, upon launch, he told the New York Times, "It's actually not an experiment, we're actually running it as a business."
The philosophy was fairly simple. In order for Google to prosper as an internet services company, America needed better internet. The wide array of telecoms providers out there were looking a little reluctant to fund this, so Google decided that they could step up to the plate, instead. They weren't alone in this; several other high-margin internet businesses, such as domain registrar Tucows, also stepped up to the plate to start building fiber service around the same time (though with much less fanfair due to the unknown brand).
The first city chosen to benefit from Google Fiber was Kansas City. The city was picked from 1,100 that had vied for the opportunity to be first in the queue for fiber optic internet.
Unfortunately, they hadn't anticipated the fact that while wealthy households were happy to sign up for high speed data and to pay for it, poorer households didn't even seem to want to sign up for free data plans.
Google then had to sponsor a bunch of programs to get people up to speed and deploy 60 staff on the ground, to generate interest from the people who were supposed to be the main beneficiaries of the program.
The service launched, however, and was deemed successful enough that Google announced, over a period of two years or so, a rollout plan to a number of new locations including Kansas City and Raleigh-Durham. This included three locations in California: Long Beach, Huntington Beach and Irvine. 2
Why did Google Fiber pause their rollout in California?
Well, it turns out that laying fiber networks is a big challenge even for a company as big as Google. It's not that householders don't want high speed internet, of course they do. It's that the "last mile" (the term for the connection between a residence and the main network) is frighteningly expensive to develop, with conservative estimates around $3500/household in ideal suburban scenarios.
On top of that, the existing communication providers weren't going to take Google's entry into their markets laying down and they began to file lawsuit after lawsuit to try and stop the company progressing with Google Fiber.
Thus, in 2016 Google having deployed their Google Fiber project in only 12 American cities, declared that it was "pausing" any future rollout. As California had not, yet, seen any substantive investment in Google Fiber at this stage – it too went on hold.
In 2017, Google appeared to admit defeat and signaled that any future Google broadband projects might be wireless rather than cabled. As of 2022, most fiber expansion in California is coming from incumbent providers like AT&T and long-standing local competitors like Sonic. Meanwhile, only half of Los Angeles has fiber access, and the average speed recorded at Los Angeles households averages around 50 Mbps. Most locations can't get more than 35 Mbps upload — far from the gigabit dream of a fiber-enabled State.
Microtrenching Issues Case Study: Louisville, Kentucky And Google Fiber
You may or may not have heard of "microtrenching" or "shallow trenching". These are fairly low-tech solutions to the cost of laying the "last mile" of fiber to a consumer residence.
Instead of following the usual pattern of laying fiber several feet to several yards underground, the theory is that you can just dig up a couple of inches and then lay the cable conduit directly under street level. Then you use a powerful sealant to seal the hole between the road and the curb, where in theory they will stay.
Except, they didn't in Louisville. Not at all. Over time, the extra hard sealant turned out to be not so hard and the cables became exposed. So, the company had to go around again and try and cover up the cables with asphalt.
This patchwork solution to the problem wasn't very good. In fact, it was pretty disastrous, and, in the end, Google reached a staggering conclusion – they'd need to rebuild their entire network in Louisville, with deeper trenches or a different approach altogether, if they ever wanted to get it to work properly.
They decided it wasn't worth it, and Google Fiber pulled out of Louisville in 2019.
This wasn't entirely cost-effective either. The mess that they'd left behind in the process of building a network meant that the city of Louisville had to pursue Google for costs to clean it up and they eventually paid $3.84 million to walk away.
They also left a $150,000 charitable donation 3 to help get Louisville's poorest residents online, at least for a little while.
However, Grace Simrall of Louisville's Metro Authority isn't too upset by this, saying that "Google Fiber's presence in Louisville led other providers to step up and increase investment in Louisville."
What Does This Mean For Google Fiber In California?
Firstly, it means that Google Fiber is unlikely to build out new city networks within California, at least until later in the 2020s. While the company has re-started building, representatives I've spoken to have pointed more towards builds around existing networks than new city partnerships.
What city partnerships are announced have some caveats, such as in West Des Moines, where they are actually using an open access network rather than building their own infrastructure. (This is similar to how Ting services Fullerton, another California city known for it's open-access fiber conduit.)
As Harvard Business Review neatly summarized – Google Fiber is high speed internet's most successful failure. 4
They note that back when Google announced Google Fiber the other networks and communications providers had very little interest in developing high-speed consumer services. They didn't believe there was a demand and they were reluctant to invest the huge sums necessary to develop the infrastructure.
However, it may have a comeback thanks to new confidence in FTTH networks as an investment vehicle post-Covid.
The silver lining: Google Fiber kick started incumbent providers to invest in fiber
Once Google entered the market, however, it was impossible for the telecom industry to ignore the new challenger. After all, the tech industry was the ultimate "disruptive" force in the business world.
When Google was questioned about its ambitions in the early days of the project – it never alluded to the idea of becoming a nationwide broadband provider. It also shied away from the question as to whether the project was a stalking horse to drive industry investment.
If it was the latter rather than the former that they had intended, then they succeeded admirably. Google's ambition was for more than 100 million Americans to be able to access 100 Mbps broadband. In 2016, that milestone was reached… Just not on Google's network specifically.
Microtrenching Is Not Dead: Fullerton
Secondly, the "microtrenching" idea is not dead. While it is unlikely to be Google that brings microtrenching to California, other companies have already assumed the mantle.
For example, SiFi Networks began such an undertaking in Fullerton, California in June 2019, and as of 2023 the network is now live with an open-access model offering multiple ISP options to residents. 5
Lessons were learned in Louisville and microtrenching has been adapted to deliver better results — it's popular with other Fiber-to-the-Home providers like Sonic and Ting. The objective is to go a little deeper now (6 inches seems to be about the sweet spot as opposed to 2 inches) and to ensure that cables don't resurface once they've been put in place.
In Fullerton consumers are now able to purchase their fiber internet from the ISPs Gigabit and Ting.
San Francisco Remains Problematic
Elsewhere in the state, things may not be as easy though. San Francisco appeared to have come to an agreement in principle over the use of microtrenching back in 2017 but by 2019, very little progress had been made. 6
Incredibly, 1 in 8 households in San Francisco cannot get high-speed Internet service at all! That's nearly 100,000 people trapped on the wrong side of the digital divide.
Today, there's still no legal right to use microtrenching to lay fiber in San Francisco and no work has been done to push things forward for more than a year. There are three qualifying suppliers ready to roll out a $1.9 billion project for fiber in this manner but for now there's nothing doing.
Monkeybrains, one of the qualifying companies, is working with the city of San Francisco on a small scale project to connect some of the lowest income households to fiber broadband. They are hoping that the results of this mini-project may spark investment from the city.
Conclusion: Google Fiber unlikely to expand in the near future, but drove renewed fiber investement in California
Is Google Fiber available in California? Technically yes, but in practice you're much more likely to have fiber service from an incumbent provider like AT&T or a local provider like Sonic. Even though 3 cities in California had been promised Google Fiber in their rollout plan, the plan has been put on hold and it seems unlikely that Google will reactivate it beyond the few buildings where service had already been installed when they paused new service.
In Fullerton, California, however, there is an alternative fiber rollout taking place. Customers there are now enjoying high-speed internet from Ting and Gigabit. In the rest of the state, things are not so clear though more microtrenching rollouts seem likely, particularly from Sonic who has been expanding in the Bay Area.
The bleakest spot appears to be San Francisco where the city seems to understand the need for high-speed internet but lacks the political will to deliver on it. We hope that 2022's "Digital Scorecard" for the city will add some impetus for change.
---
Frequently Asked Questions
Is Google Fiber available in Irvine?
Google Fiber has fiber internet service available to 9% of Irvine. However, it is mostly clustered in large apartment buildings and other areas that are more easily served. There has not been any indication that the company plans to expand in Irvine in the near future.
When will Google Fiber come to LA?
Google Fiber has not indicated any plan to introduce fiber internet service in Los Angeles. AT&T is the primary fiber provider for residential service in Los Angeles. In 2021, Beverly Hills will be launching a municipal fiber service. Otherwise, cable and DSL from Spectrum and AT&T are the only major internet options in LA.
How much coverage does Google Fiber have in California?
As of 2022, Google Fiber only has coverage for 0.01% of California households, accounting for only 0.07% of the California population. The company's rollout has been effectively on pause since 2017 within the state of California.