The iconic mountain terrain in Yosemite National Park can radically impact your experience with mobile and internet service.
Lower elevation areas in Yosemite National Park have limited mobile coverage. In higher elevations and the park interior, there is no reliable cell coverage. AT&T has the most 5G coverage in Yosemite Village, compared with Verizon and T-Mobile. For internet service, the primary option is AT&T DSL. Satellite services from HughesNet and Viasat are available, and Starlink has recently become an option for visitors.
In this post I'll cover your mobile and internet coverage options around Yosemite National Park, including the popular lodging areas of Yosemite Village and El Portal.
Fixed broadband internet service is also covered, so you know what to expect from an Airbnb amenity perspective.
Mobile Service in Yosemite National Park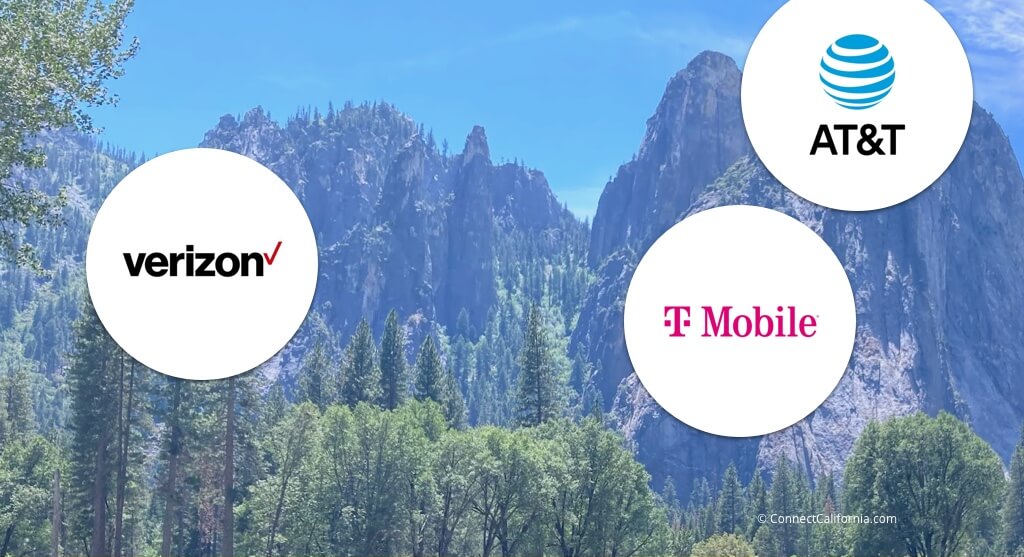 AT&T, Verizon, and T-Mobile all have partial coverage in the lower elevations surrounding Yosemite National Park. AT&T and Verizon have the strongest coverage within the park. though some offer higher levels of service than. Normal phone service is available according to AT&T and Verizon, while T-Mobile indicates some "roaming" service areas.
Mobile internet speeds are highly variable between the carriers around the park and finding a good high-speed data connection may require you to stay in one spot to maintain that connection. Regular park visitors suggest guests to plan for no phone coverage on trails, and perhaps you will be pleasantly surprised to pick up a signal deep in the park.
Due to the spotty mobile coverage, the National Park Service suggests visitors download their official NPS app from Google Play or App store. The app offers several maps of Yosemite National Park and surrounding areas, and with the offline mode enabled and GPS on, visitors can navigate without worrying about having a mobile signal wherever they are.
T-Mobile
Like all carriers, T-Mobile often falls back to 2G/3G within the park. Overall coverage is patchy and more reliable near visitor centers and entrance areas. This low speed service is for basic phone calls, since data transfer speeds will be largely non-functional.
There are some pockets of 5G Ultra Capacity service in Yosemite Village and a substantial spread of 4G/5G coverage around El Portal for data-heavy uses such as video calls or social media photo uploads.
Larger towns around Yosemite National Park such as Oakhurst, Bear Valley, Bridgeport, and Mammoth Mountain have widespread coverage of T-Mobile's high-speed mobile services as well.
Verizon
While Verizon coverage is patchy, mobile service in and around the Yosemite National Park area is dominated by 4G from a few towers located near Glacier Point and Yosemite Valley Visitor Center.
A watchful Verizon customer may notice a 5G signal occasionally. Overall, data transfer speeds will be slower than you are accustomed to, but phone calls should connect normally.
Outside of Yosemite National Park, the towns of Groveland, Mariposa, and Oakhurst have more widespread high-speed Verizon service.
AT&T
AT&T serves the Yosemite National Park with primarily 4G coverage in the lower elevations around and inside the park, with patches of 5G coverage in areas from
Half Dome and Liberty Cap to Eagle Peak and El Capitan. Even areas around Buena Vista and Foresta have 5G service, albeit in small pockets.
Similar to T-Mobile, larger towns around Yosemite National Park such as Bridgeport, Mammoth Lakes, Cold Springs, Mono Vista, Pine Mountain Lake, Mariposa, and Oakhurst all have AT&T 5G service available.
Wi-Fi and Internet Service in Yosemite National Park
Many locations in Yosemite National Park offer Wi-Fi for guests and visitors traveling with and without their computers, but there are some limitations.
Data speeds will likely be slower than normal since there are only a few cellular towers and many users. However, some experienced visitors had success with faster speeds during off-peak times, such as early morning hours.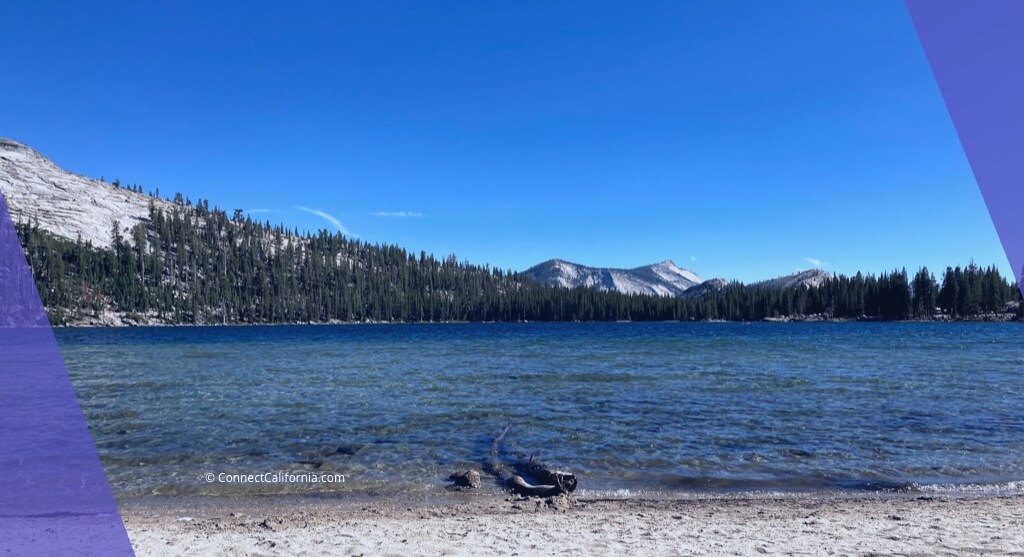 The Mariposa County Library has locations in Yosemite Valley and Wawona, where you can find WiFi access, along with computers with internet service for use as well. Free WiFi can also be found at Degnan's Kitchen in Yosemite Village.
If you are booking a rental location in the area and need access to the internet, be sure to include "WiFi" or "Internet" in your amenities filter when searching for properties, since not all properties offer internet service to their guests.
Internet Service Options at Yosemite National Park
The options for internet service providers (ISP) in the Yosemite area are limited based on the service location.
AT&T is the fixed broadband ISP in the Yosemite area, with speeds that will support HD streaming video and casual gaming, and offers service to a significant area in the Yosemite Valley.
Satellite internet providers are another option for service in the area, offering coverage in remote areas with the potential for much higher data transfer speeds. HughesNet, ViaSat, and even Starlink are available in the Yosemite area.
Let's review everything you need to know about each provider, including pricing, internet speed, and coverage provided by each ISP.
AT&T DSL
AT&T DSL is the fixed broadband service in the Yosemite Valley area and the only internet option available (other than satellite). They provide coverage to about 88% of Yosemite Valley and can support up to 12 Mbps speeds. Most average internet users will find AT&T's speed sufficient for their needs, including streaming services and casual gaming.
Here's a look at the current AT&T plan and pricing:
| Plan name | Availability at locations in Yosemite Valley | Monthly price for first 12 months | Included Data Allotment |
| --- | --- | --- | --- |
| AT&T 25 | 88% | $55 + fees | 1 TB |
Satellite Internet Options in Yosemite National Park
For residents in the most remote locations or addresses that are not served by AT&T DSL in the Yosemite Valley, satellite internet service providers may be the last option for reaching the World Wide Web in Yosemite National Park.
Your expectation should be for intermittent internet service with often slower speeds, based on historical customer reviews. Data limits ​​between 15–100GB exist for all internet service in Yosemite Valley, for DSL and satellite alike.
However, for the motivated customer absolutely needing an internet connection in this region, satellite ISPs such as HughesNet and Viasat are worth a look.
A new option in the Yosemite National Park area gathering momentum is Starlink internet service. Park visitors using Starlink during summer 2022 reported great service, on par with 4G service from the big three mobile internet providers, anywhere the dish has a clear view of the sky.
Starlink's website indicates additional coverage around the Yosemite National Park will be available in 2023.
Below is a summary of satellite internet service for address Yosemite Lodge Drive and ZIP code 95389:
*Plan pricing is promotional for a defined period of time such as 3 months and/or requires contract agreement.

| Satellite ISP | Plan pricing (per month) | Max Speed | More Info |
| --- | --- | --- | --- |
| HughesNet | $45-$100* | 25 Mbps | Data packages from 15-100GB |
| ViaSat | $70-$150* | 12 Mbps | 35-65GB high speed data, unlimited standard data |
| Starlink Residential | $110 | More than 50 Mbps | Standard service |
| Starlink RV | $135 | More than 5 Mbps | Billed one month at a time; pause/unpause service feature available; de-prioritized network data |
Any satellite ISP will be more expensive than AT&T's DSL service, but for those working remotely while traveling to amazing places like Yosemite, they consider the cost of service worth the freedom it provides.
Summary: What options for mobile and internet services are available in Yosemite National Park?
Options for mobile and internet services are quite limited in Yosemite National Park. Visitors should plan for little to no access in most uninhabited places, including park trails and campgrounds, and possibly while driving. Areas with mobile or internet service will likely have spotty coverage and slower speeds.
AT&T, Verizon, and T-Mobile all offer some level of phone service and, in small areas, slower internet speeds in lower elevations where cellular signals are not blocked by terrain.
AT&T DSL is the option for fixed broadband service into buildings and homes where available, while satellite providers may be a solution for areas not served by DSL.
Some ways to prepare for your "mostly unplugged" trip are to:
Gather maps and other necessary documents available to use offline, such as the National Park Service app or locally saved pictures of access permits and reservations
Familiarize yourself to areas in and around Yosemite Village with more reliable mobile service or WiFi for those times you need to check email or do quick searches while in the park (for example, the Mariposa County library)
Select lodging based on availability of internet service if required during your visit
For the long-term visitor, investigate the feasibility of satellite internet service or narrow lodging choices to areas with adequate mobile or DSL service when you are not in the park
Enjoy the increasingly rare opportunity to disconnect from the world and reconnect with family & friends on your trip!
---
Frequently Asked Questions
Where is cell service in Yosemite?
Cellular service from AT&T, T-Mobile, and Verizon can be found in the Yosemite Valley and in limited locations around Yosemite National Park. More widespread high-speed mobile coverage can be found in towns nearby the park, including Groveland, Mariposa, and Oakhurst.
Is there Wi-Fi in Yosemite?
Free Wi-Fi can be found at the Mariposa County Public Libraries in Yosemite Valley and Wawona, at Degnan's Kitchen in Yosemite Valley, and at lodging locations within the park for registered guests.
Is there good cell service in Yosemite?
While all three major US cellular providers offer coverage to parts of Yosemite National Park, park visitors should expect spotty phone service and slow data transfer speeds from AT&T, Verizon, and T-Mobile where service is available.