Given that Catalina Island is 22 miles off the coast and largely unpopulated, mobile and internet services can be spotty.
All four major cell networks have coverage on Catalina Island and to some degree 4–5 miles offshore. AT&T and Verizon have the widest 4G coverage outside of Avalon. For internet service, the primary option is Catalina Broadband Solutions. Satellite service from HughesNet and Viasat is also available.
In this post I'll cover your internet and mobile coverage options on Catalina Island as a whole, including the main town of Avalon. Offshore mobile coverage is also included, so you know what to expect when fishing or making the 22-mile boat ride across from Long Beach.
Mobile Service on Catalina Island
All four of the major cell providers have at least partial coverage on Catalina Island, though some are obviously much better than others. If you're reading this before a day trip, any of the four major carriers (T-Mobile/Sprint, AT&T, and Verizon) will serve you fine.
Local tour companies even encourage visitors to play LTE-reliant games like Pokemon Go, so suffice it to say you won't be off the grid during your visit.
Let's go over where you can find mobile coverage on Catalina Island with T-Mobile/Sprint (soon to merge), AT&T, and Verizon.
T-Mobile/Sprint
Though one of the more popular cell providers in the mainland United States, T-Mobile's coverage on Catalina Island isn't all that impressive. A majority of the coverage is on the east side of the island and slowly becomes more spotty as you move west. The plus side is that it offers 4G coverage, so it's decent when you can find it.
Sprint provides coverage to Catalina Island, but it's probably not the type of high-speed coverage that you're used to on the mainland. In fact, the Avalon area only seems to have 3G coverage, not 4G LTE, like the other major providers do. However, if you head north to the Two Harbors area, you'll notice that you have a 4G connection in some locations.
Note that as of this writing, Sprint and T-Mobile are scheduled to merge — meaning that the overall service on Catalina for customers of either brand will likely improve, as they combine the bandwidths used to supply service. This will both extend reach and improve throughput (speed) of your data.
AT&T
AT&T should probably be your go-to mobile provider if you spend a lot of time on Catalina Island. That's because just about the entire island is covered by AT&T. Most of the coverage is 4G LTE, and pseudo-5G services are already coming to Avalon.
Verizon Wireless
Locals consider Verizon Wireless to be a reliable mobile service provider on Catalina Island, although the coverage is lower than AT&T. Compared with AT&T, Verizon coverage is more prone to switching off 4G. The northwest and southeast regions have the best service, while the southwest is patchy or out of range depending on elevation.
Mobile Service Offshore of Catalina
The most popular route to Catalina Island is by boat, which can pose a challenge for mobile coverage as you get further from shore.
Verizon and AT&T are superior for use offshore, and depending on your device you might be able to maintain connection for the whole boat ride. However, this is not guaranteed — 22 miles is a long ride, and boats providing ferry generally don't offer Wi-Fi.
Once you're near Avalon, cell towers have a 4-5 mile reach, so service is available on all three major carriers when boating around the island ports.
Internet Service Options in Avalon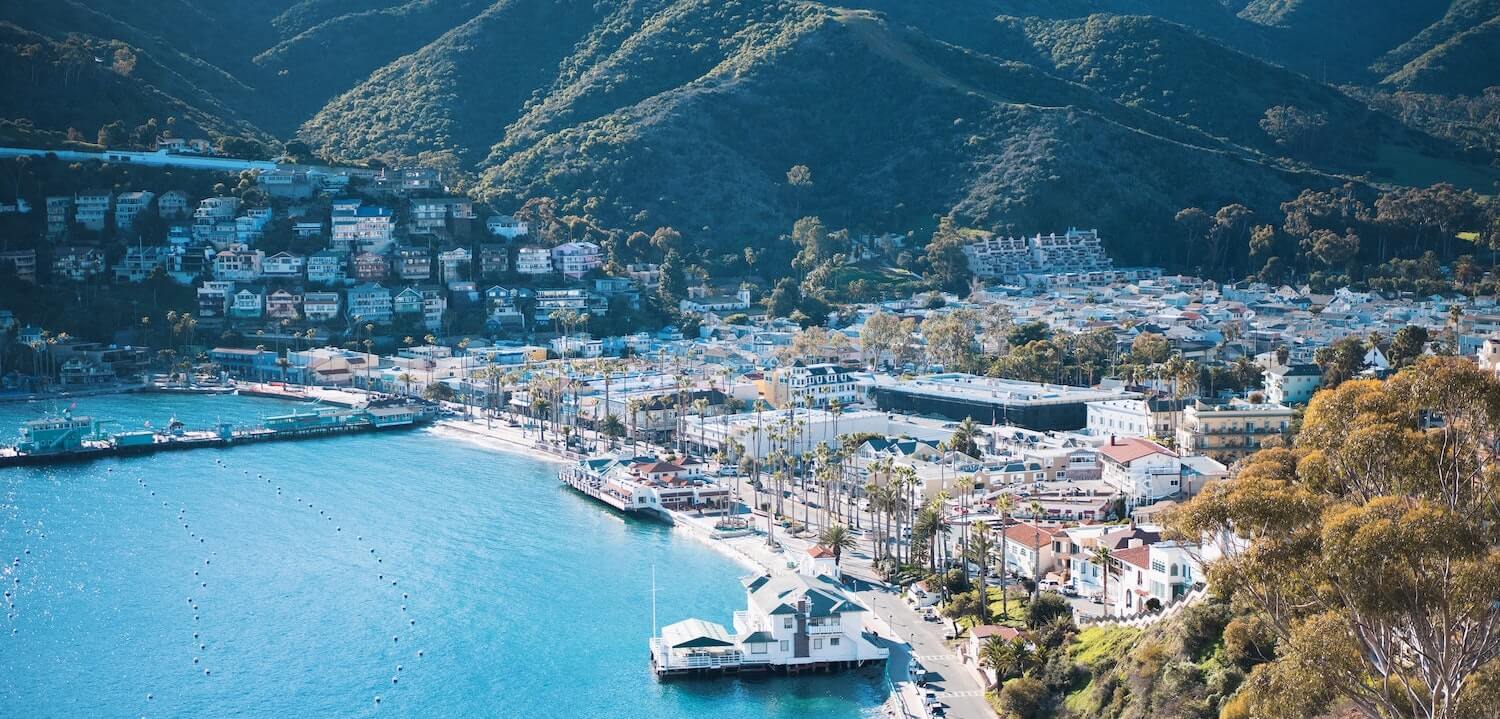 Being that you're somewhat secluded on Catalina Island, specifically in the Avalon area, your options for internet service are also rather limited.
For the most part, locals depend on Catalina Broadband Solutions — it's the only real Netflix-ready internet option for buildings on the island.
That said, satellite internet providers (Viasat and HughesNet specifically) are also options, for buildings that are out of reach of wired service from Catalina Broadband Solutions.
Let's review everything you need to know about each of these providers, including pricing, internet speed, and coverage provided in Avalon.
Catalina Broadband Solutions
Catalina Broadband Solutions is the local cable company in Avalon and is the only real internet option you have (other than satellite). This service provides coverage to about 91% of Avalon and can support pretty decent internet speeds. That means gaming and multi-device streaming are both supported by Catalina Broadband Solutions.
Here's a look at the current Catalina Broadband Solutions plan and pricing:
| Plan name | Speed | Price |
| --- | --- | --- |
| Pilot | 10 Mbps | $49.95/mo |
| Preferred | 15 Mbps | $62.95/mo |
| Premium | 25 Mbps | $79.95/mo |
| Platinum | 50 Mbps | $89.95/mo |
| Platinum Plus | 100 Mbps | $99.95/mo |
Plans from Catalina Broadband Solutions also grant access to their network of WiFi hotspots on the island. This can be really useful for short-term residents with spottier mobile reception, or who don't have an LTE plan.
Satellite Internet on Catalina Island: Viasat and HughesNet
Viasat and HughesNet are satellite providers that don't provide the best service in terms of speed or coverage. In fact, both providers consistently receive low ratings from consumers and receive complaints about lagging internet and weather interference.
The reason they're worth including here is because they are both satellite providers, meaning that you can get service anywhere that you can install a dish pointing up. So if you're in one of the few residential areas on Catalina without wired service from Catalina Broadband Solutions, these companies are worth looking into.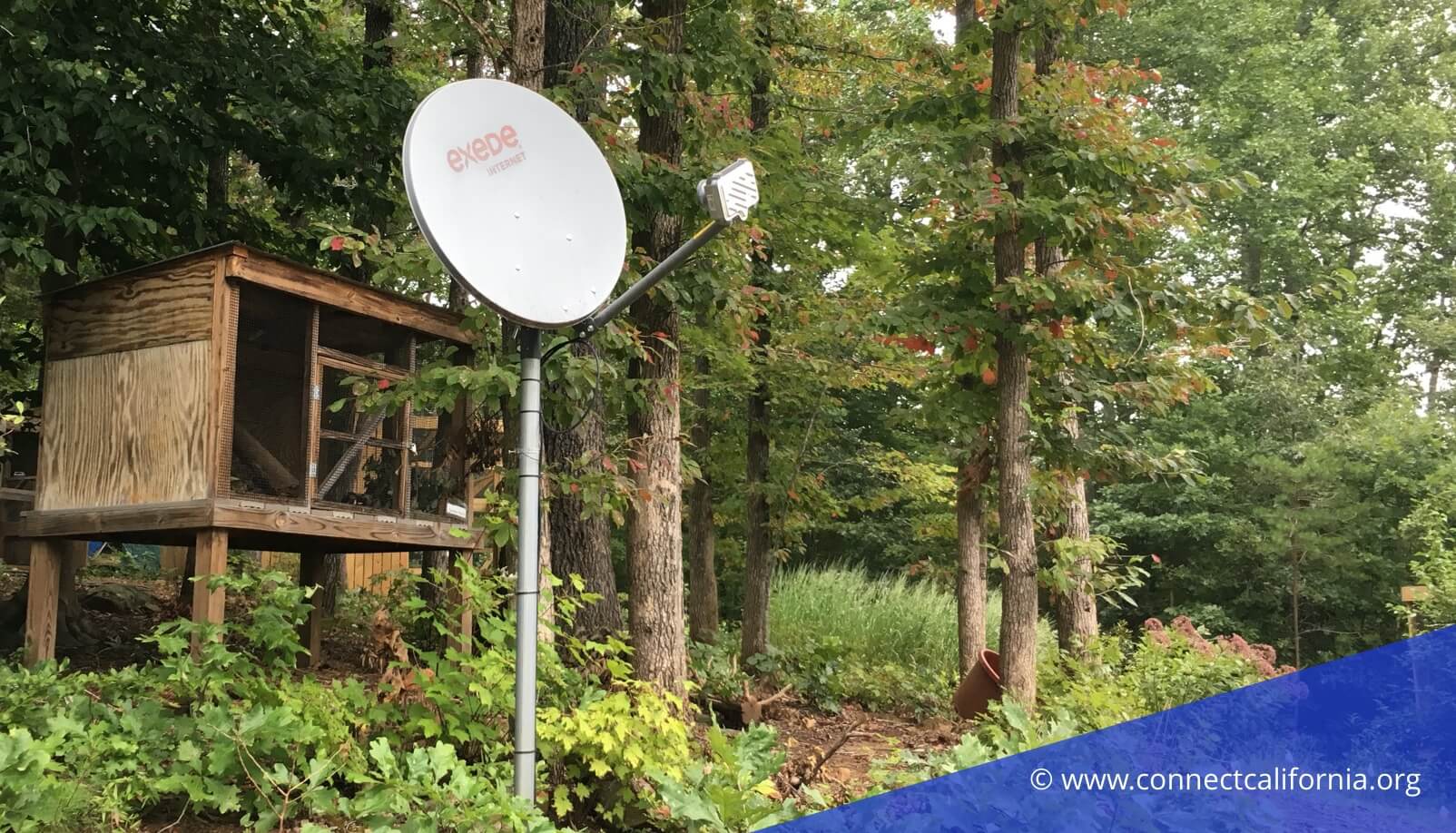 Aside from low overall speeds, the other reason to avoid satellite internet is the data usage limits.
Viasat recently began advertising themselves as unlimited, but this is only technically true because they don't cut you off after you've used too much data — instead, they just slow you down to a snail's pace until the next month.
I recommend that you do your best to avoid HughesNet and other satellite providers on Catalina unless you have no other options.
5G Fixed Wireless Internet in Catalina
One final option to consider on Catalina Island is a little-known company called Geolinks. GeoLinks provides the least amount of coverage in Avalon, with coverage area being somewhere around 5% according to their FCC filings.
However, GeoLinks does provide extremely high-speed internet at up to 300–1,000Mbps. GeoLinks has only been recently introduced to the Avalon area and provides the best coverage in isolated areas.
The main factors that matter for fixed wireless internet service like Geolinks is going to be the address and physical location of your building or unit, as you'll need line of sight with one of their towers in order to get service.
Installation is also more involved than regular internet and you can expect they'll need to install a reception device on your roof. Overall, this type of internet is most commonly used by businesses since it is more legwork to install, and generally is priced a bit higher than standard residential service.
Internet Service Options Elsewhere Around Catalina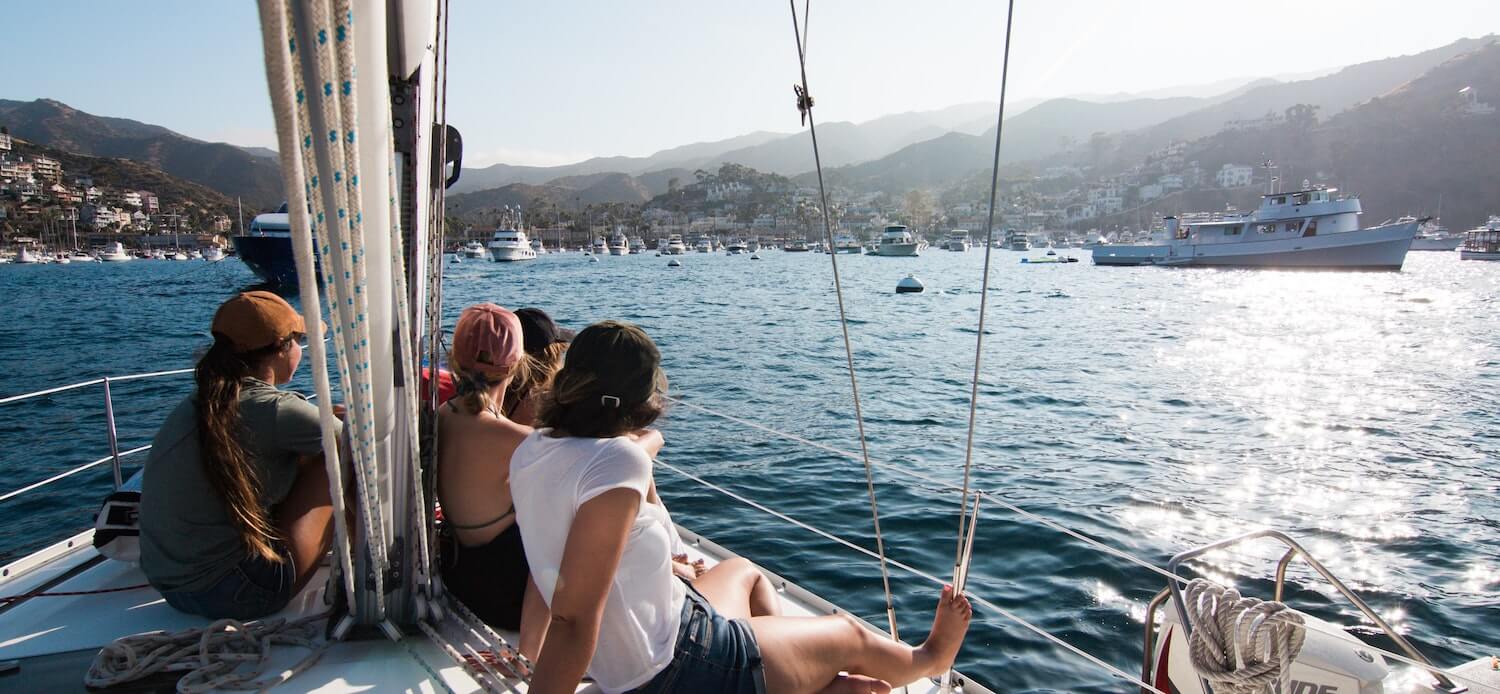 Though the Avalon area has essentially 100% internet coverage in some shape or form, your options around the rest of the island are a little bit more limited. As development is not permitted outside designated areas on the island, this is likely not an issue in the first place.
If you need internet service at a permanent structure outside of Avalon, your best bet is to go for Viasat, which has close to 100% coverage on Catalina Island. This is the perfect choice if you don't live in the bustling areas of the island and are somewhat secluded (out in the boonies). Otherwise, you might have to stick to your mobile internet when you're out of the Avalon area.
Is There 5G on Catalina island?
As the world slowly moves toward 5G coverage due to its quicker speeds and efficiency, you want access to this service just about everywhere you go.
Considering the fact that there are only three cell towers registered with the FCC on Catalina Island, it's very unlikely that 5G is going to be deployed on the island anytime soon.
As of now, you shouldn't expect to have a 5G connection anywhere on the island. This might change in the coming years, though, as more small cell towers providing 5G service are already being deployed in more urban parts of the greater Los Angeles area.
Summary: Who is the Best Internet or Mobile Option on Catalina Island?
The good news is that there's definitely mobile and internet coverage on Catalina Island, though certain areas get more coverage, and certain providers are much more reliable.
For mobile service, AT&T or Verizon Wireless would be your best option for high-speed connections and greater location coverage. What's even better is that these two providers can also offer some coverage offshore of Catalina Island.
When it comes to internet service in the Avalon area, Catalina Broadband Solutions is the way to go. Only choose satellite providers if you have no other choice, as the speed will be much slower than what you're probably used to.
---
Frequently Asked Questions
Who has the strongest cell signal on and around Catalina island?
AT&T and Verizon have the strongest mobile coverage for LTE around Avalon and Catalina Island, including harbors and surrounding waters. However, all the major networks including T-Mobile/Sprint have more or less full coverage and are perfectly usable for day trips.
Who is the broadband provider for Catalina island?
Catalina Broadband provides cable internet and TV locally. They are the only wired broadband provider on the island.
Is there WiFi in Avalon?
Catalina Broadband offers a WiFi hotspot plan. Most ferries and boats to and from the island do not offer free WiFi.