Fees and fine print Compare plans
The biggest difference between Starry and Sonic is that Starry is fixed wireless, while Sonic provides a mix of DSL and Fiber internet services.
For Sonic, that means the top speed at your building might be 1,000 Mbps… or it might be 25 Mbps. So in order to do a true apple-to-apple comparison, you need to check your address at their site and make sure you understand the speed you'll get.
Starry offers the same 200 Mbps plan everywhere. However, they only serve apartment buildings at this time. So if you're in a single-family home or duplex/fourplex, Starry is unlikely to be willing to build service this early.
Sonic vs Starry Internet Basic Features
| Feature | Sonic Internet | Starry Internet |
| --- | --- | --- |
| Starting price | $49.99/mo. sign-up price | $50/mo. flat rate |
| Download speed range | 10,000 Mbps | 200 Mbps |
| Upload speed range | 10,000 Mbps | 200 Mbps |
| Network type | Fiber | Fixed Wireless |
| Contract terms | Contract-free | Contract-free |
Keep in mind that in most of the areas where Sonic and Starry overlap, Sonic is selling xDSL internet over AT&T lines. This means that you might have a router with an AT&T logo on it, or have an AT&T installer show up to install the service. Once installed, you deal with Sonic customer service — which is a big part of the value of choosing it over AT&T in the first place, not to mention the lack of data caps.
Sonic vs Starry Data Usage Policies
Many internet providers in California use data caps to manage their network, meaning that if you use more than a certain amount of data, you will be charged extra on top of your monthly bill.
Sonic and Starry both focus heavily on their unlimited data policies in advertising, and Sonic has been doing good by this promise for decades. Both providers are a good option if your plan for TV service is "cord cutting" and streaming with Netflix rather than buying a traditional cable bundle.
Sonic does not have data caps in California. Starry offers unlimited plans with no data caps.
Sonic Internet Data Caps

Sonic offers internet plans with unlimited data
Starry Internet Data Caps

Starry offers internet plans with unlimited data
Sonic vs Starry Pricing and Fees
Here is a breakdown of how common add-on fees compare for Sonic and Starry plans. These types of fees are common with internet providers, and are important to consider when calculating the "actual cost" of your monthly bill as a new customer:
| Fee | Sonic | Starry |
| --- | --- | --- |
| WiFi equipment fee | ~$10.00/mo. | Free |
| Price increases | Bill increases after promo period | Flat rate |
| Early Termination Fee | Free cancellation | Free cancellation |
Note that fee amounts described above may vary by plan. See the plan comparison tables for Sonic and Starry below for more information.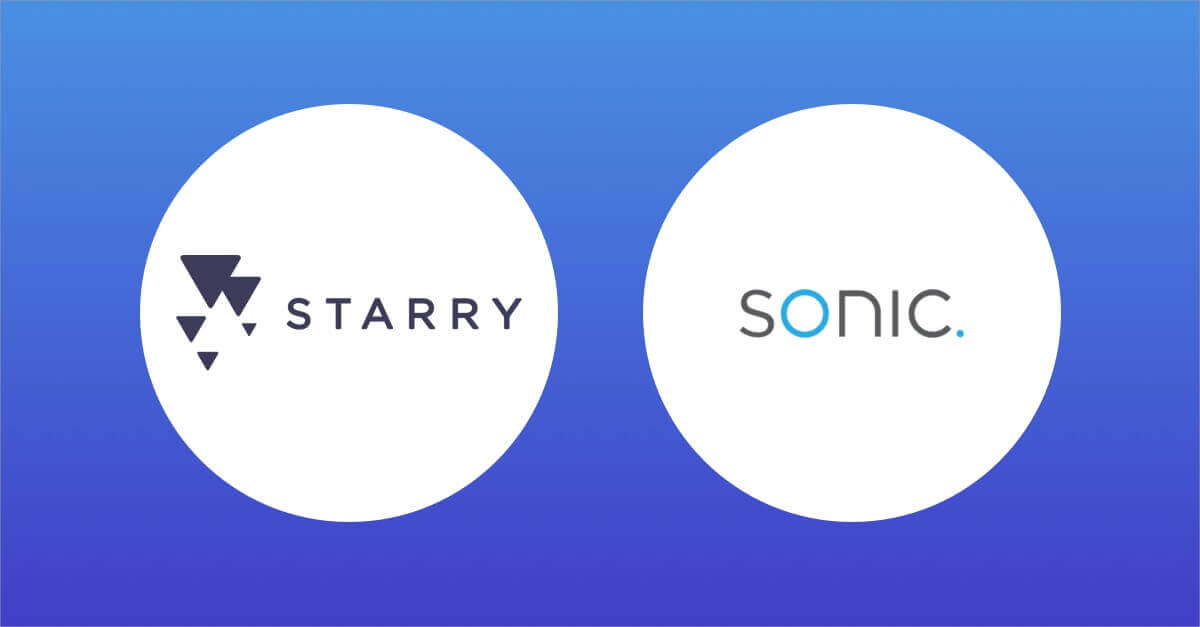 Overall, Starry Internet gets strong marks for their fee-free service. Sonic has exceptional customer service, but in order to compete with the big telecoms they've wound up using many of the same strategies to make the entry price look lower than it actually is. So, don't forget to factor in the WiFi fee, installation fee, and etc when choosing between them.
Sonic vs Starry Internet-Only Plan Comparison
Sonic DSL Internet Plans
For most of the Greater Los Angeles area, Sonic is only available for DSL service. The plan options are to either get basic xDSL service, or to "double the line" and to expand your bandwidth:
| Plan Name | Download Speed | Promo Price | Final Price |
| --- | --- | --- | --- |
Sonic Fiber Internet Plans
Sonic is best known for their Fiber internet service, which is their own custom-built network in Northern California and the Bay Area. This service area offers up to gigabit speeds, and is known as one of the most affordable fiber to the home options in the US.
| Plan Name | Download Speed | Promo Price | Final Price |
| --- | --- | --- | --- |
| Standard Fiber | 10000 Mbps | $49.99/mo | $59.99 |
Starry Internet Plans
Starry's plans are very simple to understand, because there's only one:
| Plan Name | Download Speed | Final Price |
| --- | --- | --- |
| Starry Internet | 200 Mbps | $50 |
This plan includes the WiFi router, and is a flat rate that never changes. This is a big part of Starry's advertising, and how they differentiate from other internet companies, who almost all use sneaky fees to bring up the final price.
Sonic vs Starry Net Neutrality Policies
Starry and Sonic both make Net Neutrality support a major part of their branding and value proposition for customers. If your primary concern is privacy and Net Neutrality, Sonic is the company with the longest track record on the topic. Their CEO Dane Jasper is quite outspoken on both topics, and has put his money where his mouth is in terms of company policies like deleting customer data after only a few weeks (rather than logging endlessly as larger companies do).
Starry has a similar pro-consumer stance on both topics. However, as a very new company, this stance is less proven.
Sonic Internet Net Neutrality Stance
Sonic is one of the loudest pro-Net-Neutrality voices among US internet providers. The company has actively taken steps to protect user privacy and preserve Net Neutrality.
Sonic Net Neutrality statement
Starry Internet Net Neutrality Stance
Starry Internet maintains a detailed page on their website describing their traffic treatment in regards to Net Neutrality.
Starry Net Neutrality statement