Xfinity low-income plan Monkeybrains low-income program AT&T low-income plan Other programs
In 2019, San Francisco had a median income of $112,449, according to census data. However, the city also suffered from a poverty rate of over 10%, meaning that there are plenty of residents in need of discounted services, both internet-focused and otherwise.
To make matters worse, studies show that internet providers are prone to install faster service in wealthier neighborhoods, meaning that low-income buildings in San Francisco often have only one option for service.
I spent three hours reading through the fine print of city government programs and researching low-income internet plans offered by San Francisco internet providers to help you find the best deal. My hope is that this information will help you figure out the next best steps to get you or your family connected and online.
Comcast Internet Essentials in San Francisco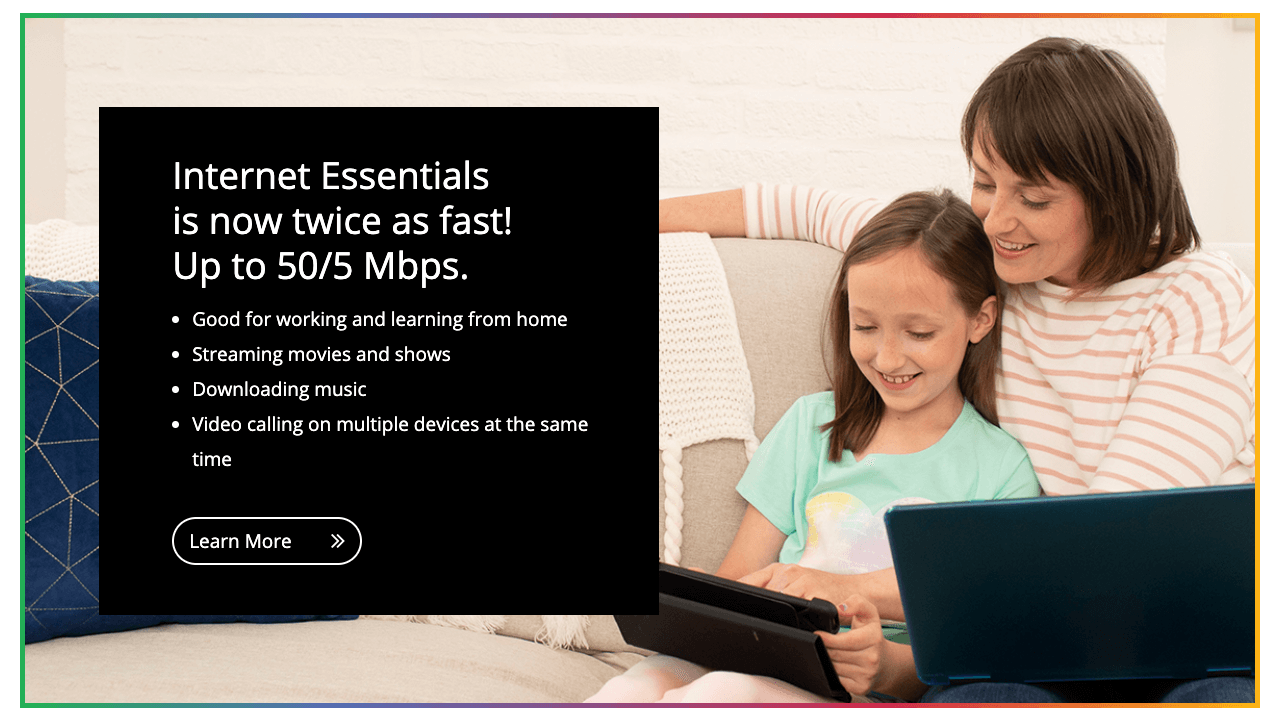 Xfinity is by far the largest internet provider in San Francisco, with cable coverage in 99% of city limits. This makes their low-income plan the most common high-speed choice for local households in Bay Area neighborhoods like South Berkeley.
Plan features
Comcast's low-income plan, Internet Essentials, is a simple and cost-effective solution to get you and your family connected.
When it comes to internet speed, you should consider two different kinds of speed: download (how long it takes for a YouTube video to load, for example) and upload (how long it takes you to upload a YouTube video).
This plan packs a punch at up to 50 Mbps (Megabits per second), which is the fastest download speed of any large internet provider's low-income plan that I've seen — and twice the speed of AT&T's low-income plan.
When it comes to upload speeds, though, this plan's 5 Mbps aren't the fastest. For example, 5 Mbps will allow you to video call into a Zoom meeting for school or work, but it'll make video calling on more than one device difficult. This could be a problem in our new, work-from-home economy, so make sure you can put up with this limitation before signing up.
On top of the speed, there are essentially no hidden fees here. You don't have to worry about a contract, credit checks, or cancellation fees. A wireless gateway, which makes Wi-Fi available in your home, is included too. This will save you as much as $14 a month.
Plan pricing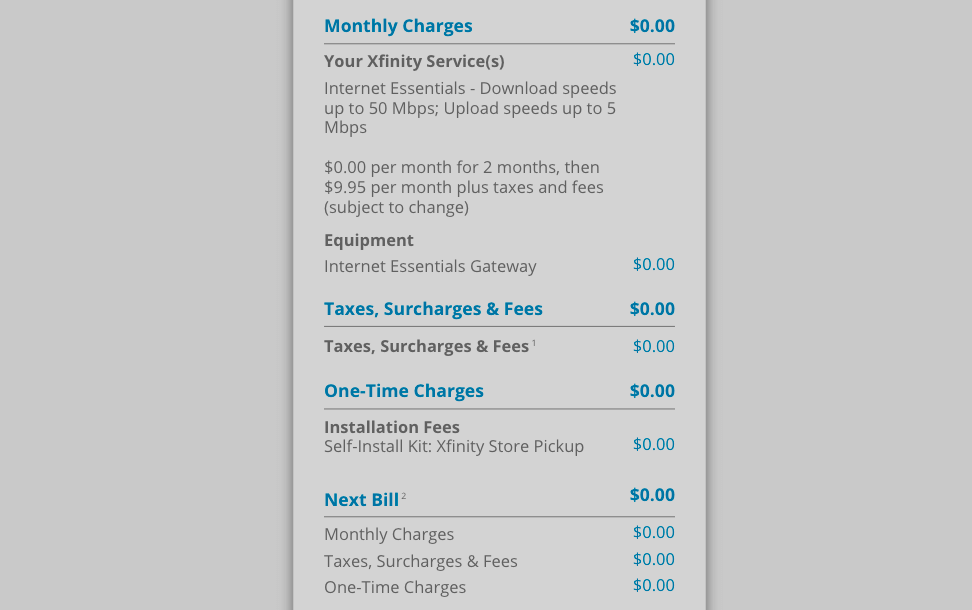 Internet Essentials is also extremely cost-effective at only $9.95 a month. There are no extra fees here, and the only additional costs you'll need to consider are taxes. With San Francisco's sales tax rate of 8.5%, your monthly bill should be somewhere around $10.80.
How to qualify
Internet Essentials has a wide range of qualifiers. In order to find out if you're eligible for the service, first check if you participate in any of the programs below, as listed on Comcast's website:
MEDICAID: card or most recent eligibility letter for any member of your household.
Public housing assistance documentation such as your lease, housing assistance payment
(HAP) contract, or eligibility documentation from HUD.
Supplemental Nutrition Assistance Program (SNAP)
Temporary Assistance for Needy Families (TANF)
Supplemental Security Income (SSI)
National School Lunch Program (NSLP)/Head Start
Low Income Home Energy Assistance Program (LIHEAP)
Special Supplemental Nutrition Program for Women, Infants, and Children (WIC)
FEDERAL PELL GRANT
VA PENSION
Tribal assistance eligibility letter, including TTANF, FDPIR, etc.
Once you have determined your eligibility, head over to Comcast's Internet Essentials website and apply.
Monkeybrains free internet program
The fastest and cheapest low-income internet option in San Francisco at present is through a partnership between local provider Monkeybrains and the City of San Francisco. The project provides free fiber internet to nearly 40 apartment complexes in the city.
Residents of those apartments (you can view the full list here) can access Wi-Fi either through an apartment-wide network or a personal one, depending on location. If you live at one of these complexes and need a router, you can contact Monkeybrains or the staff at your apartment to get one.
However, this project is fairly limited and mostly serves large subsidized housing projects. If you don't live in those specific buildings, your second-best option is likely the Comcast Internet Essentials program.
Access from AT&T in San Francisco
AT&T's internet network covers almost every part of San Francisco, but it's generally slower than Xfinity's internet. However, Bay Area apartment landlords often choose only one internet provider for their tenants, so it's possible that AT&T will be your internet provider by default — especially in low-income housing scenarios.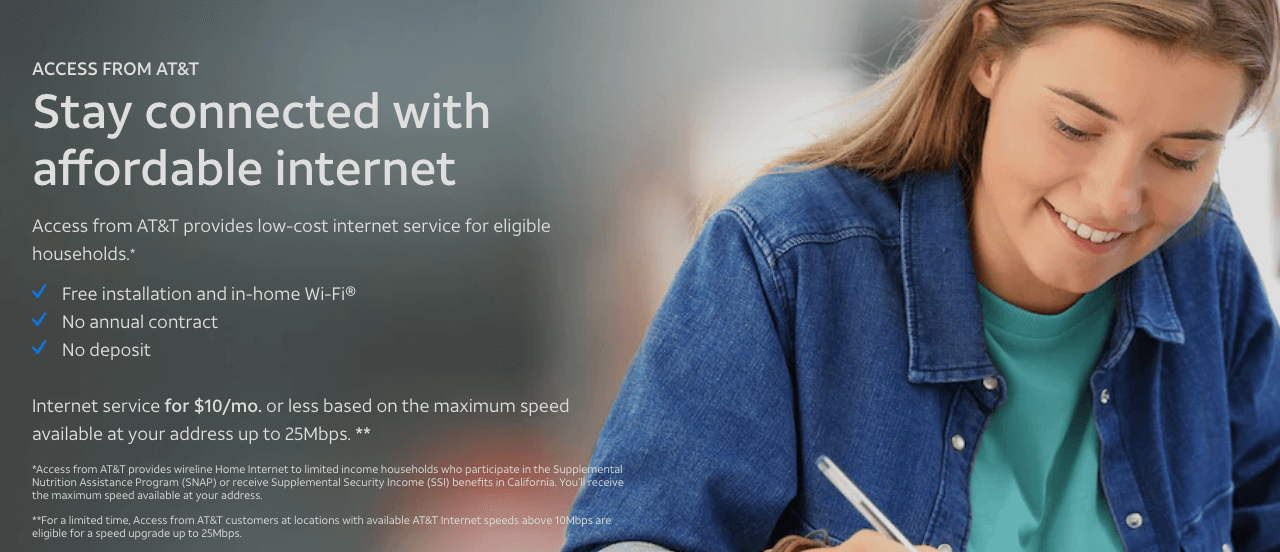 Plan features
Access, which is AT&T's contribution to the low-income internet market, doesn't offer the same speeds as Internet Essentials, but it's still a solid option.
When you subscribe, you get access to speeds of 25 Mbps download and 5 Mbps upload. On top of those speeds, you can also get your internet installed for free and get complimentary in-home Wi-Fi, too. There are no contracts here, and no deposit is required either.
When you become an Access subscriber, you will get either 150GB or 1TB of monthly data, depending on the speeds available at your house. But there is one potential fee included with that data, which I'll discuss more in the next section.
Plan pricing
Access from AT&T is only $10 per month, and as we've discussed, it comes with several benefits.
In terms of fees, however, AT&T's terms of service state that for every 50 Gigabytes you use over the data limit you'll be charged $10. That price can rack up pretty quickly, so be sure to keep an eye on your data usage.
How to qualify
Unfortunately and ironically, subscribing to Access can be difficult. AT&T requires applicants to submit documentation proving that they are participants in one or more of these programs:
Supplemental Nutritional Access Program (SNAP)
Supplemental Security Income (SSI) for California residents only
If you don't participate in either of those programs, AT&T has widened its pool of applicants temporarily due to the coronavirus. You can also participate if you:
**Receive National School Lunch and Head Start Programs benefits, or **
Have an annual income that is 135% or less than the federal poverty guidelines.
If you participate in any of these programs and want to subscribe to Access, head over to the AT&T website.
How to get free and discounted computers for San Francisco residents
San Francisco has several options that can get free and discounted computers into the hands of low-income individuals.
The coronavirus has put a premium on getting low-income individuals connected, so if you qualify, you can get access to some great deals on devices like laptops and wireless hotspots.
Human-I-T
Human-I-T is a company that is devoted to getting low-income individuals connected through discounted technology, internet, and tech training. At the time I wrote this article, Human-I-T said that they've distributed over 27,000 computers across the country.
Hardware offered
Human-I-T currently offers a wide range of computers as cheap as $90. For example, while I was doing research for this article, Human-I-T offered a Dell laptop with 500 gigabytes of storage for $89.95. Depending on your needs, the company also offers laptop and desktop computers with varying levels of storage and power.
If you need them, you can also purchase low-cost accessories and tablets from Human-I-T. As another example, Human-I-T offered an HP computer monitor for $28 when I wrote this article.
And though they're not free, you can also rent a Wi-Fi hotspot for a month, three months, six months, or a year. These hotspots are very powerful and can connect up to ten devices at a time with unlimited Wi-Fi. Rates vary, so head to Human-I-T's website to check it out.
How to qualify for Human-I-T's discounted technology
Human-I-T has a wide range of programs that can be used to qualify for their services. If you participate in any of these programs and are able to provide documentation to that end, you're good to go:
SNAP / EBT (CalFresh)
Medi-Cal / Medicaid
SSI (Supplemental Security Income)
SSDI (Social Security Disability)
NSLP (National School Lunch Program)
Public Housing Assistance or Section 8 voucher
Lifeline
Cal Grant Financial Aid
Supplemental Nutrition Program for Women, Infants, and Children (WIC)
California Alternate Rates for Energy (CARE)
Head Start
Temporary Assistance for Needy Families (TANF)
If you don't participate in any of those programs but have an income that is up to 250% of the national poverty guideline, you can still participate. You'll just have to produce one of these forms of proof:
The prior year's state, federal, or tribal tax return
A Social Security statement of benefits
Federal or tribal notice letter of participation in General Assistance
A Veteran Administration statement of benefits
A retirement/pension statement of benefits / Social Security benefits
To read more and apply, go to the Human-I-T website and click the Get Connected tab.
How to get help signing up for low income internet in San Francisco
If you need help signing up for local internet programs, companies like Human-I-T and EveryoneOn can assist you in getting connected.
Human-I-T
To connect with Human-I-T, first go to the company's website, where you'll have the option to speak with one of the company's Digital Navigator assistants. One of these assistants will call you to assess your needs and tell you what options are available to you. Then, the Digital Navigator will help you sign up with whichever program you like the best.
EveryoneOn
If you're not sure where to start in your internet research, EveryoneOn has a great resource that shows you which providers offer discounts in your ZIP code.
To see which plans are available to you, go to EveryoneOn's website, type in your ZIP code, and select the low-income programs you participate in. From there, you can find offers available to you as well as technological literacy programs that you can take advantage of.
San Francisco Public Library
The San Francisco Public Library provides free computer lessons to everyone interested.
Mission Economic Development Agency
The Mission Economic Development Agency (MEDA) is a bilingual organization designed to assist Latino people in the San Francisco area. MEDA is currently offering a free computer lab, available Monday through Friday from 1 PM to 5 PM, and technology education resources free of charge.
To learn more, go to MEDA's website.
How to get free Wi-Fi in San Francisco
San Francisco has several programs that low-income families can use to get connected to the internet, but the problem isn't even close to being solved. For now, you may be able to take advantage of some of the initiatives the city has created.
San Francisco City Public Wi-Fi Program
The City of San Francisco currently offers dozens of free Wi-Fi hotspots across the city. To access the internet, simply check the city's list of Wi-Fi locations here and head over to get connected.
Free internet at public libraries in San Francisco
If you have access to your local library, it's likely that you'll be able to receive free internet there as well. To make sure, give the library a call. If you can't do that, head over to your nearest library, go into the settings of the device you want to connect and click on the Wi-Fi settings. Nearby networks should pop up — look for the library's network and click it to get connected.
What is San Francisco doing to solve the digital divide for low income families?
In 2019, the San Francisco Mayor's Office of Housing and Community Development released its five-year plan to address poor rates of internet access in the city. That plan is called the Digital Equity Strategic Plan, and it gives some good insight into Mayor London Breed's internet accessibility goals.
I won't go over all of the goals because there are quite a few, but here are some of the most relevant ones:
Bring affordable connectivity to affordable housing communities
Expand and promote low-cost internet options
Launch a digital literacy innovation program
The city aims to connect 15,000 residents to high-speed internet by 2024, and give 5,000 internet-connected devices out by the same year.
---
Frequently Asked Questions
Is there a low-income internet program in San Francisco?
The City of San Francisco offers free internet for some low-income housing through a partnership with local provider Monkeybrains. Comcast and AT&T, two of San Francisco's largest internet providers, both offer low-income internet plans. Comcast's low-income program, Internet Essentials, offers 50 Mbps and a slew of other benefits for $10 a month. AT&T, for its part, offers 25 Mbps for the same price.
Is there a digital divide in San Francisco?
In 2018, the City of San Francisco reported that as many as one in eight residents of the city did not subscribe to home internet. That number works out to about 100,000 unconnected residents in one of the biggest tech hubs in the world. Today, the citywide project designed to provide public internet for all residents has been tabled and doesn't look like it's going to be revived any time soon.
How can I get internet for free with low income?
Low-income individuals can access free internet through several of San Francisco's public libraries, as well as internet-connected parks and streets.