Spectrum low-income plan AT&T low-income plan Other programs
Despite its proximity to several wealthy parts of Southern California, Riverside's 11% poverty rate means that there's plenty of need for technology and the internet. However, Riverside's options for free internet and technology are relatively limited compared to neighboring cities.
Luckily, during my three hours of research, I found a few ways that low-income individuals can get access to cheap computers and internet. Here are a few of the best ways:
Access from AT&T (discounted internet)
Human-I-T (tech assistance, discounted technology)
Riverside public libraries (free internet, Wi-Fi hotspot rentals)
I'll walk you through each of them and show you how you can save the most money.
Spectrum Internet Assist in Riverside

Spectrum Internet Assist is one of two large low-income internet offerings in Riverside, and nearly 100% of residents are within a coverage area according to our data. That means that if your landlord hasn't chosen to lock your apartment into one internet provider, you can probably take advantage of Spectrum service.
Plan features
Internet Assist gives you speeds of 30 Mbps download and 10 Mbps upload. But what, exactly, does that mean?
When it comes to speed, you'll need to understand the two measurements companies use to categorize how fast your internet is: upload and download.
Upload speeds are the amount of time it will take you to post something on or transmit something over the internet (think putting a video on YouTube or Zoom calling.) Download speeds are the time it takes you to view or get something off of the internet (like watching a YouTube video or listening to a song on Spotify.)
Internet Assist's speeds are great for a low-income plan, and will be able to support moderate online activity. For example, if you need Zoom to work or learn remotely, you need about 1-2 Mbps to upload and receive video feeds.
That might be fine if you're the only one in the house, but if you have several other people using the same amount of upload bandwidth, you can use it up pretty quickly.
When you sign up for Spectrum Internet Assist, you'll get service without contracts or data caps. Further, a Spectrum representative confirmed to me that you won't face any credit checks on any of their plans.
By the way — when you sign up for Internet Assist, you'll get a free modem. However, you'll have to pay $5 extra for in-home Wi-Fi, which you'll probably want.
Plan pricing
At only about $23 per month, Internet Assist is also a relatively cheap offering. And though the plan is about $13 more expensive than Access from AT&T, you also get more speed for your buck.
Beyond taxes  — which, in Riverside, will probably bring your bill to somewhere around $25 per month — there are a couple of other fees you'll need to keep in mind, which I've laid out below:
$5 monthly bill for in-home Wi-Fi
$50 installation fee ($10 for self-install)
Note: Spectrum's fine print states that there might be fees specific to certain addresses. Make sure you pay attention to any fees that will be laid out in the checkout section of the order process.
How to qualify
Spectrum's qualifications to enroll are extremely limited compared to competitors like Comcast and AT&T. To qualify, you'll need to meet one of the requirements listed below:

The good news is that if you participate in one of these programs, you can receive benefits under Internet Assist. The bad news is that if your child doesn't participate in the school lunch program or receive SSI benefits, you probably won't be able to qualify for this plan, even if you have low income.
Access from AT&T in Riverside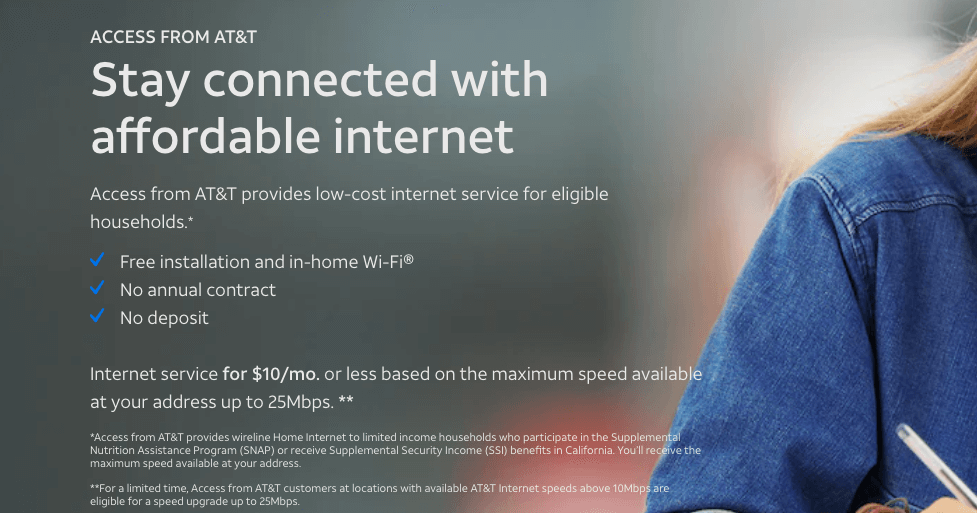 AT&T's network covers 94% of Riverside, making it the second-largest provider in the area. However, AT&T's network is generally built on older technology that can, at times, be slower than competitors.
This is because, in Riverside, competitors like Spectrum have a broader fiber internet network, which is faster than AT&T's older DSL internet technology. Still, if you're looking for low-income internet for about the price of a Netflix subscription, AT&T has a good option.
Plan features
When you subscribe to Access from AT&T, you'll benefit from internet speeds of up to 25 Mbps download and 5 Mbps upload. You'll get these speeds without contracts, installation fees, credit checks, deposits, or extra fees for in-home Wi-Fi. There is one potential fee for data usage, which I'll describe in the next section, but it is avoidable.
However, as we just discussed, these speeds are at the low end. If you work or learn remotely, having several people in the home making Zoom calls can clog up your connection and slow your speeds.
Plan pricing
At only $10 per month, Access from AT&T is less expensive than Spectrum Internet Assist, but it comes with one potential fee.
Depending on your location, you'll be allotted either 150 GB or 1 TB of monthly data. But for every 50 GB of usage that you use above that limit, you'll have to pay an extra $10. These charges can rack up pretty quickly, so you'll want to keep an eye on it.
How to qualify
Qualifying for Access from AT&T is easier than applying to Spectrum Internet Assist, but there's a little more nuance here. To determine your eligibility, first check if you meet any of the requirements laid out here: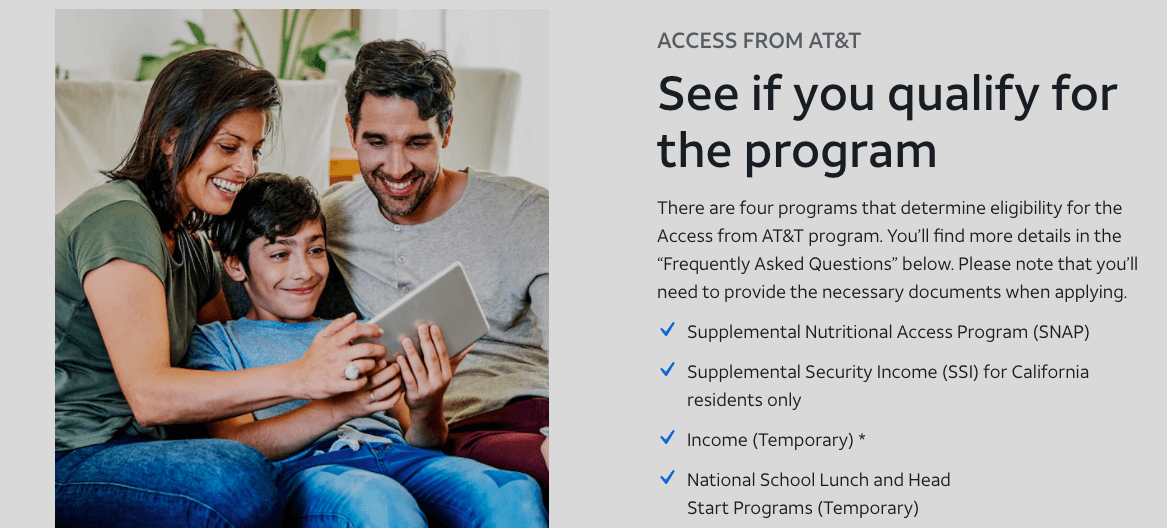 Now here's where it gets a bit complicated: If you take part in the Supplemental Nutritional Access Program (SNAP) or receive supplemental security income and live in California, you can enroll in Access without issue.
If your annual income is 135% or less than the federal poverty guidelines, or if you take part in the National School Lunch and Head Start programs, you can also take part, but your eligibility is temporary. It's not clear when AT&T will go back to just having two qualifiers, but if you're considering signing up, now is the time.
Once you've determined your eligibility, go to AT&T's website to sign up.
How to get free and discounted computers for Riverside residents
According to census data from 2019, nearly 8% of Riverside residents do not have a personal computer. If you're one of those many thousands of people, there are ways to get free or discounted technology that you can use for school or work. I'll walk you through some of the best below.
Human-I-T
Human-I-T is an organization that provides discounted technology to low-income individuals in Riverside. If you need a laptop, desktop, or even a Wi-Fi hotspot, you can find some good ones here.
As far as computers go, I was able to find several laptops and desktops for around $100. That's pretty cheap for a computer, but you'll have to prove your eligibility. I'll show you how to do that in the next section. If you need a Wi-Fi hotspot, you should expect to pay about $15 a month for a device that can connect around 5-8 people at a time.
How to qualify for Human-I-T's discounted technology
If you're in need of one of these devices, you'll need to prove that you meet the requirements to be categorized as low-income. The good news, though, is that there are quite a few ways that you can prove you're eligible.
To qualify, first check the eligibility requirements below: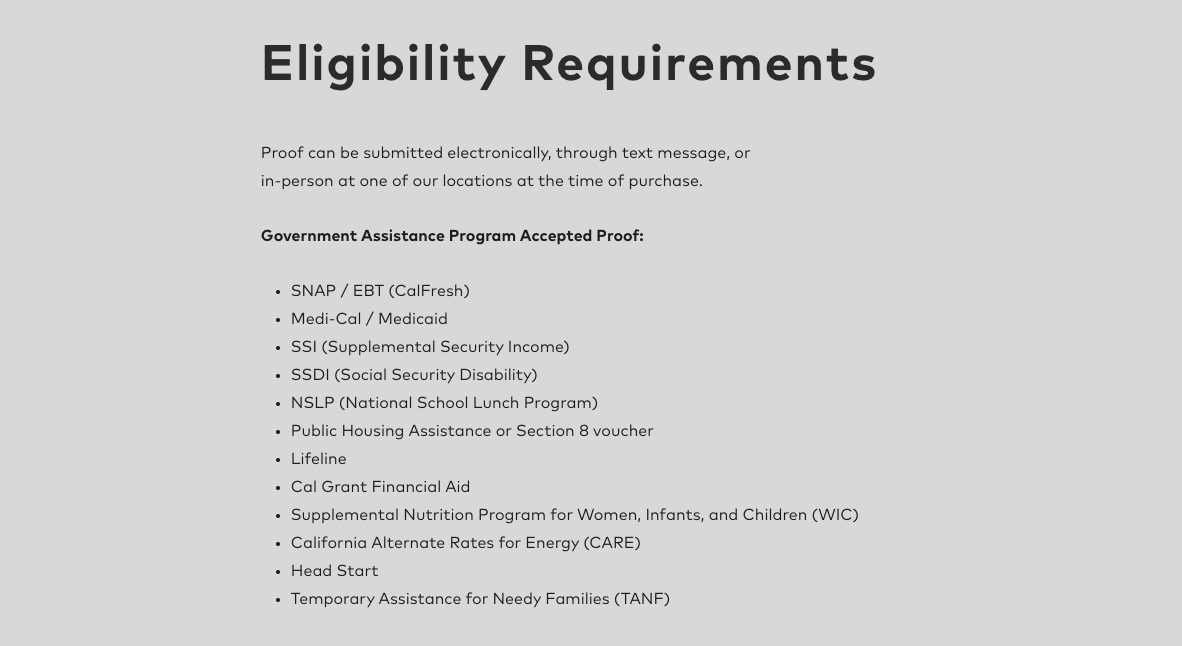 If you participate in any of these programs, you'll need to provide some documents to Human-I-T. Here are a few of the acceptable forms of proof:
The prior year's state, federal, or tribal tax return
A Social Security statement of benefits
Federal or tribal notice letter of participation in General Assistance
A Veteran Administration statement of benefits
A retirement/pension statement of benefits
When you're ready to purchase your discounted computer or Wi-Fi hotspot, go to Human-I-T's website to apply.
Computers with Causes
Computers with Causes is a nonprofit organization that gives free computers to those in need. If you apply through their website, you might be able to take advantage of their services.
The organization's devices are all donated, so it's hard to know exactly which computers they have in stock. However, if you're able to pass the organization's rigorous vetting (which can take as much as 30 days), you'll get one at zero cost.
How to qualify for Computers with Causes free computers
There aren't specific qualifications to receive a device from Computers with Causes. If you want a computer, you can go to their website, type in your name, address, and contact information, and explain why you need a computer. Computers with Causes will contact you with further information within 30 days.
How to get help signing up for low income internet in Riverside
The County of Riverside estimates that there are 100,000 residents that do not have consistent access to the internet. If you're one of those people and need help to get connected, there are plenty of ways for you to do so.
Human-I-T
In addition to selling discount computers, Human-I-T will also help you research available internet options in your area. All you have to do is navigate to the Human-I-T website, give them a call, and one of their employees will give you all the information you need to get signed up.
EveryoneOn
EveryoneOn is an organization devoted to closing the so-called "digital divide." They do this by helping to connect you to the internet services and discounts available in your area. When you go to the EveryoneOn website, all you need to do is type in your ZIP code and any low-income programs you participate in. Then, the website will show you what you need to do to get connected to the programs you qualify for.
How to get free Wi-Fi in Riverside
If you have a device but can't afford Wi-Fi in your home, there is only one main way to connect to the internet for free in Riverside: the public library system. In the next section, I'll show you how to connect to it.
Free internet at public libraries in Riverside
There are 35 public libraries across Riverside County, and all of them have unlimited and free Wi-Fi. All you need to do to connect is to sign up for a free library card. Once you do, you can even use Riverside's library computers if you need to.
What is Riverside doing to solve the digital divide for low income families?
Given Riverside's high rate of unconnected residents, it would make sense for the city to invest heavily in getting people connected and closing the digital divide. The way that Riverside County is doing this is by refurbishing and distributing free computers to people in need.
The County of Riverside is also gauging interest in gigabit-speed internet in the county. If you want to let them know of your interest, go to the Riverside County website to complete a short survey.
---
Frequently Asked Questions
Is there a low-income internet program in Riverside?
There are two main low-income internet programs in Riverside: Spectrum Internet Assist and Access from AT&T. Access from AT&T offers speeds of up to 25 Mbps download, 5 Mbps upload for $10 a month. Internet Assist, which costs $15 per month, is 30 Mbps download and 10 Mbps upload.
Is there a digital divide in Riverside?
Nearly 14% of Riverside residents do not have a broadband internet connection, according to census data from 2019. That's over double the national rate of unconnected individuals, meaning that Riverside's digital divide is wider than most cities.
Where can I get free Wi-Fi in Riverside?
The City of Riverside does not currently have a free citywide broadband network. If you need to get connected to the internet for free in Riverside, I suggest getting a library card at your local library and utilizing the library's connection.