Xfinity low-income plan AT&T low-income plan Other programs
While I was researching this article, I spent three hours speaking with representatives of internet providers and nonprofit organizations in the Oakland area. During this time, I also scoured the fine print on low-income internet plans to find you the best deal.
The good news is that there are plenty of great ways to get computers and internet at free and reduced prices. Here are a few of the best ways to do so:
Access from AT&T (discounted internet)
Internet Essentials (discounted internet)
Human-I-T (tech assistance, discounted technology)
Tech Exchange (free and reduced devices)
Oakland public libraries (free internet, Wi-Fi hotspot rentals)
OAK Wi-Fi (free internet)
I've done extensive research on each of these internet and technology options. I'll briefly walk you through each of these options so that you have the information you need to make the best decision on how to get connected.
Comcast Internet Essentials

Comcast has one of the largest and fastest internet networks in Oakland.
Our data shows 99% coverage locally, however due to provider lock-out in some apartment buildings, the actual availability is likely about 5% lower.
For low-income residents of Oakland neighborhoods like Fruitvale and Elmhurst Park, Internet Essentials will likely be the best option.
Plan features
Comcast Internet Essentials offers a range of great features compared to most low-income plans on the market, but let's drill into internet speeds first.
When it comes to internet speed, you should understand that there are two speeds you need to pay attention to: upload and download. Upload speeds are a measure of how long it will take for you to put something on the internet (like your voice and image on a Zoom call). Download speeds are a measure of how long it will take to get it from the internet to your device (watching a YouTube video).
Internet Essentials gives you access to up to 50 Mbps download and 5 Mbps upload. Those speeds are good, especially for a low-income plan, but you might run into some turbulence when it comes to upload speeds. If you work remotely or your child goes to school online, Zoom uses a minimum of about one or two Mbps to upload video. If others are using the internet in your home to call on Zoom or otherwise, that connection could suffer.
In terms of hardware and freebies, this plan is pretty sparse. You'll get a free Wi-Fi gateway, which is a great value (it usually costs $14 a month) and a free self-install kit — and that's about it.
But despite this, you'll never have to deal with credit checks, contracts, or cancellation fees on this plan — which could be a huge upside for low-income individuals who need an internet connection.
Plan pricing
At only $9.95 per month, this plan is the cheapest that Comcast offers. Comcast doesn't charge you extra fees, and with Oakland's sales tax rate of 10.25%, your monthly bill will come out to somewhere around $10.97.
Normally, internet plans have an attractive "introductory price" for a year or so, after which the price goes up substantially. There's no way of knowing at this time if Comcast plans to increase the price of Internet Essentials, but it's safe to say that this will be your price for the foreseeable future.
How to qualify
If you participate in any low-income programs, you should have a pretty easy time qualifying for this plan. There are a dozen different qualifiers here, so first check if any of them describe you. You'll qualify if you participate in any of the programs in the photo below.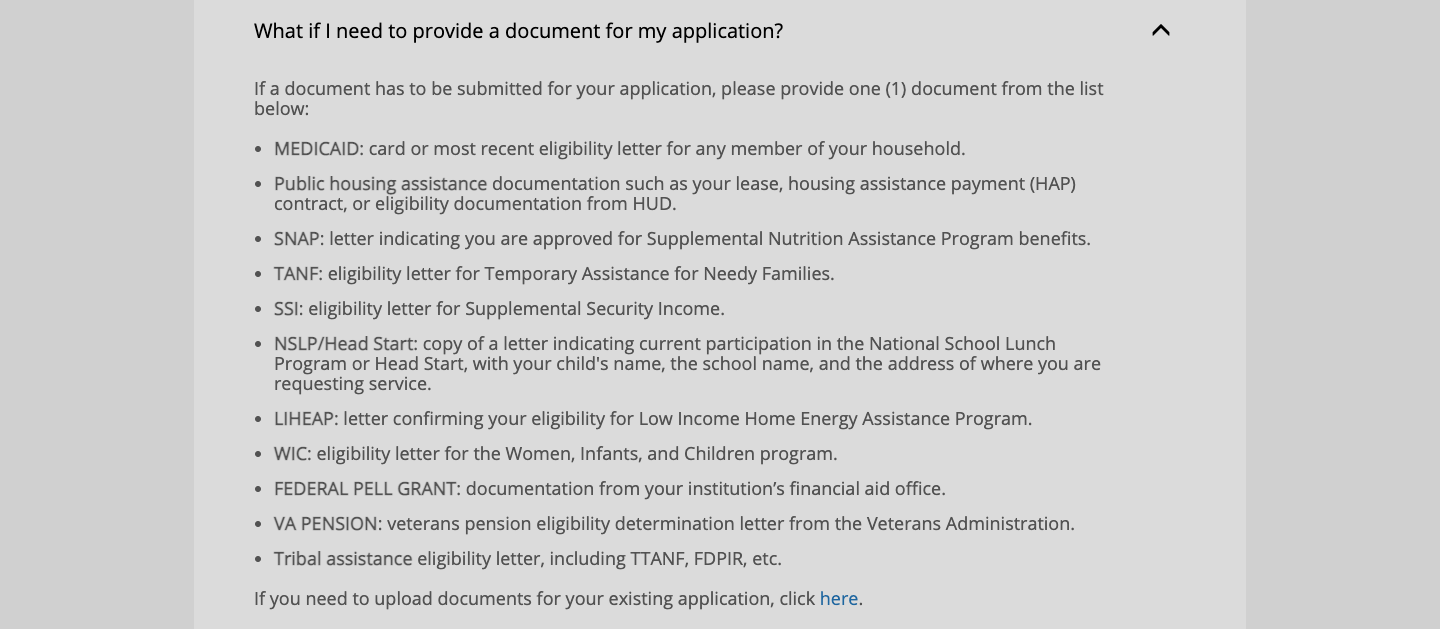 There are nearly a dozen ways for low-income individuals to receive benefits from the Internet Essentials program, so if you are low-income you shouldn't have much trouble signing up.
If you do participate in any of these programs, head over to Comcast's website to get signed up.
Access from AT&T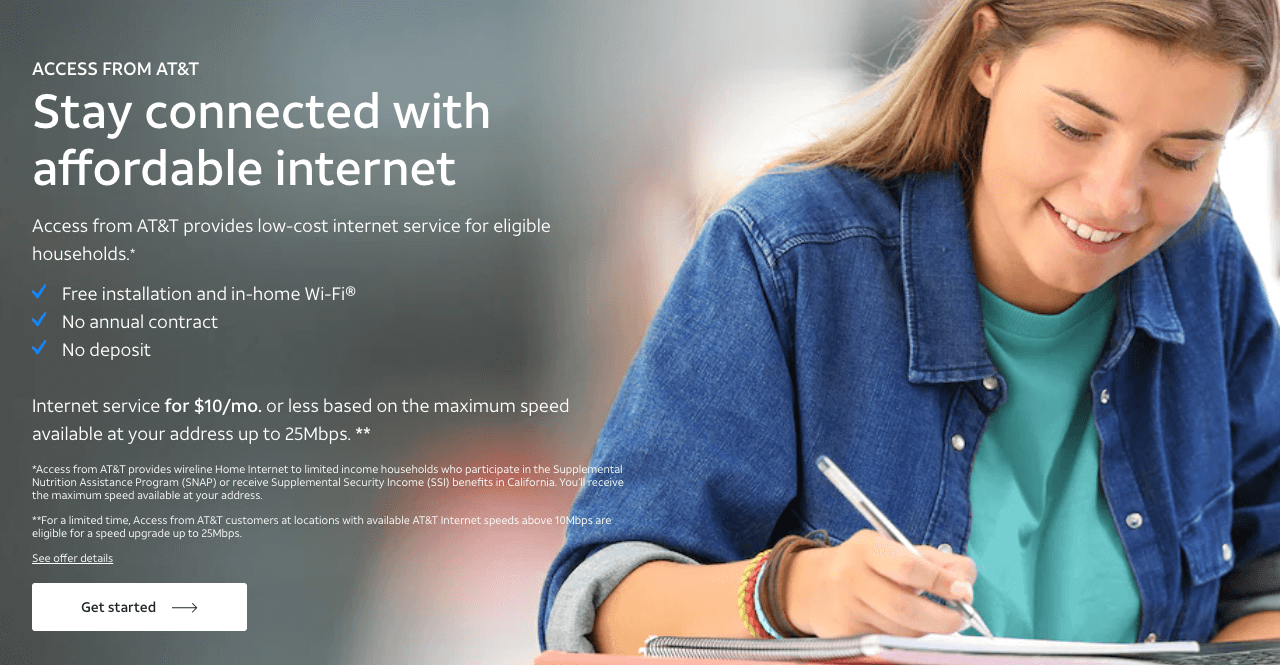 AT&T's coverage in Oakland is about the same as Comcast's, but it's generally slower. However, your options may be limited to AT&T if you live in one of the many low-income Oakland apartments which receive internet from only one provider.
In that case, Access from AT&T, the company's low-income plan, is a great option that I've spent over three collective hours researching.
Plan features
Access offers speeds of 25 Mbps download and 5 Mbps upload, but if you're working or learning from home these speeds could be too slow.
For example, a standard Zoom call takes between 1 and 2 Mbps upload. When you have more than one Zoom call or something else hogging upload speed, it's not hard to see how quickly your speeds could suffer. If you're going to choose Access, make sure to consider this possibility before you sign up so your work or education doesn't suffer.
That said, you won't ever have to worry about contracts or term agreements with Access. When you sign up, you'll get a free Wi-Fi router and installation, too.
But one significant downside to Access is that AT&T requires you to submit your social security number for a credit check — I confirmed its existence with an AT&T representative. AT&T's Consumer Service Agreement states that AT&T can refuse you service if "we determine that you may be a credit risk." This could be for three main reasons:
A poor credit rating
Insufficient credit history, or
Previous late payments or suspensions
If you don't want to submit to a credit check, Access might not be the plan for you. If that's not a concern and you are looking to get good speeds for a cheap price, head over to AT&T's website to get signed up.
Plan pricing
As far as price goes, this plan is relatively inexpensive at only $10 per month and no unavoidable hidden fees.
However, you should keep in mind that you are only allotted a certain amount of monthly data on this plan (either 150 GB or 1 TB). For every 50 GB you use above that limit, you'll get charged $10, so it's best to keep an eye on your data usage.
How to qualify
Qualifying for Access is more difficult than qualifying for Internet Essentials. Below, I've copied the programs that are required for eligibility from AT&T's website.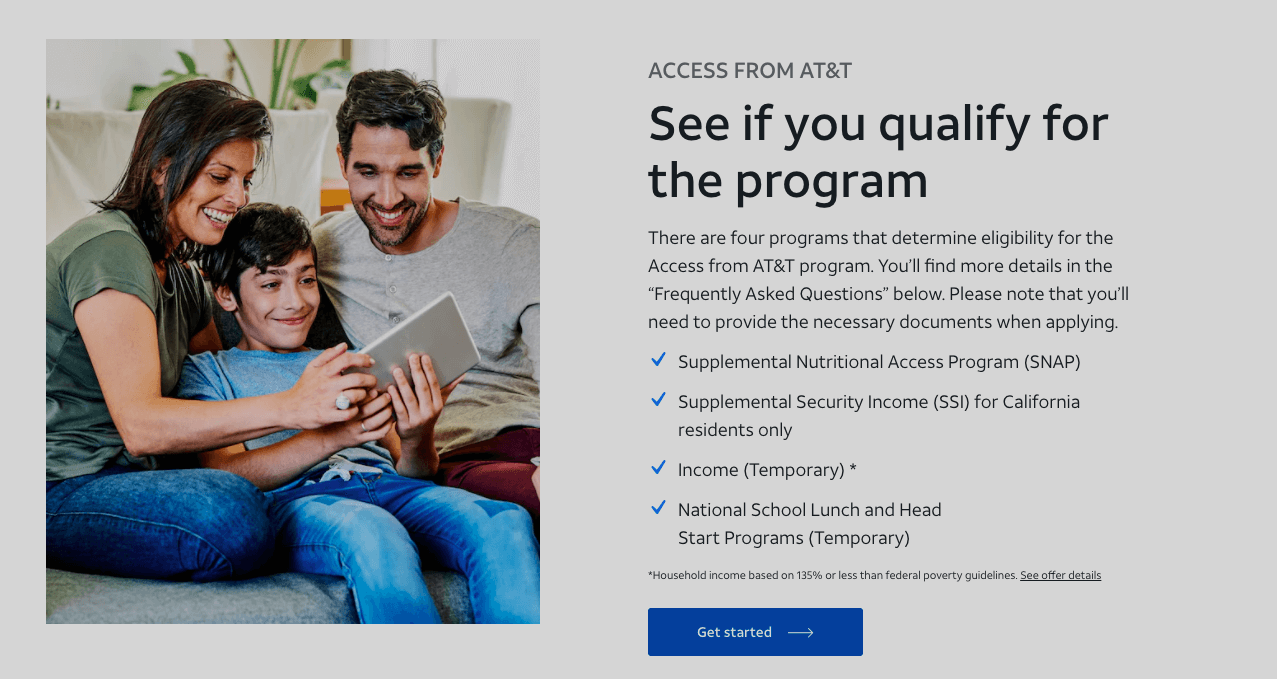 As you can see, there are only four programs that are used to determine eligibility, and two of them are temporary.
If you participate in the Supplemental Nutritional Access Program (SNAP) or live in California and receive Supplemental Security Income (SSI) benefits, you can go to AT&T's website and sign up.
If your child participates in the National School Lunch and Head Start Programs, or if your annual income is less than 135% of the federal poverty guidelines, your eligibility is temporary. You will still receive service as long as you qualify for the service, but it's not clear how long AT&T will expand eligibility. In this case, time is of the essence.
Once you've determined your eligibility, go to AT&T's website to sign up.
How to get free and discounted computers for Oakland residents
According to census data recorded in 2019, about 10% of Oakland residents do not own a household computer. In our new remote work economy, this poses a problem for low-income residents of Oakland who need to work from home. Luckily, Oakland has several options for using and purchasing low-cost computers.
Tech Exchange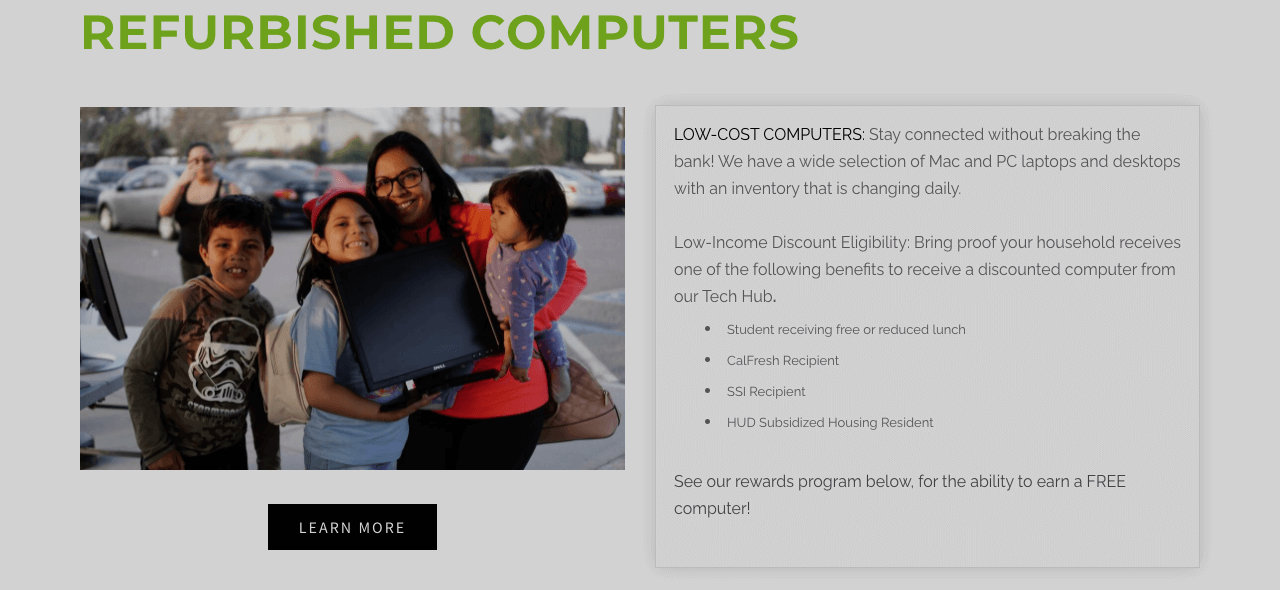 Tech Exchange is an Oakland-based nonprofit dedicated to providing free and discounted computers to low-income individuals. The organization has a wide range of devices to choose from, costing only about $100-$150 each.
If you donate 10 or more hours of your time to helping them out, Tech Exchange will give qualifying individuals a free desktop computer. If you volunteer for between 20-30 hours, they'll give you a free laptop.
If you participate in free or reduced lunch programs, CalFresh, SSI, or subsidized housing, you qualify for Tech Exchange's programs. Go to the Tech Exchange website to sign up.
Note: Tech Exchange also participates in a new initiative called Oakland Undivided, which gives or loans free computers to students in Oakland. Oakland Undivided also provides internet to students, which could make it an attractive option for low-income families with students. You can read more about that program on the Oakland Undivided website.
Human-I-T
Human-I-T is similar to Tech Exchange, with a customer service feature tacked on. For example, if you're not sure what internet program is right for you or aren't technologically inclined, a representative will help you get connected.
We'll talk a bit more about that in the next section, but if you need a computer, Human-I-T has a wide selection. While I was researching this article, I found several good options for less than $100.
Further, Human-I-T offers WiFi hotspot rentals for one, three, six, or 12 months. These devices, costing about $15 a month, are priced similarly to a low-income plan. Human-I-T says that up to ten individuals can connect to one hotspot at a time, so if you're looking for a device that'll allow you to do remote work and learning, this could be a good option.
You can check out Human-I-T's always-changing full list of available devices on their inventory website.
How to qualify for Human-I-T's discounted technology
If you want to purchase a computer, monitor, or Wi-Fi hotspot from Human-I-T, you'll first have to demonstrate that you are low-income. First, check the list of accepted programs below to see if you participate in them.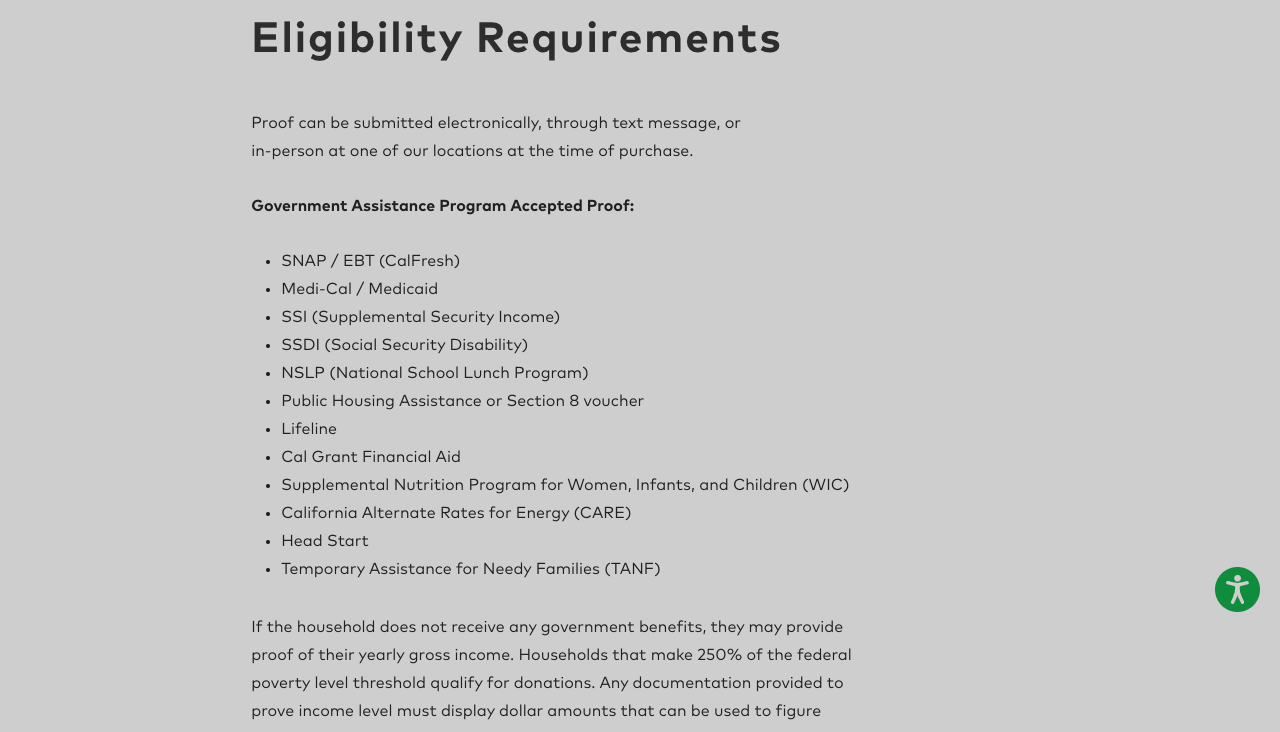 As you can see, there is a wide range of low-income programs that could make you eligible. To prove that you participate in these programs, you'll have to show Human-I-T one of the following documents when you apply:
The prior year's state, federal, or tribal tax return
A Social Security statement of benefits
Federal or tribal notice letter of participation in General Assistance
A Veteran Administration statement of benefits
A retirement/pension statement of benefits
When you're ready to get your discounted device, go to Human-I-T's website to apply.
How to get help signing up for low-income internet in Oakland
Sometimes, it's difficult to know what the right steps are when it comes to getting connected to the internet. In that case, it's worth considering getting someone to help you. Luckily, Oakland and the surrounding area have several organizations that will help you decide on the best internet plan and help you connect.
Human-I-T
We've mentioned it before, but Human-I-T has a very helpful staff of volunteers that can help you choose the best internet in your location. All you have to do is navigate to the Human-I-T website and scroll to the "Have questions or need help with your eligibility?" section. You'll see a phone number there — all you have to do is call and explain what you need.
EveryoneOn
EveryoneOn has a feature that allows you to plug in your ZIP code and see internet providers near you. When you put your information into the search function, you'll also have the option to select the programs you participate in. This will narrow your results and show you which programs you are eligible for.
City of Oakland computer lessons
The Oakland city government provides free computer lessons online, available 24/7. All Oakland residents, regardless of employment status, can access the lessons. To take the lessons, you can register on the official City of Oakland website.
How to get free Wi-Fi in Oakland
If you have a device but can't afford Wi-Fi in your home, there are two main ways you can connect to the internet for free in Oakland: the public library system **and OAK Wi-Fi.** In the next section, I'll show you how to connect to both.
Free internet at public libraries in Oakland
You can access free Wi-Fi at all of Oakland's 17 public libraries. To connect to it, you'll want to sign up for a library card, which you can do online in a manner of minutes.
Once you get a library card, you'll also be able to check out a Wi-Fi hotspot for free. The rental period on these devices is three weeks long, so you'll have plenty of time to do research and work at home while you have it.
Your rental will automatically renew if no one else is waiting for a hotspot — but I wouldn't count on this. It's difficult to tell how much demand there is for hotspots, but I would advise against relying on these hotspots for long-term access.
Oakland free Wi-Fi hotspots (OAK Wi-Fi)
There are currently at least a dozen public Wi-Fi hotspots stretching from West Uptown to East Downtown Oakland. If you live near one of the zones in the photo below, you'll just have to go to the zone, open your phone, and connect in the Wi-Fi settings.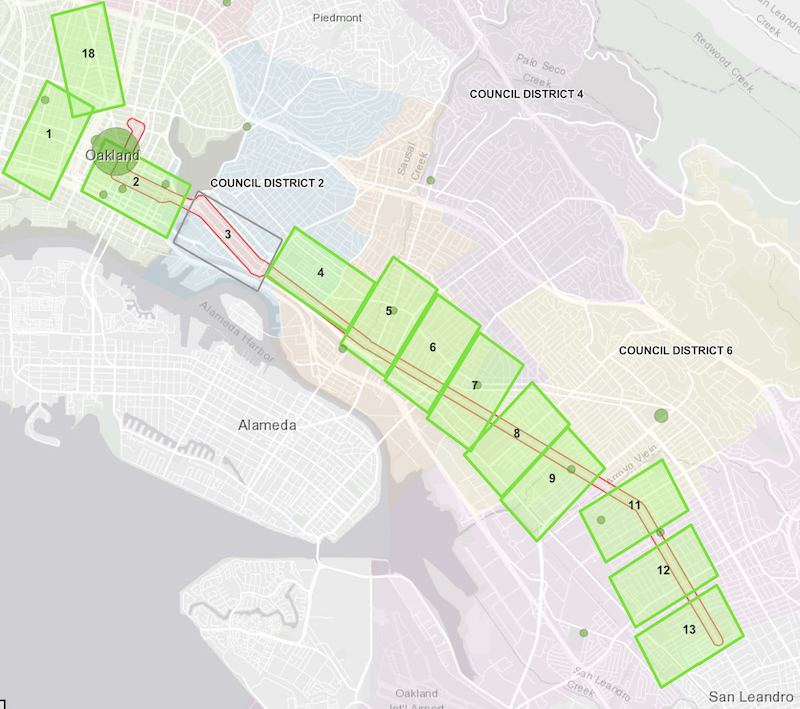 Note: You might have noticed that the third AOK Wi-Fi zone is gray. The City of Oakland website marks that zone as under construction, to be completed by March 2021. When I reached out to a spokesman for the City about whether that zone was online, I did not receive a response. We'll update this article if we can confirm the location.
What is Oakland doing to solve the digital divide for low income families?
Though Oakland is a city with a high rate of unconnected individuals, the City has several initiatives aimed at decreasing that percentage.
In recent years, the #OaklandUndivided initiative, which is aimed at increasing internet access for students, has received sizable donations. In 2020, Twitter CEO Jack Dorsey donated $10 million to the initiative, which has helped with the distribution of over 20 thousand laptops and mobile hotspots for Oakland residents.
On top of that, the city also plans to expand its high-speed fiber internet offerings and broaden the range of the free OAK Wi-Fi program.
While the internet situation in Oakland can be frustrating, it's still better than most cities in California in terms of access to low income internet options.
---
Frequently Asked Questions
Is there a low-income internet program in Oakland?
There are two large low-income internet programs in Oakland: Comcast's Internet Essentials and Access from AT&T. Both of these programs come without extra fees and cost only about $10 a month. Internet Essentials offers speeds of 50 Mbps download, 5 Mbps upload, while Access from AT&T offers speeds of up to 25 Mbps download, 5 Mbps upload.
Is there a digital divide in Oakland?
Nearly 10% of Oakland residents do not own a household computer, according to census data recorded in 2019. Luckily, the city has several options for low-income individuals who do not have a computer or household internet. If you need help getting technology or connecting to the internet, Human-I-T or Tech Exchange are two popular options for Oakland residents.
How can I get internet for free with a low income?
There are two main ways you can connect to free Wi-Fi in Oakland: the public library system and the OAK Wi-Fi hotspot program. Getting connected to these Wi-Fi hotspots is as simple as going to the branches and areas where it is available and clicking on the network in your Wi-Fi settings.