Dish TV removes discounts for existing customers after the first two years of service. However, it's still possible to get deals and discounts as an existing customer.
As far as "predatory pricing" goes, Dish TV isn't as sneaky with its costs and hidden fees as other satellite television providers can be.
Still, it's common for customer bills to creep north of $100, $120, or even $150+ after a couple years of service.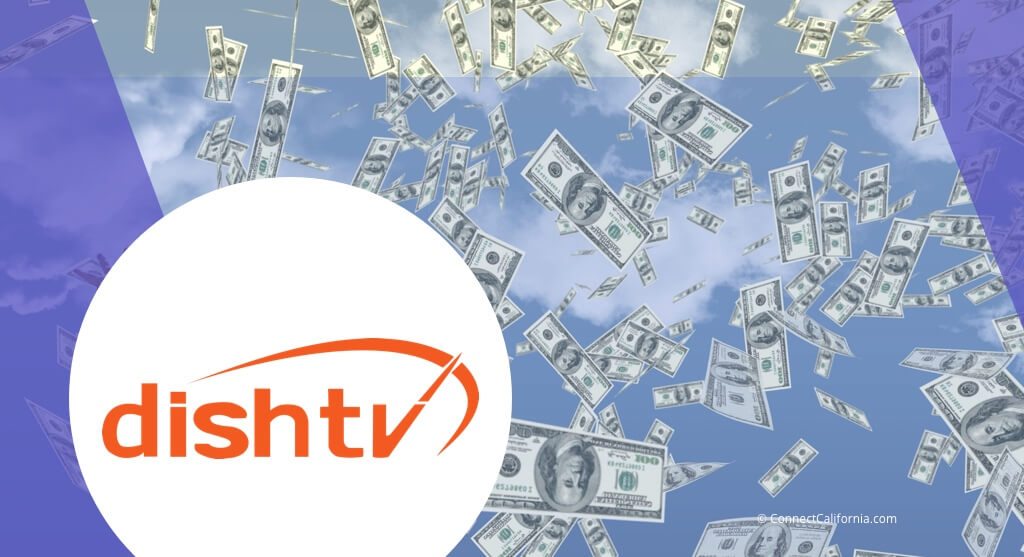 In this post, I'll explain each of the sources of extra fees on Dish TV bills, and then explain exactly how to reduce the cost for each item.
Dish TV bill increases covered below include:
Introductory pricing: after two years of service, Dish TV increases its monthly packaging costs. This is the most common cause of customer billing complaints by far.
Sports package changes: Dish offers a Multi-Sport Pack that can add an additional $13/mo to your bill.
Extra services: Dish has dozens of entertainment packages and many of them are free when you sign up. The catch is that they start charging you for those extra channels after a few months.
Dish TV Introductory pricing
The problem: Dish TV discounts time out after 2 years.
Introductory pricing is easily the most common form of bill increase that you will encounter. Internet, cell phone, and TV companies all use some form of pricing that seems to be one price but goes up later.
Essentially, these pricing schemes work by offering an initial price for a certain amount of time. After that time is up, their standard pricing kicks in and they usually don't warn you about the change.

Some companies will require contracts to guarantee the promotional pricing, but many of them don't and just increase prices without any notice.
Dish offers their "2-year Price Guarantee" with the caveat that you sign a contract for those two years. Once the 2-year contract is up, you can expect a price increase (and they don't have to tell you). Something interesting about Dish is that they refuse to list anywhere on their website what the cost per package increases to. The closest they get to actual pricing is saying, "After 2 years, then-current everyday prices for all services apply", leading me to believe that their increase is somewhat arbitrary and based on their future prices.
The solution: contact Dish TV retention department
Since this pricing method is so widely used, it's hard to get away from. Still, there are a few tricks that could save you some money on your Dish bill.
The best way to solve introductory pricing is to get in touch with Dish's retention department. Calling customer service to negotiate can be a real pain, but it's likely the best option for general bill increases. The retention departments at TV and internet companies often can offer further pricing cuts and other discounts.
Here are a few tips when you call to negotiate:
Look online for any current discounts you can bring up in the conversation
Know their competitor pricing to use as leverage (google DirectTV pricing, for example)
Make it seem like you will cancel that day if you don't see some pricing changes
Ask to speak to higher management since they can sometimes offer things other employees can't
A second option is to get promotional pricing again. There are two ways to do this:
Open a new account under someone else's name
Cancel for 30 days
A sneaky way to get promotional pricing offerings again is to open up service with someone else's name, as long as they live in your household. If you have a spouse or family member living with you, you can sign up using their information to secure promotional rates. Please know that this is against Dish's terms of service, but it will still usually work.
The second option is to cancel service for 30 days. If you can go without television (or just rely on streaming services) for a month, you can cancel your Dish service, allowing you to sign up for promotional pricing again, 30 days later. This is a bit of a longer process than the first option, but if you don't have anyone else in the house, it's a valid option.
Dish TV NFL Red Zone and local sports fees
The problem: sports packages change price without warning
One of the best things about satellite television is the ability to customize your sports experience.
For Dish, their "Multi-Sport Pack" is the way you add Red Zone to your package. The pack comes with a lot more than just Red Zone, so keep that in mind.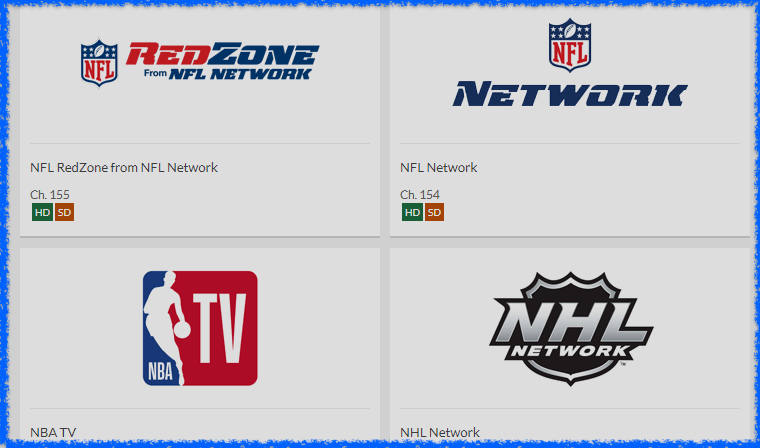 Even with the promotional price, there are also some restrictions on getting it for free.
Dish says, "Only available with packages starting at $79.99/mo., excluding America's Everything Pack". It's a bit confusing, especially since they don't even list an American Everything Pack on their packages site.
The best way to see if you are paying for this is to check the line items on your bill for "Multi-Sport Pack."

Depending on your package, you could be paying the additional $13/mo for the Multi-Sport Pack. Additionally, you could be paying regional sports fees.
Depending on the region, you could be paying up to $3/mo in extra fees.
The solution: cancel multi-sports pack after the free trial period
If you happen to find yourself paying for the Dish Multi-Sport Pack, the easiest way to reduce your bill is to cancel that specific package.
Another option is calling and negotiating your package to include the sports package, but I can't guarantee it will work every time. Still, they clearly offer it as a promotion, so they may have some flexibility.
As far as regional sports fees go, there isn't much flexibility. They are mandated per region, and if you want local sports, there could be a fee. Thankfully, it's listed as maxing out at $3/mo, so it's not a bank-breaker.
Additional streaming and entertainment services on Dish
The problem: streaming add-ons pile on monthly costs
When signing up for TV packages, companies will often throw in a few "included" streaming services in order to make them look like better deals. The extra selection can be nice, but it is usually only a temporary offer that adds additional costs 3-6 months into a contract.

Certain packages come with HBO Max (though some just provide it at a discounted rate). At the end of a 3-month promotional period, you can expect an additional $30/mo for Showtime, STARZ, and Dish Movie Pack, and one year later, you can expect an additional $15/mo for HBO Max.
An important thing to remember is that there are a lot of entertainment services. When you initially sign up for the packages there are dozens of options and many of them offer promo rates. I just included the entertainment options that are on all of the packages.
The solution: cancel individual streaming add-ons after trial
Plain and simple, you have to call and cancel if you don't want to pay for Showtime, STARZ, and Dish Movie Pack. They don't really offer promotional pricing for this unless you were to get an entirely new package that included the services again for three months.
For HBO, there are a few things that could work. HBO currently has some deals with various service providers that allow you to get it for free. AT&T, for example, gives you free HBO Max if they are your internet provider. Do a quick google search to see if you have any services that come with HBO Max for free.
Dish TV Equipment fees
The problem: DVRs and receivers come with monthly fees
Equipment fees are fees charged for renting or leasing equipment from a company. For Dish, those fees are usually going to be related to their DVR boxes. Their basic "Hopper Duo" is what's included with all of their packaging and their "free installation". If you only use a Hopper Duo, your bill shouldn't be increasing, but any upgrades or additional equipment will cost extra.
An additional Hopper will cost $15/mo, an additional Joey will cost $5/mo, and an additional Super Joey will cost $10/mo. If you recently added devices and expanded your system, you can expect additional costs.
The solution: reduce or downgrade DVRs
Dish does offer promotional pricing that can get you a few of their DVRs for free. Apart from getting promotional pricing, the best way to reduce your equipment fees would be to downgrade your DVR, especially if you don't need the added features (the Hopper 3 gives 1 terabyte of storage, and the Hopper Duo gives 500 gigabytes, for example).
If you don't want to downgrade your DVR, you can look into simply reducing the number of TVs in the house that are connected. A simple solution is to replace any unused DVRs (in a guest bedroom, maybe) with a Chromecast or Firestick. They are cheap and don't have a monthly fee, perfect for unused rooms.
How to remove charges for Dish Protect Silver
The problem: Dish auto-charges for Dish Protect Silver after 6 months
Dish Protect Silver is essentially a subscription tech service that gives you free technical access as well as equipment discounts and installation.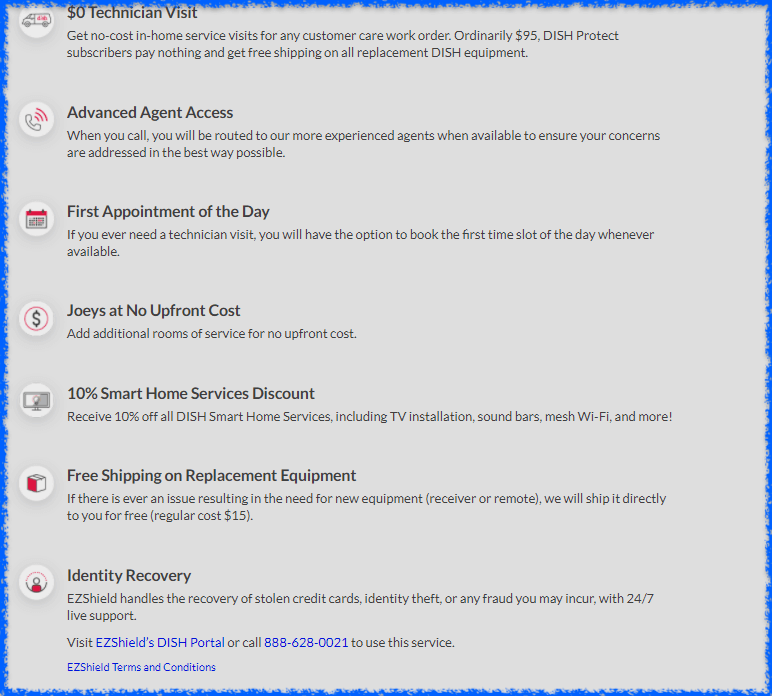 Dish will automatically enroll you in this program after six months, and their Silver option (the default one) costs $9.99/mo.
The solution: set a reminder and call to remove Dish Protect Silver in month 5
The solution is pretty easy for this one: Simply call and cancel the service before it hits six months, and you won't be paying for it.
However, make sure you don't need any of the benefits it offers before canceling. It could save you some money if you are planning on adding more receivers to different rooms.
Recap: solutions for lowering your Dish bill
Problem
Solution
2-year contract ended (you lost promotional pricing)

Call and negotiate a lower price
Re-apply for service with someone else in your house's name
Cancel for 30 days and sign up again

NFL Redzone cost increase

Canceling your Muli-Sport Pack
Fold it into a new plan (through negotiation)

Regional sports fees

Cancel your regional sports packages/channels

Entertainment service fee increases

Call and cancel before the trial period ends (usually 3 or 6 months, depending on the trial)
See if you have alternative access (AT&T with HBO or Verizon with Disney+, etc.)

Equipment and DVR fees

Downgrade your DVR according to your needs
Use other options (Chromecast, Fire Stick, or Roku) in rooms you don't frequent
Use Dish Protect as a temporary discount

Dish Protect $9.99 bill addition

Call and cancel your Dish Protect service before it kicks in
---
Frequently Asked Questions
How do I lower my Dish TV bill?
Dish TV customers can lower the monthly bill by negotiating with their customer retention center, canceling any unwanted entertainment services, and downgrading DVRs.
Why did my Dish TV bill go up?
Your Dish TV bill can go up for a few main reasons. It's likely that your promotional rate has expired and your special pricing has ended. Your bill could also go up from entertainment services ending their trial period, or equipment fees adding up after a recent upgrade.
How much does it cost to cancel Dish TV?
Canceling Dish TV early costs $20 per remaining month of your contract. For example, canceling service with 12 remaining months in the contract term would cost the customer $240 total.
Does Dish TV have hidden fees?
Dish doesn't hide their fees, but they can be difficult to find: their introductory pricing increases after 24 months, they have entertainment channels that end up costing extra after a few months, and their equipment fees can add up the more devices you have.