Cancel Ziply Return equipment Cancellation fees FAQ
Like most large internet service providers, Ziply Fiber makes it a bit challenging to cancel your service.
I've communicated with dozens of Ziply customers while compiling this guide. Based on those conversations, it's clear that while Ziply is making improvements on the network they aquired from Frontier in 2020, they've still got a ways to go before the customer experience is smoothed out.
Aside from the $9.99 required cancellation fee, there are a variety of equipment fees and late fees that can bring up the final bill considerably if you don't check all the boxes when you move or switch. Thanks to billing system issues inherited from Frontier, these fees have a tendency to wind up on your bill by error as well.
This guide will walk you through the cancellation process so you can walk away from Ziply Fiber quickly and affordably.
Quick tips
Cancellation fees: The only required cancellation fee with Ziply is the $9.99 "Disconnect fee."
Equipment fees: If you don't return equipment (or it's lost by UPS/Ziply), you're on the hook for a flat $200 fee.
Early termination fees: Ziply Fiber no longer requires contracts for plans. However, contracts may be required for some limited-time promotions, and they're common with legacy Frontier plans. The maximum early termination fee is $120, based on a $10 prorating of your time in contract.
Refunds are processed via prepaid MasterCard, not returned to your payment method. In practice, this means customers often fail to recover mistake fees.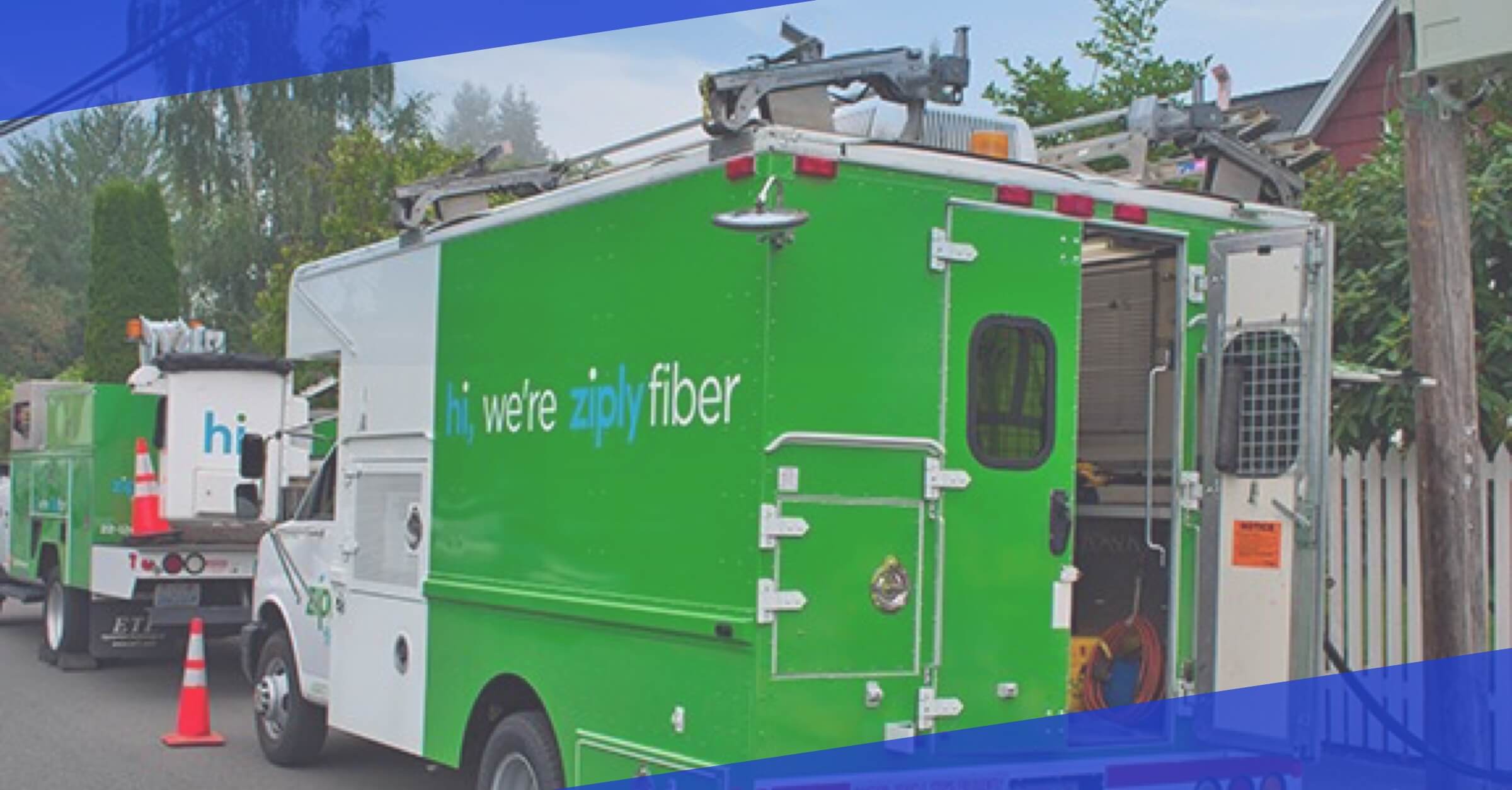 1. Turn off autopay online
Before you start calling Ziply, you should log into your account online and
Check for any existing balances.
Turn off autopay.
Autopay is a hassle if Ziply messes up your last bill, because refunds are done using prepaid credit cards (seriously). Turning it off gives you a chance to contest the charge if there are issues, and avoid a trip to CVS to cash out your card.
As for your account balance, if you have any legitimate charges rolling over from previous months for pay-per-view content or similar, it's best to handle these before cancelling, because otherwise you're going to trigger a 30-day timer on late assessment fees.
2. Call and schedule a cancellation date
Ziply allows chat and online cancellation, but in practice the system has a lot of bugs and you should just call to cancel.
They do not operate any retail stores, so you going in-person is not an option (this applies to equipment returns as well).
Budget 30 minutes for the full call including wait time.
Call their customer service line at (866)699-4759 and request cancellation.
Once you get a rep on the line, state that you are moving and need to cancel (say you're moving even if you're just switching providers; it allows you to skip their service transfer script.)
If they ask for an address to check service, state that you're moving out of the country; this is the fastest way to skip the script, otherwise they may be required to run an address check for Ziply before they'll let you cancel.
In some cases an agent may request proof of the move. This is not actually required to cancel, it's just a tactic to delay the account closure. At this point, request a manager and if they say the same thing, say your landlord is unwilling to participate and that you'll file FCC and BBB complaints if they refuse to cancel the account.
Provide a date for your service disconnect. Note that they do not prorate bills, so any days between cancellation and your regular billing date will not be refunded.
Ask for a reference number and email confirmation documenting the cancellation date.
Important: Request a prepaid return mailer for your leased equipment.
Ziply Fiber agents generally aren't as bad as Frontier's were when it comes to cancelling service. However, they are still using the same billing system, which is prone to issues confirming cancellations.

3. Return equipment by UPS
Ziply only permits equipment returns via UPS as of 2023. This applies to Ziply Fiber internet plans as well as bundles.

| Equipment return option | Description | Price |
| --- | --- | --- |
| In-store | Not currently permitted | Free |
| UPS | Default return option | Free |
Because Ziply Fiber does not operate retail stores, you have to return your leased equipment (router, modem, DVR, etc) by UPS.
If you didn't get one while canceling by phone, you can request a prepaid mailer online using your account number here: Ziply Fiber equipment request form.
Once requested, you will receive a prepaid label and boxing in the mail within a week.
Note that your equipment must be returned within 30 days of ending service. With that in mind, request your label and boxing as soon as possible once you've decided to cancel. One week to receive it plus another week of return mailing/processing adds up to 15 days already; if anything goes wrong, it's easy to trigger the late fees or $200 equipment return fees.
Important: get a tracking number from the UPS store, and keep it along with your reference number for confirmation purposes later.
4. Double-check equipment was received
This step is critical; you absolutely have to call and check that they received your equipment about 5–7 business days after mailing the equipment back.
While not common, it's possible for your equipment to be lost by UPS, or mixed up by a Ziply employee while processing the return.
It's not a big deal if you identify it right away and use your confirmation number to argue the fee off your bill. If you don't call, however, they may not alert you of the missing equipment until 30 days have passed and an equipment replacement fee ($200) is charged to your account.
If not paid, this is may be sent to collections after an additional 30 days — bad news for your credit score.
Ziply Fiber charges a flat $200 for any missing equipment not returned after plan cancellation.

| Equipment type | Example replacement fee |
| --- | --- |
| WiFi modem/router | $200 |
| DVR | $200 |
5. Double-check cancellation is finalized
In addition to confirming that equipment has been received and recorded on your account, you also need to call the day after the cancellation date and double check that they have, in fact, recorded your cancellation and turned off service.
Even if you're just transferring service to another address, this needs to be manually confirmed due to issues they're still working out with the legacy Frontier billing systems.
Have the following on-hand when you make this call:
Your account number
The reference number for your cancellation
The return slip from your UPS equipment return
With these in hand, correcting a bungled cancellation is annoying but not costing you anything but time.
… without those numbers, however, they're able to charge you for another month of service and/or additional late fees.
6. Call and confirm balance in following month
There is a third and final call needed to confirm your cancellation. In addition to confirming after the shutoff date, you should also call the day after the normal draft date for your autopay.
For example, if you normally pay your bill the 15th of each month, and your cancellation date is the 7th, you should call on the 16th to confirm that they are note adding the next month and billing you by mail… which you obviously won't get, since you moved.
Again, it's not common, but setting a reminder and manually confirming will save you days of time and money in the long run, if there are any issues here.
Ziply cancellation fees
Ziply Fiber has phased out contract term plans, meaning that early termination fees only apply to some legacy Frontier customers, or customers signed up on limited-time promotions.

| Plan type | Contract requirement | Termination fee |
| --- | --- | --- |
| Internet-only | ETF for Frontier legacy only | Free |
| TV bundles | ETF for Frontier legacy only | Free |
| Phone bundles | ETF for Frontier legacy only | Free |
Aside from the $9.99 standard disconnect fee, the main fee to worry about with Ziply is early termination for contract plans.
Since they no longer use contracts after taking over Frontier, it's not likely to be a problem if you signed up with Ziply. If you signed up with Frontier and got switched to Ziply, however, this can come back to bite you.
---
Frequently Asked Questions
Does Ziply Fiber prorate final month bills?
Ziply Fiber does not prorate final bills for customers. Customers should call and confirm cancellation, regardless of whether they stops service on the last billing date or an earlier disconnect date. Ziply refunds erroneous charges by prepaid card, making billing adjustments inconvenient.
Is there a cancellation fee for Ziply Internet?
Ziply Fiber charges a standard $9.99 disconnect fee when customers cancel. This fee applies to internet-only plans as well as bundles, phone service, and legacy Frontier plans. This fee was a standard from Frontier that Ziply seems to have inherited; most other cable and telecom companies do not charge flat cancellation fees in 2023.
Is it hard to cancel Ziply Fiber?
Ziply Fiber acquired their network from Frontier in 2020, and has been working to improve the network and move to update billing systems in the months since. While customer experience seems to be improving overall based on review velocity, they are still experiencing some issues that can be frustrating for current and transferred customers, such as difficulty processing refunds and regular issues with auto-applied fees.
Can you cancel Ziply Fiber online?
Ziply Fiber allows some services to be adjusted or removed online or by chat. However, due to issues with Frontier's legacy billing systems, which are still in use by Ziply, we recommend opting to cancel by phone so you can confirm each step.
What is the Ziply Fiber cancellation number?
You can cancel Ziply Fiber by calling their general customer service and cancellation line at (866) 699-4759.