AT&T Fiber Internet 300 Access from AT&T AT&T Fiber Internet 500
AT&T doesn't offer seniors any discounted rates or plans, but they do have a wide variety of discounts and deals that seniors can take advantage of.
AT&T has one of the most widespread Fiber networks nationwide and their prices are competitive compared to cable — but still not cheap. Compared with cable companies like Xfinity or Spectrum, their entry-level internet plans offer about twice the download speed for 20% cheaper or more.
Signing up for their services can be confusing since there is so much fine print. While preparing this page, I spent several hours wading through their customer agreements to find the parts that matter for seniors. Those are highlighted in the table above.
An important note, however, is that AT&T isn't available in every city nationwide and their pricing could be different depending on where you live. Using general AT&T pricing available online as well as inputting locations near us, we were able to get you some baseline pricing and options.
The AT&T Fiber Network is easily one of the cheapest and best-valued internet options available to seniors. However, their non-fiber internet plans are a poor value when compared to cable. You can tell if the plan you're viewing is not fiber because the speed advertised will be less than 100 Megabits per second (Mbps).
Best for most seniors: AT&T Fiber Internet 300
Best for lower or fixed-income seniors: Access by AT&T
Best for larger households: AT&T Fiber Internet 500
Beyond these plans, AT&T also has a gigabit plan that's good for large families of 6+ people or home offices. The absolute cheapest option in 2023 is to combine their 300 Mbps plan with the Federal Emergency Broadband Benefit program (detailed below).
Understanding AT&T Internet Options for Seniors
Since there are no contracts with AT&T Internet, your options are fairly limited when it comes to getting discounted pricing on their services. Here are a few options for any seniors interested in saving some money with AT&T Internet:
Apply for their Access Plan for $10/month.
Enroll in paperless and auto-billing (reduces bill by $5/month).
If offered a gift card during sign up, be sure to follow up with them after installation to activate the card.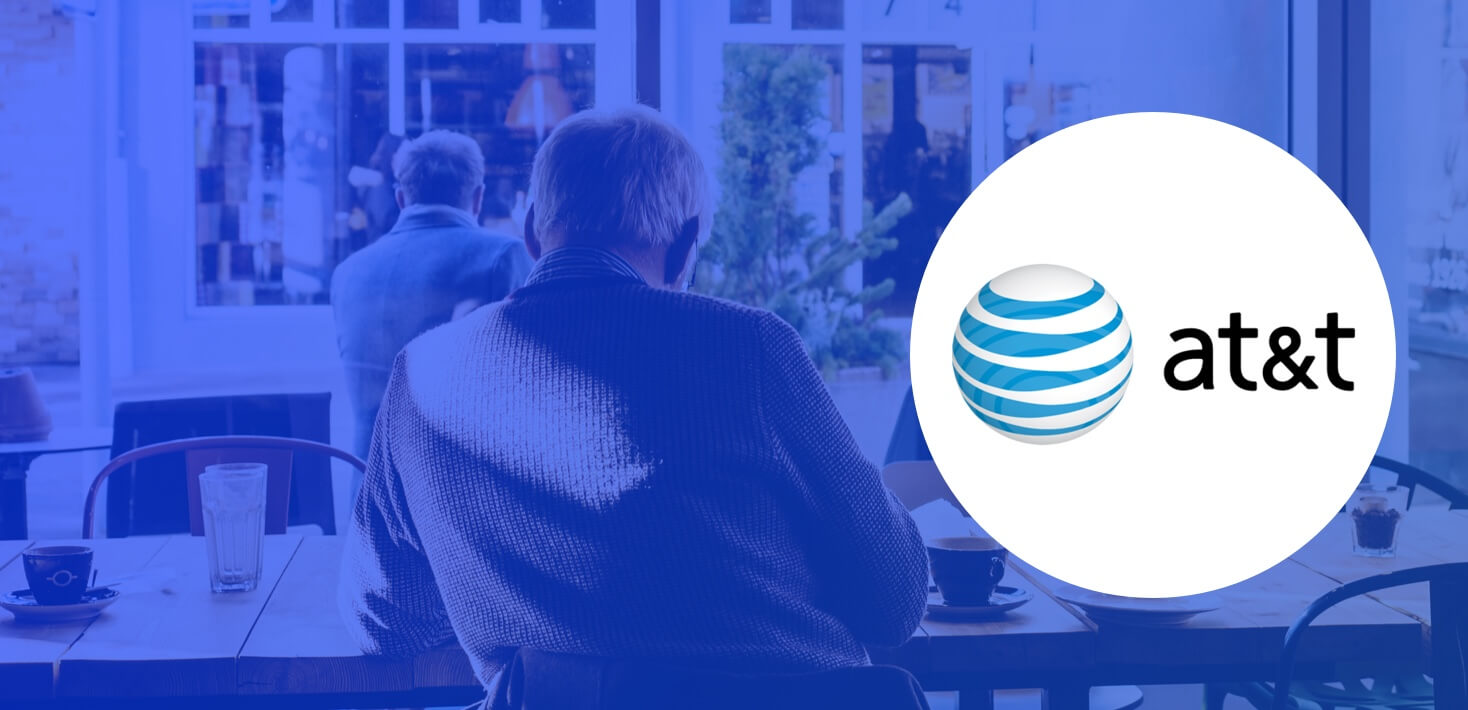 One of the better points about AT&T is their lack of contracts. Many internet companies require that you sign a 1–2 year agreement to get your first year discounted. AT&T gives a $5 default discount for paperless billiing without charging high fees for canceling service — however, the discount does expire after 12 months on DSL plans.
In the article below, I'll go through some of the best options for seniors looking to learn more about their internet choices through AT&T. I'll also include some general guidelines for choosing internet packages as a senior, with a special focus on the pricing changes affecting fixed-income seniors.
What is Fiber Internet?
Something important to know with AT&T is how their Fiber Network works. Unlike other "standard" internet providers, AT&T offers Fiber connections. A Fiber connection uses a fiber optic cable that increases the stability of your internet and allows for greater upload and download speeds.
Additionally, Fiber networks offer the same upload and download speeds, unlike a conventional cable or DSL network. Since AT&T uses this new network, most houses will require a special installation that can cost up to $99. While this one-time fee seems like a lot, I believe that the benefits of a Fiber network vastly outweigh other options as long as the pricing works out in your household.
AT&T Senior Deals & Discounts
1. AT&T Fiber Internet 300 (best for most seniors)
If you are a senior who doesn't qualify for the Access program (or just want faster internet), the 300 Mbps plan is probably your best bet. The 300 Mbps plan is the entry-level fiber option and is a great option for anyone who is in a supported region. While there are "slower" plans available in certain places, we highly recommend fiber as it will be faster, more reliable, and a generally better deal.
The plan offers speeds of 300 Mbps and has AT&T security built-in. With 300 Mbps, multiple people in the house can surf the web, watch online videos, play video games, or stream movies, all at the same time (AT&T says 10+ devices at once). Additionally, they provide AT&T Security, an automatic network security feature that ensures harmful viruses and websites don't get access to your network.
The plan costs $55/mo assuming you use paperless (online) billing. This plan can also have an installation fee of up to $99 if you've never had a fiber connection installed, although they typically waive the fee if asked. The Wi-Fi gateway is now included in the price rather than added as an extra fee.
2. Access by AT&T (best for seniors with low or fixed incomes)
None of the major internet providers offer discounted or special plans for seniors, but almost all of them have a low-cost plan for anyone that meets certain qualifications. While not all seniors will qualify, keep in mind the qualifications extend to anyone in the household.
How to qualify for the low-income AT&T Access plan
The AT&T Access plan isn't the easiest to qualify for, but there are a few things that seniors should know before giving up. There are three main ways to qualify, and one of them is a temporary option (although it doesn't state how long this option will be available).
To qualify, you need one of these three things to apply to you or someone in your household:
For seniors:
SSI (Social Security Supplement) and is only available in California
Be at or below 135% of the poverty line
For families:
SNAP (a school lunch program for kids)
Be at or below 135% of the poverty line
Here's the chart they use to qualify low income plan eligibility during Covid-19: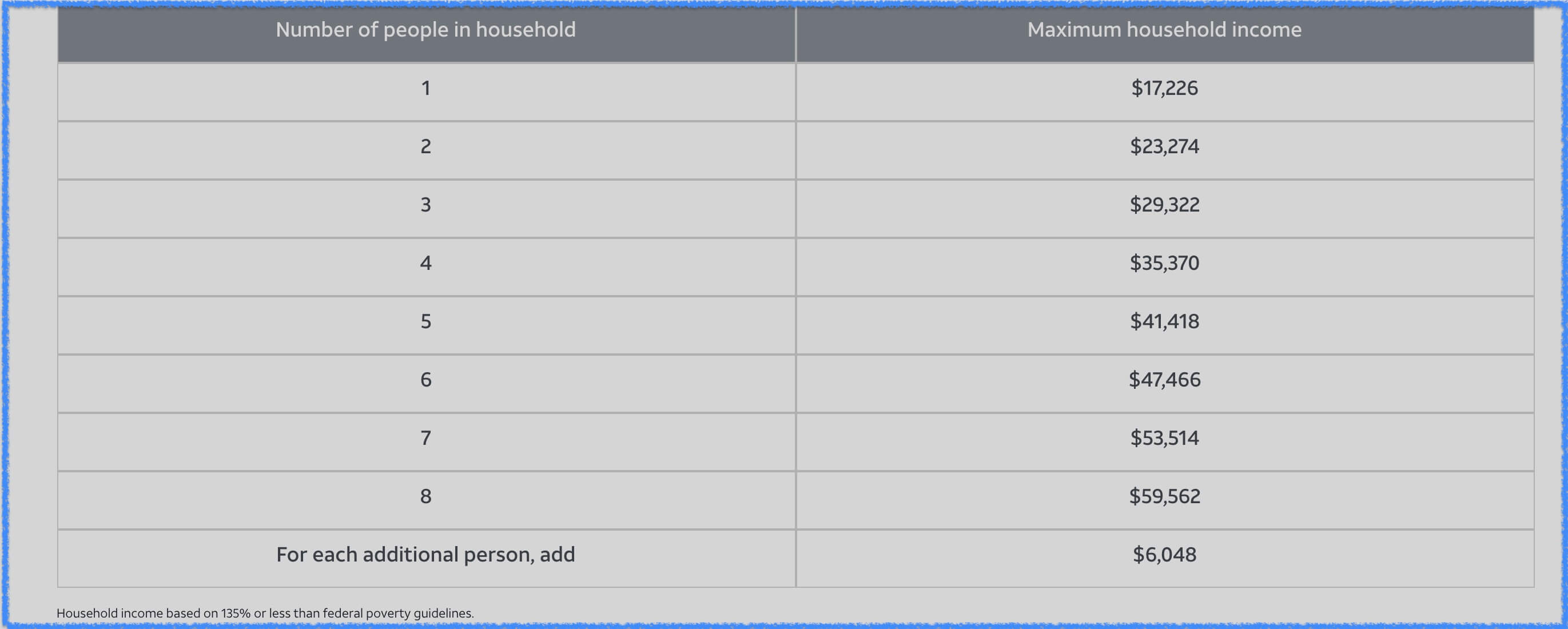 An important note is that this qualification based on income is only temporary. AT&T put this system in place for the duration of covid-19, and as a temporary benefit, it will go away once the pandemic is officially over.
At this point, you should know if you qualify. Once you have an idea, any qualifying seniors can use their online portal to apply for the discounted internet access. As you apply, make sure you have some type of documentation to help speed the process along. After the application process is completed and confirmed, all that's left to do is install everything.
One of the great things about the Access program is they offer free installation and no deposit.
As a final note on getting set up with Access, remember these tips:
Anyone in your home that qualifies (A spouse, child, even non-family roommates) enables your household to get the low-cost internet option.
The income-based qualification is only temporary but it doesn't look like it's leaving anytime soon.
The low-income plan may be either fiber or DSL depending on what's available at your address.
If you're in assisted housing or low-income housing, it's likely that you'll have a lower cap due to copper wiring in older buildings. 5–15 Mbps is a common speed offered in these areas.
Let's move on to some of the features of the Access plan.
AT&T Access features
If you've made it to this point, you should now know whether you qualify for the AT&T Access program or just want some more info before you start the process. If you do qualify, here are some of the things that you can expect from the program.
AT&T Access has what's considered "high-speed" internet at a low cost. Although with advancements in technology, the speeds offered by Access are significantly lower than the basic packages offered by most internet companies. They offer 25 Mbps, perfect for a few phones or devices, and very moderate internet use (things like watching videos or using FaceTime). As the program only offers 25 Mbps speeds, only 1-2 people would be able to use the network at a time without significant slowdowns.
One important thing to know with AT&T is their participation in the Emergency Broadband Benefit. The Emergency Broadband Benefit is a federal program started during covid-19 to help people pay for their internet. It's essentially a $50 credit applied to any AT&T internet package for a reduced cost. AT&T does state that they will accept the EBB credit on their Access program, but I would recommend using it on a faster plan (something like their 300 Mbps plan) since it will cover it totally anyways. The benefit is temporary, however, so keep that in mind.
3. AT&T Fiber Internet 500 (best for large households)
The next level up from the basic 300 Mbps plan is the AT&T 500 Mbps option. While the features are nearly the same, this plan has faster speeds making it ideal for a household with lots of people and lots of devices.
The plan offers speeds of 500 Mbps and is ideal for large households and devices. You can stream movies, Facetime, watch videos online, and play video games on multiple devices, all at the same time. Since this plan is Fiber-based, it's fast, reliable, and a great way to upgrade a home to a place grandkids always want to be. The plan starts at $65/mo with no equipment fee.
Honorable mention: 1 Gig plan
As a quick honorable mention, the 1 Gig plan offers 1000 Mbps up and down and is ideal for very large households or those with home theatres, internet-based security systems, and lots of smart devices like Alexa or Google Home. Kids can stream and professionally game, Facetime, and more with these speeds.
I don't recommend this plan for everyone but for the rare power user (a power user is an individual that operates a computer or device with advanced skills, knowledge, experience, and capabilities).
This plan starts at $80/mo, and includes free HBO MAX.
A few closing tips when considering AT&T internet
There are a few things you should remember when considering AT&T internet:
1. Check if you are in a fiber or DSL service area
AT&T uses a Fiber network in some neighborhoods (this ensures faster speeds and more reliable internet access), but most of their service area is on older DSL wires (slow internet).
You can check which is available in your area by entering your address here.
2. Don't forget to sign up for autopay
You can knock $5/mo off any standard internet package if you enroll in paperless and auto-pay billing.
3. When ordering by phone, request free installation
Nearly all of their plans have an installation fee (except their Access plan) and a monthly equipment fee. However, they will often remove it if you request it when signing up by phone. This depends on current seasonal promotions.
4. Be sure to follow up on any pre-paid card offers
There may be discounts you can ask for when signing up. However, you have to follow up with customer support after setting up your installation to ensure they actually mail it in a timely fashion. We've found their system around bonus cards to be hard to navigate.
5. Check what security features are included
All of their standard packages come with AT&T Security, so you do not need to purchase third-party antivirus solutions in most cases.
---
Frequently Asked Questions
Does AT&T offer any senior discounts?
While AT&T doesn't offer any senior discounts, they do have AT&T Access, a low-income internet plan that seniors can qualify for if they also take Social Security Income or are within 135% of the poverty line ($17,226 annual income for one person or $23,274 for two).
What is AT&T Fiber?
AT&T Fiber is a national network of fiber-optic cables that can offer increased internet speeds and more reliable service. AT&T Fiber does not offer senior discounts, but it does offer faster internet speeds for the same price range as their older DSL network.